You need to make this delicious low-carb keto-friendly creamy cauliflower risotto. I'll be honest, during this keto diet thing we've eaten a lot of the same things because we're creatures of delicious habits. This keto cauliflower risotto is literally the one thing hubs requests me to make every single week. We are constantly buying frozen riced cauliflower in bulk just to keep this side dish in heavy rotation. Keto risotto is such a staple, and once you taste this you'll understand why.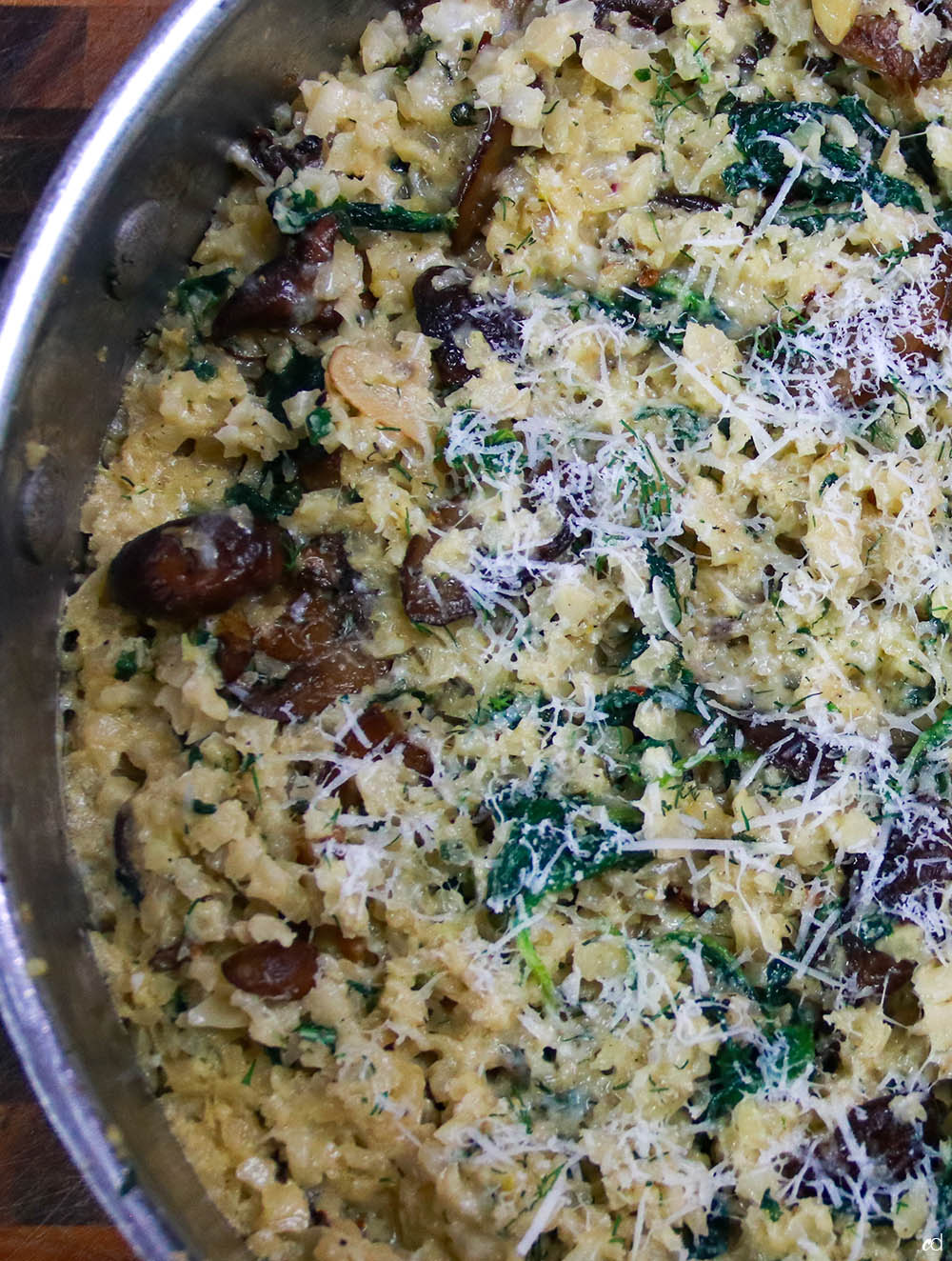 What to put in your cauliflower risotto
The beauty of this keto cauliflower risotto is that you can literally add anything you want to it, or nothing at all. If you're in a creative rut, just think of what you'd add to regular arborio rice risotto. Fish, shrimp, scallops, mussels, chicken, beef, pork, lamb — any kind of protein. Literally any vegetable. Hate mushrooms? I feel bad for you, but hey — leave them out! The only components you really need here are obviously the riced cauliflower, stock and/or wine, cream, and your favorite hard aged cheese such as pecorino, parmigiano-reggiano, asiago, grana padano, etc. for that signature nutty bite. Those cheeses also help thicken the cream so you get something hella luxurious with an unctuous mouthfeel.
Sometimes if I'm not serving a big hefty piece of meat for dinner, I'll just add a bunch of meaty-tasting mushrooms along with my favorite veggies and whip up something crazy good.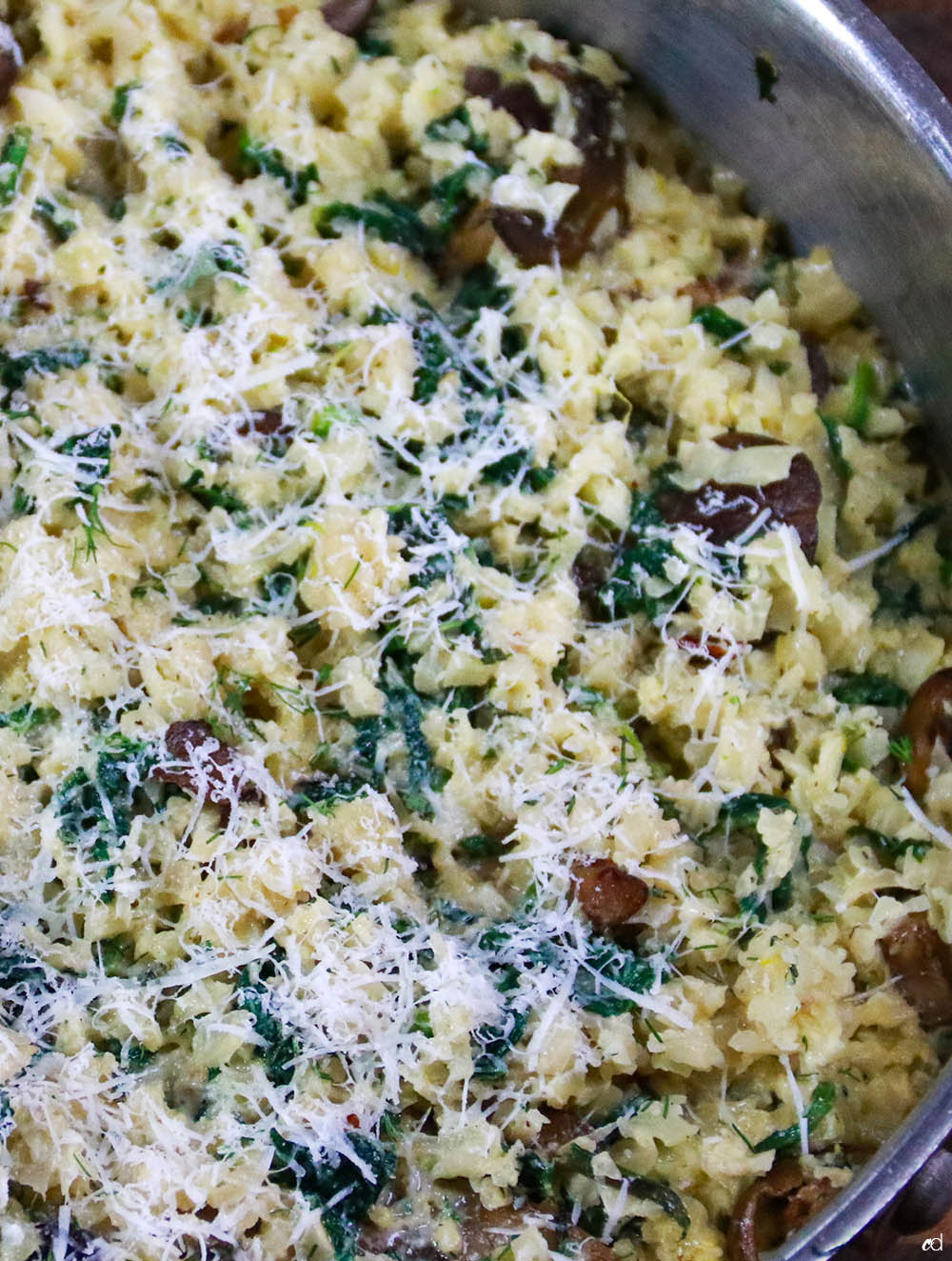 This stuff tastes even better the next day. My recipe calls for a bunch because we tend to make a big heaping pile of this then portion it off for meal-prep. You can totally do the same. Don't have the desire to make as much? Halve the recipe! This is one of those things you really want to "eyeball" as far as measurements go, because qualities will always vary depending on what you decide to add to your cauliflower risotto (or not). You can keep this Plain Jane as hell and just make regular cauliflower rice super creamy and cheesy (and well-seasoned, of course). Nobody will be mad.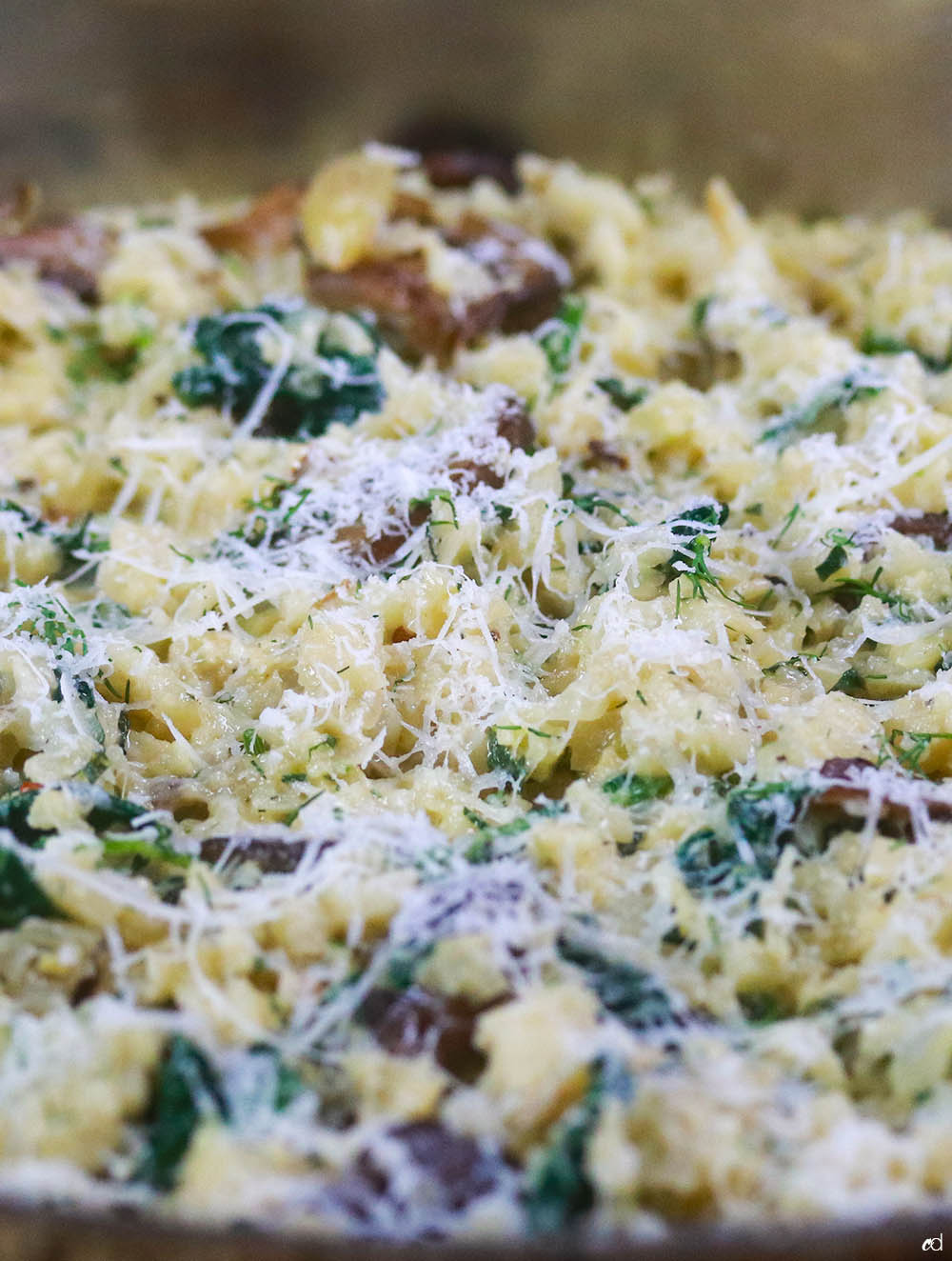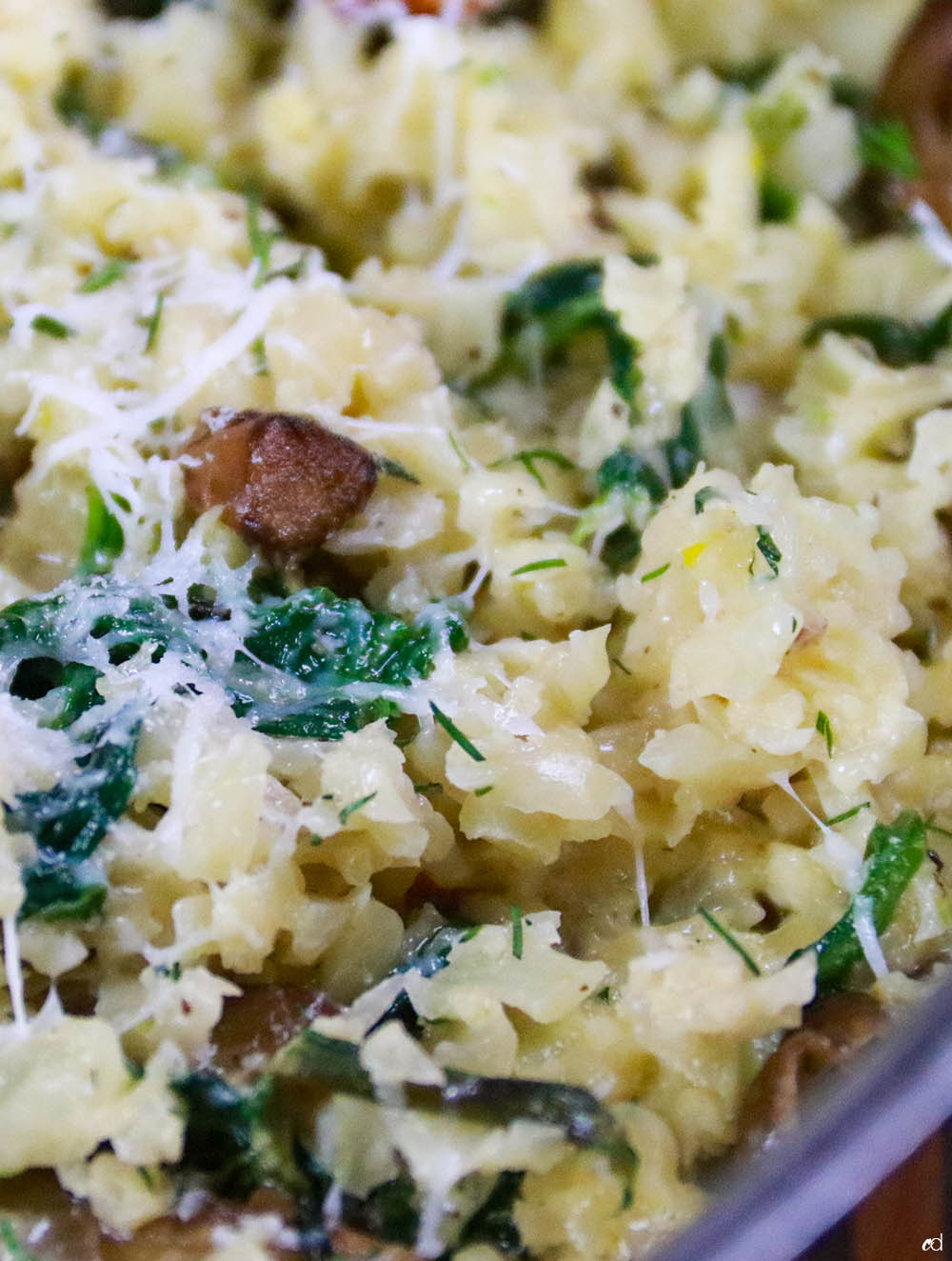 Watch how to make keto risotto
Make sure you subscribe to my Youtube channel while you're at it.
Print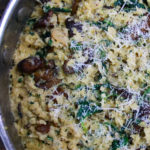 Creamy Cauliflower Risotto
---
Author:

Chef Resha

Total Time:

40 minutes

Yield:

6 to 8 servings
Description
I want you to feel absolutely free to leave out anything you don't like and replace it with what you do like. If you want to make less, please halve the recipe and adjust as needed.
---
2 tablespoons

grass-fed butter
Extra virgin olive oil
Black pepper

12

ounces

mushrooms (use what you love)

1/2 teaspoon

crushed red pepper flakes

6

cloves fresh garlic, sliced or minced (that you minced yourself!)

1 tablespoon

fresh sage, finely chopped

1 tablespoon

fresh dill, finely chopped

1/2 teaspoon

fresh rosemary, finely chopped

4

cups

fresh spinach (SEE NOTE)

1/4

cup

chicken stock

32

ounces

riced cauliflower (SEE NOTE)

1/3

cup

dry white wine

1/2 teaspoon

granulated garlic

3/4

cup

heavy cream

2

cups

pecorino romano cheese, finely grated (plus more if needed)
Zest of a lemon
---
Instructions
In a large skillet, heat and melt the butter and olive oil until foamy over medium-high heat. Add the mushrooms, tossing to coat in the fat. Season the mushrooms with flaky kosher salt and black pepper, then arrange in an even layer so that as many mushrooms are in contact with the bottom of the skillet as possible to promote browning. Brown the mushrooms for 2-3 minutes per side until they're all golden brown. This entire process will take anywhere from 8-11 minutes, depending.

When the mushrooms are all golden brown, add the garlic and cook for about a minute if using sliced garlic, and 30 seconds if using minced. Add the fresh sage, rosemary, and dill. If you notice the skillet is a little dry, drizzle in a little more olive oil. Next, add the fresh spinach. Pour in the chicken stock to deglaze, then quickly toss everything together to wilt the spinach. You want to make sure the liquid is evaporated by at least 90%, so keep sautéing.

Add the pre-cooked/defrosted riced cauliflower, and season well with flaky kosher salt, black pepper, and granulated garlic. Pour in the white wine. Adjust the heat, and keep sautéing and steaming the cauliflower rice until most of the moisture has evaporated. This will take about 5 to 10 minutes, depending. When the bulk of the moisture is gone, stir in most of the heavy cream. Allow the heavy cream to simmer and reduce and thicken, about 7-10 minutes.
Taste it! Adjust seasoning as needed. When you love the flavor, add the pecorino romano cheese and toss to coat, then stir in the zest of a lemon. Taste it again, and adjust as needed.

When the mixture has thickened to a risotto consistency, turn off the heat and let stand about 5-10 minutes before serving. Enjoy!
Equipment
Notes
You can use any herb(s) you want for this dish, it truly doesn't matter. I'm using pecorino romano, but feel free to use parmigiano-reggiano instead — just make sure you grate/shred it yourself. Don't use any gloopy melting cheese like mozzarella or provolone, etc. It'll be a huge mess.
You can use previously frozen spinach, just make sure it's thawed and completely drained of all its liquid.
I used two 16-ounce bags of frozen (thawed and microwave-heated) riced cauliflower. If you do not need to cook that much (I did for meal prep), simply halve the recipe. You can find frozen riced cauliflower just about everywhere now, brand doesn't matter. You can also rice your own cauliflower with a food processor.
Prep Time:

15 minutes

Cook Time:

25 minutes

Category:

low carb, keto, sides
Keywords: keto risotto, low carb cauliflower risotto, cauliflower risotto, creamy cauliflower risotto, keto sides, keto recipes
Recipe Card powered by
Disclosure: This site uses various affiliate links. If a purchase is made using one of our affiliate links, we receive a small commission which helps support our efforts. Please read our
Privacy Policy
for more information.