Y'all. Ok, so boom. Keto brown butter chocolate chip cookies. Yes. Yes. And they're fire. Back in the day I used to run a small bakery situation, and I literally sold thousands of cookies across the country. To this day, I'm still employed by special clients to fulfill their cookie cravings. I say all that to say, I have a standard when it comes to cookies. There's a certain kinda mouthfeel, texture and richness I need in my chocolate chip cookies and these did not disappoint.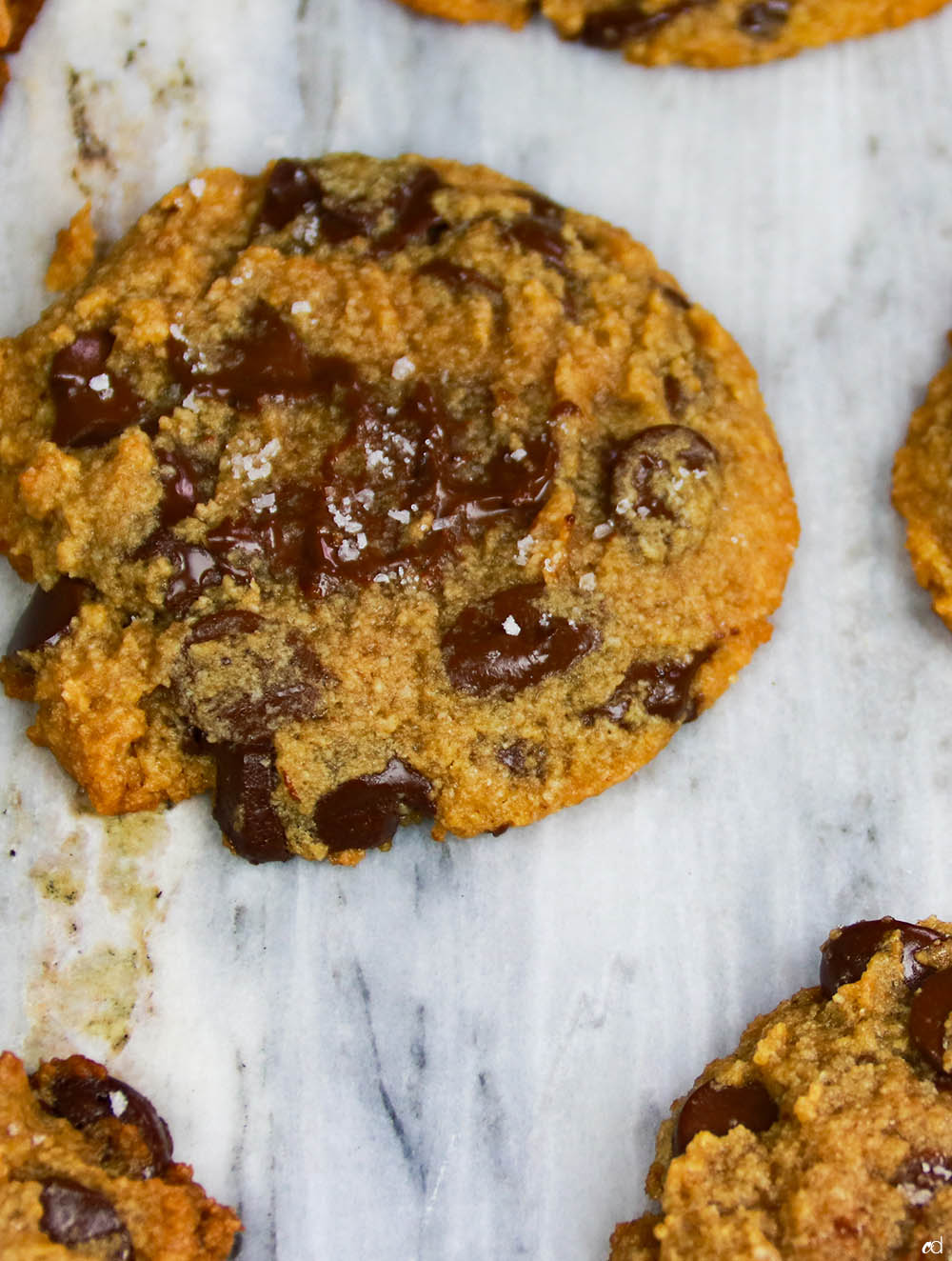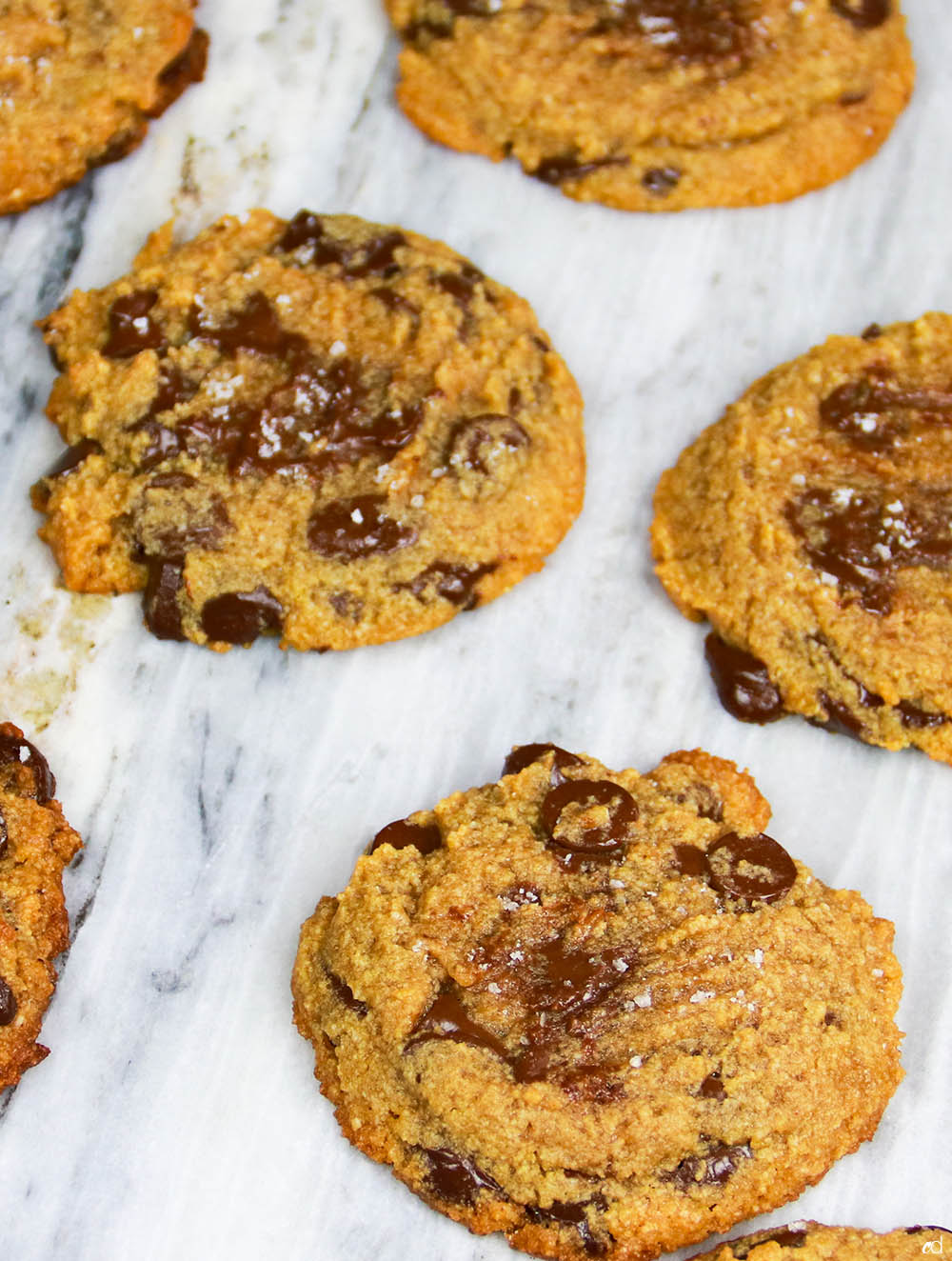 The first time I made these, I started with almond flour only. And while they were good, I knew I needed a tiny bit of coconut flour just to better mimic a regular cookie. Believe it or not, 2 teaspoons does the trick. This recipe is super easy, but because there isn't any gluten and we are using non-sugar sweeteners, things need to be tweaked in order to reach optimal cookie greatness. So, please for the love of Nancy, just do exactly what I suggest.
Important Notes!
Warning: Xylitol is HIGHLY toxic to your pets! Please do not feed your pets anything containing xylitol, and please use caution eating xylitol-based treats around them. Also, not everyone can digest certain sugar alcohols the same way others can, so please use caution when eating them in massive quantities because you may (or may not) experience gastrointestinal issues. Remember, just because it's keto-friendly doesn't mean you can eat all you want. Moderation still applies here.
Xylitol is as sweet as real sugar. To avoid or decrease any potential stomach issues, I highly recommend you purchase the xylitol that isn't made from corn. Xylitol also helps the cookies maintain their gooey soft texture — especially paired with Swerve Brown Sugar sweetener. I also find that xylitol basically erases that weird aftertaste some erythritol-based sweeteners can impart. Do not use more xylitol than what is called for in this recipe!
Best sweetener combinations for this recipe:
-OR-
-OR-
What about plain granulated erythritol?
I've used it, and while the cookies weren't terrible at all, they weren't up to my standards. I didn't like the cooling aftertaste but if that's something you don't mind, go ahead. The cookies won't be rock hard but they won't be as soft, which is why I highly recommend you swap plain granulated white Erythritol with a brown sugar version.
DO NOT USE STEVIA FOR THIS RECIPE. You will be highly pissed off if you do.
Xanthan gum is SO important for this recipe. It helps bind these cookies together and give them the structure a regular chocolate chip cookie with gluten has.
What are the MACROS??
I cannot provide macros for this recipe because there are too many varying factors. You will have to make this recipe and figure out the macros for the ingredients you end up using. All brands of almond flour vary in terms of total carb count. I'm using the Kirkland brand from Costco, which has only 2g net carbs per serving. However, Anthony's Almond Flour is very similar, carb-wise. You may also end up using different sweeteners, so do your best to figure out the macros for these on your own.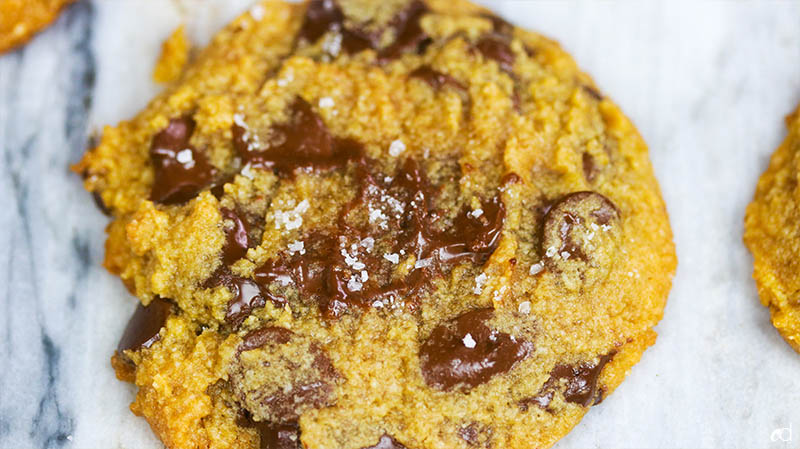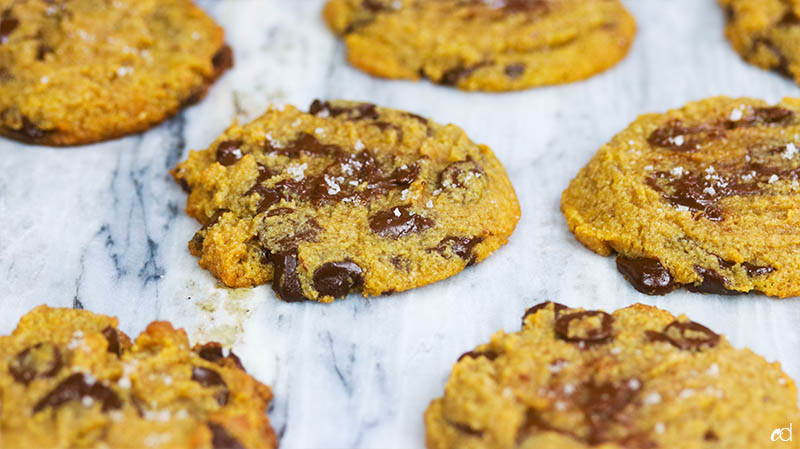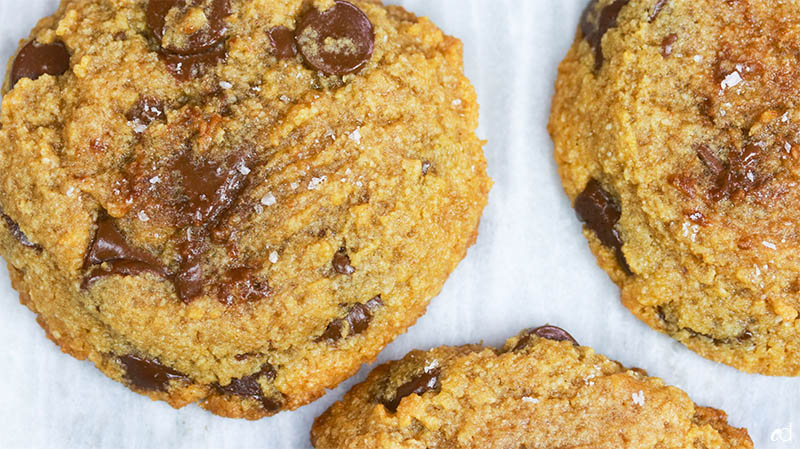 Make sure you are using a kitchen-scale so that you end up with perfect cookies every time. If you don't have a kitchen scale, please join us this century and get yourself one — STAT!
If you're not on keto, try my other Brown Butter Chocolate Chip Cookie recipe. It's fire, duh!
Print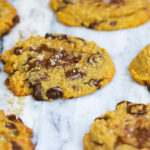 Keto Brown Butter Chocolate Chip Cookies
---
Author:

Chef Resha

Total Time:

20 minutes

Yield:

1 dozen cookies
Description
The best keto Brown Butter Chocolate Chip cookies. We brown the butter to ensure those deep toffee notes are infused in the cookies, which help our brains think we're eating regular chocolate chip cookies — and we're so not. These are completely sugar-free and low carb, and you can't even tell the difference.
Barely adapted from Fat for Weight Loss.
---
---
Instructions
Preheat oven to 350 degrees F.
Line a baking sheet with parchment paper or a silicone baking mat, set aside.
In a large bowl, combine the almond flour, coconut flour, xanthan gum, baking powder, and sea salt. Whisk together to combine and break up any lumps. Set aside.
In a small stainless steel saucepan, melt 4 tablespoons of the butter over medium-low heat until it browns, about 2-3 minutes. Do NOT walk away from this. Stir to make sure you can see the brown bits at the bottom. If you use a dark-coated saucepan, it can be difficult to see how brown it's getting. Once the butter is a toasty brown and smells like toffee, immediately turn off the heat and add in the 4 tablespoons of the cold butter to stop the butter from cooking and eventually burning. Transfer the brown butter to a small bowl to cool slightly.
In a medium-sized bowl or large measuring cup, pour in the xylitol, monk fruit, and brown sugar Swerve sweeteners. Pour in the cooled brown butter, making sure to include all those toasty bits at the bottom. Fold the sweeteners and brown butter together just to combine. Pour in the vanilla extract, along with one large egg. Whisk thoroughly and vigorously to cream those ingredients together for about a minute, then pour into the dry mixture and gently fold until a smooth dough forms. Just a heads up: the brown butter mixture will thicken and stiffen up on you after a couple minutes if you don't immediately add it to the dry mixture, but that's fine so don't panic. Just continue as you normally would. Once the dough is formed, add the chocolate and fold until completely combined.

Use a large cookie scoop to place your cookies on your prepared baking sheet, making sure there's at least 2 to 3 inches of space in between each cookie. Using a rubber spatula or spoon, press the cookie dough down just slightly because they won't flatten too much on their own. Don't flatten them too much, just a small nudge will do the trick. Place inside of your preheated oven and bake for 10 minutes, or until the edges of the cookies turn golden brown. This shouldn't take more than 12 minutes, and you do not want to overtake these! Mine were perfect in exactly 11 minutes.

Remove from oven and allow them to cool COMPLETELY before eating. Keto sweeteners taste better once cooled, and because there's no gluten, these cookies are far too fragile to handle while warm. But trust me, they're good as hell once they've cooled off.
Enjoy.
Equipment
Notes
Xylitol is HIGHLY toxic to dogs, so please use caution around your pets.
Prep Time:

10 minutes

Cook Time:

10 minutes

Category:

keto, low carb, dessert

Method:

baking
Keywords: keto chocolate chip cookies
Recipe Card powered by
Disclosure: This site uses various affiliate links. If a purchase is made using one of our affiliate links, we receive a small commission which helps support our efforts. Please read our
Privacy Policy
for more information.