Pasta is comfort food. You will not debate me on this fact. You can make something so comforting with just a couple ingredients, and it will be guaranteed delicious. Pasta aglio e olio, and cacio e pepe are two of my favorite most simplest pasta dishes ever created. They both need very little to be so delicious and satisfying. Both are perfect for a late night craving fix, as they come together in about 20 minutes.
However, a real Italian will not hesitate to tell you that authentic cacio e pepe doesn't contain garlic (or any other "fancy" toppings and additions). Aglio e olio pasta is the one with garlic (aglio = garlic). They both have cheese and both typically use spaghetti. But I don't do authentic. Not because I don't respect it, because I do, but I just like to do me while paying homage to the real thing. Besides, too many people want to argue about the authenticity of authenticity! It's exhausting, and quite frankly, I don't really care enough to donate my energy to something so silly — if it's good, I'm gonna eat it. When you're in the kitchen, you simply have to do what you want, and make what you feel like eating. So, here you have *my* take on aglio cacio e pepe…with shrimp?? Or, con gamberetti?? And I have NO idea if that's even a proper title for it, because I don't speak the language, and therefore don't really know how to arrange those words. Basically, this is pasta with cheese, garlic, and juicy shrimp.
Cacio e pepe is very simple. The method to achieve it, takes just a little bit of practice, but it's very easy to do. You basically use the starchy pasta water, and a little fat (olive oil and/or butter) to emulsify a sauce, while adding sharp pecorino romano cheese…and you end up with this creamy delicious sauce that clings beautifully to the pasta. Movement is your friend here. Keep the pasta moving while you mix it around, and the sauce comes together very easily. The main seasoning aside from the salty pasta water, is of course the freshly ground black pepper (pepe). The best way to infuse that floral peppery flavor is to gently infuse the olive oil with the pepper. And because I'm using elements of aglio e olio, do the same with the garlic. You can slice your garlic, or crush it and roughly chop it like I did. You don't wanna use minced, because it will burn almost immediately. It's too small. Larger chunks or slices of it, will yield a better flavor. It gets toasty and sweet, and way less harsh on the palate. You can use a combination of pecorino and parmigiano, but that's totally up to you, toots.
You can leave the shrimp out, or just swap it with another protein. That's the beauty of cooking — you get to do whatever you want. I took about a half pound of thawed extra large shrimp and soaked them in a quick brine of kosher salt and raw sugar (equal parts). This method really helps enhance the shrimp's natural sweetness and ocean'y saltiness, without being too much.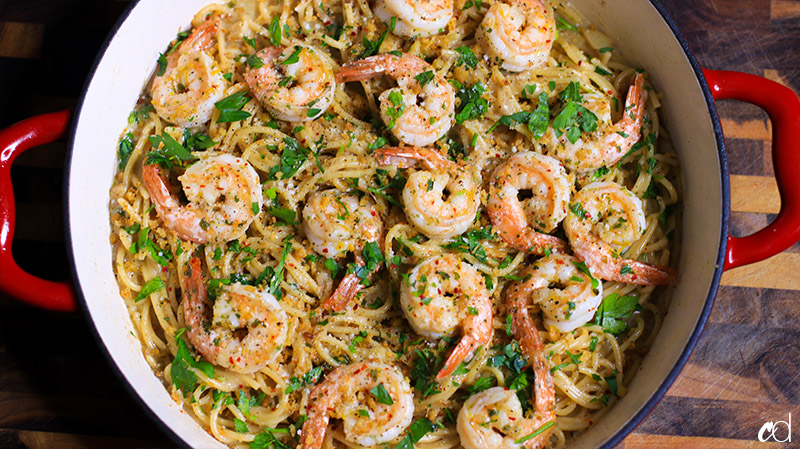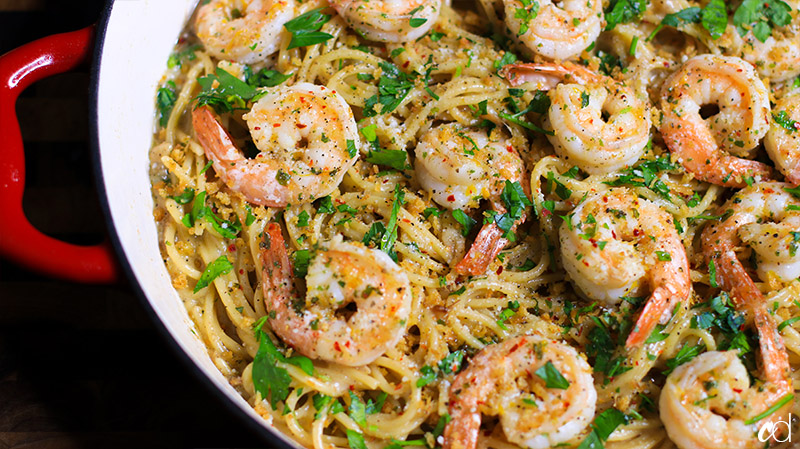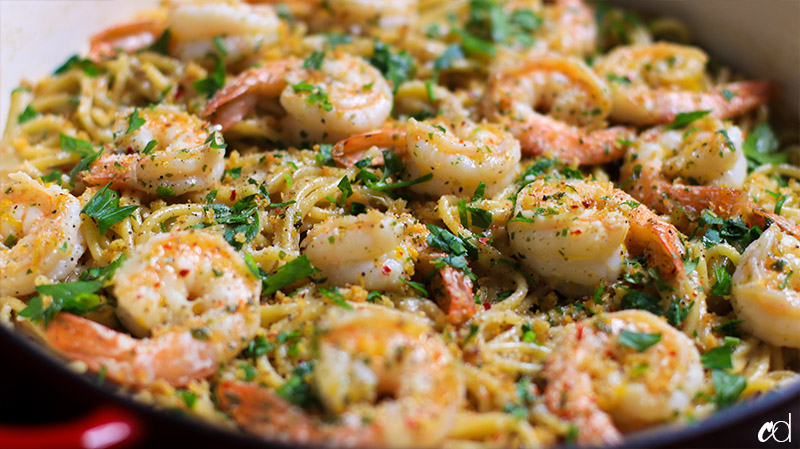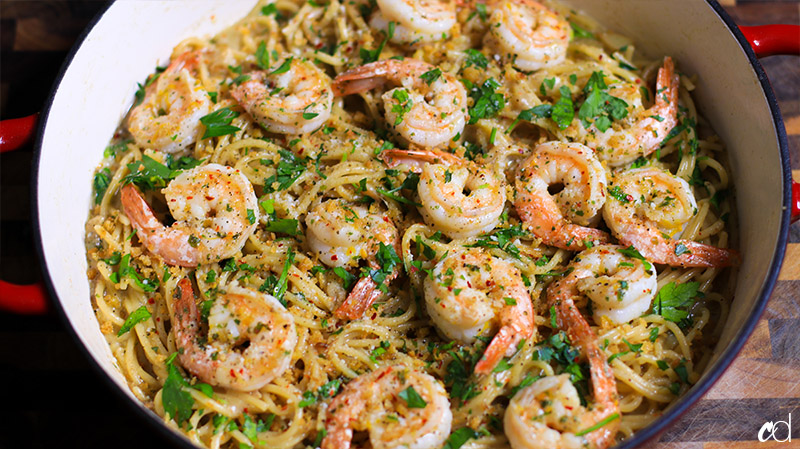 Print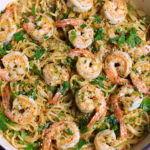 Aglio Cacio e Pepe with Shrimp
---
Description
Tell your nonna I'm sorry, but I do what I want.
---
Half pound spaghetti (8oz), keep the pasta water for the sauce

6

large cloves garlic, crushed and roughly chopped, or sliced

1 tsp

freshly ground black pepper

3

–

4

tablespoons olive oil

2 tablespoons

butter

1

cup

pecorino romano, plus more for serving

2 tablespoons

coarse sea salt (to season the pasta water)
For the Shrimp
1/2

pound

extra large shrimp, thawed or fresh (tails removed, see note below)

1 tablespoon

kosher salt (

1 teaspoon

if using fine sea or table salt)

1 tablespoon

sugar

1 tsp

orange or lemon zest
Crushed red pepper (optional)
Salt and pepper to taste (optional, taste a shrimp first)
Lemon juice (1 tablespoon)
Optional garnish
Fresh parsley
Toasted breadcrumbs (see note below)
---
Instructions
For the Shrimp
Add the shrimp to a small bowl or large measuring cup, along with the kosher salt, sugar, and zest. Add just enough cold water to cover it, and stir to dissolve the salt and sugar. Let sit for 20 minutes.
After 20 minutes, rinse and drain the shrimp on paper towels.
When ready to cook, heat about 2 tablespoons of olive oil and 1 tablespoon of butter over medium-high heat. Add crushed red pepper if using, and saute shrimp for 1-2 minutes per side. If using smaller shrimp, adjust the cooking time as needed. You don't want rubbery overcooked shrimp. When shrimp is opaque and pink, turn off the heat, toss the shrimp in the oil and butter mixture, and add a splash of lemon juice. Add the shrimp to the pasta dish and enjoy.
For the Aglio Cacio e Pepe
Bring a quart of water to a boil in a pot, adding a very large pinch of sea salt once it starts boiling. Add the spaghetti, gently folding it in so it fits under the water. We are using far less water here on purpose — we want extra starchy pasta water. Do NOT break the spaghetti, just be patient and gently swirl it in until its submerged. Cook according to package directions, minus 2 minutes.
Meanwhile in a large skillet over medium-low to medium heat, bring the olive oil, butter, black pepper, and garlic to a gentle simmer. Stir the garlic around frequently so it doesn't burn. Also, because we're using butter, the milk solids will brown over time. Keep this mixture moving so nothing burns. You want the garlic to be toasty and straw colored at the most. This will cook for about 5-7 minutes.
Once the garlic is toasty and lightly golden brown around the edges, reduce the heat to low. Add a ladle of the hot starchy pasta water to slow down the cooking process. Stir around to scrape up any browned bits (if you have any). Add another ladle of the pasta water, then add the pasta. Keep the pasta water nearby because this is what the base of our sauce will be comprised of. As soon as you add the pasta, stir vigorously to coat each strand in the oil/butter and water mixture. It should begin to emulsify. Immediately add the pecorino romano while stirring and mixing until it's creamy and fully emulsified. Continue to add starchy pasta water until it's the consistency you prefer. Taste and adjust with salt and pepper as needed. Cover and keep warm. Keep the pasta water to later adjust the consistency while you prepare the shrimp.
Top the pasta with shrimp, fresh parsley, more pecorino, and toasted breadcrumbs (if using).
Enjoy immediately.
Notes
I left the tails on my shrimp because that's just how we preferred to eat them at this time, but you can absolutely remove them!
A quick recipe for toasted breadcrumbs. Add 2 tablespoons of olive oil or butter (or both), to a small skillet over medium heat, along with 1 cup of panko bread crumbs. Toss to coat, making sure every piece is evenly moistened, but not too greasy. Adjust amounts of fat and crumbs as needed. Continuously toss the crumbs around until they're lightly golden brown and toasted through. Feel free to season with dried or fresh herbs, salt, pepper, and whatever you choose.
Prep Time:

20 mins

Cook Time:

15 mins
Recipe Card powered by
Disclosure: This site uses various affiliate links. If a purchase is made using one of our affiliate links, we receive a small commission which helps support our efforts. Please read our
Privacy Policy
for more information.