Hola and greetings! Long time no post, but don't worry…I've been cookin 😉 I have quite a few recipes to share with you over the next few days so stay tuned. Today, we're going to discuss the deliciousness that is captured in these super moist and flavorful cupcakes.
Baking is something I've been quickly loving more and more, because whenever I get bored I wanna bake. I don't even necessarily want to eat what I'm baking, I just want to be in the kitchen measuring and mixing and standing by as wonderful sweet aromas fill my tiny little apartment. It's everything. I had some Oreos…so I made Cookies & Cream cupcakes. They're pretty damn delicious, if I do say so myself.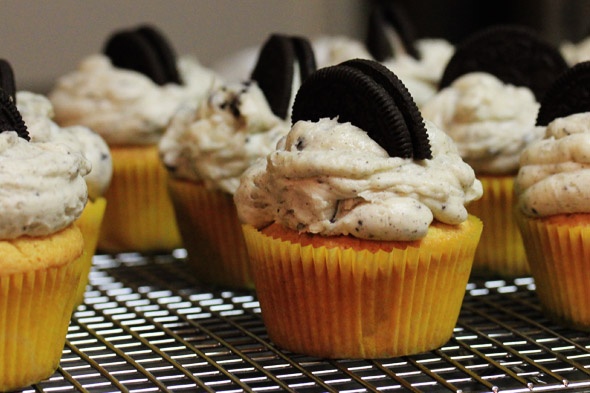 This is a very easy recipe, especially since it's literally just an altered version of my Vicious Vanilla Bean cupcakes. I simply removed the vanilla bean, for a simple yet flavorful base…and added Oreos lol. Simple. I originally wanted to make these with the chocolate stout cake as a base, but I am currently out of dutch-processed cocoa so I went the vanilla route.
I know for a fact the next I make these, I will finely crush the Oreos that go in the buttercream, because they were a bitch to pipe onto the cupcakes otherwise. My piping job as a result is a hot mess, but it's still delicious lol…I had to fight with the larger chunks of oreo to squeeze thru the tiny opening, and it was just a big mess. I would also make less frosting next time. I used 3 cups of powdered sugar, but I could've gotten away with just 2 cups because it was a lot of frosting for just 12 cupcakes, and they're a bit heavily frosted for my tastes, especially since they're sweeter with the addition of the Oreos — but I didn't wanna waste it so it is what it is.
Anyway, these cupcakes are still frickin yummy, moist, full of flavor and will be a nice addition to your thighs 😉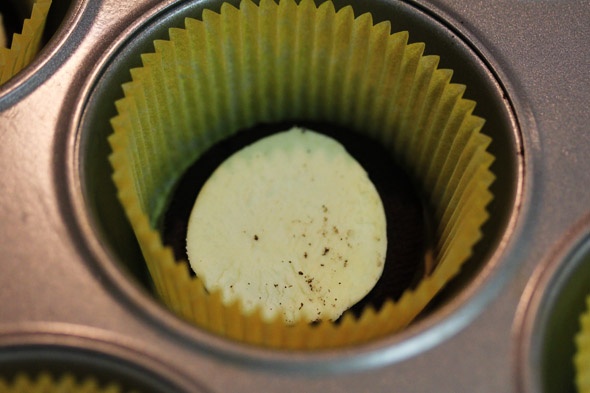 Place a half of an Oreo at the bottom of each cupcake liner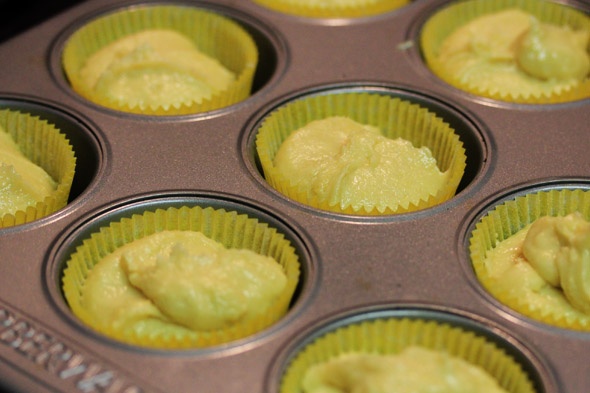 Then pour the batter on top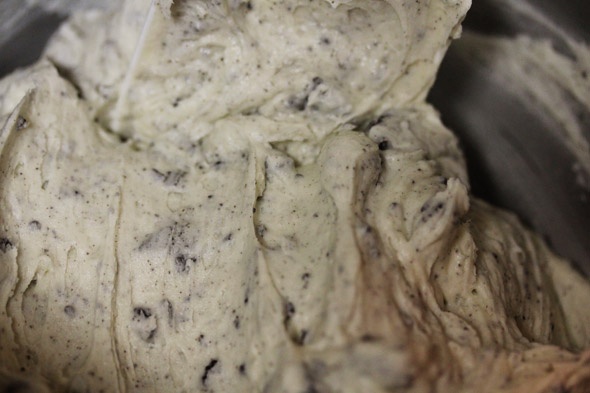 Cookies & Cream Buttercream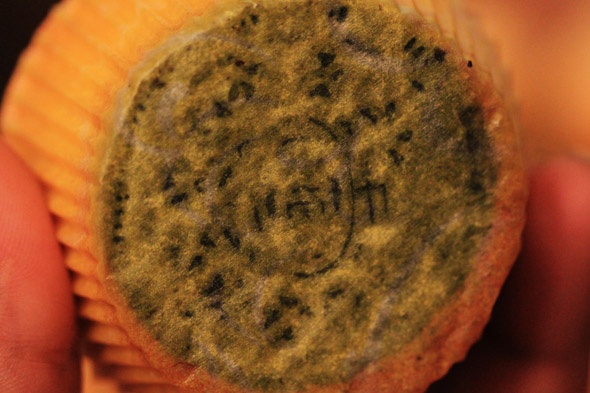 Here's what the bottoms look like after it's baked

Ready to be frosted!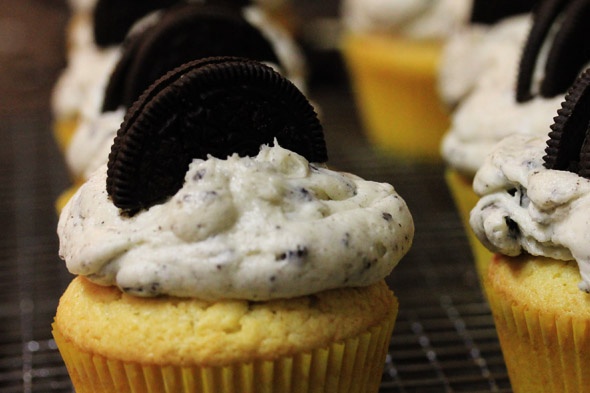 Crappy piping job due to large Oreo chunks…dah well lol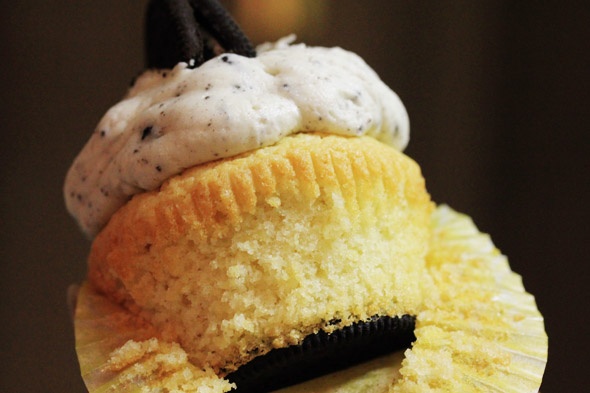 See?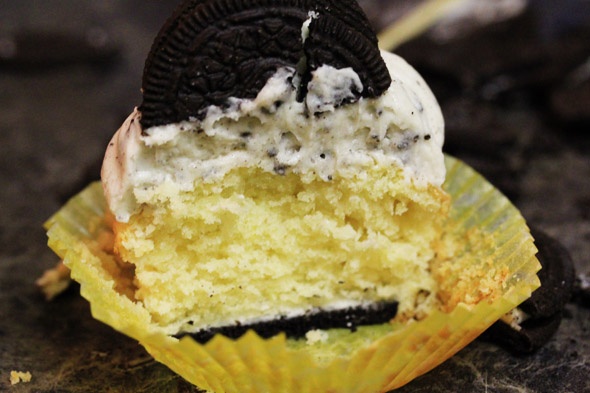 Downright sinful!
Print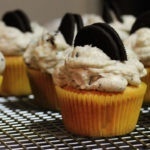 Cookies & Cream Cupcakes
---
1 1/2

cups

all-purpose flour

1

cup

granulated sugar

1 1/2 tsp

baking powder

1/2 tsp

table salt

1

stick unsalted butter (room temperature)

1/2

cup

sour cream

1

large egg (room temperature)

2

large egg yolks (room temperature)

1 1/2 teaspoons

vanilla extract

12

Oreo cookies, with top cookie layer removed (save the tops for crumbling into the frosting later)
For the Cookies & Cream buttercream:
2

sticks unsalted butter (room temperature)

2

to

2 1/2

cups

powdered sugar

2 tbsp

heavy cream

2 tablespoons

vanilla extract
tiny pinch of salt

1/2

to

1

cup

finely crushed Oreo cookies (feel free to use less or add more)

6

whole Oreos cut in half for topping (giving you

12

halves, optional)
---
Instructions
Heat oven to 350 degrees F. Line standard muffin/cupcake tin with paper or foil liners. Place one Oreo cookie bottom with frosting still attached at the bottom of each cupcake liner.
Sift together flour, sugar, baking powder, and salt in bowl of standing mixer fitted with paddle attachment. Quickly and on the lowest speed, mix around to make sure everything is evenly distributed.
Add softened butter, sour cream, egg and egg yolks, and vanilla extract; on medium speed (start w/ the slowest first or the flour will fly) beat for about 30 seconds or until mixed together. Scrape down sides of bowl with rubber spatula and mix by hand until smooth and no flour pockets remain.
Divide the batter evenly in the little paper or tin cupcake liners on top of the Oreo cookie bottom. I used a 3tbsp cookie scoop for a perfect measurement. Place on the middle oven rack and bake for about 20 minutes (check after 18 minutes, no longer than 24) or until lightly golden or toothpick comes out clean.
Remove the cupcakes from cupcake pan and cool at room temperature before frosting.
For the Cookies & Cream buttercream:
In a large stand mixer (or hand-mixer), whip softened butter for about 3 to 5 minutes, scraping down the bowl as necessary. Reduce the speed to low, and add the powdered sugar and mix until well-incorporated. Increase the speed to medium-high, add the vanilla extract, salt and heavy cream, and whip until frosting is light and fluffy.
Toss in your crushed oreos and mix by hand until well incorporated. The amount of cookies for your buttercream is totally up to you. Some may like a lot of cookie bits, some may like less. Do you. Just remember to take into account that you've got a whole bottom half of an Oreo at the bottom of the cupcake, and another half at the top.
Pipe onto your cooled cupcakes and top each cupcake with a half Oreo.
Enjoy 😉
Prep Time:

20 mins

Cook Time:

20 mins
Recipe Card powered by
Disclosure: This site uses various affiliate links. If a purchase is made using one of our affiliate links, we receive a small commission which helps support our efforts. Please read our
Privacy Policy
for more information.