These cupcakes just might change your life…I'm serious.
I made a chocolate stout cake a couple of years ago, and it was out of this world delicious. It was also a VERY large recipe, so I spent a long time in the kitchen — it was well worth it. I never thought to halve this recipe to make cupcakes, an honest "herp-derp" moment. Although this Irish Car Bomb cupcake recipe is all over the internet, I went with Michelle from Brown Eyed Baker's version because she never fails and she really boozed up the buttercream. This recipe calls for three different types of alcohol, so I wouldn't serve these to kids 😉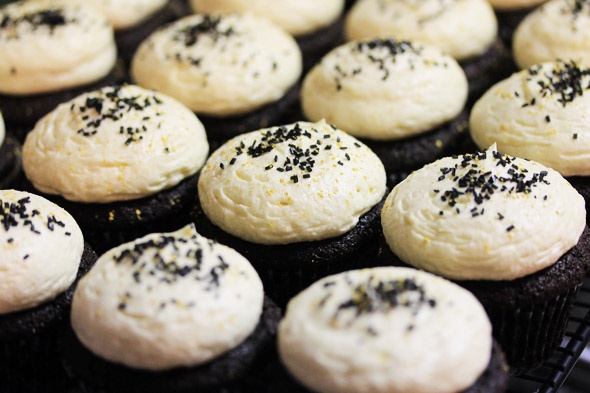 I want to point out a few things about this recipe before you start prepping/baking so you don't think you're going crazy or doing something wrong. When you make the beer/butter/cocoa mixture, use a whisk to incorporate the ingredients. It will start to separate almost immediately when you remove it from the heat and can turn into a oily, globby mess. You'll probably start to panic, but it just needs to be emulsified. Whisk it with a strong hand until it comes back together. This also helps it cool down enough to slowly stream into the egg and sour cream mixture without cooking the eggs — nobody wants scrambled eggs in their cupcakes…
The Guinness beer is pretty hard to taste on it's own, but what it does to the chocolate is unreal. It's a harmonious marriage of true chocolate flavor that I honestly cannot describe. This is the perfect cupcake for the chocolate lover. They're not too sweet and they're super moist and so buttery. The whiskey ganache in the center really compliments the entire body of the cupcake, making it insanely rich and decadent. I used Ghirardelli 60% cacao bittersweet chocolate chips for the ganache, because that's all I had laying around the house, and they're fabulous. I know they'd be even better with a higher quality chocolate, but Ghirardelli is pretty easy to find at any grocery store, so don't bust your balls looking for the holy mother of all chocolates. The Bailey's buttercream is fluffy, rich and not overly sweet either. It's just effing perfection! Don't use regular "unsweetened cocoa powder" with this recipe. Make sure you use dutch-processed only. I used Double Dutch-processed cocoa powder from King Arthur. I decorated the cupcakes with black sugar crystals and a tiny dusting of edible gold glitterdust, but you don't have to, they're already amazing.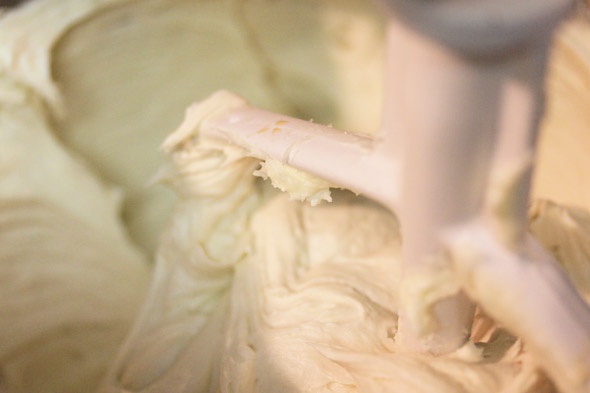 Bailey's Buttercream is all done!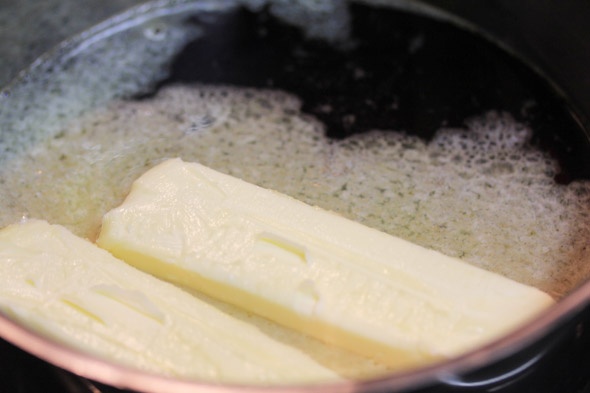 Melting the butter into the Guinness stout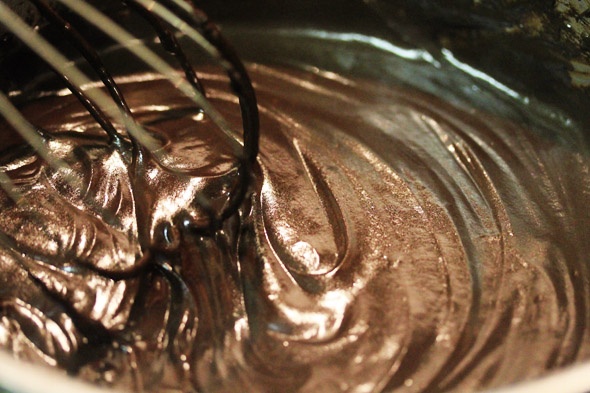 Whisk the beer and chocolate mixture so that it all blends together, otherwise it will separate almost immediately.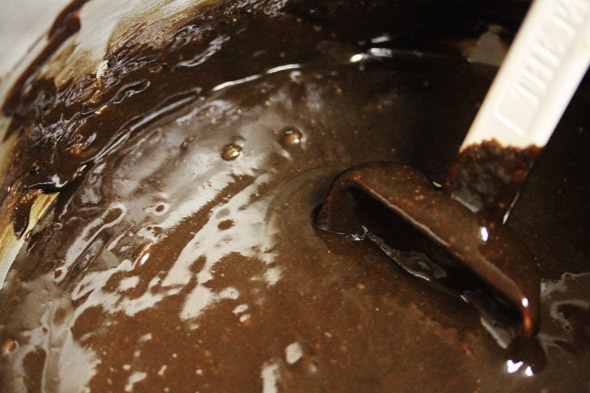 Cupcake batter is all done 🙂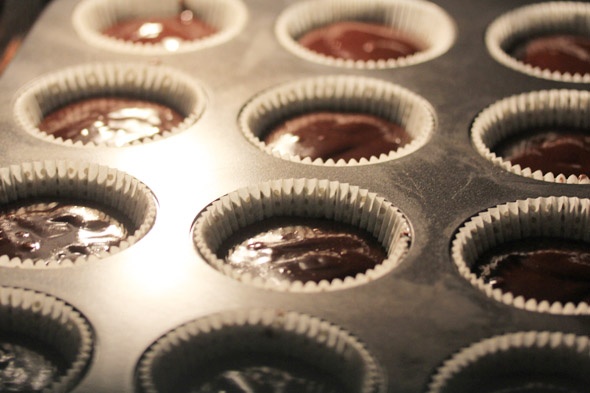 Fill them about 2/3 of the way full.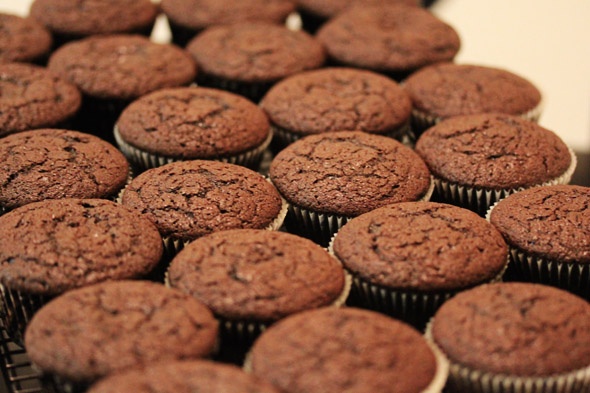 Let'em cool…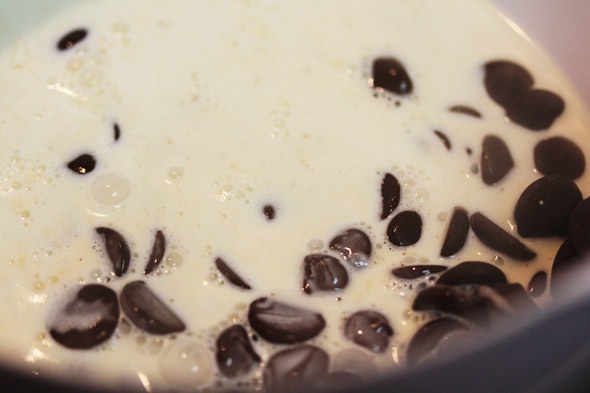 Meanwhile, melt the chocolate with the hot heavy cream to make your whiskey ganache.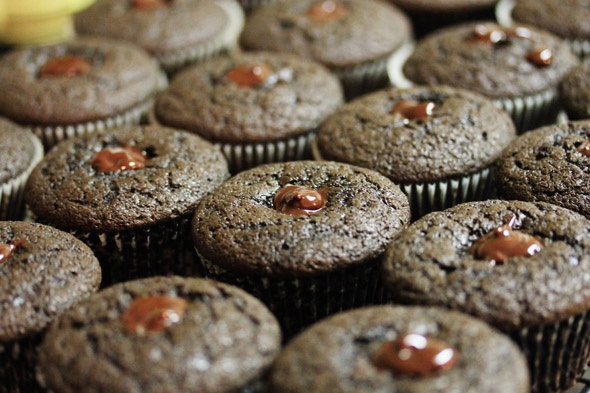 Fill the cupcakes with the ganache…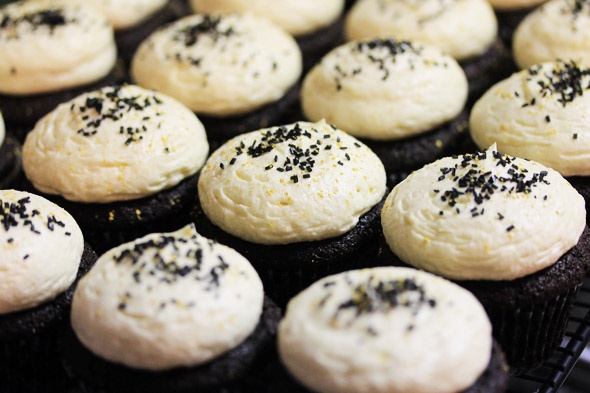 Top them with the frosting..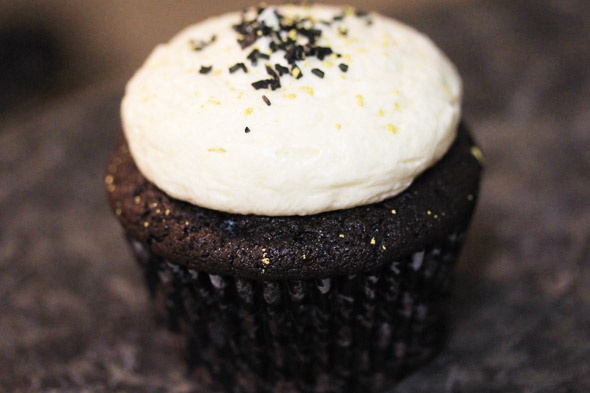 Beautiful, delicious, rich and decadent. You'll love yourself even more.
Best chocolate cupcake ever. I am head over heels in love with these, and will make them again very soon seeing as how I have 5 bottles of Guinness just chillin in my fridge — and I don't drink much 😐 Make these now. Go!
Print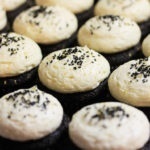 "Irish Car Bomb" Cupcakes
---
Description
Adapted from BrownEyedBaker
---
1

cup

Guinness stout

1

cup

(2 sticks) unsalted butter, at room temperature

3/4

cup

Dutch-process cocoa powder

2

cups

all-purpose flour

2

cups

granulated sugar

1 1/2 teaspoons

baking soda

3/4 teaspoons

salt

2

eggs

2/3

cup

sour cream
---
Instructions
Preheat oven to 350 degrees F.
Line 24 cupcake cups with liners.
Bring the Guinness and butter to a simmer in a heavy, medium saucepan over medium heat. Add the cocoa powder and whisk until the mixture is smooth. Cool slightly.
Whisk the flour, sugar, baking soda and salt in a large bowl to combine.
Using an electric mixer, beat the eggs and sour cream on medium speed until combined.
Add the Guinness-chocolate mixture to the egg mixture and beat just to combine.
Reduce the speed to low, add the flour mixture and beat briefly. Using a rubber spatula, fold the batter until completely combined.
Divide the batter among the cupcake liners.
Bake until a thin knife inserted into the center comes out clean, about 17 minutes.
Cool the cupcakes on a rack.
Recipe Card powered by
Print
8

ounces

bittersweet chocolate (you could use chips)

2/3

cup

heavy cream

2 tablespoons

butter, at room temperature

2 teaspoons

Irish whiskey
---
Instructions
Finely chop the chocolate and transfer it to a heatproof bowl.
Heat the cream until simmering and pour it over the chocolate. Let it sit for one minute and then, using a rubber spatula, stir it from the center outward until smooth.
Add the butter and whiskey and stir until combined.
Let the ganache cool until thick but still soft enough to be piped.
To fill the cupcakes:
Using a 1-inch round cookie cutter (or the bottom of a large decorating tip), cut the centers out of the cooled cupcakes, going about two-thirds of the way down.
Transfer the ganache to a piping back with a wide tip and fill the holes in each cupcake to the top.
Recipe Card powered by
Print
Bailey's Irish Buttercream
---
2

cups

(4 sticks) unsalted butter, at room temperature

5

cups

powdered sugar

6 tablespoons

Baileys Irish Cream

1 tsp

vanilla extract

1

tiny pinch of salt
---
Instructions
Using the whisk attachment of a stand mixer, whip the butter on medium-high speed for 5 minutes, scraping the sides of the bowl occasionally.
Reduce the speed to medium-low and gradually add the powdered sugar until all of it is incorporated.
Add the Baileys, vanilla extract, and pinch of salt. Increase the speed to medium-high and whip for another 2 to 3 minutes, until it is light and fluffy.
Using your favorite decorating tip, or an offset spatula, frost the cupcakes and decorate with sprinkles, if desired.
Store the cupcakes in an airtight container.
Recipe Card powered by
Disclosure: This site uses various affiliate links. If a purchase is made using one of our affiliate links, we receive a small commission which helps support our efforts. Please read our
Privacy Policy
for more information.