Decadence. Pure decadence. This is a recipe for adults, but you're more than welcome to leave the bourbon out of this recipe if you're sensitive to alcohol, or feeding kids.
This french toast is flavored with sweet vanilla, cinnamon and is spiked with bourbon, making it perfect for breakfast, brunch, lunch or dinner. It's your party. I used challah bread, which is an egg bread and super rich and creamy in texture. It soaks up the custard wonderfully, and after being baked off for a good 15 minutes in the oven, you're ensured it's all the way cooked thru. You don't have to use challah bread either, but I suggest giving it a try at least once in your life. It's pretty awesome for rich french toast recipes. I bought my loaf fresh, so I had to dry it out in the oven for about 20 minutes in a 300 degree oven while prepping. Even after drying it out a bit, it was still incredibly moist. I let it soak about 10 seconds per side, until saturated but not soggy and falling apart. Again, just make sure you bake it after frying it in butter so that all the egg is cooked thru. Nobody wants to chew on raw egg juice lol. It also helps some of the alcohol burn off.
As for the raspberry maple syrup, here's what I did. I had a bag of frozen raspberries lying around, so I microwaved about a half cup of them in a bowl just until the juices started running. I then poured the juice into some maple syrup, along with a few residual bits of the berries, a little vanilla extract and boom. Raspberry maple syrup! It's delicious, give it a try.
Also, we kinda dug right into this plate before I was able to take a decent photo of it LOL! Sorry about that, it was just that delicious, what can I say?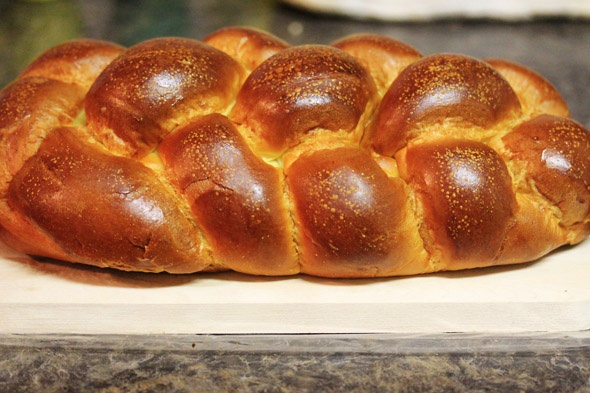 so, this is challah bread…

I like to slice from the middle and work my way on both sides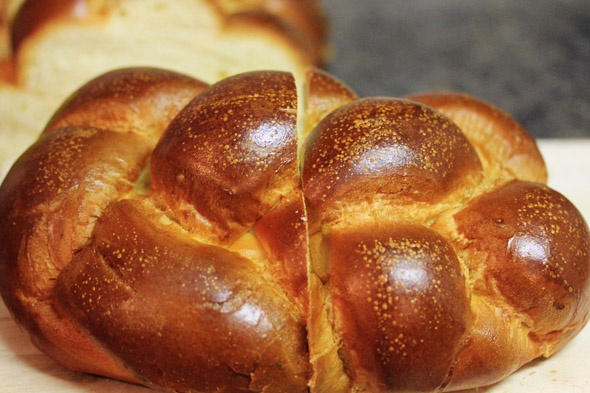 I then place both ends of the loaf together and store until ready to use again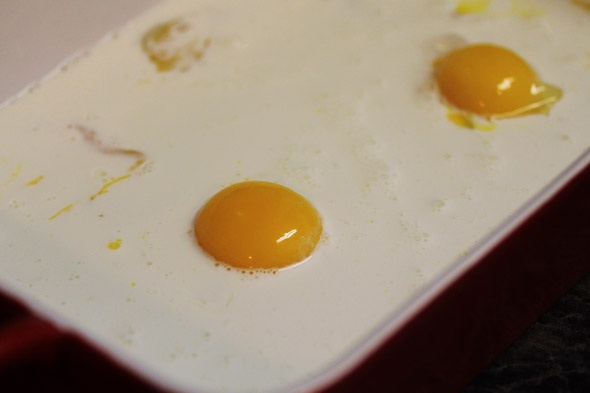 4 egg yolks (2 broke on me lol), half & half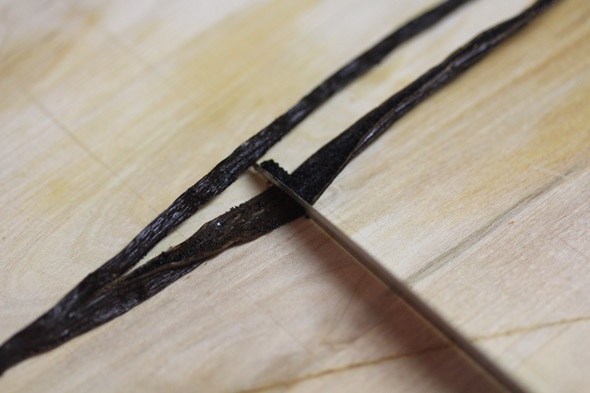 vanilla bean scrapings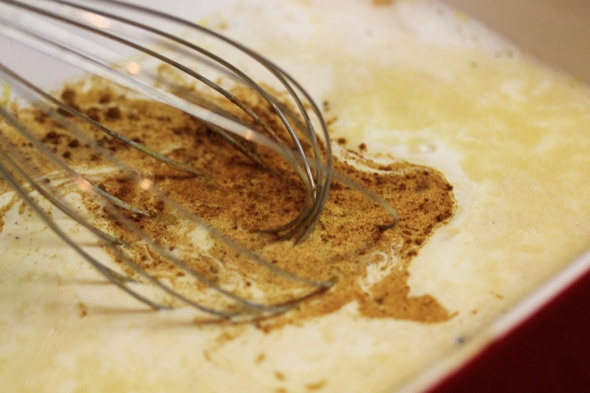 cinnamon, bourbon, and sugar tossed in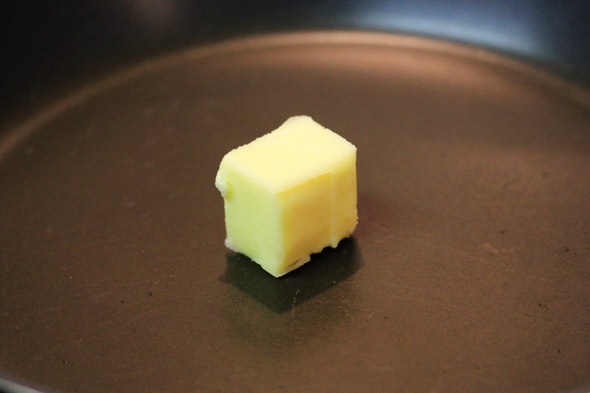 Start with a cold skillet…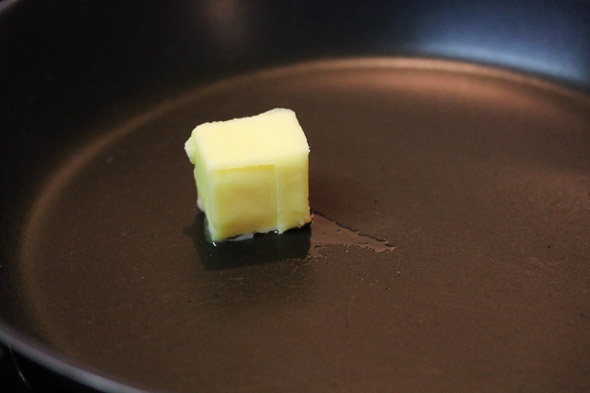 Then slowly let the butter melt over medium heat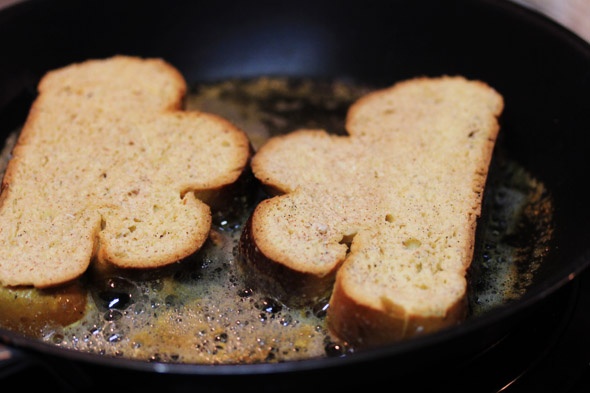 Fry each slice for 3 minutes per side, or until golden brown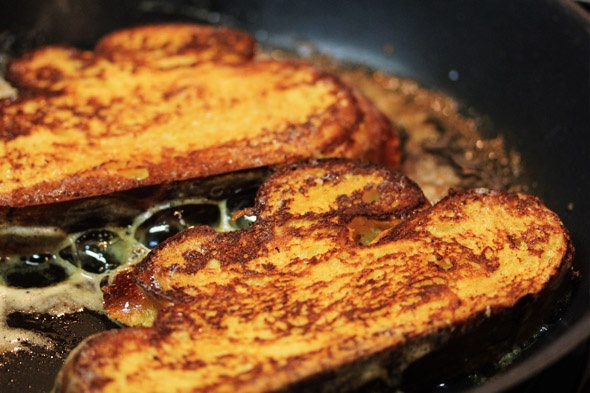 Like this…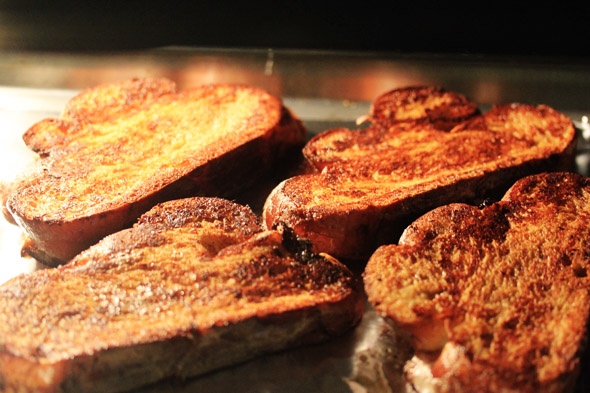 Then bake it in 350 degree oven for about 15 to 20 minutes to ensure all the custard is cooked thru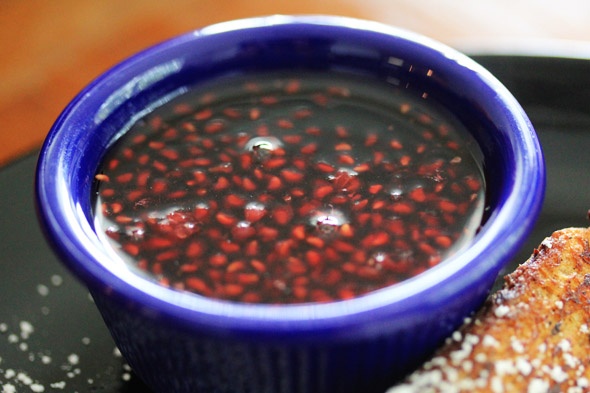 Raspberry maple syrup

Nom nom nomington!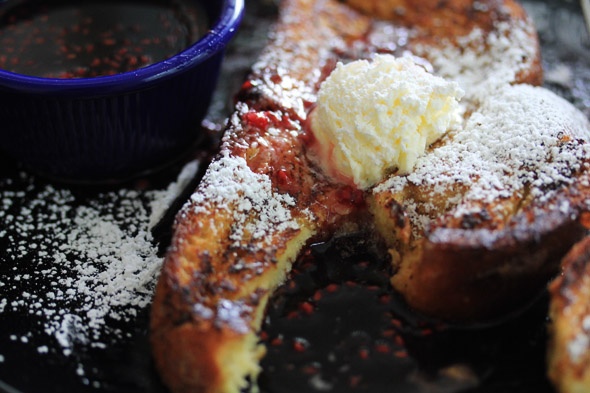 So good, you just have to try it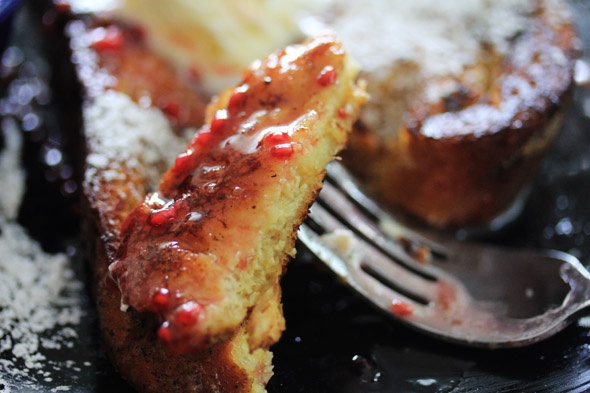 yum
Bourbon & Vanilla Bean French Toast
---
Description
copyright 2012 CarnalDish.com
---
4

to

6

thick slices of challah bread, dried out in a 300 degree oven for

15

to

20

minutes

1

cup

half & half

4

egg yolks

1 tbsp

sugar

1/4

cup

bourbon

1/2 tsp

cinnamon

1/2 tbsp

vanilla extract

1

vanilla bean

1

to

2

tbsp of butter for frying, plus more topping
---
Instructions
Preheat your oven to 350 degrees.
In a shallow dish, whisk the half & half, egg yolks, sugar, bourbon, cinnamon, vanilla extract, and vanilla bean scrapings until well combined and sugar is dissolved.
Slowly heat 1 to 2 tbsp of butter in a large skillet over medium heat.
Meanwhile, soak each slice of bread in the mixture for about 15 to 20 seconds per side. Lift each slice out of the mixture with a spatula and transfer to the skillet and let each piece cook for about 3 minutes per side.
Line a baking dish with foil and arrange each cooked slice in a single layer.
Place into the oven on the middle rack, and let bake for an additional 10 to 15 minutes.
Remove from oven and serve immediately with butter and raspberry maple syrup.
Recipe Card powered by
Print
Description
copyright 2012 CarnalDish.com
---
1/2

cup

maple syrup

1/2

cup

frozen or fresh raspberries

1 tsp

granulated sugar

1/4 tsp

vanilla extract
---
Instructions
In a microwave safe bowl, toss the raspberries with the sugar and microwave in 15 second intervals until the berries release their juices.
With a fork, press the berries so that they release as much juice as possible, then fork out any large pieces if desired. You can leave the entire berries in if you'd like.
Pour in the maple syrup and vanilla extract and microwave an additional 10 to 15 seconds. Mix well and pour over your french toast.
Recipe Card powered by
Disclosure: This site uses various affiliate links. If a purchase is made using one of our affiliate links, we receive a small commission which helps support our efforts. Please read our
Privacy Policy
for more information.