I work very close to an absolutely delicious spot called Red Velvet Cupcakery in DC and they truly have the best red velvet cupcakes in DC, hands down. I've tasted the red velvet cupcakes at every spot in DC, and none of them come remotely close to the scrumptious deliciousness of Red Velvet Cupcakery's. They're incredible, all praises due.
Howeverrrrrrrr….
These red velvet cupcakes? Wow. They are deliciously moist with a subtle chocolate flavor, just all out amazeballs. I've always preferred the deeper, darker red velvet cupcakes over the bright as hell red velvet ones….just my preference.
The cream cheese frosting is perfection, I did an amazing job on it. Perfect texture. I'm tellin ya, that good 'ol food processor is a beautiful buttercream making tool. You don't have to use one, but I'm telling you it yields a better buttercream because it perfectly blends everything together. These were perfect for the cupcakes, not too sweet, just flat out perfect. The humping mood is in your immediate future.
Quick story about these cupcakes. You see, I made these for a friend of mine who was going to be performing at a Wiz Khalifa show in the DC area. However, because the folks over at the Merriweather Post Pavillion are a bunch of seersucking haters, I didn't get to see my friend 🙁 Security wasn't having it. Not to mention, it was hot as hell outside. I'm talkin' unbearable heat. People were passing out left and right. It wasn't a good time, at all. We were miserable, meanwhile these cupcakes were sitting in my car. I didn't think they'd be any good after that whole ordeal but they held up. Not only did they hold up, but they were still as delicious as ever. It was so strange, but I wasn't mad because I'm glad I didn't waste my efforts. So we basically smashed several of these sexy lil cupcakes over the next few days and our thighs thanked us.
Wanna know just how "humptastic" these are? Make them! Follow the directions closely, and follow my tips, and you'll be getting humped before you know it 😉
I've made these twice…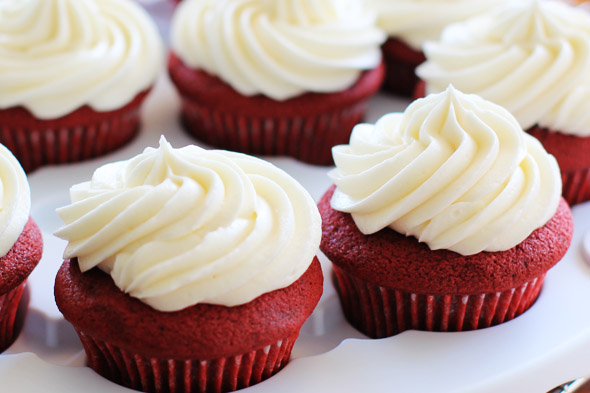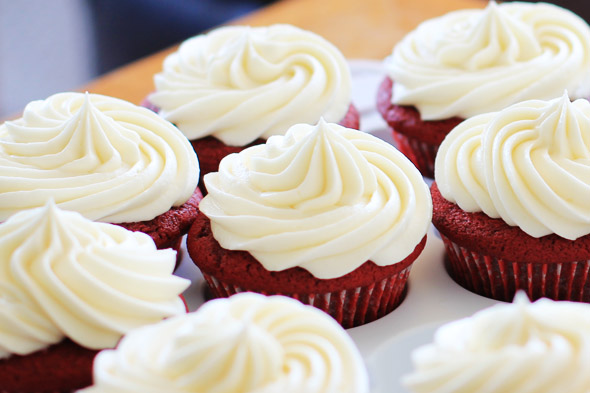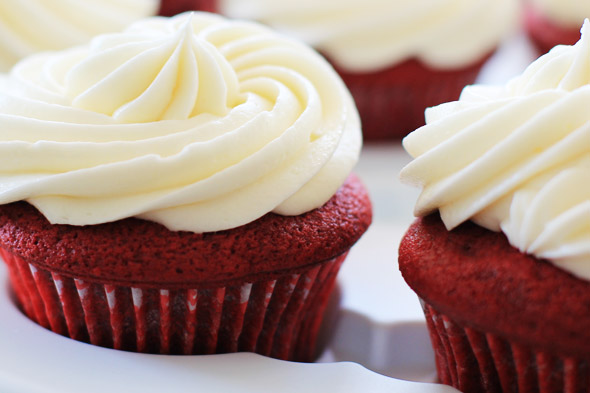 Print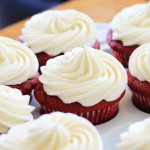 Red Velvet Cupcakes
---
Total Time:

15 minutes

Yield:

12 cupcakes
Description
adapted from Brown Eyed Baker
---
4 tablespoons

unsalted butter, at room temperature

3/4

cup

granulated sugar

1

egg

2 1/2 tablespoons

unsweetened cocoa powder

3 tablespoons

red food coloring

1/2 teaspoon

vanilla extract

1/2

cup

buttermilk

1

cup

+

2

tablespoons

all-purpose flour

1/2 teaspoon

salt

1/2 teaspoon

baking soda

1 1/2 teaspoons

distilled white vinegar
---
Instructions
Preheat oven to 350 degrees F. Line a standard muffin/cupcake pan with liners.
On medium-high speed, cream the butter and sugar until light and fluffy, about 3 minutes. Turn the mixer to high and add the egg. Scrape down the bowl and beat until well incorporated.
In a separate small bowl, mix together the cocoa powder, vanilla extract and red food coloring to make a thick paste. Add to the batter and mix on medium speed until completely combined. You may need to stop the mixer to scrape the bottom of the bowl, making sure that all the batter gets color.
Reduce the mixer speed to low and slowly add half of the buttermilk. Add half of the flour and mix until combined. Scrape the bowl and repeat the process with the remaining milk and flour. Beat on high until smooth.
Again, reduce the mixer speed to low and add the salt, baking soda and vinegar. Turn to high and beat for another couple of minutes until completely combined and smooth.
Divide the batter evenly between the cupcake liners and bake on the middle oven-rack for about 20 minutes, or until a thin knife or skewer inserted into the center of the largest cupcake comes out clean. I baked mine for 18 minutes.
Cool for 2 minutes and then remove cupcakes from the pan and place them on a cooling rack to cool completely before frosting.
Recipe Card powered by
Print
1

stick unsalted butter, at room temperature

1

block (8oz) cream cheese, at room temperature

4

to

4 1/2

cups

powdered sugar

1 tablespoon

vanilla extract
tiny pinch of salt
---
Instructions
In a food processor, pulse the softened butter and cream cheese together until combined.
Add 1 cup of the sugar and pulse. Repeat until all the sugar is used.
While pulsing, drizzle in the vanilla extract and salt.
Frost your cupcakes.
** If you don't have a food processor, you could use a traditional stand mixer, electric hand mixer, a plain ol' wire whisk (a sturdy one), or a fork or spoon. Just expect to put more muscle into it if mixing by hand, and note that it will take a bit longer to blend everything together smoothly.
Recipe Card powered by
Disclosure: This site uses various affiliate links. If a purchase is made using one of our affiliate links, we receive a small commission which helps support our efforts. Please read our
Privacy Policy
for more information.