I've made a lot of burgers. Lots. They're always delicious. But this one here? This one is my personal favorite. I didn't wanna share the recipe, to be honest. It was that delicious! I bit into it, and seriously felt like I was being embraced by Jesus himself. I had to put it down and just shake my head like, wow, did I really make this?? I sure as hell did, and you can to 😉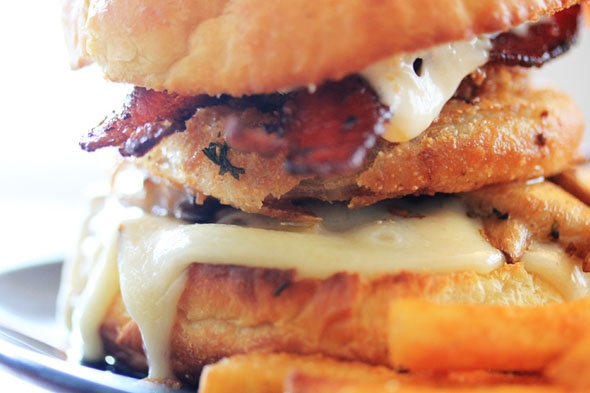 I made these burgers for July 4th, and I'll spare you any "firework" metaphors but this sandwich is pretty damn magical, I must say. You'll bite into it and immediately hear is the first 10 seconds of Big KRIT's Sookie Now, followed by a vicious shoulder jig of approval. It's simply everything. Juicy, orgasmic, flavorful, tender, orgasmic, tear-inducing…did I say orgasmic? You might even ignore your fries like I did. Shiitake mushrooms are definitely my favorite. They take on a very smokey, almost bacon'y flavor that you just have to experience for yourself. If you think you hate mushrooms, I implore you to try these. They're delicious, just give them a chance.
I have to say it once again, this is NOT a burger you want to smother in "America's Condiment of Choice" aka ketchup. Don't insult me, don't insult this amazing burger by putting basic condiments on it. You don't need it. The garlic "aoili" really sets this burger off and compliments it perfectly. I wouldn't recommend skipping it.
No, I'm serious…put the damn ketchup down. Now 😐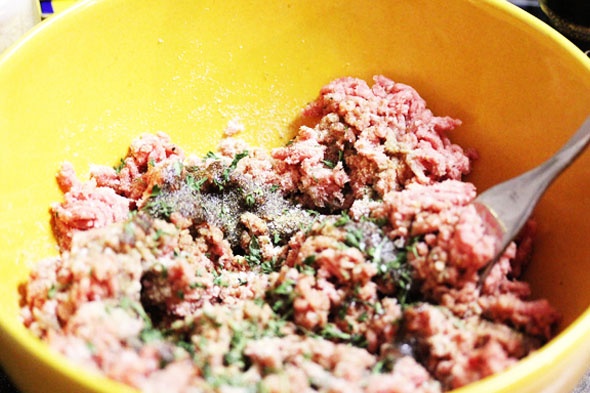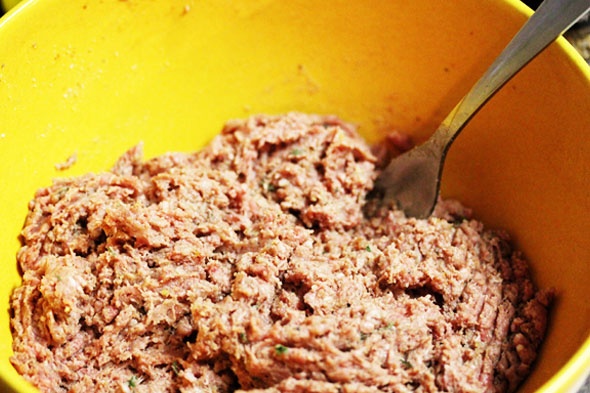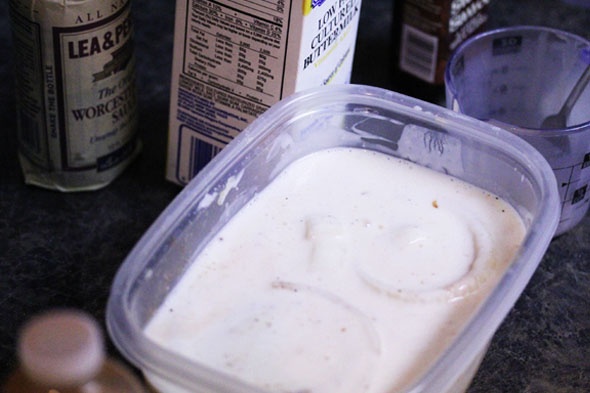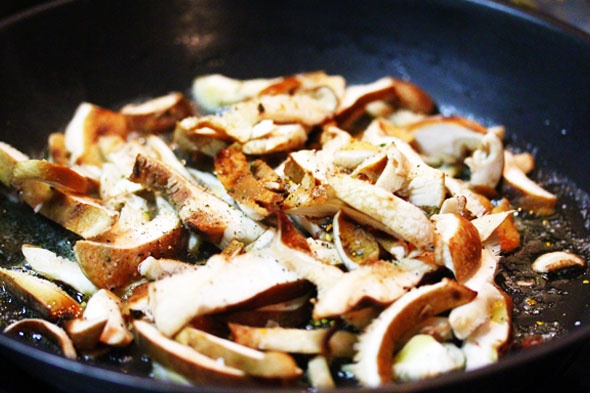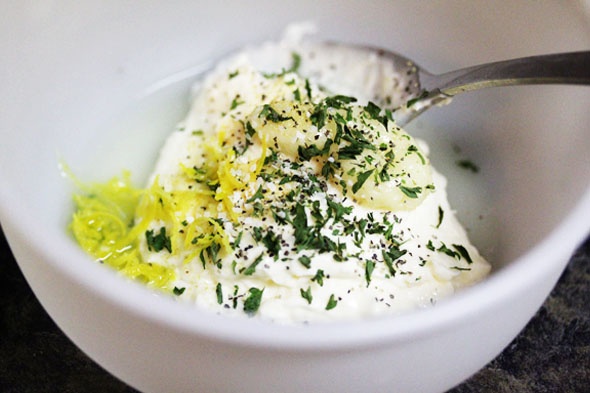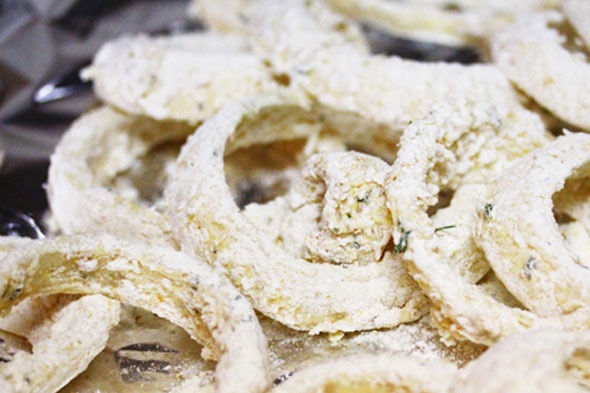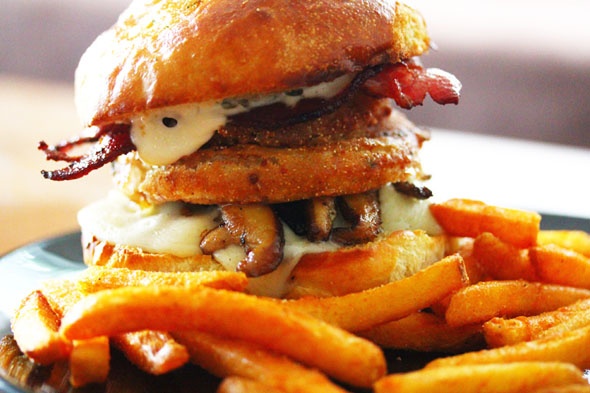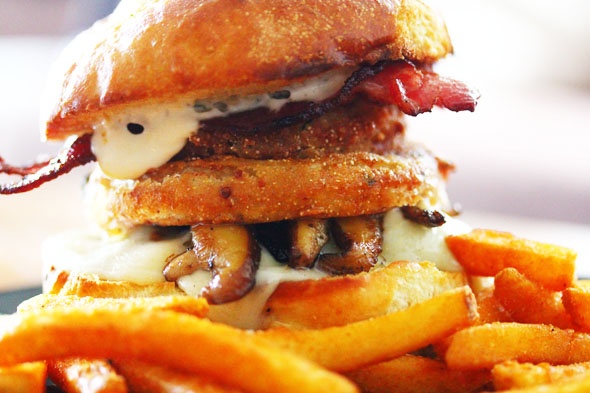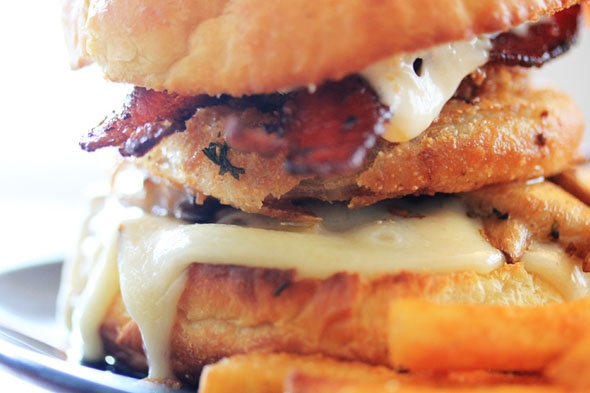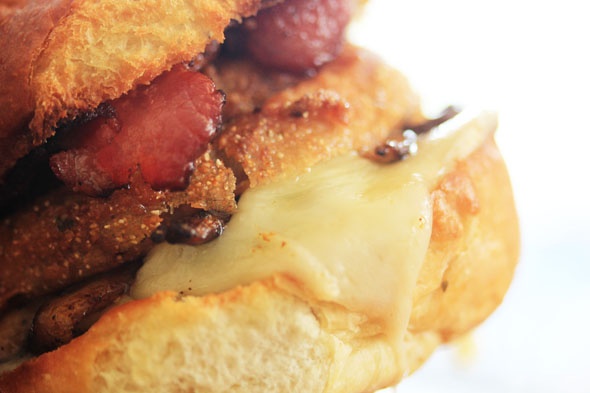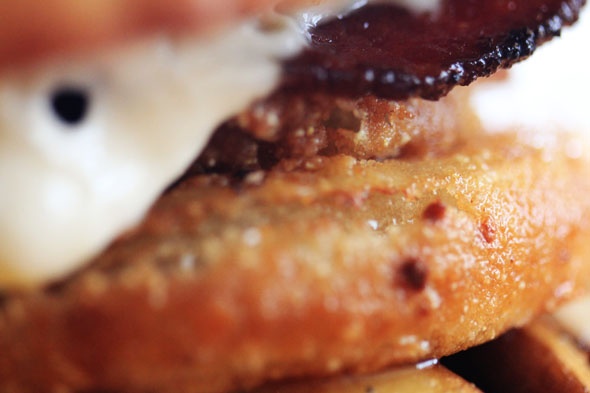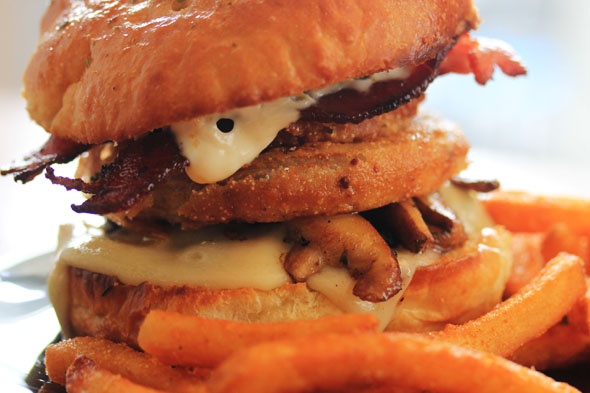 You're hungry. I can tell by the proverbial drool hanging from your bottom lip. I know it looks amazeballs but have a little dignity 😉
Print
Description
These onion rings are slightly switched up from the ones I made with the "Big Meech Burger". I didn't double coat them, and I used a few other ingredients. These are also very amazing.
---
1

yellow or vidalia onion, sliced into rings

1 qt

buttermilk

1/4

to

1/2

cup

hot sauce

2

cups

of flour

3/4

cup

corn meal

1/2

cup

japanese bread crumbs (panko)

1 tbsp

dried parsley
Loads of different seasonings, such as seasoned salt, black pepper, granulated garlic, cayenne, about 1 tsp each
---
Instructions
In a bowl or shallow dish, mix the buttermilk with the hot sauce well. Should be a lovely shade of pink. Place the onions into the buttermilk mixture and make sure they're submerged. Cover tightly and place in the fridge to get happy for at least 3 hours, longer is better.
Mix the flour, cornmeal, panko together well. Add a tbsp of dried parsley. Liberally season the flour with your seasoning of choice.
When you're ready to batter up your onion rings: lift them out with a fork and toss into the flour mixture. Make sure they're evenly coated. Do this with every ring, then place into the refrigerator for about 20 minutes (no longer than 10 minutes in the freezer) to help them set up and prevent your flour mixture from floating off into the oil.
When ready to fry, heat your oil to 375 degrees. Remove the onion rings from the freezer and gently place into the oil and fry until golden brown. Immediately season with salt when you take them out of the oil.
Recipe Card powered by
Print
Description
This is somewhat of a spin on a classic aioli, which uses egg yolk instead of mayo. However, mayo is nothing but egg, oil and a few other ingredients anyway, so this is basically the same thing…
---
1/2

cup

mayo

2 tsp

garlic paste (or finely minced garlic)

1

pinch of granulated garlic

1 tbsp

fresh squeezed lemon juice (

1 tsp

if using bottled lemon juice)

1 tsp

lemon zest (optional)
Pinch of salt, pepper, dried parsley, dash of cayenne to taste
---
Instructions
Combine everything and mix well. Cover and chill in the fridge for at least an hour, up to 24 hours.
Recipe Card powered by
Print
Sauteed Shiitake Mushrooms
---
Description
I purchased shittakes that were already cleaned and chopped. DO NOT clean these with water, they will soak it up like a sponge and will ruin everything. If you don't know how to clean mushrooms, google is your friend.
---
2

cups

of sliced shiitake mushrooms

1 tbsp

worcestershire sauce

3

to

4

tbsp extra virgin olive oil (the good stuff, it makes a difference)

2

to

3

tbsp butter
Salt, pepper, onion powder, to taste
---
Instructions
Heat the olive oil and butter in a skillet over medium or medium-high heat. Once the butter starts sizzling up, add your mushrooms. Season them. Allow this to sautee for about 4 minutes, then add the worcestershire.
Continue to sautee until they achieve a beautiful color, about 10 to 15 minutes.
Taste and re-season if need be.
Remove from heat and place on top of your beautiful burger.
Recipe Card powered by
Print
1

lb

ground beef (at least 80/20 for a juicy burger)

1/4

cup

steak sauce (such as A1)

2

to

3

tbsp worcestershire sauce

2 tbsp

heavy cream

1/4

cup

seasoned bread crumbs
Drizzle of extra virgin olive oil for added moisture
Seasoning to taste (I used McCormick's Montreal Steak seasoning, kosher salt, granulated garlic, onion powder, cayenne, a little dried parsley — use whatever you have)
---
Instructions
To the ground beef, add the worcestershire, steak sauce, heavy cream, extra virgin olive oil, seasoning and bread crumbs. Gently mix and make sure everything is incorporated well. Cover and let this marinate for at least an hour in the fridge.
After marinating, form your patties. They will shrink just a little when cooked, so keep that in mind when sizing them.
In a skillet over medium-high heat, cook your patties — flipping just once and DO NOT PRESS the patties down with your spatula. Cook for about 5 to 6 minutes on each side, or until juices are no longer pink.
Remove from heat and get ready to assemble these babies…
Recipe Card powered by
Assembly:
Butter and toast your buns.
Spread a layer of the garlic aioli on the bottom half of your bun. Place a patty on top with a slice of swiss cheese and stick under a hot broiler just until the cheese starts to slightly melt. Don't leave it under there for long, and definitely don't walk away. It should take about a minute.
Once the cheese starts to melt down, immediately remove from the oven. The residual heat will continue to melt the cheese.
Place some of the mushrooms on top of the melted cheese, followed by 1 or 2 onion rings, then the bacon.
Spread more garlic aioli on the other half of the bun close it up.
Enjoy and try not to cry…
Disclosure: This site uses various affiliate links. If a purchase is made using one of our affiliate links, we receive a small commission which helps support our efforts. Please read our
Privacy Policy
for more information.