Another cheesecake recipe 😀 Back to back to baaack. This one is also equally incredible. Everyone who knows me, knows that I am a huge fan of anything vanilla based. It's such a powerful, potent, yet delicate flavor that I simply cannot get enough of. This cheesecake embodies everything that is right within the world. It's tall, it's thick, it's rich, it's creamy, and it's easy to do. I sound like I'm describing a Hollywood housewife…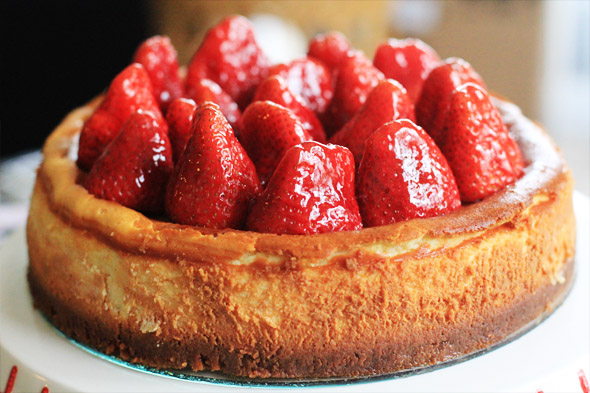 You'll find this recipe to be a keeper. If you're a fan of tall New York style cheesecakes, this will please you greatly. It has that beautiful golden brown crust all over, and the creamy dense center you crave. You can eat this baby plain, with a traditional sour cream topping, or with fresh fruit or berries. I went the berry route, seeing as how I ALWAYS have strawberries in my house. They're my favorite things in the world to snack on. I got rid of this cheesecake almost as soon as I made it because it doesn't need to be around a single woman who lives alone. I gave it to a friend of mine, and he is still texting me about this damn cheesecake to this day LOL. It's really good, y'all. He says it's "Sex on a plate", and well…that isn't a lie.
When this cheesecake bakes, it souflees up and almost looks as though it's going to spill over, but don't worry — it's not. It'll sink back down as it cools. If you're taking the temperature of the cheesecake, do it along the sides of the cheesecake. If you pierce the cheesecake in the middle, it might crack on you if you're not using a waterbath. I didn't use one this time, but I highly recommend doing it. Always allow your cheesecakes to cool uncovered at room temperature for at least 3 hours before you cover it and let it further chill in the fridge. This prevents condensation from building up on the top layer of your cake, giving it a wet gross appearance. Let's avoid that, shall we? I also avoided using graham crackers with this recipe, because animals crackers just taste better. You can use whatever you'd like.
If you don't have vanilla beans, you should buy some — or you could just use more vanilla extract in it's absence. You could also use vanilla paste. Enjoy this, and make sure you share, because you don't want your thighs to spread too much 😉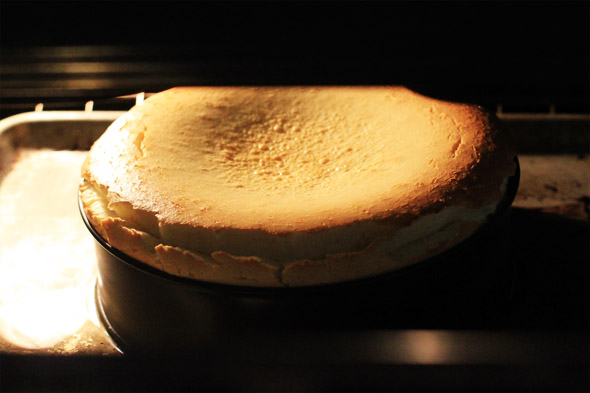 notice how my cheesecake has soufleed up beautifully? she's almost ready to come out of the oven!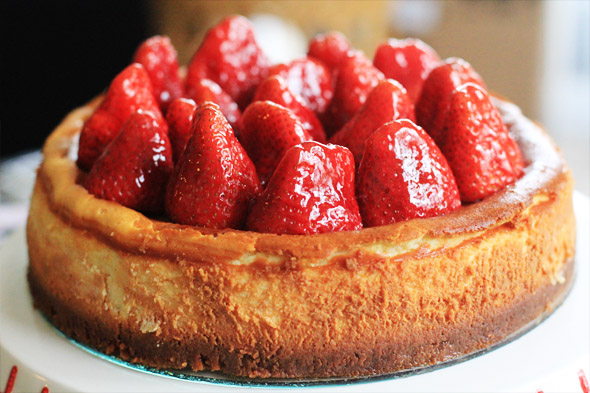 many hours later, she's ready to eat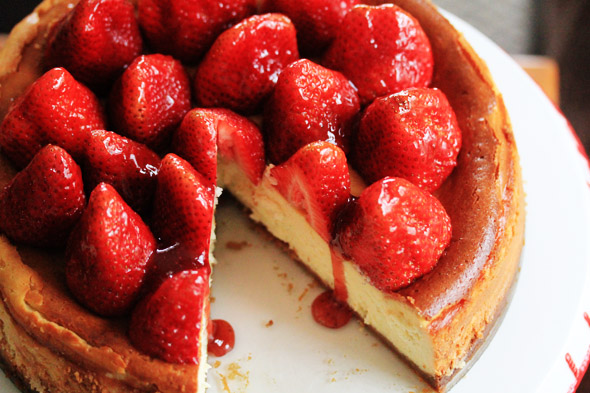 isn't she sexy? owwww… 😉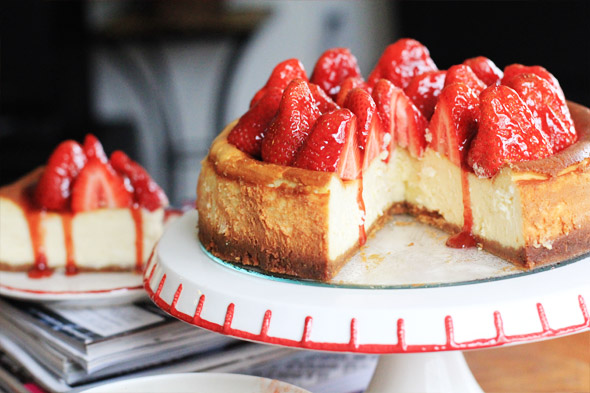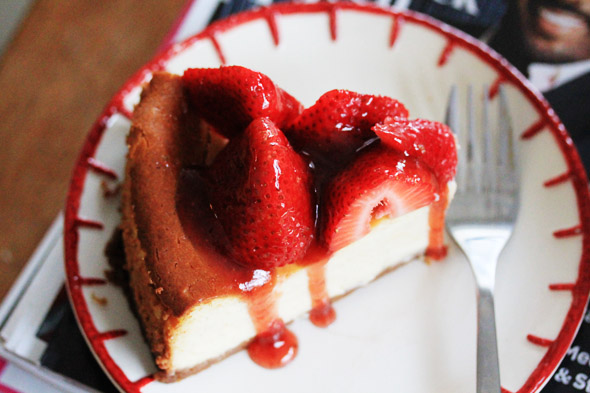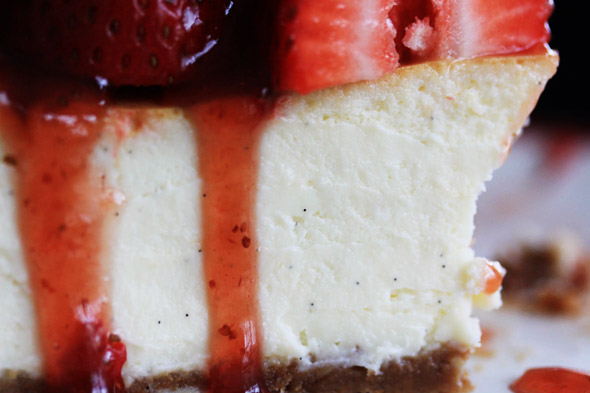 Nom!! This was so good you guys, make this as soon as you can.
Print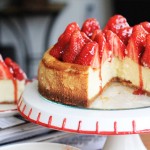 New York Vanilla Bean Cheesecake with Fresh Strawberries
---
Description
barely adapted from Food Network
---
Crust:
5

oz

. animals crackers, finely ground into crumbs

3 tbsp

granulated sugar

5 tbsp

unsalted butter, melted and kept warm
pinch of salt
Cheesecake filling:
2

lbs

. cream cheese (4 8-ounce blocks), room temperature

1 1/4

cups

sugar

3/4

cup

sour cream

6

large eggs, lightly beaten

2

vanilla beans

1 tbsp

vanilla extract

1 tsp

lemon zest
Strawberry topping:
1

to

2

lbs

. fresh strawberries, cleaned and hulled

1/2

cup

strawberry preserves

1 tsp

fresh lemon juice

1 tsp

vanilla extract
tiny pinch of salt
---
Instructions
Position a rack in the middle of the oven and preheat to 325 degrees.
For the crust:
Melt the butter, covered in the microwave, in a medium microwave safe bowl, or a saucepan. Brush a 9-inch springform pan with some of the butter. Stir the remaining butter together with the crumbs, sugar, and salt. Press the crumb mixture over the bottom of the pan, taking care to get the crust evenly into the edges. Bake until golden brown, 15 to 18 minutes. Cool.
For the filling:
Beat the cream cheese on medium speed with a stand mixer or hand-held mixer until smooth. Add 1 1/4 cups sugar and beat just until light and fluffy, scraping the sides of the bowl and beaters as needed. Add the vanilla beans and beat for 15 seconds or until evenly combined. Slowly beat in the sour cream, then eggs, lemon zest, and vanilla extract; take care not to over whip. Pour into the cooled crust.
Bake the cheesecake on a large baking sheet for 1 hour and 10 minutes or until an instant-read thermometer registers 150 degrees—the outside of the cake will set but the center should have a slight jiggle.
Remove cheesecake from the oven. Run a knife around the edges and cool to room temperature for at least 3 hours. Cover and refrigerate and additional 4 hours or overnight.
Before serving, clean and hull your strawberries and set aside. In a small saucepan, heat the strawberry preserves with the lemon juice and vanilla extract over medium high heat until no longer cloudy in appearance, about 5 minutes or so. The reason we're heating this is to the mixture is easy to pour on top of the cake and isn't cloudy and greyish. Cool the strawberry preserve mixture in the fridge for a half hour or cool to the touch. Arrange your strawberries on top of your cheesecake, and brush the strawberry preserve mixture all over the berries.
Remove the springform ring. Dip a knife in warm water, wipe dry before slicing each piece. Serve immediately and refrigerate any leftovers. Eat within 2 days.
Recipe Card powered by
Disclosure: This site uses various affiliate links. If a purchase is made using one of our affiliate links, we receive a small commission which helps support our efforts. Please read our
Privacy Policy
for more information.