Chicken Canzanese…pronounced "can-zan-ay-zee" is an incredible Italian braised chicken dish that you need to keep in your culinary rolodex. I can't really tell you how many times I've made this dish, because I've lost count. This is so delicious, you guys. It's so very flavorful and easy to do.
I can never really decide what my favorite international cuisine is after Mexican — yes, Mexican food is everything to me. However, I do love the crap out of Greek, Indian, Cantonese, Middle Eastern, and Italian food. Italian food and I are boothangs. We love each other. Italian food and I enjoy nice walks in the park by way of sweet fried zeppole, or private adult time over a sexy bowl of fork-swirlable pasta decadence. We're truly lovers.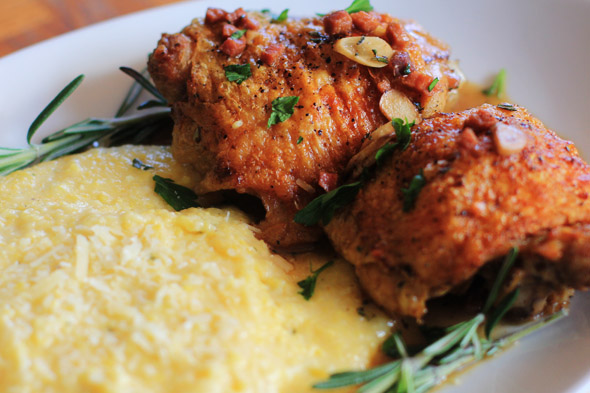 Now that you know how serious I am about delicious Italian food, please be aware that this is one of my favorite Italian recipes. It's very simple, very forgiving, and very flexible. You can get creative and change this up all kinds of ways. I always encourage that in cooking — take it too a new level. All you need for this recipe is a little time and a lot of love, and you can pull this off beautifully.
We're using chicken thighs for this recipe, because the dark meat will not dry out as much as white meat would — regardless of it being braised. Avoid using white meat, or I'll come hunt you down. You could use drumsticks instead, but please note that the cooking time will vary because the thighs are meatier and larger than drumsticks.
The chicken itself has a gorgeous, super crisp exterior blanketing juicy, succulent meat that will have you eating this dish like a caveman with no manners whatsoever. It's braised crisp-skin-side-up, and is arranged perfectly in the pan so that the skin stays crisp. It's sitting pretty in a super flavorful braising sauce, that's ready to be later soaked up by whatever you throw at it — potatoes, rice, noodles, polenta, you name it. It's garlicky and the prosciutto gives it a nice salty bite. You can use bacon or pancetta instead, if you'd like. The braising sauce has a nice mild wine flavor that makes this baby so deliciously rich and Italian. A friend and I shared this plate and we both killed it. He fed it to me while I snapped pics lol. Then we later had seconds…of the meal (get your mind out of the gutter 😉 ). We didn't feel bad either, as we both layed in bed with happy food comas, wrapped in hoggish snoring. This whole meal is finger licking, lip smacking good!
Just in case you're wondering, I served it with creamy garlic & white cheddar polenta — which was f*cking craaaaazy good. The polenta soaked up the flavorful sauce from the chicken and just made every single bite absolutely unreal. Again, serve it with whatever you'd like.

Gather all of your things and let's cook 🙂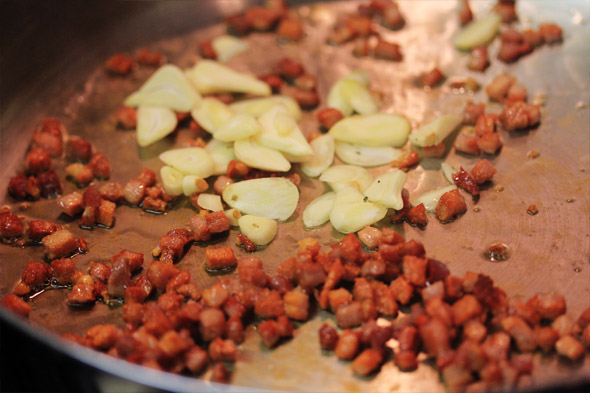 First, we sautee the prosciutto until crisp, then add the thinly sliced garlic.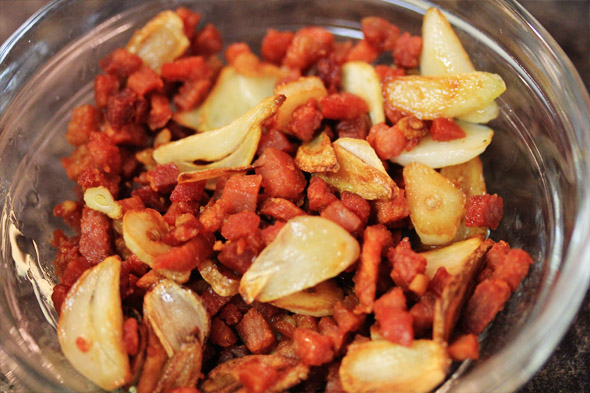 Set that in a bowl once it's done.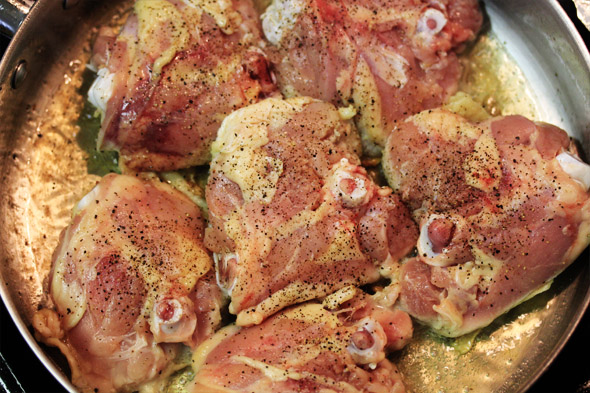 Now it's time for the chicken. Make sure you pat the skin dry or else you won't get a good crisp sear. Also be sure not to move the chicken around before it naturally releases from the bottom of the pan.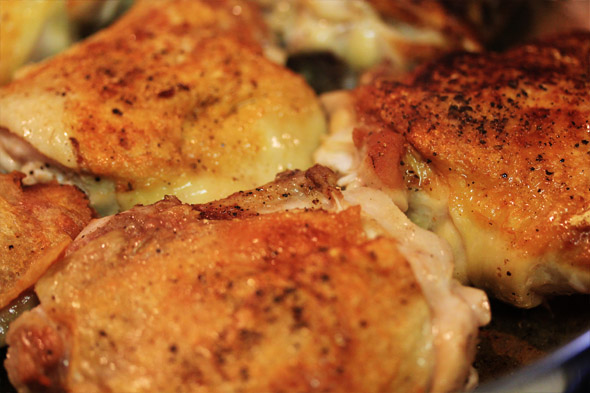 Nice color 😉 Let this cook a little on the other side, then set on a plate while you prepare the sauce.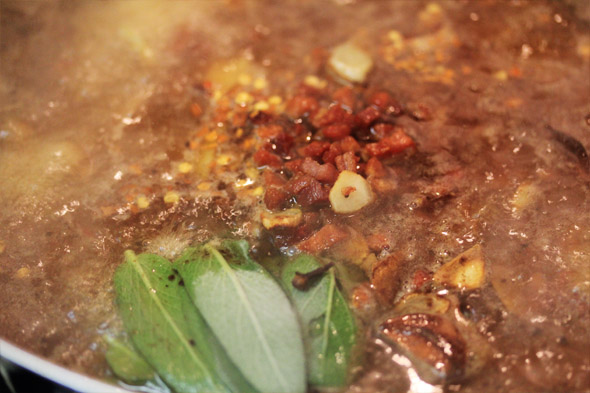 Get your sauce together.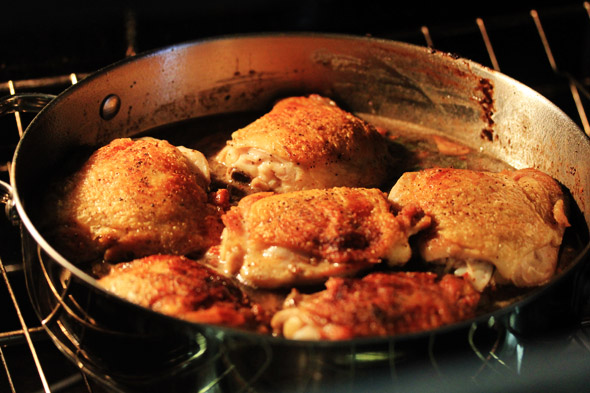 In an oven-safe skillet, stick this baby in the oven to finish cooking. Notice how the crispy skin isn't being soaked in the sauce, and that will help it stay crispy. It's important to use a skillet wide enough for this recipe, because anything smaller than 11 inches may cause the liquid to rise up too much. If you don't have a wide skillet, use a baking dish big enough for this step. Check often to make sure the braising liquid isn't simmering too rapidly — it should barely bubble.

The chicken is done, now we have to reduce the sauce.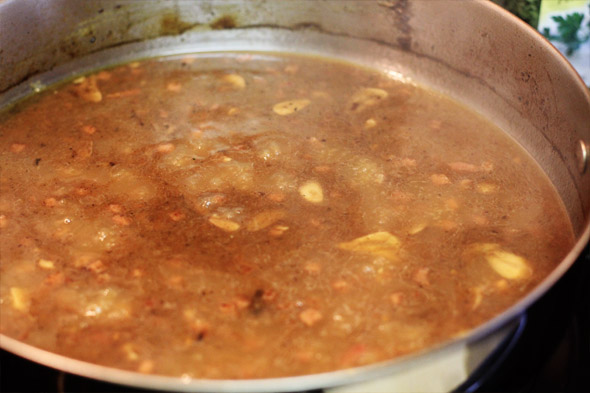 Remove and throw away the sage leaves, rosemary stem, cloves, and bay leaves. Bring the sauce to a boil and let it reduce.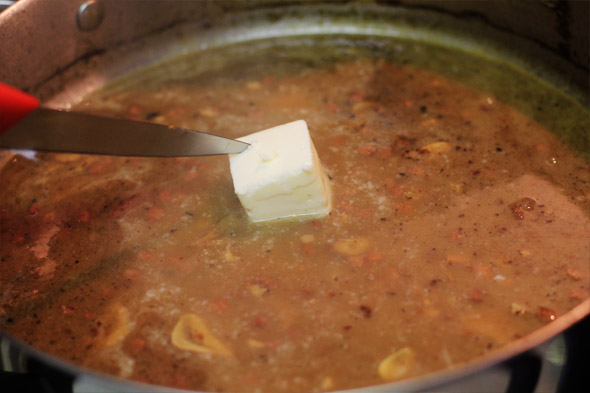 Lastly, stir in minced rosemary, lemon juice, and butter. Make sure you do this off heat. Give it a taste and adjust as needed.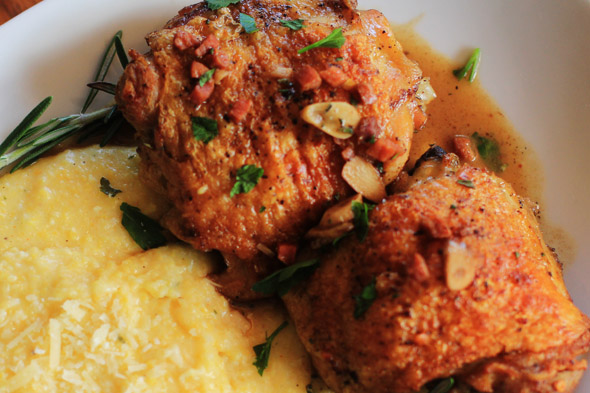 Plate it up, and serve 🙂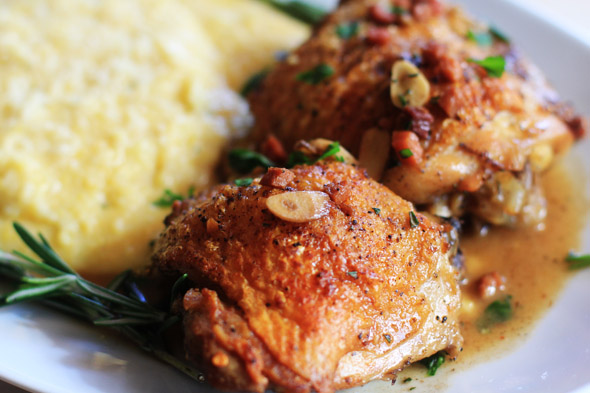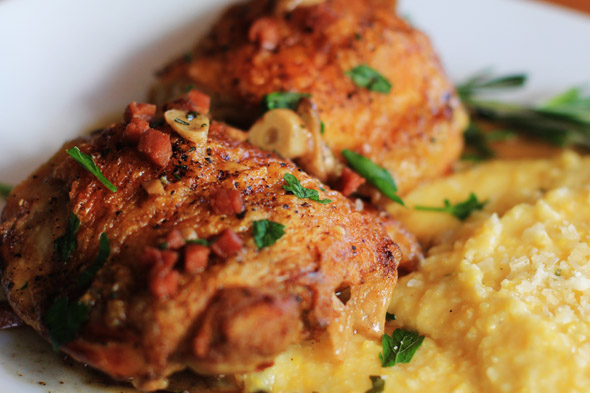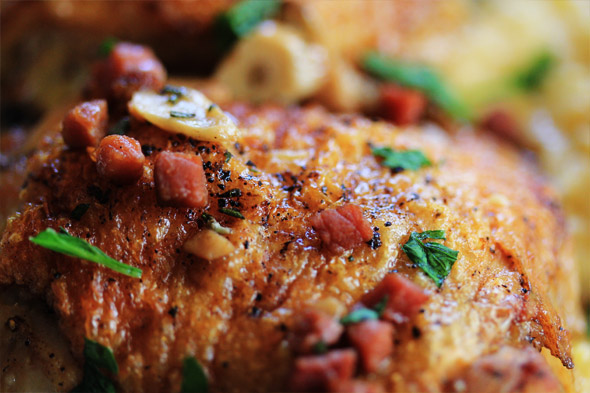 Super crisp skin mmmmmmm

We are seriously tearing this apart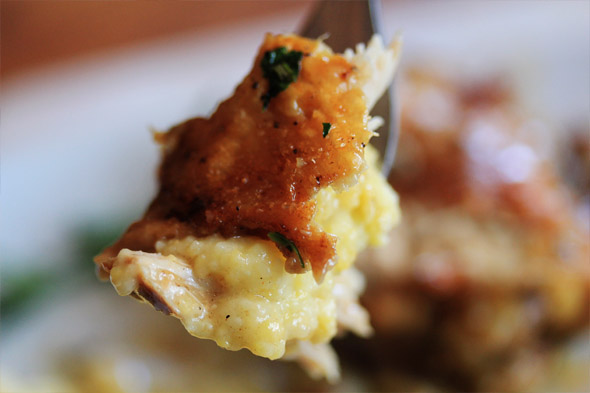 *drool*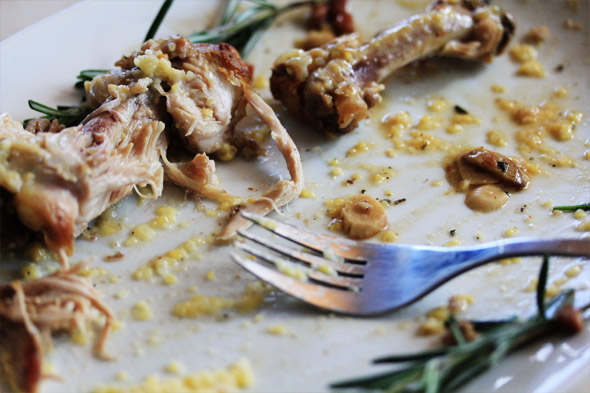 Yeah, we f*cked that up…don't judge us 😀
Make this as soon as possible, it's incredible.
Print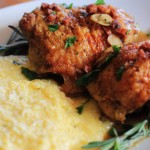 Chicken Canzanese
---
Description
adapted from Cook's Illustrated.
---
1 tablespoon

olive oil

2

ounces

prosciutto (1/4 inch thick), cut into 1/4-inch cubes (see note)

6

medium garlic cloves, sliced thin lengthwise

6

to

8

bone-in, skin-on chicken thighs, trimmed of excess fat and skin
Ground black pepper

2 teaspoons

unbleached all-purpose flour

2

cups

dry white wine

1

cup

low-sodium chicken broth

4

whole cloves

1

(4-inch) sprig fresh rosemary, leaves removed and minced fine (about

1/2 teaspoon

), stem reserved

12

whole fresh sage leaves (if your sage leaves are small, use

15

instead of 12)

2

bay leaves

1/2 teaspoon

red pepper flakes

1 tablespoon

juice from 1 lemon

2 tablespoons

unsalted butter
Kosher salt, to taste
---
Instructions
1. Adjust oven rack to lower-middle position and heat oven to 325 degrees. Heat 1 teaspoon oil in 12-inch heavy-bottomed ovensafe skillet over medium heat until shimmering. Add prosciutto and cook, stirring frequently, until just starting to brown, about 3 minutes. Add garlic slices and cook, stirring frequently, until garlic is golden brown, about 1½ minutes. Using slotted spoon, transfer garlic and prosciutto to small bowl and set aside. Do not rinse pan.
2. Increase heat to medium-high; add remaining 2 teaspoons oil and heat until just you see wisps of smoke. Pat chicken dry with paper towels and season with ground black pepper. Add chicken, skin side down, and cook without moving until well browned, 5 to 8 minutes. Using tongs, turn chicken and brown on second side, about 5 minutes longer. Transfer chicken to large plate.
3. Remove all but 2 tablespoons fat from pan. Sprinkle flour over fat and cook, stirring constantly, for 1 minute. Slowly add wine and broth; bring to simmer, scraping bottom of pan with wooden spoon to loosen browned bits. Cook until liquid is slightly reduced, 3 minutes. Stir in cloves, rosemary stem, sage leaves, bay leaves, red pepper flakes, and reserved prosciutto and garlic. Nestle chicken into liquid, skin side up (skin should be above surface of liquid), and bake, uncovered, until meat offers no resistance when poked with fork but is not falling off bones, about 1 hour 15 minutes. (Check chicken after 15 minutes; broth should be barely bubbling. If bubbling vigorously, reduce oven temperature to 300 degrees.)
4. Using tongs, transfer chicken to serving platter and tent with foil. Remove and discard sage leaves, rosemary stem, cloves, and bay leaves. Place skillet over high heat and bring sauce to boil. Cook until sauce is reduced to 1¼ cups, 2 to 5 minutes. Off heat, stir in minced rosemary, lemon juice, and butter. Season to taste with salt and pepper. Pour sauce around chicken and serve.
Notes
When seasoning the dish at the end, be mindful that the prosciutto adds a fair amount of salt. It is important to use a piece of thickly sliced prosciutto in this recipe; thin strips will become tough and stringy. An equal amount of thickly sliced pancetta or bacon can be used in place of the prosciutto.
Recipe Card powered by
Print
Creamy Garlic & White Cheddar Polenta
---
Description
copyright Carnaldish 2012. this recipe serves 1 to 2 people and can be doubled to serve more.
---
1/2

cup

water

1/2

cup

chicken stock

2 tbsp

heavy cream
super tiny pinch of baking powder

1/2 tsp

dried parsley
Pinch of cayenne pepper
Pinch of onion powder
Pinch of paprika

1/4

cup

plus

1

tsp

stone ground polenta/grits

2

small cloves of garlic, finely minced (or about

1/2 tsp

granulated garlic)

2

to

3

tbsp butter

1

to

2

rosemary leaves, chopped (optional)

1/2

cup

grated white cheddar cheese
Kosher salt and freshly ground black pepper, to taste
Parmigiano-Reggiano cheese for garnish (optional)
squirt of lemon juice (optional)
---
Instructions
In a small saucepan, bring the water, chicken stock, parsley, seasonings, and baking powder to a boil.
Add the polenta/grits and immediately bring the heat down to low, while stirring frequently to avoid the mixture from clumping together. Keep stirring until the simmer settles a bit, then cover. Add the garlic and allow the polenta to cook over low heat for about 8 to 10 minutes, stirring often. Reduce the heat to low, stir in the heavy cream and allow to cook for another 3 to 5 minutes. Season with salt and pepper as necessary and continue to cook over low heat for about 5 minutes longer or until polenta is no longer gritty. The consistency should be thick but creamy, not too runny or wet. Add the butter and cheese just before serving with the Chicken Canzanese. Garnish with Parmigiano-Reggiano cheese and a squirt of lemon juice if you'd like.
Notes
Adding a very tiny pinch of baking powder breaks down the structure of the polenta so that it cooks a lot faster.
If at any point your polenta soaks up the liquid faster than it's being cooked, just add a little more water, chicken stock or cream to loosen it.
Nutrition
Serving Size:

about 1 cup per serving
Recipe Card powered by
Disclosure: This site uses various affiliate links. If a purchase is made using one of our affiliate links, we receive a small commission which helps support our efforts. Please read our
Privacy Policy
for more information.