I wish you could see the intense bodyroll action these amazing cookies have bestowed upon me — followed by a super happy mouthgasmic jig. The fact that I can now make an amazing chocolate chip cookie in the privacy of my own home and thighs…is so heartwarming. This recipe comes from New York Times, and will definitely test your patience. I tried this same recipe a little over a year ago and they were terrible. Why? Because I was too impatient and baked them almost as soon as I made the dough. Don't be stupid like me. You absolutely have to let these babies rest a full 24 hours, up to 72 hours for the goodness your mouth awaits. Believe when I say it's worth the wait.
There may be better cookie recipes out there, but I doubt it. This one is perfection. I will say that my idea of a perfect cookie is purely subjective. What I find to be a perfect chocolate chip cookie may differ from your point of view. However, my ideal chocolate chip cookie includes everything this recipe gives me. A crispy, buttery edge that gradually merges into a chewy outer-middle, and a soft center — even after completely cooled. It's not dry, it's not bland, and it's definitely not boring. The bread flour and cake flour marriage are what creates the many delicious textures. This is a cookie that holds up — making it perfect to dunk into a cold glass of milk (if I wasn't so damned lactose intolerant). Even without the milk, I couldn't stop eating these. I ate 3 in one sitting. That's some fat ass shit…
Anyway, if you are going to make these, definitely plan ahead and follow the instructions or you'll be disappointed. I followed this recipe almost exactly — I didn't have the 60% cacao chocolate chip discs it originally calls for, and to be honest I wasn't about to search high and low for'em. Instead I used one 12oz bag of Ghirardelli semi-sweet chocolate chips and half a 12oz of Ghirardelli milk chocolate chips. Ghirardelli sells a 60% cacao chip, but I didn't see them at Wegmans. That was my only variation to the recipe. I'm here to tell you that these still came out beautifully and delicious. I can't help but wonder…if these cookies are this good with regular chocolate chips, I'm probably not emotionally stable enough to handle the 60% cacao chocolate chip epicness it actually calls for.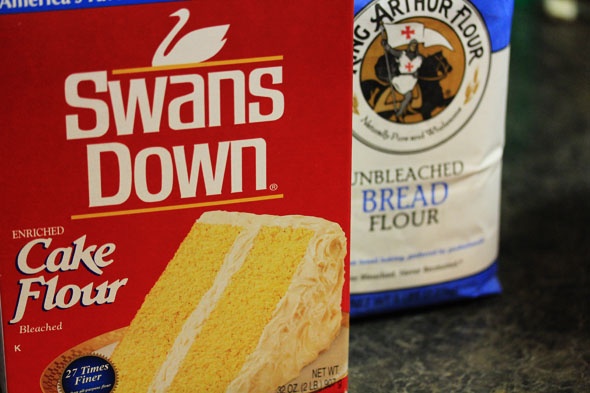 these are the flours I used, you can find these at just about any store that carries flour

creamed the butter and sugars for 5 minutes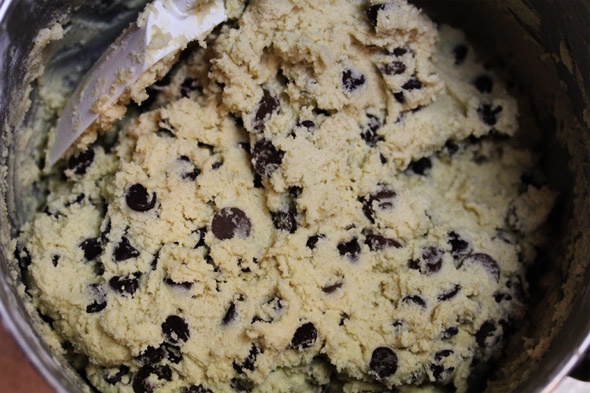 "I love the dough, more than you know!" – RIP Biggie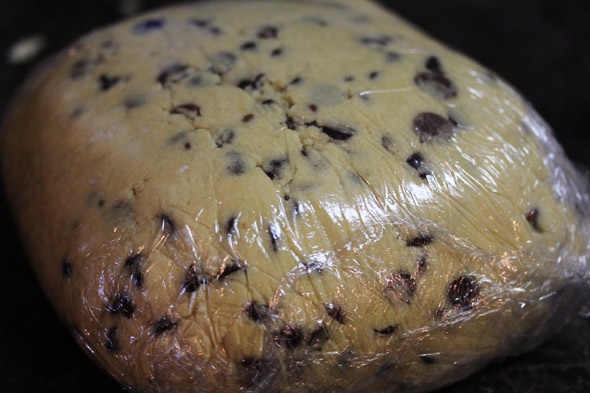 Seal her up and put her away for at least 24 hours, 72 is even more magical.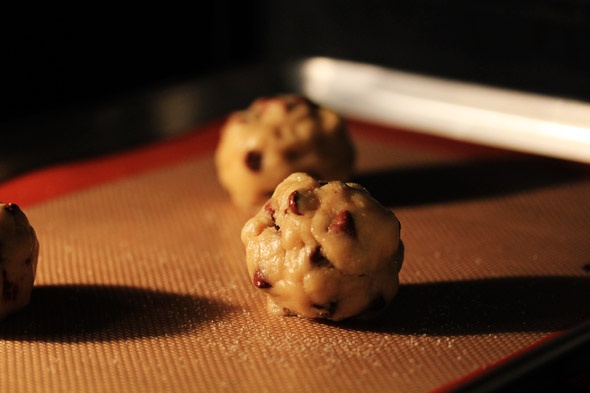 melt, you delicious little ball of gooey joy…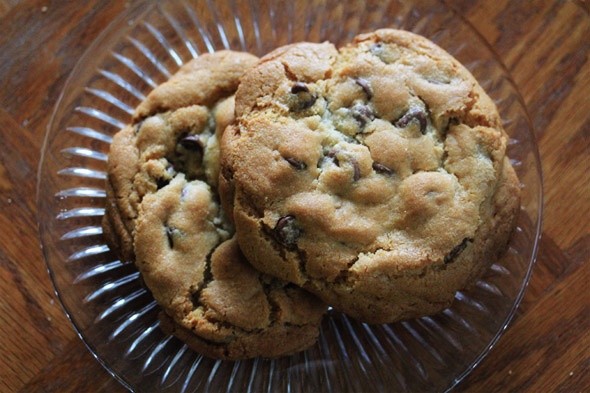 *angels singing*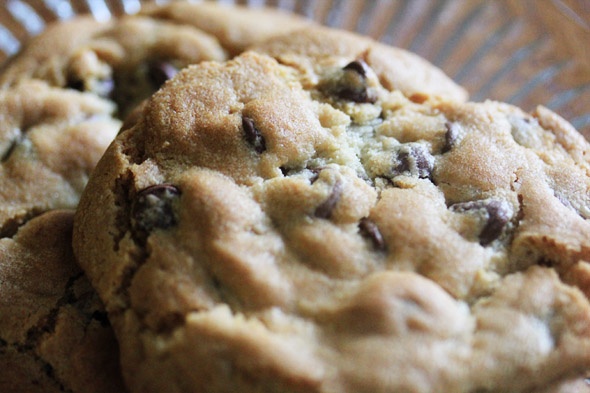 look at that beautiful texture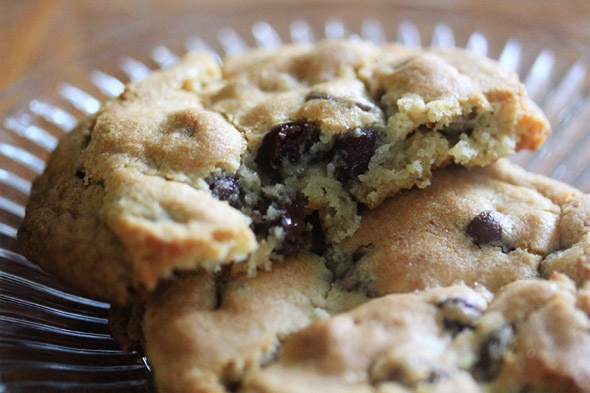 dear cookie, get. in. my. belleh!
Print
New York Times Chocolate Chip Cookies
---
Yield:

1 1/2 dozen 5 inch cookies
---
2

cups

minus 2

tbsp

(8 1/2oz.) cake flour

1 2/3

(8 1/2oz.) bread flour

1 1/4 tsp

baking soda

1 1/2 tsp

baking powder

1 1/2 tsp

coarse salt

2 1/2

(1 1/4cups) unsalted butter

1 1/4

cups

(10oz.) light brown sugar

1

cup

plus

2

tbsp

(8oz.) granulated sugar

2

large eggs

2 tsp

natural vanilla extract

1 1/4

pounds

bittersweet chocolate discs or fèves, at least 60 percent cacao content (see note)
sea salt
---
Instructions
Sift flours, baking soda, baking powder and salt into a bowl. Set aside.
Using a mixer fitted with paddle attachment, cream butter and sugars together until very light, about 5 minutes.
Add eggs, one at a time, mixing well after each addition.
Stir in the vanilla.
Reduce speed to low, add dry ingredients and mix until just combined, 5 to 10 seconds.
Drop chocolate pieces in and incorporate them without breaking them.
Press plastic wrap against dough and refrigerate for 24 to 36 hours. Dough may be used in batches, and can be refrigerated for up to 72 hours.
When ready to bake, preheat oven to 350 degrees. Line a baking sheet with parchment paper or a nonstick baking mat. Set aside.
Scoop 6 3 1/2-ounce mounds of dough (the size of generous golf balls) onto baking sheet, making sure to turn horizontally any chocolate pieces that are poking up; it will make for a more attractive cookie.
Sprinkle lightly with sea salt and bake until golden brown but still soft, 18 to 20 minutes.
Transfer sheet to a wire rack for 10 minutes, then slip cookies onto another rack to cool a bit more.
Repeat with remaining dough, or reserve dough, refrigerated, for baking remaining batches the next day.
Eat warm, with a big napkin.
Recipe Card powered by
Notes:
The "coarse salt" I used was kosher. I probably wouldn't go any coarser than that.
The sea salt isn't a step I'd skip or alter. I know it sounds weird, but sea salt melts beautifully onto the cookie, giving it a really good flavor and it seriously compliments and balances the sweetness of the chocolate. I used granular sea salt, and the slightest of pinches — please don't overdo this.
Make sure you bake these on the center rack of your oven.
I used the minimum baking time just because that's my own personal preference.
If you want to make regluar (think "Chips Ahoy") size cookies (a heaping spoonful), reduce the cooking time down to about 10-12 minutes, 12-15 minutes for medium sized cookies.
Disks are sold at Jacques Torres Chocolate; Valrhona fèves, oval-shaped chocolate pieces, are at Whole Foods.
Disclosure: This site uses various affiliate links. If a purchase is made using one of our affiliate links, we receive a small commission which helps support our efforts. Please read our
Privacy Policy
for more information.