You ever eat something so good that you start cussing? Because that's exactly what happened after my sweety and I savored every buttery, flaky bite of these delicious and adorable little pies. We stared each other down and shook our heads in decadent disgust as we devoured every bite — cussing each other out in the most romantic way possible. The sheer frustration that possessed us both let me know that this is one of those treats I'd have to make quite often, just to keep balance in our home.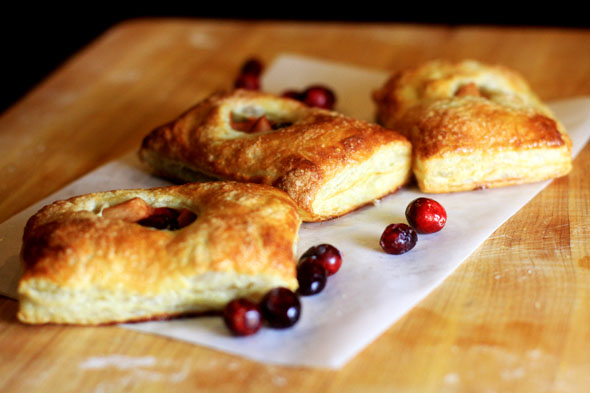 I love pie.
I love puff pastry.
Filling puff pastry with deliciousness (sweet or savory) is what you're supposed to do in life, other than continue to be great. Therefore, sweetening up a few tart apples and fresh cranberries and throwing them in between two layers of buttery, flaky puff pastry is your human right. These pies are incredible — easy to eat, portable, not too messy. They're perfectly juicy, not too sweet, and a great beginning or end to any meal. The apples and cranberries are par-cooked, just so they can release some of their delicious juice and come together in a cohesive bounty of Fall deliciousness. The sugary crust on top of the puff pastry makes it extra special. Exercise your right and make these delicious pies — they go great with coconut gelato or any ice cream. Try pouring a little caramel sauce on top if you want to take it to "mama slapping" levels.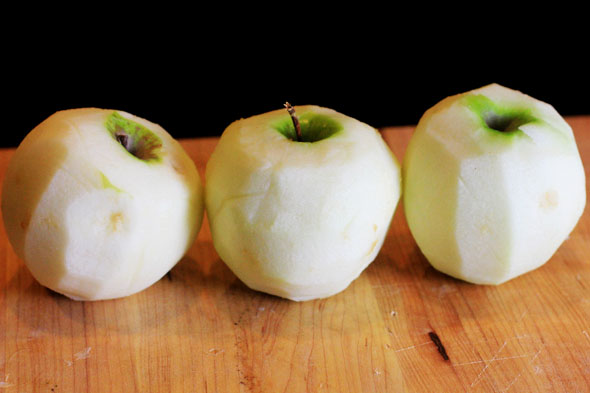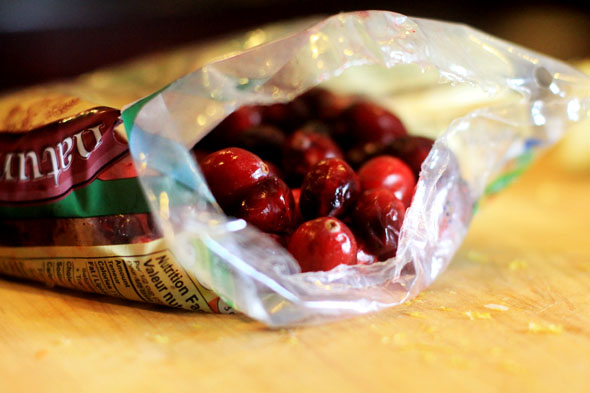 Goodness, who doesn't love buttery dough smushed together with cinnamon'y apples and tart cranberries? If you don't like cranberries, you can leave them out, but they really add something great to the overall flavor of the pie.
When I used to eat at a particular fast food chain as a kid, I would always order one of those fried bubbly, crackly texutred apple pies that were full of artificial filling encased in a gloopy clear blob — and they were delicious! At least they were when I was a kid, I didn't know any better. Thank goodness my palate grew up. I do know that particular fast food chain now serves a revamped apple pie, that looks a little more "homemade". Their crust is totally different, and the apples are a little more pronounced — but I still won't touch'em. I'd much rather make my own.
Then you get this puffy, golden little bundle of sin…oh my..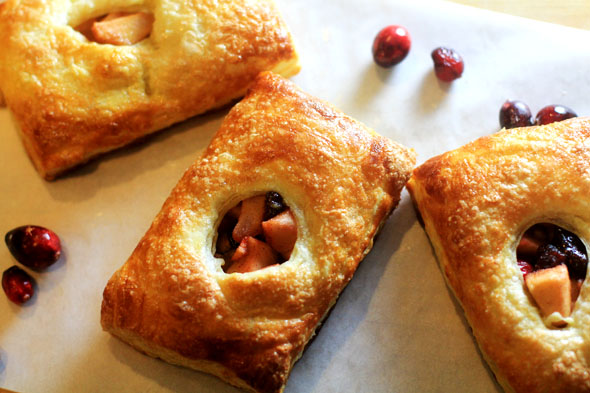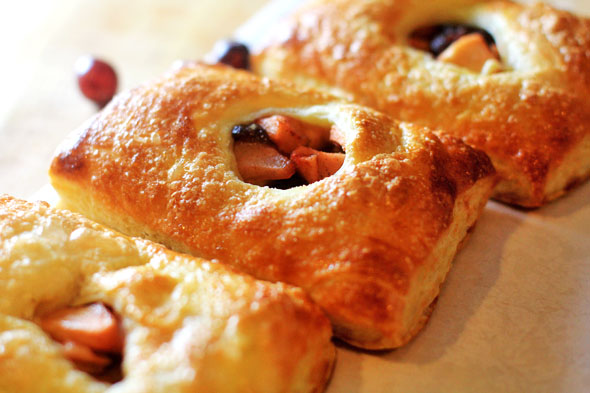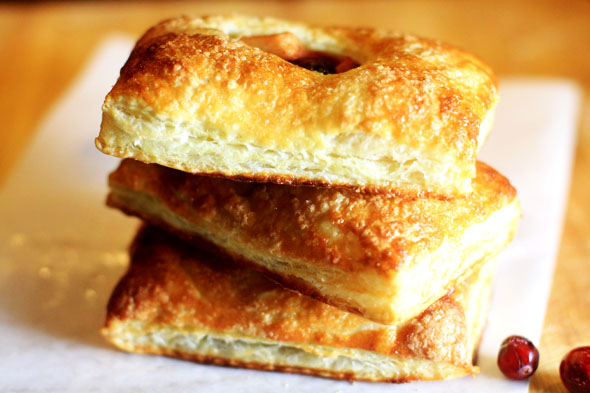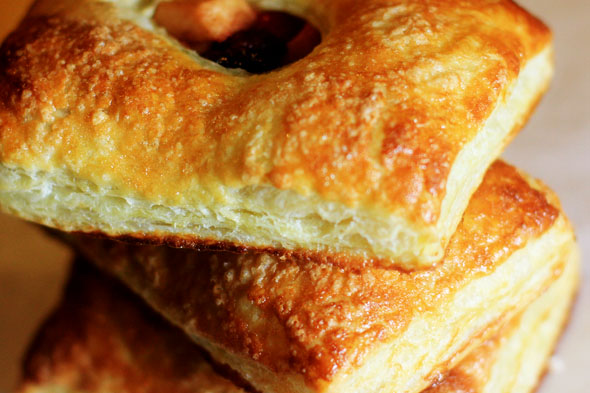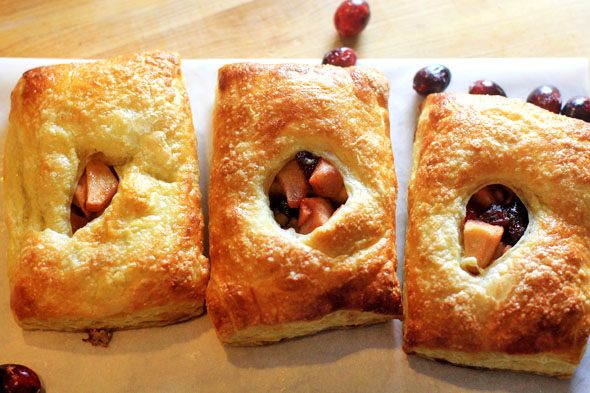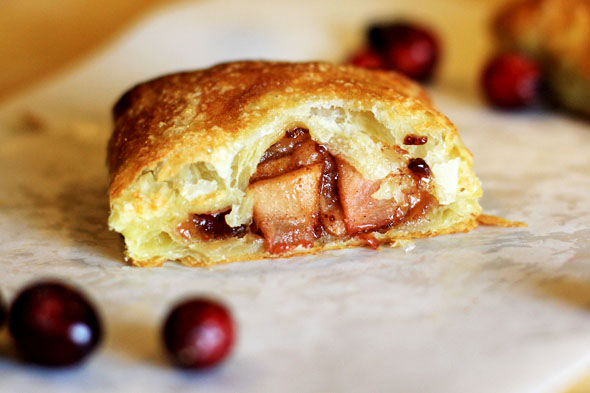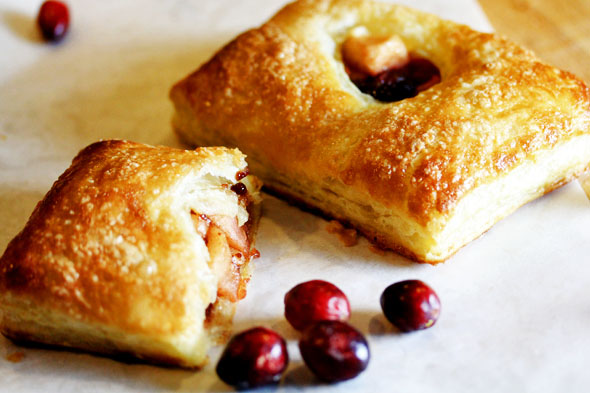 Equipment you'll need for this recipe: parchment paper, a rimmed baking sheet, a sharp knife or pastry cutter, and a fine strainer.
Print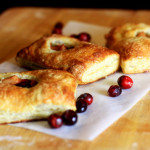 Handheld Apple-Cranberry Pies
---
12

oz

. granny smith apples, chopped (about 3 apples)

1/2

cup

fresh cranberries

1/4

cup

brown sugar

1 tsp

cinnamon

1/8 tsp

freshly ground nutmeg
tiny pinch of ground cloves
pinch of kosher salt

1 tsp

lemon juice

1/4 tsp

lemon zest

1

/tsp vanilla extract

2 tbsp

corn starch

2

sheets puff pastry, thawed (see note below)

1

egg
---
Instructions
Heat your oven to 400 degrees, middle rack in place. In a bowl, mix the apples, cranberries, brown sugar, cinnamon, nutmeg, cloves, salt, lemon juice, lemon zest, and vanilla together until evenly combined. Cover with plastic wrap and let this mixture sit for 20 minutes. The sugars will pull out the moisture from the apples so that they don't make our pies soggy later.
Microwave the macerated apple-cranberry mixture for just 5 minutes to par-cook the apples and cranberries (you'll hear them pop) and give them a head start. More liquid will be released. Carefully strain the apple juice mixture into a measuring cup or bowl for 5 minutes. You should have at least 1/2 cup of juice. Whisk an egg for about 15 seconds into a small bowl and set aside.
Pour the apple juices into a small saucepan and bring to a steady simmer over medium-high heat, stirring constantly until thickened and syrup'y, and reduced by half — 1/4 cup. This can take anywhere between 2-5 minutes, depending on your stove. Add it back to the apples and cranberries, and toss to combine. It may harden just a bit, and that's ok because it will melt again once it's in the oven. Add 2 tablespoons of cornstarch to the apple-cranberry mixture and toss to coat. This will help thicken our filling just slightly.
Meanwhile, roll both puff pastry sheets out just a bit to smooth and seal the 2 lines going down the middle of each sheet. Flour both sides lightly to prevent sticking. Cut both puff pastry sheets into 6 even squares, for a total of 12 squares total. Cut a small vent hole into 6 of the 12 squares. Scoop about 1/2 cup of the apple-cranberry mixture into the center of the remaining 6 squares. With a pastry brush or your index finger, paint a thin border around each edge of the puff pastry square that has the apple mixture on it. Place a square with a vent hole on top, gently stretching if you have to — be careful not to tear it, and press the edges together with your fingers. With a sharp knife or pastry cutter, trim the very edges of each pie to clean them up and further seal. You should have 6 pies. Brush each pie with a thin layer of the egg wash, and sprinkle a thin layer of sugar all over the surface.
Bake the pies on a parchment lined baking sheet on the middle rack for 20-22 minutes, or until golden brown.
Enjoy!
Notes
Thaw puff pastry on your kitchen counter, covered, for about 30 minutes, or until pliable. It should be good to go by the time you're done with the apple-cranberry prep. Puffy pastry should stay cold enough so that the butter in it doesn't melt while handling. If you notice your pastry dough is getting too warm, throw it back into the fridge or freezer until it's cold again, about 10 minutes. Make sure you keep it lightly floured while working with it to prevent sticking.
Prep Time:

40 mins

Cook Time:

20 mins

Category:

dessert
Recipe Card powered by
Disclosure: This site uses various affiliate links. If a purchase is made using one of our affiliate links, we receive a small commission which helps support our efforts. Please read our
Privacy Policy
for more information.