If I had a list of the most comforting things I've ever made, this would top that list. I'm getting sleepy just writing about it. This is the perfect rainy-day, nothing-else-to-do, nowhere-to-go, i'm-not-leaving-the-bed-and-you-can't-make-me meal. It's like a delicious, flavorful hug for your entire being. It's all of these things without being too heavy, but let's just face it — turkey makes you sleepy. This meal is "rustic", it's not supposed to look perfect, it's just supposed to taste really good — and it does. There's also no formal way to eat this — you just scoop n'serve!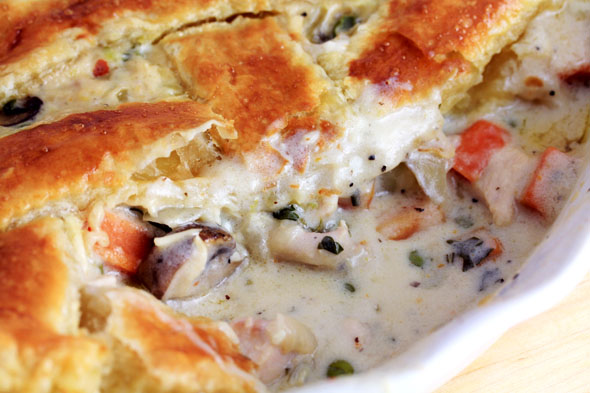 Comfort foods are my favorite part of the Fall/Winter seasons. You kinda have this excuse to curl up in front of the fire, or a boyfriend that exudes werewolf level body-heat, with a bowl of something that was prepared by hand and cooked all day. It's the perfect time of the year for meals like this. We all grew up on some form of pot-pie, most of us bursting our pot-pie cherries by eating a flavorless frozen version. I admittedly hated those pies, but made sure I ate the crust. That was really the only decent part of the pie, if that. Now that I'm an adult, I prefer my pot-pies to be creamy but not super thick and gloopy, like the frozen ones some of us grew up on. I like to be able to experience the texture of each vegetable in every bite. I hate potatoes that fall apart into a mealy mess, so I used Yukon Gold's. They're perfect for this recipe, so make sure you use them. I am a huge fan of the top and bottom crust, but not for whole pies. If I'm making a large pie — which I did here — I much prefer a top crust, only. That way I don't have to worry about leftovers getting soggy. This is the kind of meal I'd like to eat while playing footsie with my sweety, watching Home Alone on DVD, and eventually falling asleep before Mrs. McAllister even realizes she forgot her smallest child.
There are tons of comforting flavors going on here. The hamhock is only used for flavor — I'm a southern girl, and we love hamhocks lol. It lends the dish a wonderful salty flavor that only a pig can. No worries if you're against it though, you can simply leave it out. There's meaty mushrooms, peas, carrots, onion, potatoes, fresh herbs — my goodness. It's just a bowl of heaven. You could also turn this recipe into individual pot pies — just pour the filling into oven-safe soup bowls and bake away. You do not have to butcher and disrespect a lattice-top like I did, you could leave the puff pastry sheet whole with just a tiny vent hole for steam. Make these yours.
My boyfriend destroyed this pie pretty much all by himself. He didn't leave much for me, which is typical. When he loves something, he turns into a selfish food-hogging, adorable pile of testosterone that I can't help but love feeding. He also had the pleasure of warning me to never feed this pot-pie to another man, because it would be like cheating LOL!! The logic is hilarious. Anyway, either make this for your family, your significant other, or yourself — and you'll be rewarded with one of the most delicious, comforting meals you've ever eaten in your wonderful life.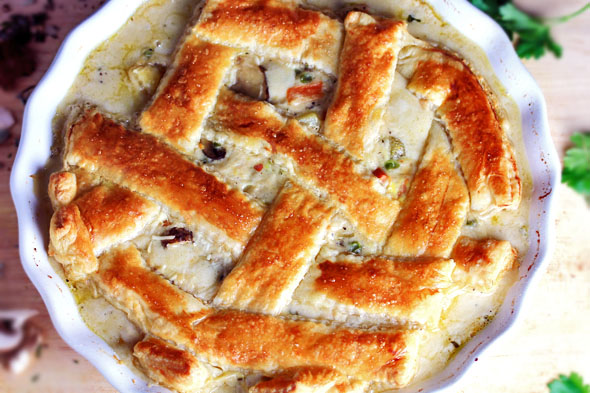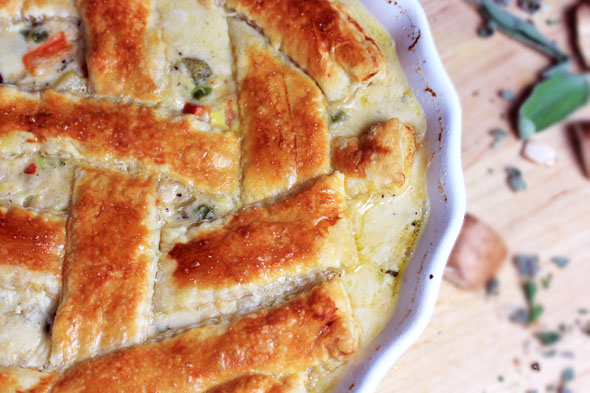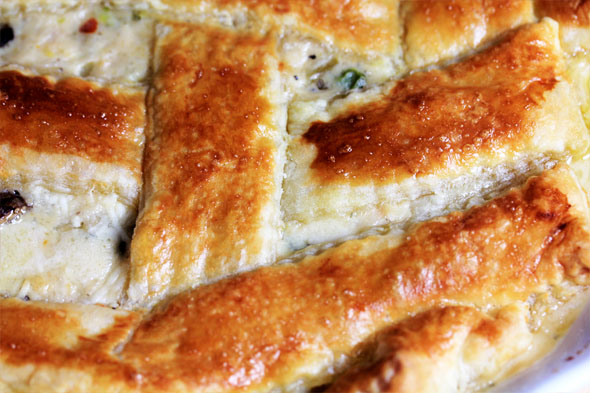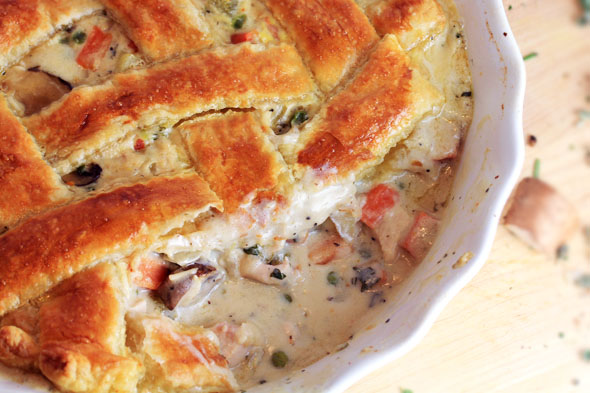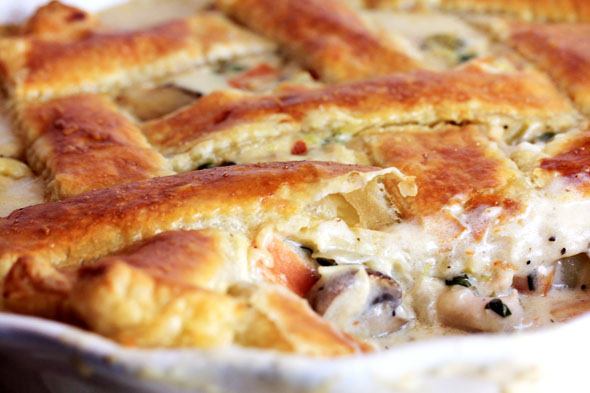 Print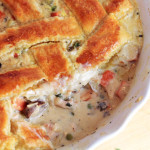 Creamy Turkey Pot Pie with Puff Pastry
---
Description
The ultimate in comfort food. Your nap will be epic after you eat this!
---
1

sheet puff pastry, thawed (see note below)

3 tbsp

olive oil

2 tbsp

unsalted butter

1

11oz smoked hamhock (optional)

1

cup

baby bella mushrooms, diced

1

cup

shiitake mushrooms, chopped

2

cups

Yukon Gold potatos, diced

1

cup

(about 6oz.) yellow onion, diced

1

cup

(about 5oz.) celery, diced

1

cup

(about 6oz) carrots, diced

2 tsp

. coarse grey sea salt

1/2 tsp

granulated garlic

1/2 tsp

freshly ground black pepper

1/2 tsp

herbes de provonce

3

–

4

sprigs fresh thyme

3

fresh sage leaves, chopped

1 tsp

fresh rosemary, chopped
pinch of red pepper flake
pinch of cayenne pepper

1/2

cup

Chardonnay (any drinkable white wine works)

2 1/2

cups

low-sodium chicken broth

1 1/2

cups

half & half

1/2

cup

all-purpose flour

1

cup

English peas, thawed

1/4

–

1/2

cup

pecorino-romano cheese, grated
zest of

one

lemon (about

1

–

2

tsp)
juice from

one

lemon (about

2 tbsp

)

2

–

3

cups

cooked turkey (dark, white, or both), chopped into bite-sized chunks
salt & pepper to taste
---
Instructions
Preheat oven to 400 degrees, middle rack in place.
Thaw puff pastry according to package directions.
Heat butter and olive oil in a large heavy bottom pot, over medium heat until the butter is melted and nearly stops foaming. Add the hamhock, onions, celery, and carrots. Season with 1/2 teaspoon of freshly ground black pepper, a tiny pinch of red pepper flake, cayenne, and grey sea salt to the vegetables. Stir with a wooden spoon and cook the vegetables down until they begin to release their juices and the onions become translucent, about 7-10 minutes. Turn the hamhock over to heat thru the other side. If the vegetables are sticking to the bottom of the pan, add another tablespoon of oil and adjust the heat if necessary. Add the mushrooms, potatoes and fresh herbs stirring to combine, about another 7-10 minutes, or until potatoes are met with little resistance when pierced with a toothpick. The liquid from the vegetables that were in the bottom of the pan earlier should be nearly soaked up by the potatoes and mushrooms, and there should be light brown bits forming at the bottom of the pan. Remove the hamhock. Deglaze the bottom of the pan with white wine, stirring to release any delicious bits stuck to the bottom, and cook until most of the alcohol has been evaporated, about 2-3 minutes. Add the flour and stir to evenly coat the vegetables for about 1 minute, or until flour is no longer visible and mixture is somewhat pasty. Add the chicken broth and stir to combine, making sure to get out any lumps — about 1 minute. The chicken broth will rehydrate the flour and it will begin to thicken almost immediately. Add the half & half, stirring to combine. Place the hamhock back into the mixture and bring to a boil over high heat – then reduce heat to medium and simmer until thickened to your desired consistency, anywhere from 8 to 12 minutes. Remove from heat and turn off your stove. Remove the hamhock and thyme stems. Stir in the peas, turkey, and cheese. Lastly, stir in the parsley, lemon juice, lemon zest. Taste it, adjust seasoning as necessary. This mixture will continue to thicken as it cools.
Meanwhile, unfold the thawed puff pastry, lightly flour and gently roll out just slightly to help seal the folded edges. Cut or shape the puff pastry however you'd like (SEE NOTE BELOW).
Prepare a large casserole dish or pie pan by spraying it with non-stick cooking spray. Carefully ladle the pot pie mixture into the dish, leaving 1/2-inch rim visible. Place the puff pastry sheet on top of the filling. Whisk an egg in a small bowl and brush a thin layer of the egg-wash over the puff pastry — this will give us a beautiful golden shiny crust. Bake the pot pie on the middle rack of your 400 degree oven until the crust is golden brown and the filling is bubbling, about 20-25 minutes. Let cool 10 minutes before serving. Enjoy!
Notes
*Make sure every vegetable you dice is equal in size so that everything cooks evenly. You do not have to use a hamhock for this recipe — it's optional. Keep your puff pastry cold while you prepare the filling.
**You can leave the puff pastry sheet whole, just cut a small hole in the center to allow steam to escape. Work with it as fast as you can because the heat from your fingers can melt the butter in the pastry and prevent it from puffing up. Stick it back in the fridge if you need to keep it cold.
***If you'd like to use a bottom crust, you'll need two sheets instead of one like the recipe calls for. Unfold 1 pastry sheet on a lightly floured surface and roll into a 12-inch square. Press the pastry into your baking dish or pie pan, poke with a few fork holes, and bake for 20 minutes. This will prevent your bottom crust from being too soggy. When it comes out of the oven, let it cool for a few minutes before you fill it and continue with the finishing steps.
Prep Time:

25 mins

Cook Time:

1 hour
Recipe Card powered by
Disclosure: This site uses various affiliate links. If a purchase is made using one of our affiliate links, we receive a small commission which helps support our efforts. Please read our
Privacy Policy
for more information.