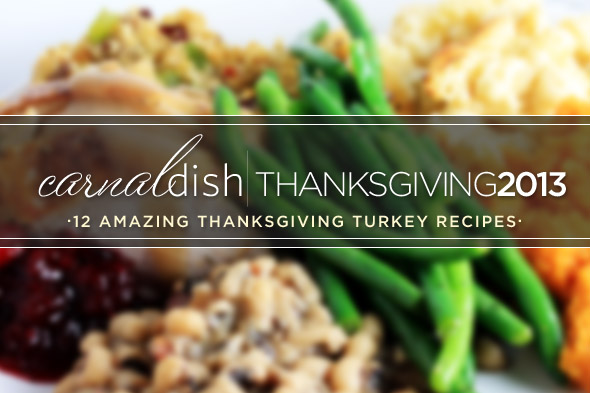 You're probably bored to death with bland, dried out turkey — right? Well, you should be — it's an abomination. No one deserves flavorless, dried out turkey. Please, people! Don't do it to your family. Our loved ones deserve better. I'm here to save the day by providing you with 12 great turkey recipes that help take a typical bland bird and turn it into the star of the dinner table — the way it should be. These recipes help broaden your culinary mental capacity by introducing the often disrespected bird, and packing them with extra bold flavors. Some traditional, some totally out of the box — all delicious.
It's just as easy to cook a juicy, flavorful turkey as it is to make a bland, dry bird that's just begging for a drop of h20 or lotion, whichever comes first. I've mentioned before, brining (any variation) is key to getting the breast meat moist and keeping it moist for days. But it takes more than just injecting moisture, you've also gotta bring it on with the flavor. Instead of giving all of your flavor love to chicken, try those same combinations or ideas with turkey.
Don't know where to start? Don't worry about it, I've already done the hard work for you by personally hand-picking 12 turkey recipes I feel you could all benefit from. These turkey recipes highlight creative flavors that compliment turkey in ways you couldn't imagine. Below you'll find ways to dress up turkey using ginger, cranberries, pasilla peppers, or even a maple brine. My GAWD that sounds amazing. Check these recipes out you guys! It's time you bring something delicious to the table this Thanksgiving 🙂
Disclosure: This post is sponsored by Foodie.com. All opinions and thoughts are my own.
Disclosure: This site uses various affiliate links. If a purchase is made using one of our affiliate links, we receive a small commission which helps support our efforts. Please read our
Privacy Policy
for more information.