If you're a fan of the ever-so-easy-to-cook mollusks known as mussels, then you're going to adore this super simple and crazy flavorful grilled beer-braised mussels recipe. First of all, we're steaming these babies over some super-hot coals and smoky chunks of hickory. They get bathed in a luscious butter bath of beer, garlic, and other flavors…then sopped up with toasty grilled baguette. Drunken mussels are just so good.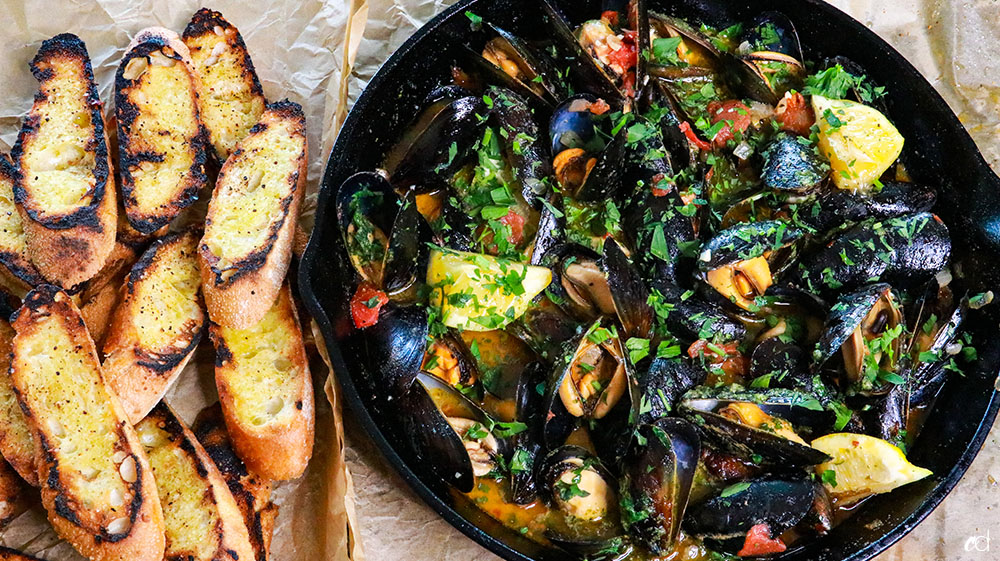 Mussels may look fancy and exotic, but the truth is, they're pretty basic AF. Delicious as hell, but rather basic (in preparation). Don't be fooled by their iridescent shells, and dramatic and timely opening sparked by just the right amount of heat…they are dumb easy to prepare. Versatile, too. You can cook these in any flavorful broth, and I promise that as long as the broth is amazing, the mussels will be too.
I usually steam my mussels in some kind of wine, but today I wanted to grill them…and what better braising liquid than beer? You can use any pale beer you have on hand, or any beer you enjoy cooking with. I don't think a stout would work here, but hey…if you love it, go for it. "Who are me to judge?" Drunken mussels are the best mussels.
Cooking with mussels 101
If this is your first time working with mussels, read carefully. Keep your mussels COLD. Do not freeze them while they're alive, because then you'll kill them. Plan to cook your mussels within 2-days of purchase. If they're properly stored, they will be just fine. Most mussels are sold in a mesh bag, so keep them in that bag inside of a bowl in your fridge and cover them with a damp paper towel. Pour out any accumulated liquid every day until ready to cook. Your mussels should always smell like the sweet ocean, if they don't, toss them out.
When ready to cook, make sure you put them inside of a large bowl and fill it with cold water. This will help them to close naturally if they're alive, and also remove any excess sand. You must inspect each and every mussel! If your mussels are wild-caught, you will most likely have more beards (fuzzy fur sticking out the seams of the mussels) and barnacles (little tartar-looking clusters stuck on the shells of the mussels). If your mussels are farm-raised, they're most likely be a little cleaner and you'll have less to deal with.
With that said, you still need to inspect every single mussel to see if it needs to be cleaned. You do not want that stuff in your final product. To remove the beards, grab the fuzzy fur with a paper towel for the best grip, and pull them in a downward motion to snatch them out. Use a firm bristled vegetable brush to scrape away any barnacles.
Each and every mussel should be TIGHTLY sealed. If ANY of the mussels are opened, even slightly, give them a firm tap against your counter or squeeze them shut for about 5 to 10 seconds. If they do not close tightly on their own after several attempts, toss them out. You do not want to eat dead mussels, because they can make you extremely sick. When in doubt, toss it out. I usually average about 4 to 6 dead mussels per bag, depending on the source. Also, toss any mussels with cracked shells, even if they're tightly sealed. It's better to be safe than sorry.
Other ways to jazz this up
Smoky bacon — that is all.
No, seriously. You will love these beer-braised mussels as is, but I always encourage you to put your own spin on things. Recipes such as this are great for using up veggies that are on their way to becoming compost, so add anything you enjoy eating into this mix. If you don't have a grill or don't want to grill them, just hook this up on your stove. Easy-peasy.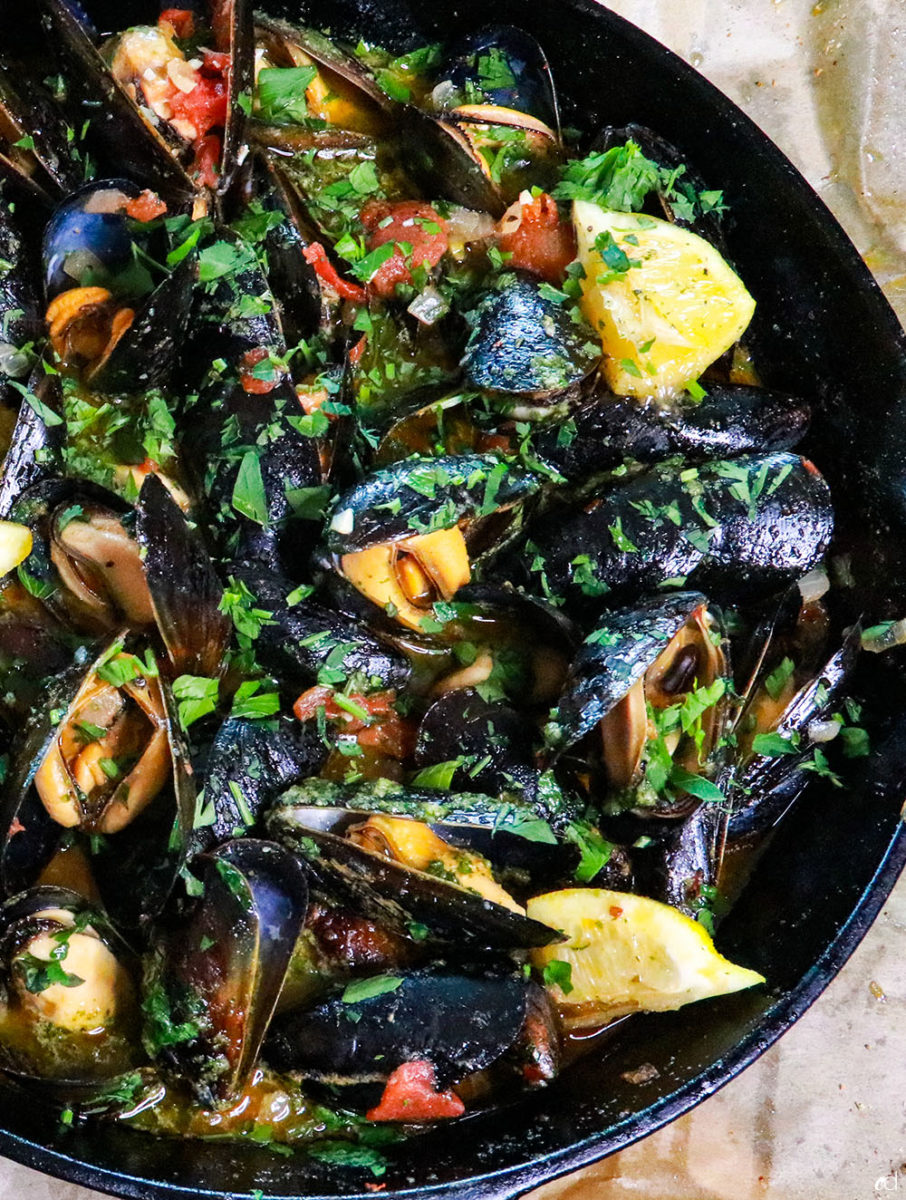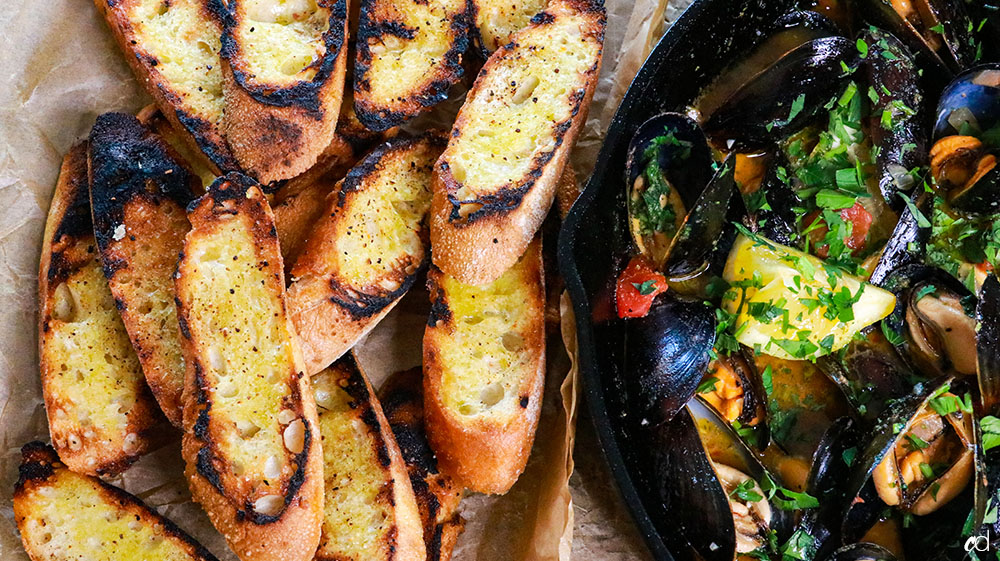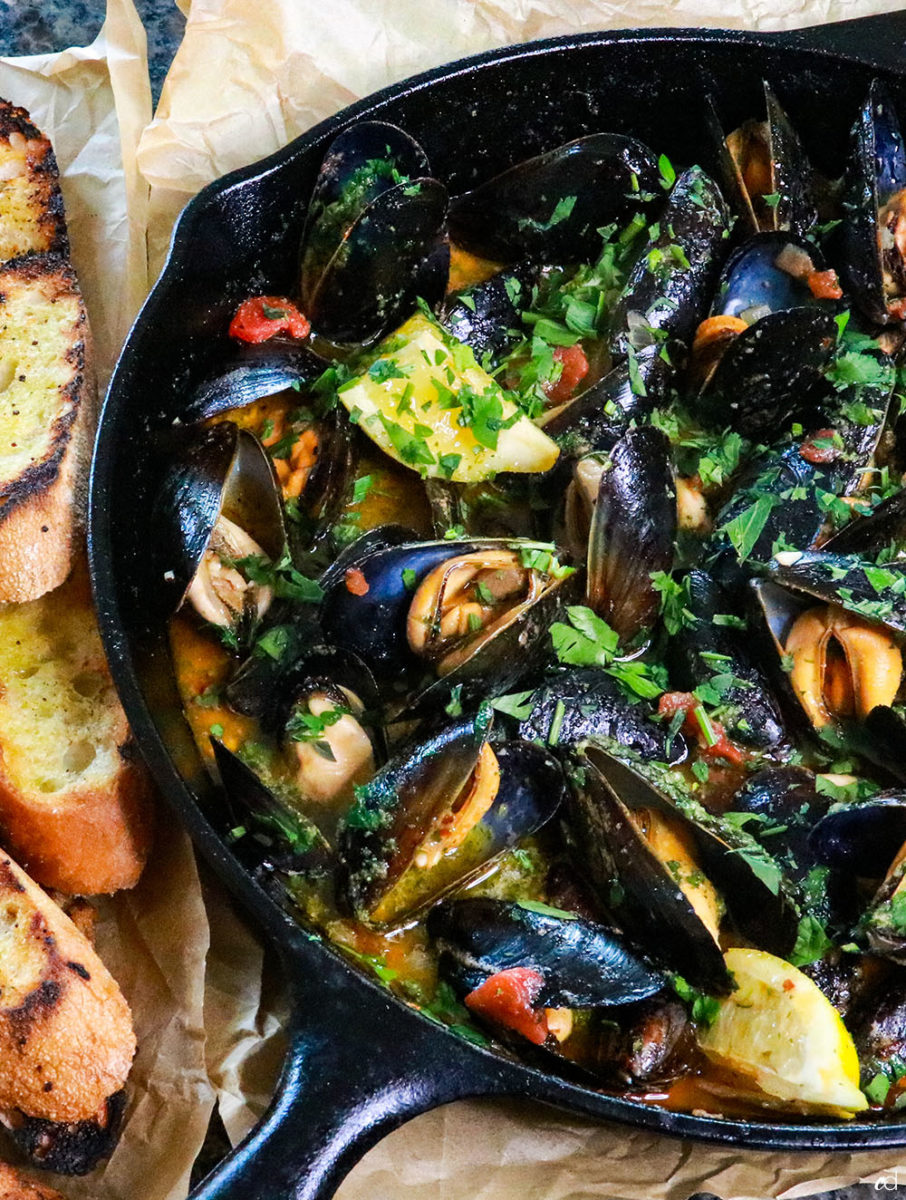 How to Grill Beer-Braised Mussels
Watch video to learn how to make these delicious drunken mussels.
Print
Grilled Beer-Braised Mussels
---
Author:

Chef Resha

Total Time:

45 minutes

Yield:

2 to 4 servings
Description
Succulent, smoky buttery beer-braised mussels steamed over hot charcoals and hickory wood. Sopped up with grilled baguette…whew!
---
Chimichurri
1

cup

flat-leaf Italian parsley, loosely packed

1/2

cup

cilantro, loosely packed

2 tablespoons

fresh oregano, SEE NOTE

1

sprig fresh thyme

1

shallot, roughly chopped

6

cloves garlic, roughly chopped

1/2 teaspoon

crushed red pepper flakes

1/4

cup

red wine vinegar, plus more if needed
Juice from

half a

lemon

1/3

cup

olive oil, plus more if needed
Sea salt, to taste
Black pepper, to taste
Mussels
1

stick butter

2 tablespoons

olive oil

1/2

to

1

cup

onion, diced (amount is totally up to you)

6

fat cloves of garlic, finely chopped

1 teaspoon

crushed red pepper flakes

1/2 teaspoon

smoked paprika

1/2 teaspoon

granulated garlic

1/2 teaspoon

granulated onion
1

14.5

–

ounce

can diced tomatoes, drained
Flaky kosher salt, to taste
Black pepper, to taste
1

12

–

ounce

bottle beer (I used plain ol Budweiser)
1

2

–

pound

(32 ounces) bag of fresh mussels, SEE NOTE

2 tablespoons

flat-leaf Italian parsley, finely chopped, divided
Half of a lemon, in wedges
Grilled Bread
1

baguette, sliced on a bias, about a half-inch thick
Olive oil
Sea salt, if needed
---
Instructions
Prep tips: See blog post above for tips on how to clean and prepare your mussels. Keep your cleaned and live mussels in a bowl of cold water while you prepare everything else. Remember to toss out any that don't close.
NOTE: Set up your charcoal grill. Fill a chimney 3/4 full of charcoal and ignite from the bottom using lighter cubes or fire starters. When the corners of the coals at the top start to ash (about 15-20 minutes later — during this time, you should be inside prepping your meal), carefully dump the hot coals in an even layer on one-half of the bottom of the grill. You want to create a super-hot side and a cooler side (direct/indirect). Place 1 to 2 small wood chunks of your favorite smoke flavor on top of the hot coals. Place the grate inside of the grill, and cover. Open the bottom and top vents of your grill, and allow the grill to get nice and hot while you get everything in place.
Drizzle olive oil all over the sliced bread, and season with bread seasoning and a little sea salt if your bread seasoning doesn't have salt included. Set aside.
For the chimichurri
In a food processor or mini-blender, pulse the parsley, cilantro, fresh oregano, thyme, garlic, shallot, and crushed red pepper flakes until finely chopped.
Pour in the lemon juice, red wine vinegar, and olive oil. Pulse until combined.
Taste and adjust the consistency by adding more red wine vinegar or olive oil as needed.
Season with salt and pepper.
Transfer to a small bowl and keep cold until ready to use.
For the mussels
Using grill gloves, place a large cast iron skillet over the hot side of the grill. Add the stick of butter and olive oil. When the butter has melted and starts to sizzle, add the onion and garlic. Cook, stirring often, until the onions are softened — about 3 minutes. Season the onions and garlic with crushed red pepper flakes, smoked paprika, granulated onion, and granulated garlic. Stir to combine and bloom the spices, about a minute.
Add the drained diced tomatoes and cook, stirring often for about 5 minutes. Season with salt and pepper. When the mixture has thickened up just slightly and is no longer super liquidy, add the beer. Be careful doing this over the flames. I don't want y'all to burn your damn house down, okay?
Anyway, let the beer cook down for just a minute or two, then add the mussels in an even layer. Cover the grill and let them steam and smoke for about 4 to 5 minutes. When all of the mussels are open, toss them in the buttery beer mixture to get all that flavor in the shells. Sprinkle with 1 tablespoon of fresh parsley and lemon wedges (you can squeeze some of the lemon juice in there if you'd like). Taste the broth to make sure it's up to par, and season to adjust if necessary.
Move the mussels to the cooler side of the grill to keep them warm while you toast the bread.
For the grilled bread
Set the oiled side of the bread slices face-down on the hot side of your grill and toast until lightly charred, about 30 seconds or so. Please keep checking them so they don't burn!
Remove them and set them inside of a bowl as they toast.
Set aside.
Place the hot skillet of mussels on a heat-proof trivet. Pour in some of the chimichurri and remaining tablespoon of parsley and toss to evenly combine. Serve with the grilled bread and enjoy.
Notes
Please read this blog post if this is your first time working with mussels. I gave you tons of tips to help you through this process.
If you don't have fresh oregano, you can use dried — but just 2 teaspoons.
Prep Time:

30 minutes

Cook Time:

15 minutes

Category:

Seafood

Method:

Grilling

Cuisine:

American
Keywords: grilled mussels, grilling, how to cook mussels, beer braised mussels, drunken mussels
Recipe Card powered by
Disclosure: This site uses various affiliate links. If a purchase is made using one of our affiliate links, we receive a small commission which helps support our efforts. Please read our
Privacy Policy
for more information.