There is nothing like the clean taste of fresh pasta. So many of us are used to that gummy stuff in a box, that we've been trained to believe is stellar — but it isn't. Not by a long shot. Sure, it's doable in a pinch, I won't pretend I don't use it from time to time. However, when it comes to lasagna, fettuccine, ravioli, pappardelle, or tagliatelle pasta — I'm definitely making my own. I introduced fresh pasta to my mom by way of an insane homemade lasagna I did a while ago with homemade ricotta and she couldn't stop commenting on the texture. It was truly amazing, nothing beats "from scratch". I'll show y'all how to make ricotta from scratch pretty soon btw.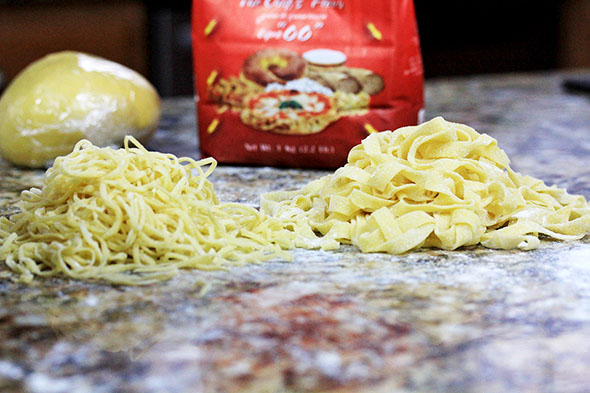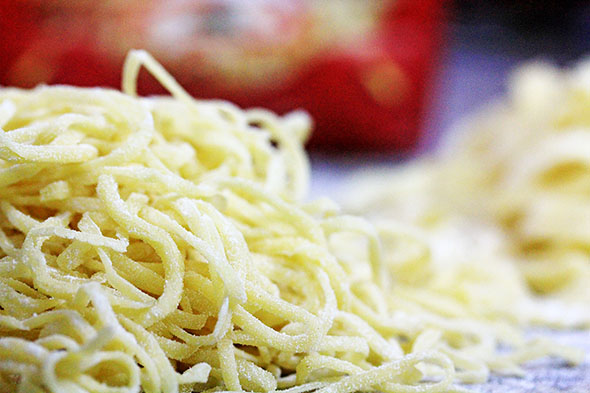 So, for this pasta I'm using
00 flour
. It's a very traditional flour used in Italy for pasta, pizza, and various breads/doughs. It's not the easiest stuff to find in the states, though. I had to order a case from Amazon and it was well worth the price, I believe I paid around $33 at the time, and I got about 22 pounds of it. I bake a lot, so that's why I ordered so much. I highly recommend it but you absolutely don't need it to make great pasta. I've used regular ol' all-purpose for many years with great results. Don't use bread flour! Bread flour will give you a texture so sturdy that it's actually too hard to work with, and even tougher to eat and enjoy. What about
semolina
? That's a traditional ingredient, sure, but for this particular recipe I'd stick to either 00 or All Purpose.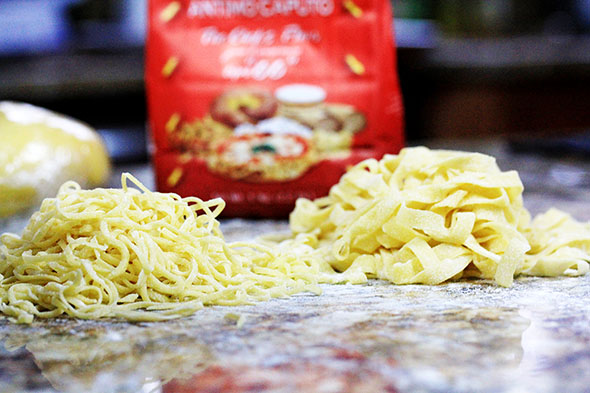 What I love about this pasta recipe — and I've tried MANY — is that it's fool-proof. When you measure ingredients by weight, you'll always have consistent results. I have made pasta the traditional way by piling flour on a counter and making a well for the eggs, a stand-mixer, and a food processor. I definitely prefer the stand-mixer or food processor. They both guarantee consistent and easy to "fix" results, and they're both extremely fast. If the dough is too wet, you can add a little flour until it clears the sides of the
bowl
. If the dough is too dry, you can add a little water until it comes together. It's more time-consuming, tedious, and wasteful to do this on the counter in my opinion. However, it's traditional, so I'm definitely not knocking it. I just don't have time for it, personally lol.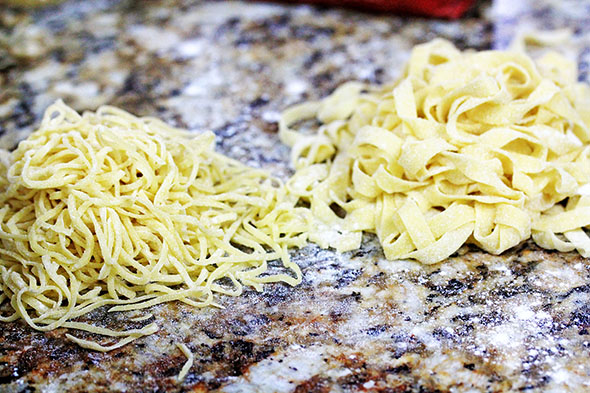 As far as pasta machines go, all you need is a cheap little crank version that clamps to the side of your counter. If you have the pasta rolling/cutting attachment for your stand-mixer, that'll absolutely work too. Before rolling and shaping the dough, make sure you keep it lightly floured so it doesn't stick to itself. Kneading it and developing it's structure is important so that it holds up after it's boiled. So, you're going to fold it in half or into thirds before rolling it thru the widest setting. Do this five times. Then, you are going to narrow each setting and roll it thru twice, on each setting. The second to last setting is the perfect one for lasagna sheets. The very last setting, also the thinnest one, is perfect for everything else. I'll leave your ravioli thickness-preference to you. You may want to use the lasagna thickness or the noodle thickness, it's up to you.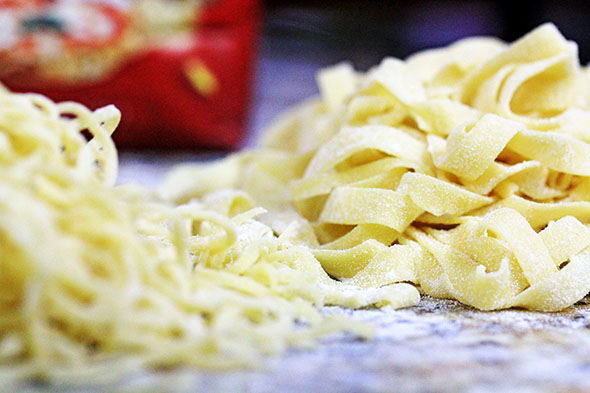 Don't be intimidated by this recipe. All you're doing is adding beaten eggs to flour, mixing it until it forms a dough, rolling that into a ball to rest for about 30 minutes, then shaping and cutting into whatever you want. Boom! You can do this baby 😉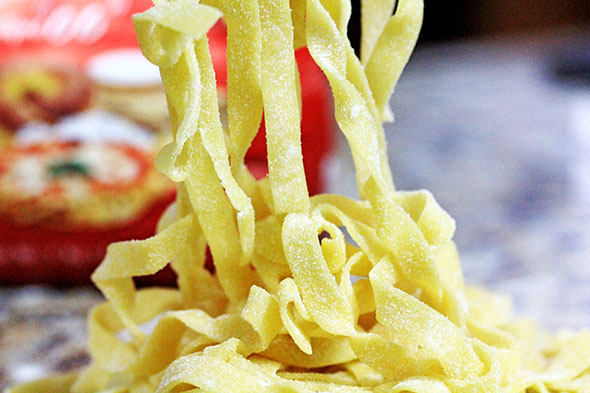 Equipment Used:
Pasta Machine
Pasta Drying Rack
Bench Scraper/Cutter
Print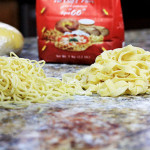 Fool-Proof Fresh Pasta
---
Description
adapted from Stella Culinary
---
9

oz

. "00" or all-purpose flour

3

large eggs, plus 1 egg yolk

1

–

2

tbsp olive oil
---
Instructions
Combine all ingredients in a food processor or stand-mixer fitted with the dough hook until dough forms.
Knead 1-2 minutes until a tight ball forms, and dough is supple and smooth.
Cover tightly with plastic wrap and let rest on the counter at room temperature for at least 30 minutes and up to 1 hour.
Cut dough into small sections, and work with one section at a time, keeping remaining sections covered so they don't dry out. Roll out using your pasta machine, flouring in between each roll so the dough doesn't stick to itself. Let the finished sheets of dough rest on your counter for 5 minutes, then cut into desired shape.
Boil in salted water for 1-2 minutes, and enjoy with your favorite sauce.
Prep Time:

40 mins

Cook Time:

2 mins
Recipe Card powered by
Disclosure: This site uses various affiliate links. If a purchase is made using one of our affiliate links, we receive a small commission which helps support our efforts. Please read our
Privacy Policy
for more information.