I mean, it's the Super Bowl! You gotta have a super lit appetizer for the big game, right? I wouldn't steer you wrong — have I ever? So, let's discuss these little bundles of joy. Everything you see here is a magical concoction of pure deliciousness. The slider buns? Homemade! I used this recipe and basically divided them into 8 dough balls instead of one big loaf. Baked it on a regular baking sheet in a 400 degree oven until they were done. The poblano-cabbage slaw? LIT! Enjoyably spicy, tangy, sweet, acidic — perfection. The crispy fried onions? Necessary! They lend a sweet and savory crunch that blend well with everything. The oven-fried chicken? Juicy and blissful. Look…make these damn sliders.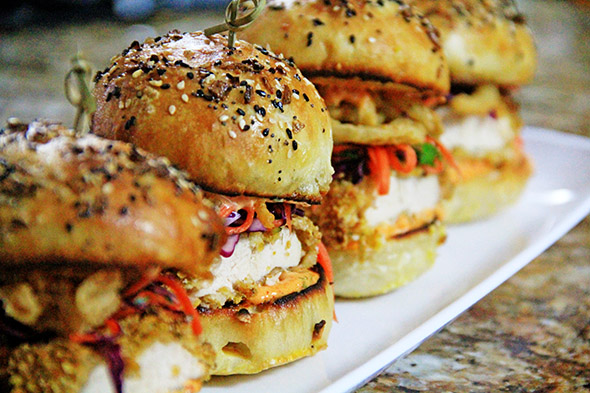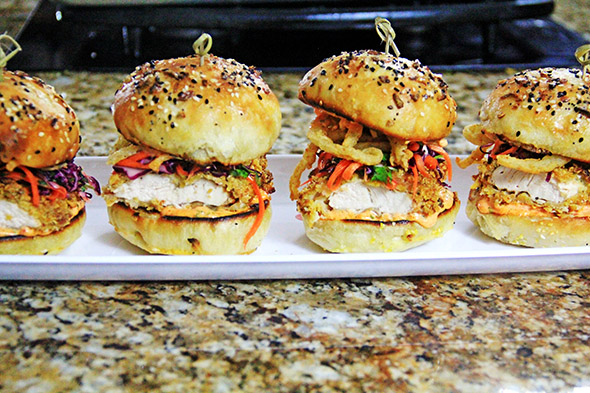 The great thing about this recipe is that everything can be prepared a day ahead. All you have to do the day of is cook the chicken — or just reheat it in the oven!
If you choose to brine your chicken for longer than 24 hours, please use just 1 tsp of kosher salt for the whole bunch, as the two tablespoons I used for a 2-hour brine would be too much for a longer soak. You run the risk of the chicken being too salty. You can season the chicken brine with whatever you want! There are no rules to this recipe, it's just about technique. So feel free to switch up the flavors to suit your needs. A great addition to the slaw would be roasted corn — which I would have added but didn't have on hand. Try it! You can make the aioli up to 2 days in advance. The slaw can be made up to 2 days in advance. The rolls can be made a day ahead if you choose to make them from scratch, just make sure you keep them fresh in an airtight container or ziploc bag until needed. Toast them up and assemble your crew.
I'm gonna give you measurements based on what I used, but please understand that this isn't really a recipe and that ingredient amounts will always vary based on how many people you're feeding. If you use smaller rolls, you could get even more sandwiches out of this recipe. It's totally up in the air and there's no right or wrong way to execute it. Enjoy!
Equipment used:
Julienne Peeler
http://amzn.to/1KvGeXC
V-slice Mandoline
http://amzn.to/1nSR3sO
Candy/Oil Thermometer
http://amzn.to/1KvGrtQ
Bread Knife
http://amzn.to/1X9kUsJ
Print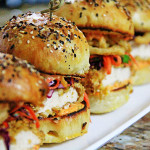 Oven-Fried Chicken Sliders with Roasted Red Pepper Aioli
---
Oven Fried Chicken:
6

regular sized chicken tenderloins

3/4

cup

apple cider

3/4

cup

buttermilk
season chicken with kosher salt, black pepper, herbes de provence, granulated garlic & onion, and smoked paprika
to bread the chicken:
40% seasoned panko bread crumbs

2

eggs, beaten

1

cup

all-purpose flour
60% plain corn flakes, crushed finely
Roasted Red Pepper Aioli:
1

jarred roasted red pepper

2

cloves garlic, chopped

1/2

cup

mayo

3 tbsp

red onion, finely chopped
season with a pinch of kosher salt, smoked paprika, cayenne
cilantro, finely chopped
Buttermilk Onions:
1

medium onion (yellow, white, or red), thinly sliced

1

cup

buttermilk, or enough to cover it in a bowl

1

cup

flour + 2 tbsp your favorite pre-made seasoning blend, mixed well
*oil for frying
Poblano & Cabbage Slaw:
1

cup

red cabbage, thinly shredded

1

cup

carrot, julienned

1/2

cup

poblano pepper, diced

1/2

cup

cilantro, chopped

1/4

cup

rice wine vinegar, more as needed

3 tbsp

honey or agave
---
Instructions
Please see video for cooking instructions. Everything can be made at least 1 day ahead.
Use this recipe to make slider buns. Instead of making 1 large loaf, just divide the dough into 8-12 round balls and bake on a baking sheet in a 400-425 degree oven until golden brown.
The chicken gets baked in a 425 degree oven for 20-25 minutes. It can be reheated in a 400 degree oven the next day until warmed thru.
Recipe Card powered by
Disclosure: This site uses various affiliate links. If a purchase is made using one of our affiliate links, we receive a small commission which helps support our efforts. Please read our
Privacy Policy
for more information.