It's the most, wonderful tiiiiiiiiiiiiiiime of the yeeeeear! Turkey. Stuffing. Potatoes. Veggies. Gravy. Cranberries. Fresh sage. Family. OMG! Thanksgiving will always and forever be my Christmas. I love it, it's my favorite holiday of all time. Why? Because food, that's why lol. I love food. You do too, that's why you're here. Today's food lesson is all about turkey. As I've said in a previous post, I'm not cooking our actual Thanksgiving meal this year — we're flying home to visit my parents. But I needed these flavors ASAP and I couldn't wait. The plus-side? I'm sharing these recipes with you.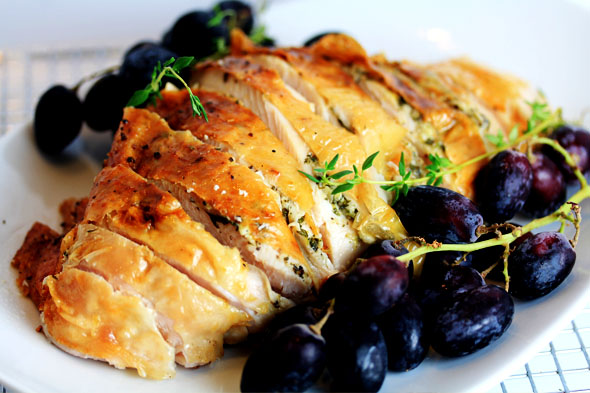 If you aren't about that bringing your turkey life, then you need to get with the program. You just absolutely have to brine your bird. It is the single most important step if you want a juicy flavorful bird. Turkey is very lean, so it's naturally very dry, but we can fix that. Brining just means we're going to let the raw bird soak and get happy in a salty solution. The salt will eventually penetrate the meat and cause the fibers to swell up, so when we finally cook the bird, there's moisture for it to hold on to. Without a brine, the heat will just pull any natural juices the turkey already has and dry it completely out. Think of brining as giving your meat "booty injections" LOL! No more sawdust turkey. No more leathery meat. No more pouring an entire bowl of gravy over your turkey just to make it edible. All you need is time, boo. I'm not using a whole turkey here because quite frankly, it's only two of us and we simply cannot eat all of that. I decided on a whole bone-in turkey breast instead. So many things I can do with the left-over meat it's not even funny. However with these simple tips, you can brine a whole turkey with no problem.
The salt you use here is important. Any salt can be used to brine, but you want to watch the amounts so that you don't end up with an overly-salted diabetic bird. If all you have is table salt aka the salt with the little girl playing in the rain, then you'll want to use about a half less than if you were using a coarser sea salt or kosher salt. The smaller the granules, the more concentrated the volume of the salt. I personally prefer moist, coarse grey sea salt. It imparts such a natural, clean flavor that isn't harsh or "simply salty". It tastes like the ocean. But again, any salt will work. I buy my grey sea salt from the Dekalb Farmer's Market, it's about $3 for a huge bag — use what you have. I also add peppercorns, a fresh rosemary stem — leaves attached, a small bunch of thyme, and a couple bay leaves to the brine to infuse even more flavor. Along with the salt, a little sugar is added for balance. Another crucial step is to make sure you dry the turkey skin with paper towels VERY well before you roast it. If you leave the skin wet, it will steam and welp — there goes that crisp skin you wanted. Please make sure you blot blot blot!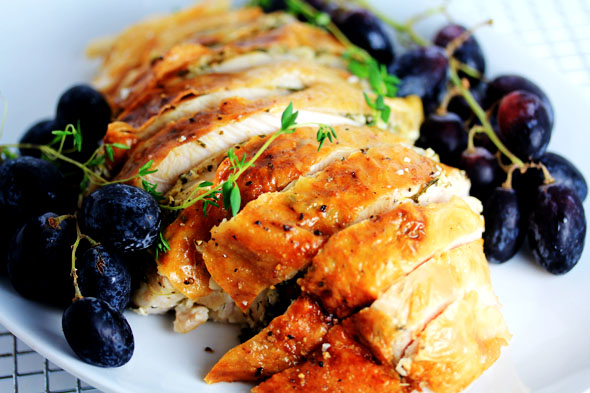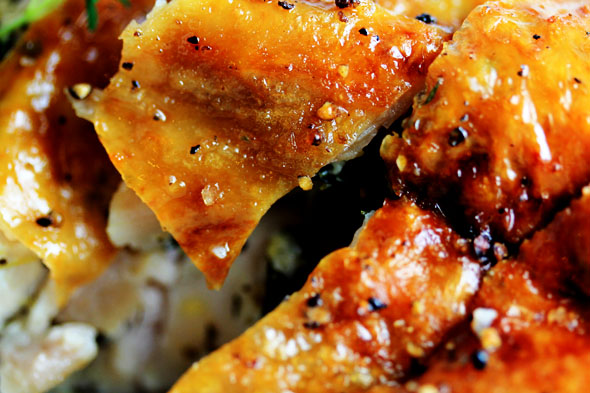 Here's what I did. For a 7lb bird, I brined 1 cup of coarse grey sea salt and nearly a cup of granulated sugar, into 4 quarts of luke-warm water. I added the herbs and peppercorns, then gently placed the turkey into the mixture. I covered it tightly with plastic wrap and let it marinate in my fridge for about 12 hours total — luckily my bird wasn't overly salty at all. The grey sea salt gives it such a natural, clean flavor — I highly recommend it. If you don't have room in your fridge to do this, use an ice cooler! Just add ice to the brining liquid and voila, it'll stay nice and cold for HOURS. We're not going to go crazy seasoning the outside of the bird because there really isn't a need to. With the brine doing it's job, and the compound butter we're going to stuff under the skin, the only thing we need to do to the outside of the bird is gently massage it with about 3 teaspoons of olive oil in a very thin layer, and sprinkle with a little freshly ground black pepper. The lemon-herb compound butter will just take it to more ridiculous heights.
Did I mention how wonderful your kitchen is about to smell? It might just drive you crazy…
Print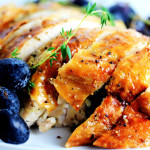 Lemon and Herb Roast Turkey Breast
---
For the brine:
4

qts luke-warm water

1

cup

coarse sea or kosher salt (see note below)

3/4

cup

granulated sugar

1

sprig rosemary, leaves attached

5

sprigs fresh thyme

5

whole bay leaves

1 tbsp

black peppercorns
For the turkey:
1

7-9lb natural turkey breast, skin-on bone-in, brined overnight (see note below)

5 tbsp

unsalted butter, softened

2 tbsp

fresh thyme, minced

1 tbsp

fresh sage, minced

1 tsp

rosemary, minced
generous pinch of salt
freshly ground black pepper
olive oil
zest of

one

lemon
---
Instructions
To brine the turkey:
Dissolve the salt and sugar into the water, then add the rosemary, thyme, bay leaves and peppercorns. Place the turkey in the brine and cover tightly with a lid or plastic wrap. Brine overnight (10-12 hours) in the refrigerator. Alternately, if you don't have room in your fridge, use an ice cooler instead. Simply add ice to the brining liquid and proceed.
To make the compound butter:
Mash the butter with the thyme, sage, rosemary, lemon zest, a good pinch of salt and pepper together. Set aside.
To roast the turkey:
Preheat your oven to to 425 degrees. Spray the v-rack of your roasting pan with vegetable oil, and pour about 2 cups of water on the bottom of the pan. You could very well add aromatics such as onion, celery, carrots to the bottom if you'd like — I didn't.
Remove the turkey from the brine and rinse it well under cool water, about 30 seconds. Place turkey on a paper towel lined cutting board and continue to pat the bird as dry as you can. Remove any excess fat and/or neck skin with a sharp knife or kitchen shears, continuing to pat the bird dry as you work. With your fingers, gently separate the breast skin from the meat, and be careful not to tear the thin membrane or skin. When you have successfully created two pockets under the skin of the breast, with a spoon place half of the lemon-herb butter mixture under the skin on one side, and repeat on the other side using the remaining lemon-herb butter. Use your hands to gently and evenly rub the butter under the skin and over the entire breast. Pat the skin dry again if you need to.
Rub about 1 tablespoon of olive oil into your dry hands and massage the outside of the bird. There should be a very thin layer of oil on the bird, just enough to moisten it. Sprinkle a little fresh ground black pepper onto the skin. Place the bird in the v-rack of your roasting pan skin side up, on the middle rack of the oven. Roast for 30 minutes, then reduce the oven temperature to 325 degrees. Continue roasting for about an hour longer or until the thickest part of the breast meat registers 160 degrees on an instant-read thermometer. Increase the heat to 425 degrees and roast the bird for just another 10 minutes until the skin deepens and crisps a bit further. Remove the turkey from the oven and allow it to rest for at least 20 minutes before carving.
Serve and enjoy.
Notes
*If you don't have coarse sea salt or kosher salt, you can use regular table salt but reduce the amount to 1/2 cup. If you use a full cup your turkey will be way too salty.
*If you'd like to use this method for a larger, whole bird. Use more water and increase the salt and sugar accordingly. For example, if you're using 8 quarts of water for a 12-15lb bird, use 1/2 cup more of salt and sugar. You shouldn't have to add more herbs, but you could add more peppercorns.
Prep Time:

10 hours 15 mins

Cook Time:

1 hour 45 mins
Recipe Card powered by
Disclosure: This site uses various affiliate links. If a purchase is made using one of our affiliate links, we receive a small commission which helps support our efforts. Please read our
Privacy Policy
for more information.