If you never thought you could make restaurant quality steak at home, you were wrong AF. This garlic and herb butter steak will amaze you. It's easy, quick, and succulent. One of the sexiest steaks you'll ever make. I love meat in my mouth, it completes me. My teeth tearing thru a well seasoned bite of porterhouse that's been cooked to the perfect internal temperature really makes me a happy woman.
Steak is expensive, this we know. Nothing worse than overcooking it to death, rendering a leathery, chewy and chalky piece of meat that should get you slapped. There are a lot of people who think that if they see any streak of pink, the cow is still alive and going to moo them in their dreams. No, guys. Pink in your meat doesn't mean it's not "cooked". Oh, it's cooked, just not to death. Plus, a little pink ensures it stays tender and buttery in texture.
Personally, I'm a fan of medium-rare to medium. I had to get educated during my childhood and early teen years about the doneness of steak, and I'm glad I did.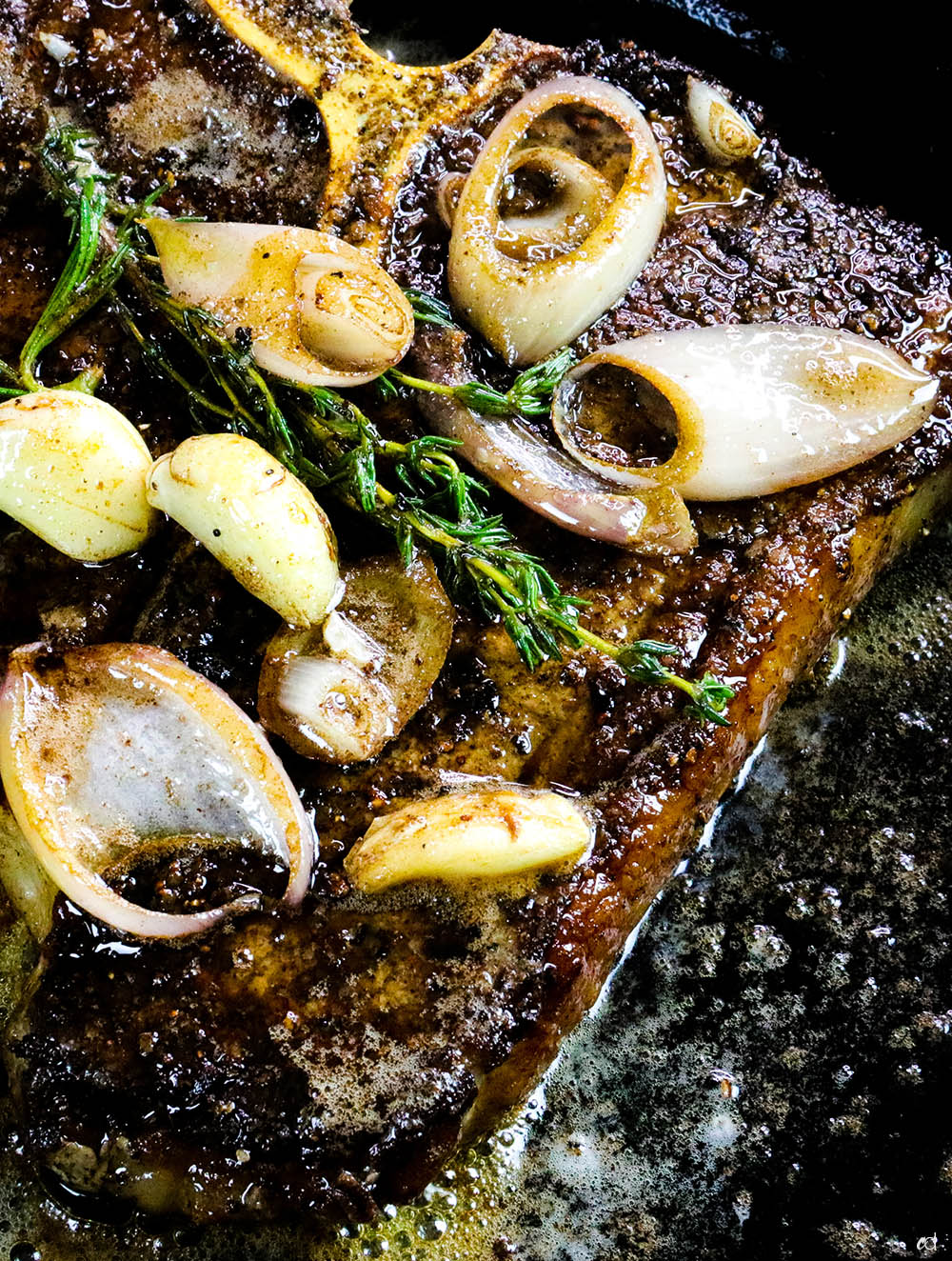 Steak Doneness Guide
There are many ways to determine where your steak is without cutting into it, but the surefire way is to use an instant-read thermometer. You can find those pretty cheap online or at your grocery store.
Rare: 115°F. Remove when it reaches 110°F.
Medium-Rare: 125°F. Remove when it reaches 120°F.
Medium: 135°F. Remove when it reaches 130°F.
Medium-Well: 140°F. Remove when it reaches 135°F.
Overcooked: 150°F. Remove when it reaches 145°F.
Steak Cooking Tips
Season liberally! Don't be shy with the salt. Use kosher salt, it has larger flakes and imparts a very gentle saltiness unlike table salt, which can be harsh. Also, kosher salt helps draw blood and moisture to the surface as it sits, which helps you get a really awesome crust when you sear it.
Basting with butter and aromatics during the last minute of cooking gives the steak an impeccable richness. Use real butter, not that stuff in a tub with corny catchphrases. Sure, butter alone is fine, but adding some crushed whole garlic cloves and a few aromatics really helps flavor the steak nicely. You wanna baste continuously and liberally.
When your steak is done, DO NOT cut into it right away. It's super hot, and all the fat and juices are just running amok in there. Let them settle down and redistribute through the meat by resting 5 to 10 minutes. Juices will accumulate as it rests, and those are fine to pour back on your steak as it's served.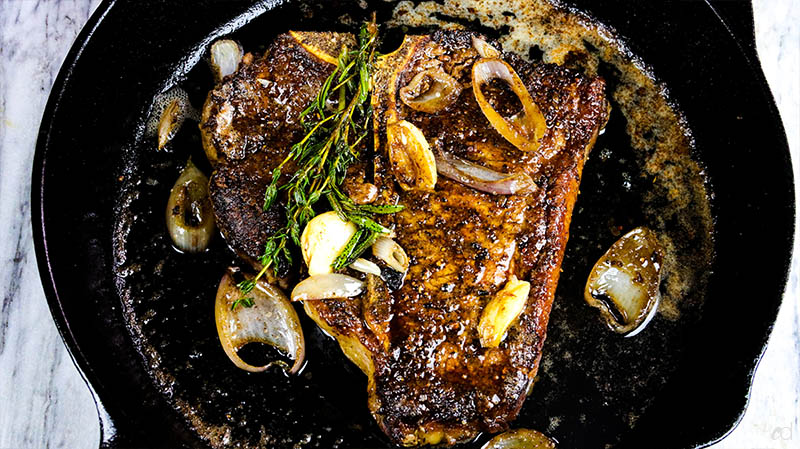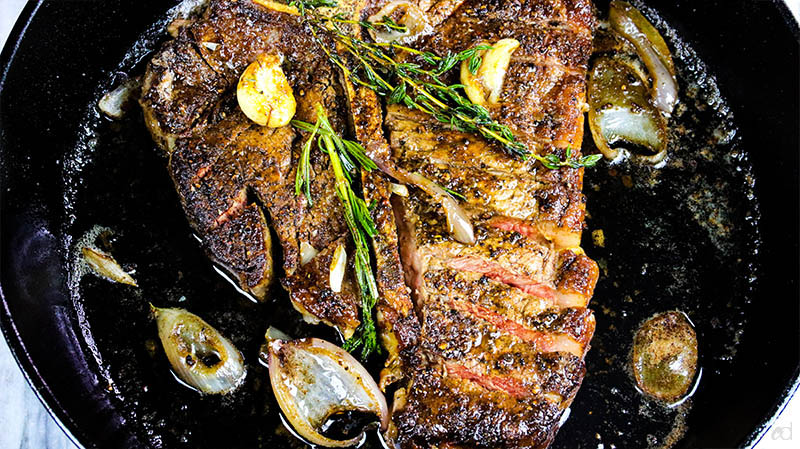 Getting steak right, takes confidence and practice. I think just about everybody has some kind of steak-fail their first time, but all you need to remember is keep the pan hot, and monitor the internal temperature with a device. You'll no longer need an instant-read thermometer the more you do this, you'll just *know* when it's ready.
Garlic and Herb Butter Steak Video
Check out these other easy and fast recipes:
Print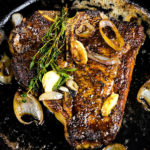 Garlic and Herb Butter Steak
---
Author:

Chef Resha

Total Time:

18 minutes

Yield:

1 - 2 servings
Description
Succulent porterhouse steaks seared to perfection, and basted liberally with a garlic and herb infused butter. So fast and easy to make, you'll skip the steakhouse for a while.
---
1

22

ounce

porterhouse steak, 1 1/2-inches thick
Kosher salt and black pepper

4 tablespoons

salted butter

3

sprigs fresh thyme

1

sprig fresh rosemary

1/2

small shallot

3

large garlic cloves, crushed with back of a knife

3 tablespoons

vegetable oil
---
Instructions
Pat steak dry with paper towels, and season both sides liberally with kosher salt and black pepper. Let the steak sit for about 10 minutes while you prep the aromatics and get the cast iron skillet screaming hot over high heat.
When the skillet is hot AF, drizzle in some vegetable oil. Make sure you use an oil with a high-smoke point. Don't use olive or butter, they'll burn and turn bitter.
When the oil is shimmering and webby in appearance, place the steak down and let it sear for about 4 minutes, or until a nice golden crust has formed. Flip the steak over and cook for 2 minutes. Using tongs, flip the steak on it's edges and sear those. Place steak back on the second side you seared, add the butter and aromatics. Safely tilt the skillet towards you and with a spoon baste the herby garlicky butter all over the steak continuously for 1 minute. Turn off the heat and keep basting for another 30 seconds. Transfer steak to a plate and pour the butter over it while it rests for about 10 minutes.
Serve and enjoy!
Notes
This cooking method can be applied to any cut of steak. Of course, cooking times will vary according to thickness of steak.
Prep Time:

10 minutes

Cook Time:

8 minutes

Category:

steak, porterhouse, meat
Keywords: seared steak, garlic herb butter steak, dinner
Recipe Card powered by
Disclosure: This site uses various affiliate links. If a purchase is made using one of our affiliate links, we receive a small commission which helps support our efforts. Please read our
Privacy Policy
for more information.