Hey yawl! This crispy roasted chicken with creamy marsala sauce recipe and video is the first installment of my Roasted Chicken Series on Youtube. I am ALWAYS roasting a chicken, at least once a week, so why not? Roasted chicken is literally my favorite thing to eat. That intense aroma that permeates your soul and wraps its arms around you like an old relative you haven't seen in years. The sexy scent of herbs, citrus, and garlic infusing your kitchen and invading your nose — oh, it's to die for. However, a lot of people struggle with roasting a chicken and I for the love of me, can't figure out why. It's one of the most simple things to prepare, so hopefully this will help you guys out. I think that once you know a few basics, you can carry those facts thru each chicken you roast and do them differently each time and still achieve phenomenal, delicious results.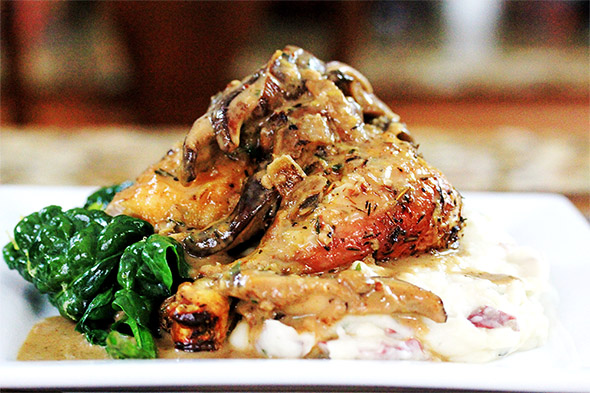 First things first — To achieve a crispy skin, you have to remove excess surface moisture. Paper towels will absolutely do the job. When the protein is too wet, that water on the surface will steam, and prohibit browning. Browning, in this case, is also known as the maillard reaction. My-Yard-what?? Well, it's a simple. When sugars reduce and animo acids intertwine, they cause a chemical reaction (known as maillard), and that is how food browns. So when you're searing seafood, poultry, beef, or pork, and color develops, that is what's going on. Just remember, wet surface = steamy, possibly flabby skin and/or texture, and a dry surface = a better promoted maillard reaction.
So, now that you understand why our chicken has to have a dried surface, you also have to understand that for this particular goal, we need to add a fat. The fat we're adding today is olive oil. If you don't have olive oil, you can use another oil such as avocado, canola, or grapeseed. Why not butter? Well, while butter does give chicken an amazing flavor on the outside, let me explain to you how butter works. Butter contains water and milk solids. When butter is applied to a chicken that is to be roasted at a high temperature, the water can prevent the skin from really crisping to it's full potential AND, the milk solids will absolutely burn — there's no way to avoid it. Butter is better for chicken that is roasting at a lower temperature (under 400 degrees). You could add a little clarified butter to an oil if you choose, but for this method, stick to using just one fat. Olive oil helps with the hot-oven sear we're going for. Preheating our cast iron skillet is key to helping us achieve a crispy skin on the bottom of the chicken — an area that usually stays pretty flabby otherwise. Searing the bottom immediately gives it a head start so that all of those juices stay sealed and we have great texture and flavor.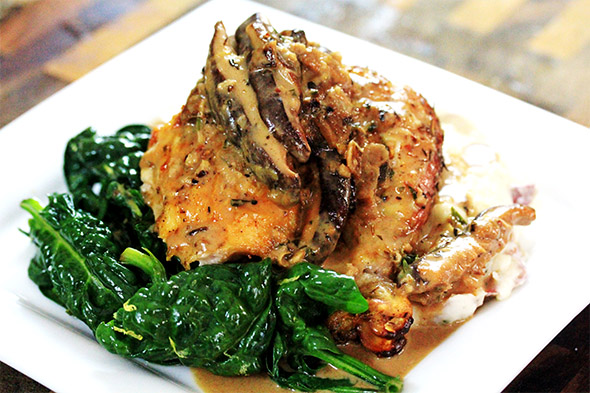 There is no need to brine your chicken because we are doing what is known as a high-roast. This means we are simply roasting it in a super hot oven so that the outside surface of the chicken sears and traps all of the wonderful juices inside of the bird. When you roast a chicken at a lower temperature, you'll still have juicy meat, but the skin may be kinda soggy. We want crisp skin, and juicy, flavorful meat. Kosher salt is key, as it also helps draw moisture to the surface, promoting a nice sear, and it really infuses the meat during the short time it roasts in the oven. So don't be shy about seasoning this bird with a generous amount of kosher salt on the skin AND inside the cavity.
Also, because we're doing a high-roast, it's important that you know many other seasonings can burn if applied to the surface of the skin. I have found that Herbes de Provence seem to hold up quite well in high heat situations, so that is the only other flavoring component we're using aside from kosher salt and black pepper. Don't add granulated garlic or onion to the skin, they will burn — trust me.
What is in Herbes de Provence? The main ingredients are rosemary, thyme, savory, marjoram, and lavender. Some recipes include oregano, parsley, and even tarragon. It can vary, but for the most part, if you have the first five main ingredients, you're ok. All of these wonderful herbs add to the aroma and flavor of our chicken, and make it so incredibly amazing.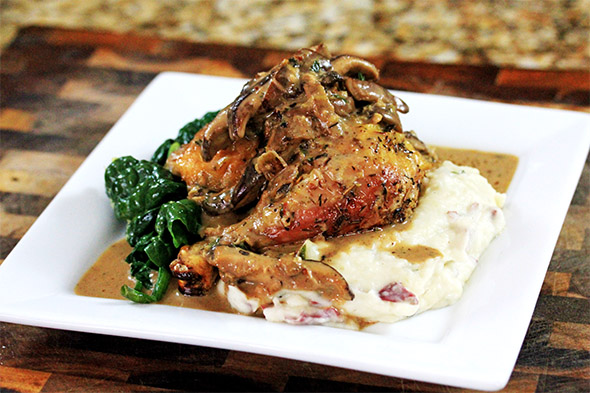 The marsala sauce we're making is very simple and straightforward. Caramelizing the mushrooms is key here, because that is going to give our sauce a much deeper flavor. It all comes together in about 15-20 minutes, and it'll taste like a sauce you spent a good hour on. It's all about building flavors. Allowing the mushrooms to brown and create a nice fond at the bottom of the pan really build up a dope sauce. Adding just a little heavy cream give it the right amount of creaminess and body, while the lemon zest brightens it up perfectly.
I used a compound butter for the base of my sauce — which is a mix of unsalted butter, garlic, herbs (parsley, rosemary, thyme, and oregano), and lemon zest. If you don't have a compound butter, just sprinkle in some fresh flat-leaf parsley at the end to brighten the whole dish up and give it a nice touch of freshness. The marsala sauce will be loose but shouldn't be flat out watery nor gloopy and thick. As long as it lightly coats the back of a spoon, you're good money.
Ready to make this? Of course you are. Video instructions below, recipe below that. Enjoy!
EQUIPMENT/ITEMS USED
Cast Iron Skillet
http://amzn.to/1m9BVpd
Garlic Press
http://amzn.to/1JUDiDR
Chef's Knife
http://amzn.to/1m9CaRc
Cutting Board
http://amzn.to/1QDWgha
Herbes de Provence
http://amzn.to/23G8GMF
Print
Crispy Roasted Chicken with Creamy Marsala Sauce
---
Description
How to make a crispy high-roast chicken with a creamy mushroom marsala sauce.
---
For the chicken:
1

whole chicken (3-4lbs)

1

–

2

tbsp olive oil
black pepper
For the Marsala Sauce:
2 tbsp

unsalted butter

2 tbsp

olive oil

1

cup

onions, diced

3

cups

mushrooms, sliced (I used baby portobellos and shiitakes)

3

–

4

cloves garlic, minced

1 1/2 tbsp

flour

1

cup

chicken stock

1

cup

marsala wine

1/4

to

1/2

cup

heavy cream
*2 additional tbsp unsalted butter to finish
salt and pepper, to taste
crushed red pepper flakes, to taste
herbes de provence, to taste
zest of

one

lemon
fresh flat-leaf parsley to garnish
---
Instructions
*Please refer to Youtube video for detailed instructions
Preheat cast iron skillet in a 435 degree oven for 20 minutes. Remove from oven and add prepared chicken.
Roast for 50-60 minutes, or until breast meat registers 160 degrees and thigh meat registers 170 degrees on an instant-read thermometer. Let chicken rest for 15-20 minutes while you make the sauce.
Melt butter and heat oil in a skillet over medium heat. Add onions, cook until softened and lightly browned, about 5 minutes.
Season with salt, pepper, and crushed red pepper flake.
Add mushrooms, cook until they caramelize, about 8-12 minutes.
Add garlic, cook 30 seconds.
Add flour, stir until absorbed, then add chicken stock and marsala wine. Bring to boil, then reduced to medium. Let simmer for about 5 minutes. Add heavy cream. Once slightly thickened, turn off the heat and add butter. Add lemon zest and fresh parsley.
Serve with the chicken, and enjoy.
Recipe Card powered by
Disclosure: This site uses various affiliate links. If a purchase is made using one of our affiliate links, we receive a small commission which helps support our efforts. Please read our
Privacy Policy
for more information.