This recipe is very special to me. It's something I've perfected over the past 7 years to my own personal liking, and whenever I serve it, I get a look that just oozes, "Oh, no you didn't". Why yes, yes I did. And you can too…
Like I said before, this recipe went thru a whole lot of trial and error over the years. I've never made a bad batch of meatballs, actually…but I kept wanting them to be better each time. This took a lot of research, reading, scouring — you name it. I wanted to learn as much as I could about the science of meatballs, and how to make them more moist, juicy, flavorful, and memorable. I went back to a trick my grandmother used to do with her meatloaf and kinda modernized it, and used another trick from a cooking class that taught me how to get great, plump meatballs every time.
You see, most people make their meatballs with the typical beef/pork/veal mixture you can find in most grocery stores. I have always hated that stuff…just something about it was never right to me. So here we break it down by using one pound of 80/20 beef, mixed with one pound of pork — I prefer 1/2 pound each of sweet Italian and hot Italian sausage. And instead of using veal, we're just going to use the good part of the veal — the gelatinous part. But we have to mimic it with plain unflavored gelatin (found in the Jello aisle). Trust me on this, it works. I remember the first time I heard of this tip and I was like "Um, what?", but it really does make a difference and I get consistent results every single time I make these. Once the meatballs are in the sauce, the gelatin and the panade help soak up the flavorful liquid and they just get all plump and juicy and incredibly tender. I've literally had meatballs made by "all-knowing" Italian restaurants that were so tough and compacted, they had to be sliced open with a knife and fork. Who wants that? I sure as hell do not. I want fork-tender. So, with that said, trust me with the gelatin. I know it may sound weird but it truly does work here. Grating the onion helps open the cell walls and extract more onion flavor, it's a method I use for many recipes. You'll get a lot of onion juice, but keep that! Pour it into the sauce later, it's great flavor. Just be warned, your eyes are gonna water like nobody's business.
Let me back up a bit and explain what a panade is. It's basically a mixture of bread soaked in dairy, which also help tenderize and moisten the meatballs. I use buttermilk here because it has acidic properties in it that further help break down the meat to tenderize it and moisten the proteins. My grandmother taught me that trick, but she didn't use breadcrumbs — she used fresh white bread. That's just something I never have on hand because we're wheat-bread eaters around here, and you can't exactly buy just 5 slices of white bread. But I always have dried breadcrumbs on hand, so I used panko (Japanese bread crumbs) and it works just fine. Panko gives you a better texture than regular breadcrumbs, and help the meatballs become more substantial. You just have to let the panko soak in the buttermilk for a good 10 minutes to reconstitute it. Aside from those key tips, the meatballs themselves are pretty darn simple. Easy to do, they don't cost an arm and a leg, but they require a gentle hand and patience.
As far as the sauce goes, it's also very simple. Takes a good 2 hours to complete from start to finish, and compliments the meatballs amazingly well. Flavored with fresh and dried herbs, grated vidalia onions, white wine, and a bit of this and that, it's a very simple recipe I promise you'll love and learn how to tweak to make your own. By adding tomato juice to the sauce, we give the meatballs extra liquid to soak up which only helps them in the end. Without it, the sauce will evaporate faster and the meatballs won't be as juicy. My advice to you is to spend the extra money on parmigiano-reggiano cheese. It's amazing and you can't really substitute it. Don't buy any pre-shredded parmesan cheese. If you can't find parmigiano-reggiano cheese, get a block of the next best thing and finely grate it yourself. It's truly worth the extra effort.
This is a great meal to make on a lazy, rainy Sunday while you watch a good football game and cozy up on the couch. Your home will be bombarded with amazing aromas that linger for hours on end, and your tummy will thank you again and again. This recipe only gets better the longer it sits, so be prepared for amazing next-day leftovers!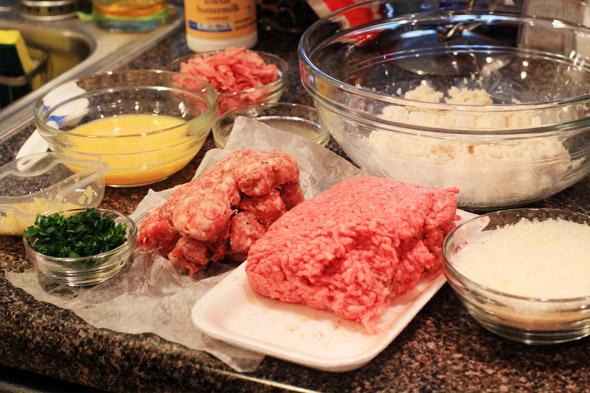 So, these are your ingredients for the meatballs. Beef, Italian sausage, proscuitto, cheese, parsley, garlic, eggs, gelatin, panade, spices.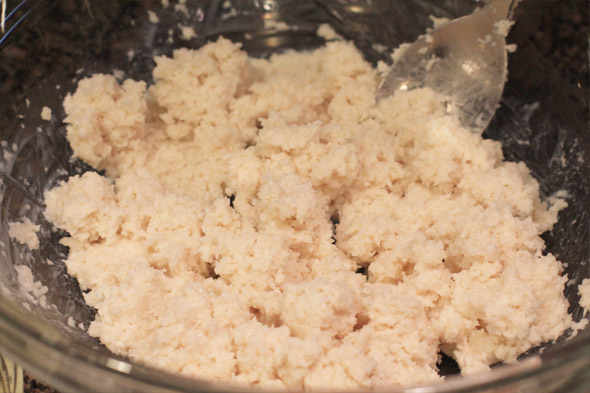 A closer look at the panade. Which is basically a milk/bread mixture to moisten the meatballs. We're using buttermilk for even more acidity, which help tenderize the meatballs even further.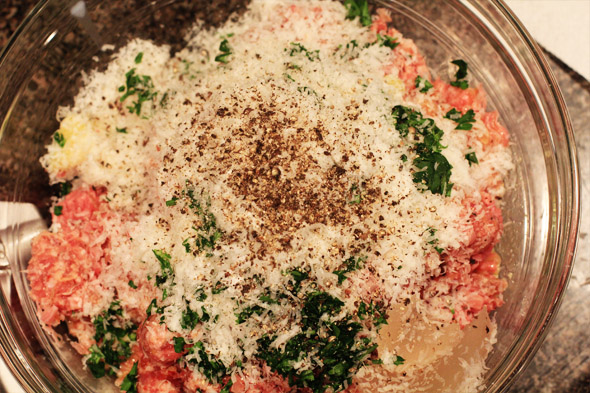 Mix everything together by hand — GENTLY!! Overworking the meatball mixture can lead to tough meatballs. If you're still mixing everything to combine after 15 seconds, you're over-doing it.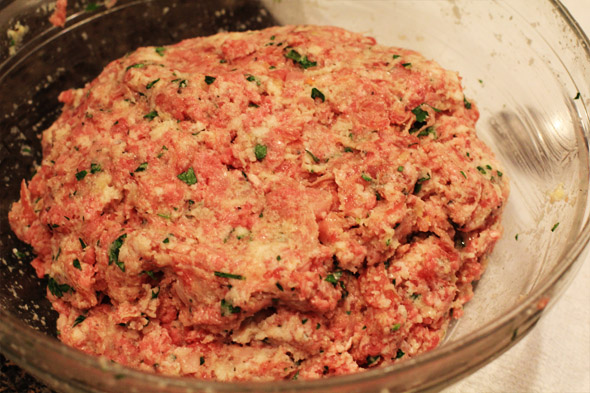 All mixed up!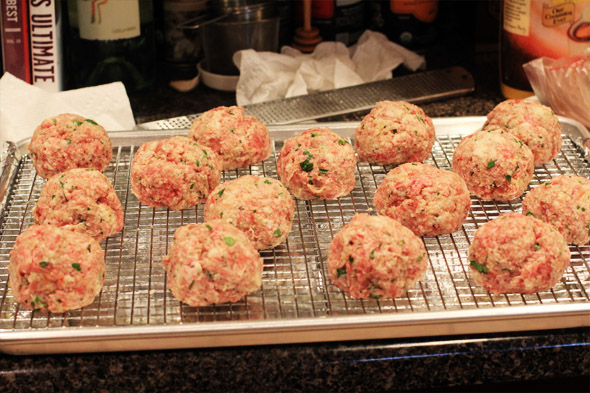 Using a 1/3 cup scoop, gather the meatball mixture and gently roll it between the palms of your hands to form a big juicy meatball. You should get about 15 meatballs the size of lemons. Bake them in a 400 degree oven for 20 minutes to get them started, they will finish cooking in the sauce.

Grate your onions using the large holes of a cheese grater, and keep as much of the onion juice as you can (separate). It's great flavor that can be added to the sauce. If you don't have a cheese grater, try to mince the onion as finely as you can with a knife.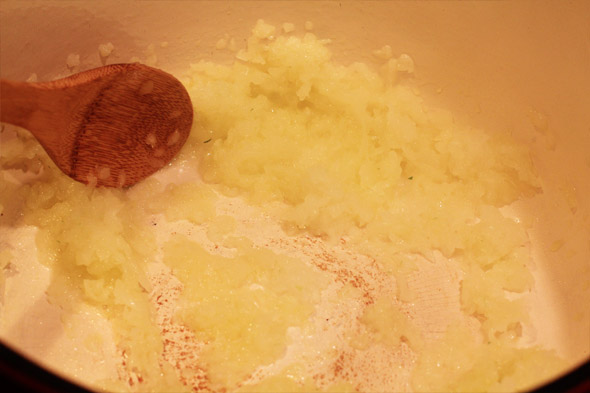 Strain the onion juice and set to the side. Meanwhile, soften the onions in a large dutch-oven with a few tablespoons of olive oil for a good 6 to 8 minutes, or until the onions are kinda straw colored.

The meatballs have been in the oven for 20 minutes and will continue to get happy in the sauce. Just let them hang out until it's their turn.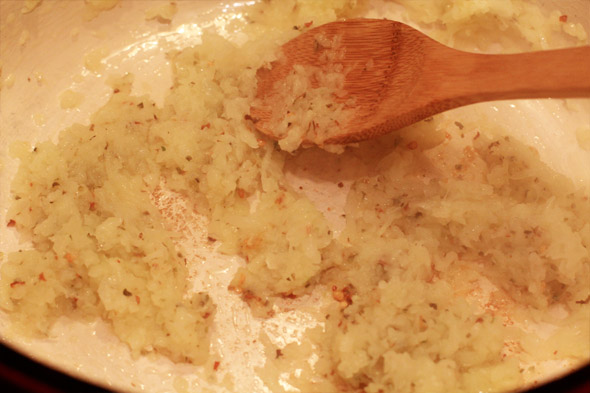 Once the onions have broken down a bit, add the dried oregano, crushed red pepper, herbs de provence, dried basil, and garlic. Cook for just 30 more seconds, you don't want the garlic to burn.

Pour in the 2 cans of crushed tomatoes, 3 cups of tomato juice, half cup of Chardonnay (or white wine of your choice), reserved onion juice (if any), and tablespoon of tomato paste. Gently mix with a wooden spoon and bring the heat up to medium-high.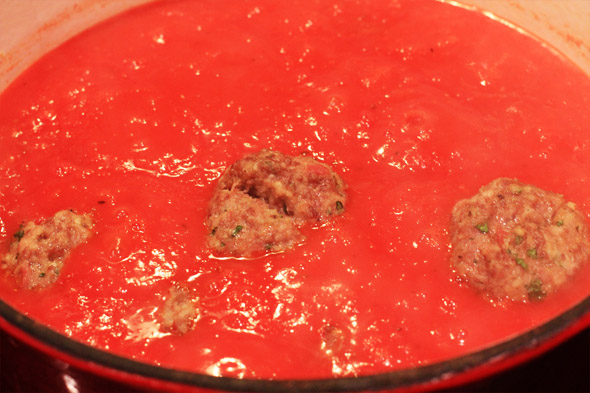 Allow the sauce to simmer over medium-high heat for 10 minutes, stirring often. After 10 minutes, gently add one meatball at a time, careful not to tear or break them. Make sure they are covered in the sauce. Cover and let simmer for about an hour over LOW heat, gently stirring every 15 minutes.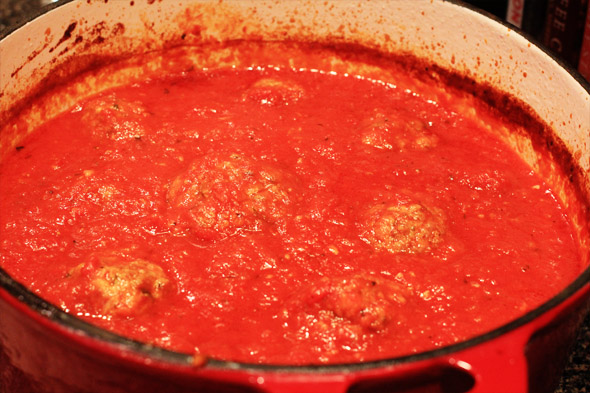 After an hour, remove from heat and take this time to season the sauce. Add salt and pepper, and a little sugar if your tomatoes are super acidic. Keep the flavors simple. Gently mix the sauce with the meatballs together, careful not to break them, until it tastes perfect. Ladle about 2 cups of your sauce with the hot spaghetti to keep the pasta moist, then top with meatballs, grated cheese and fresh basil.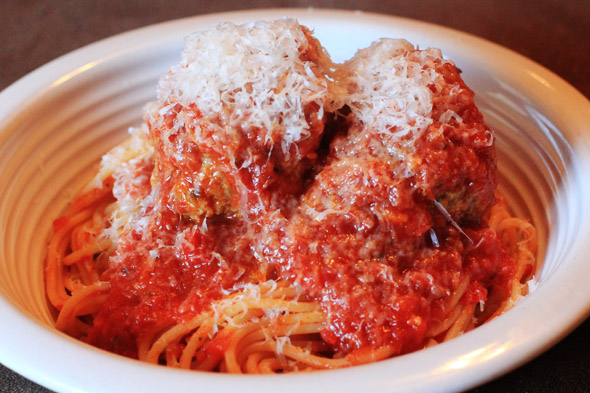 Mmmmm!!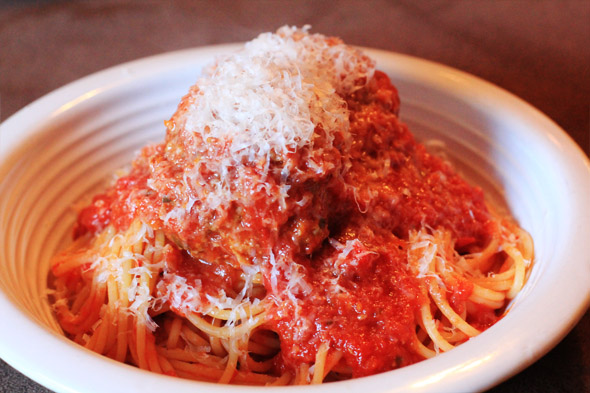 ERMAHGERD!!!
Listen…do you see that?
Unreal. This is my signature, go-to spaghetti and meatball method, and I hope you find it as easy to make as I do. Enjoy!
Print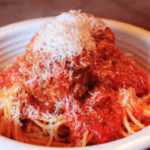 Signature Spaghetti and Meatballs
---
Author:

Resha

Total Time:

2 hours 20 mins

Yield:

10
Description
gelatin trick learned from Cooking School.
---
For the meatballs
1/2

lb

sweet Italian sausage

1/2

lb

hot Italian sausage

4

oz

proscuitto or pancetta, finely chopped

1

lb

ground beef (80/20)

3

–

4

slices hearty white sandwich bread, torn into pieces (see note below)

3/4

to

1

cup

buttermilk (see note below)

3 tbsp

flat-leaf Italian parsley, finely chopped

5

cloves garlic, minced

1 1/4

cup

parmigiano-reggiano cheese, finely grated, plus more for garnish

1 1/2 tsp

unflavored gelatin, dissolved in 3 tbsp cold water

2

large eggs, beaten

1 tbsp

kosher salt (or

1/2 tbsp

table salt)

1/2 tbsp

freshly ground black pepper
For the sauce
3 tbsp

olive oil

2

vidalia onions, grated or finely minced

1 tbsp

dried oregano

5

cloves garlic, minced

1 tsp

red pepper flakes

2

28oz. cans crushed tomatoes

3

cups

tomato juice

1/2

cup

dry white

1 tbsp

tomato paste

2

bay leaves

1 tsp

herbes de provence (optional)

1/2 tbsp

dried basil
Salt, pepper, and (pinch) sugar to taste/adjust
Fresh chopped basil for garnish (optional)

1 1/2

lbs

dried spaghetti, plus 2 tbsp kosher salt for the pasta water to taste (or 1 tbsp table salt)
---
Instructions
For the gelatin:
Mix the gelatin with the water and allow it to firm up, about 10 minutes. Set aside til ready to use.
For the panade:
Pour up to 1 cup of buttermilk into a small bowl. Add torn pieces of bread. Allow 3-5 minutes to fully absorb. If after 5 minutes, the mixture is too "soupy", add just a few more pieces of bread. It should be wet, but not soupy.
For the meatballs:
Preheat your oven to 400 degrees.
Line a large baking sheet with foil, and spray with non-stick cooking spray.
In a large bowl, gently and thoroughly mix the panade, ground beef, Italian sausage, parsley, garlic, eggs, proscuitto, cheese, gelatin, salt, and pepper by hand. Using a 1/3 measuring cup, scoop an even amount of the meatball mixture and gently roll it between your hands to create a ball, placing each ball on the lined baking sheet. You should have about 15 meatballs. Place the baking sheet in your 400 degree oven on the middle rack and bake for 20 minutes. After 20 minutes, remove the baking sheet from the oven and set the meatballs to the side. Turn off the oven.
For the sauce:
While the meatballs are in the oven; in a large heavy-bottom dutch oven or pot, heat 3 tablespoons of olive oil over medium heat. When the oil starts to shimmer and get a webby appearance, add the grated onions (save any onion juice from the grating process and set to the side) and cook until softened, about 6 to 10 minutes. Once the onions have softened, add the oregano, red pepper flakes, herbs de provence, dried basil, and garlic. Cook for 1 minute, stirring constantly with a wooden spoon. Add your crushed tomatoes, tomato juice, white wine, tomato paste, bay leaves, and any reserved onion juice leftover from the grating process. Increase the heat to medium high to get a nice simmer, and let the mixture cook for 10 minutes (while stirring) before adding the meatballs. After 10 minutes, reduce the heat to low and gently place each meatball in the sauce, making sure every meatball is covered. Cover your pot and let the sauce and meatballs continue to cook for 45 minutes to 1 hour over low heat. Make sure you gently stir it around every 15 minutes. Turn off the heat and take this time to taste and season it. You want to wait til the end to season it because the meatballs themselves give the sauce flavor and vice versa. Add salt 1/2 teaspoon at a time, and add sugar 1/2 teaspoon at a time if need be. Taste and repeat. Add black pepper a little at a time as well. Taste again and cover for 5 minutes. Taste it again and adjust it if you'd like. Giving it 5 minutes allows the flavors to meld, and gives your palate time to readjust. Hook it up to your own personal liking. Keep the cover on the pot to keep warm.
For the pasta:
Bring 4 quarts of water to a boil. Add the salt, and add your spaghetti. Cook your spaghetti according to the manufacturer's instructions. You want it to be al dente and not too mushy. Reserve at least 1 cup of starchy pasta water before draining and set to the side in case you need to use it to loosen anything up later. Drain your pasta, and return to the pot (make sure the heat is off). Ladle about 2 cups of the sauce into the pot of pasta and gently toss to make sure each noodle is lightly coated and moist — just enough to keep it from drying out. If your pasta starts to dry out a bit, add just a little of the starchy pasta water to loosen it.
Serve the spaghetti with 1 to 2 meatballs per bowl with more sauce, and cheese and basil for garnish if using. Enjoy.
Notes
For the Panade, start by using just 3/4 cup of buttermilk, but do not exceed 1 cup. Use enough bread to keep the entire mixture moist, but not too soupy.
Serving size depends on how many meatballs everyone wants. You can freeze any leftover meatball & sauce mixture for up to 2 months in the freezer. Use a wooden spoon whenever you're dealing with tomato sauce to avoid a possible reaction.
Prep Time:

20 mins

Cook Time:

2 hours
Recipe Card powered by
Disclosure: This site uses various affiliate links. If a purchase is made using one of our affiliate links, we receive a small commission which helps support our efforts. Please read our
Privacy Policy
for more information.