Oh dear…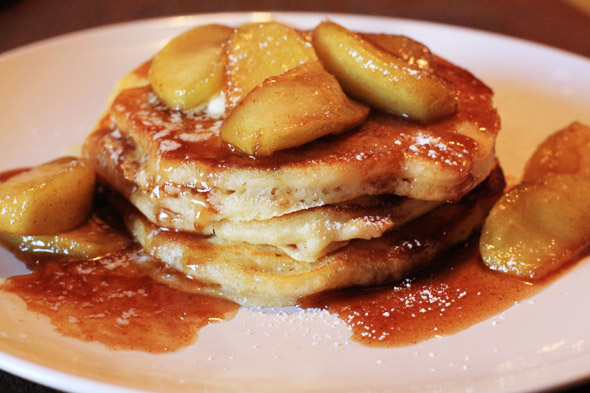 I swear, it seems as though the most simple ingredients in life always produce the most amazing flavor. In a world where we tend to over-do things, sometimes simple is better. Case in point, these buttermilk pancakes flavored with Vietnamese cinnamon and vanilla, and topped with a delicious bounty of juicy, tender apples, smothered in an insanely delicious caramel syrup.
Girl…
Please come get your life.
I pretty much get proposed to after every meal I cook for #theboo, but these may be his favorite pancakes ever. We literally demolished these a few hours ago and he's still saying "Damn, babe…those pancakes!" Haha! Glad he's happy. The pancakes are fluffy and moist — absolutely delicious on their own. The caramel syrup sweetness is cut by the juicy tartness of the apples, it's awesome. Everything comes together beautifully. We both appreciate that this dish isn't too sweet, despite how it looks. Nobody really wants something cloyingly sweet first thing in the morning, so this is perfect. This recipe is awesome for 2 to 3 people, as it makes 6 standard-sized pancakes. It's also great for eating in bed together 😉
I'm resting and blogging now because I have to make a big pot of spaghetti and meatballs in about an hour or so. Don't worry, you'll get that recipe too. But for now, here's my take on a classic…apple cinnamon pancakes that will get you proposed to every time you make them.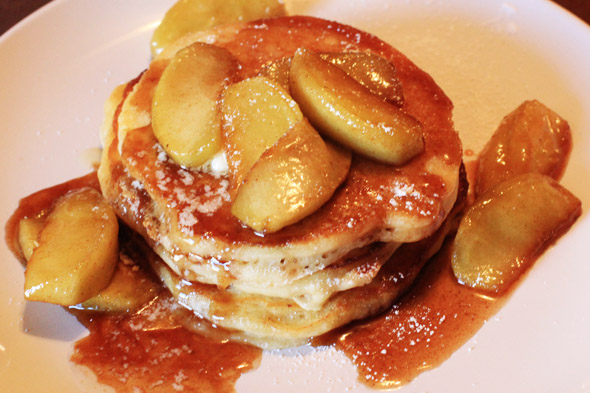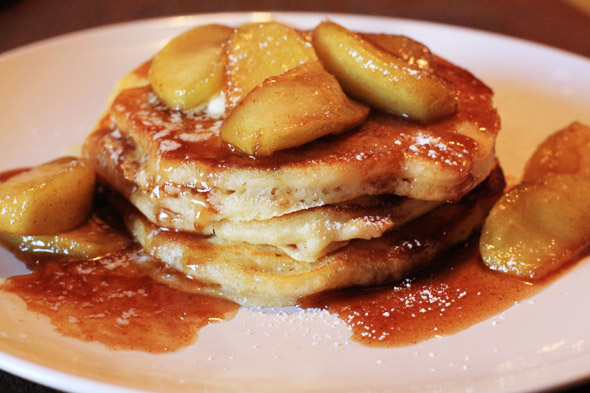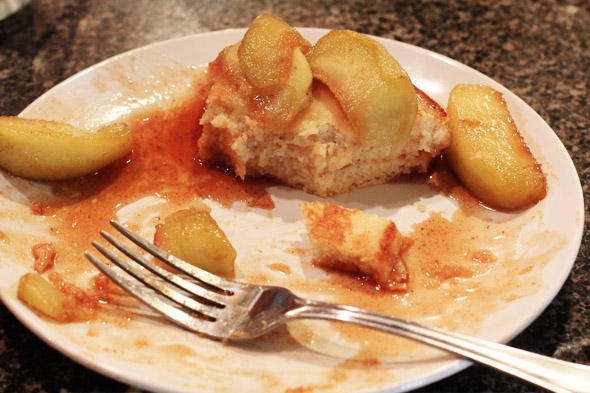 These come together in under 20 minutes, prep time included, and taste so good you'll wanna hug yourself like Ray Charles. I might add some candied pecans next time.
Print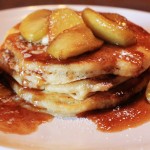 Apple Cinnamon Buttermilk Pancakes with Caramel Syrup
---
---
For the pancakes:
1

cup

flour

1 tbsp

sugar

1 tsp

baking powder

1/4 tsp

baking soda

1/4 tsp

salt

1/8 tsp

cinnamon

1

cup

low-fat cultured buttermilk

1

large egg

1/2 tsp

vanilla extract

1 1/2 tbsp

unsalted butter, melted and cooled slightly
For the Apple Cinnamon Caramel topping:
2

Granny Smith apples, peeled and cored, cut into chunks

3 tbsp

unsalted butter

1/3

cup

semi-packed light brown sugar

1 tbsp

real maple syrup

1/2 tsp

cinnamon
pinch of freshly grated nutmeg (optional)
pinch of kosher salt
Butter for topping (optional)
---
Instructions
For the pancakes:
Heat your oven to 200 degrees. In a medium-sized bowl, mix all of the dry ingredients together with a whisk or fork until combined. In a separate small bowl, mix the buttermilk, egg, and vanilla together until combined. Pour the buttermilk mixture into the dry mixture, and GENTLY fold or mix together until almost combined. Pour in the melted butter and continue to fold/mix until combined. Lumps should remain, and small pockets of flour are ok. Be careful not to overmix or you will toughen the pancakes by creating too much gluten. Please be gentle. Set the batter aside.
Heat your griddle to 350 degrees, or heat a large non-stick skillet over medium heat with just a tiny bit of oil or margarine. Scoop about 1/3 cup of pancake batter onto your griddle or skillet and smooth down to flatten with the back of a spoon, otherwise you'll have oddly-shaped pancakes. Cook on the first side for about 3 minutes, and on the second side for about 2 minutes. Keep warm in the oven until ready to serve.
For the apples:
Peel and core your apples and cut into even-sized chunks. In a 10-inch skillet, melt the butter over medium heat. Add the apples, brown sugar, cinnamon, maple syrup, nutmeg if using, and salt. Gently fold and mix the mixture until every apple is evenly coated. Allow to cook for about 6 to 8 minutes or until apples are softened and fork tender.
Assemble your pancakes, top them with butter, and pour the apple/caramel mixture on top of the pancakes. Serve immediately.
Notes
If you have both a skillet and a griddle, you can cook the apples and pancakes at the same time. I gave directions based on those who don't have both of these appliances/tools. I cooked the apples in a skillet while cooking the pancakes on the griddle and everything was ready at the same time, however, as I stated in the directions, if you don't have both, just keep your pancakes warm in the oven while you cook the apples. Easy-peasy.
Prep Time:

25 mins

Cook Time:

20 mins
Recipe Card powered by
Disclosure: This site uses various affiliate links. If a purchase is made using one of our affiliate links, we receive a small commission which helps support our efforts. Please read our
Privacy Policy
for more information.