Rum and coke is such a simple and delicious go-to drink for many, so why not make rum and coke wings? I know, you can't think of a reason not to either. Listen, these are incredibly good. So simple and easy to make, and as always, I encourage you to tailor the glaze to your liking. I used regular Coca-Cola, some delicious rum, other spices and flavorings, and got this ultra boozy and crazy flavorful sweet and spicy sticky wing sauce that will honestly be amazing on anything!
Try the glaze on shrimp, ribs, meatballs, cauliflower wings, a sock — you name it. This rum and coke sticky wing sauce is damn good, super legit, and dumb easy to make. I won't even bother you with small talk, let's just get to it, shall we?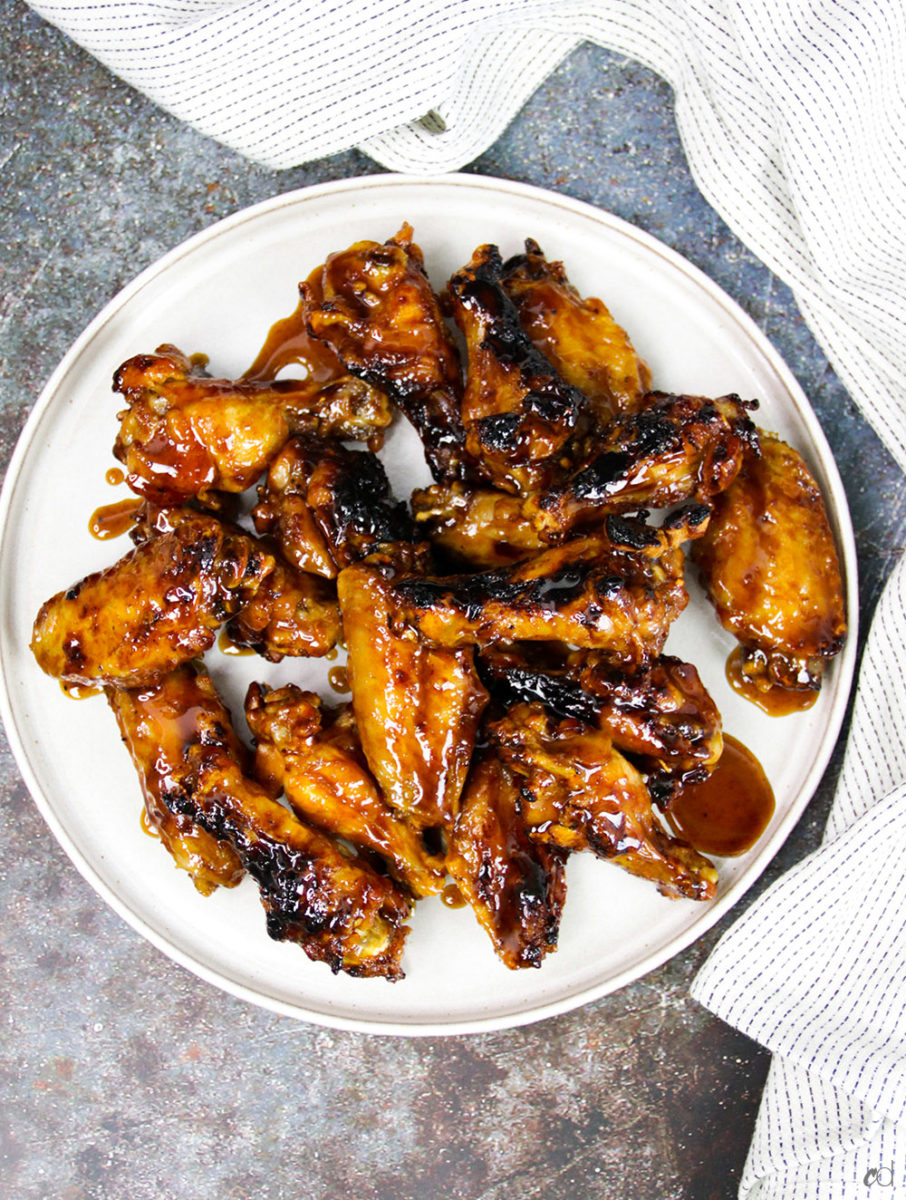 You can prepare these wings any way you'd like! Oven-fry them, deep fry them, air-fry them, grill them, bake them, roast them, whatever you want. Because honestly, it's all about this glaze, baby. I air-fried my batch of rum and coke wings until they were super crispy, then tossed them in a little bit of the glaze. I then threw them under the broiler for literally 2 minutes to get nice and charred in some spots, then tossed them in more rum and coke glaze. Ugh! So damn good.
So, while you can prepare the chicken any way you want — I'm gonna give you the regular instructions for an oven-fry. I realize not everyone has an air-fryer, or a grill. You can adapt the actual chicken preparation to your personal liking, depending on your equipment. I'm doing all I can to avoid turning on my hot ass oven in these oppressively hot temperatures. They're your coke glazed wings, so do you.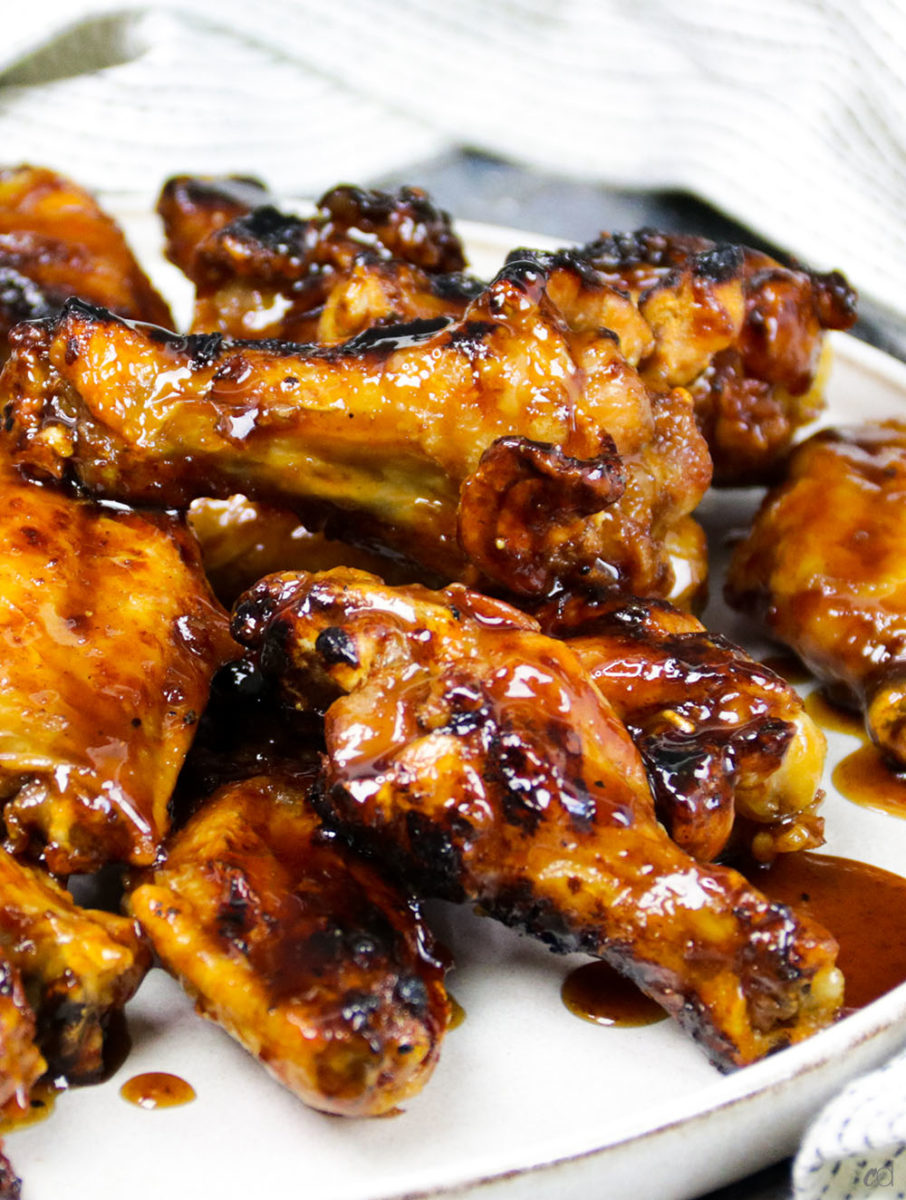 Check out my super popular Elote-style Chicken Wings recipe while you're here. You won't regret it.
Print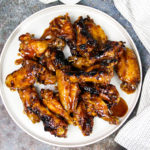 Rum and Coke Sticky Wings
---
Author:

Chef Resha

Total Time:

1 hour

Yield:

4 servings
Description
Turned one of my favorite throw-back club drinks into a delicious chicken wings recipe. These rum and coke sticky wings will make you cuss, they're so good.
---
Wings
2

pounds

chicken wings
Avocado oil
Rum and Coke Glaze
17

oz

Coca-Cola (I used two 8.55oz bottles, do not use diet soda)

1

cup

packed brown sugar

2 tablespoons

ketchup

2 teaspoons

yellow mustard

2 teaspoons

worcestershire sauce

1/2 teaspoon

vanilla extract

1/2 teaspoon

liquid smoke

2 tablespoons

reduced sodium soy sauce
pinch of cinnamon

1/4 teaspoon

granulated garlic

1/4 teaspoon

granulated onion

1/4 teaspoon

smoked paprika

1/4 teaspoon

cayenne pepper

1/2 teaspoon

crushed red pepper flakes (optional)

1/2 teaspoon

black pepper

3

ounces

rum, divided

1 tablespoon

cold butter

1

–

2

teaspoons red wine vinegar (SEE NOTE)
Flaky kosher salt or sea salt, to taste
---
Instructions
Preheat oven to 450. Line a large baking sheet with foil, then place a wire baking rack inside.
Pat the chicken wings dry, then place them into a large bowl. Drizzle about 2 to 3 tablespoons of avocado oil all over the wings and massage each piece. They should not be dripping in oil, just thinly coated enough to help them "fry" in the oven.
Season the chicken evenly with just flaky kosher salt — anything else will burn! Place each chicken wing on the baking rack in an even layer. Roast the wings on the middle rack of your oven for 40 to 50 minutes (it'll depend on how crispy you want them) until golden brown all over.
Meanwhile, add the cola, brown sugar, ketchup, yellow mustard, worcestershire sauce, vanilla extract, liquid smoke, soy sauce, cinnamon, granulated garlic, granulated onion, smoked paprika, cayenne pepper, crushed red pepper flakes, black pepper, and 2 ounces of the rum to a medium saucepan over medium-high heat. Stir everything together until the sugar is dissolved, and bring to a manageable boil. You wanna let this stuff reduce by about half, and it will take anywhere from 15-22 minutes.
When the mixture has visibly thickened and has become syrupy (like the consistency of real maple syrup, not that Mrs. Buttersworth mess), it's ready. Reduce the heat to LOW. Taste the glaze and adjust the seasoning as you need to (I used more of every seasoning I listed, but I wanted to give you starting-point measurements so that you can adjust everything to your liking). If you want to add more heat, do that. When it's perfect, turn off the heat then pour in the last ounce of rum, and whisk in the cold butter and vinegar. Taste it again, adjust if necessary. Cover it and set it aside. I had exactly 1 and 1/4 cup of glaze when it was all said and done.
When the wings are done, place them into a large clean bowl and toss them with just a third of the glaze. You can either pop them under the broiler for about 2 to 3 minutes or until they develop a nice spotty char, or you can skip the broiler and just eat them as they are, dipping them into more glaze as you please. Save any leftover glaze for another application, it will keep in your fridge for several days.
Enjoy!
Notes
You can use red wine vinegar, distilled white vinegar, or even balsamic for that last kick of acid at the end. Taste as you go!
Prep Time:

10

Cook Time:

50

Category:

Appetizers, Poultry

Method:

High-roast

Cuisine:

American
Keywords: rum and coke wings, rum and coke sticky wings, sticky wings, wing recipes, chicken wings, chicken, appetizers
Recipe Card powered by
Disclosure: This site uses various affiliate links. If a purchase is made using one of our affiliate links, we receive a small commission which helps support our efforts. Please read our
Privacy Policy
for more information.