Girl, where have you been? It's been forever and a day! I've missed you, I've missed cooking, and I've missed blogging. Let me fill you in on life real quick…
Yes, we're going to be making this loveliness right here…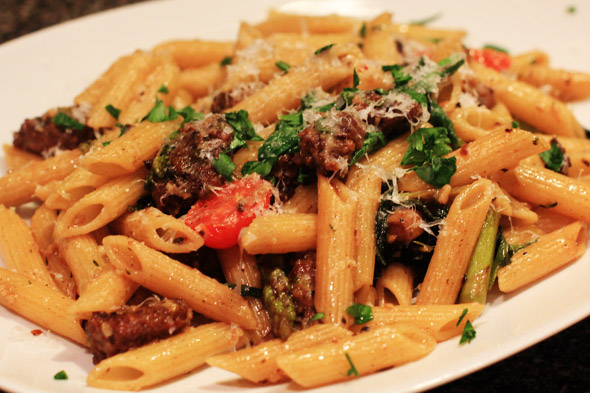 But first, lemme bring you up to speed.
My Summer and pre-Fall has been absolutely insane. A lot has happened. First off, I moved. After 30 years of breathing Virginia air, I no longer live in Virginia. My boyfriend and I are now residing in Atlanta, and loving life even more. We are so close to everything and most importantly, I am right across the street from one of the best Kroger's in Atlanta. It's HUGE and they have everything I'll ever need to cook with. I am also surrounded by specialty shops, farmer's markets, and so much more. Oh, and check out my new kitchen!!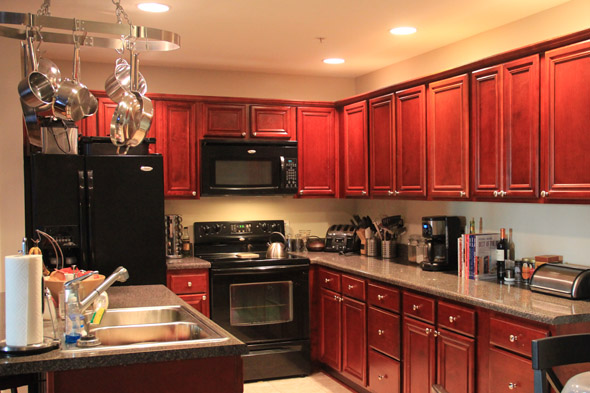 Hell yes for lots of counter space! I love it. I am so glad to be back into the swing of things after having all of my kitchen equipment in storage for months!!
Anyway, the ONLY thing I miss about Virginia is my family — my parents, especially. They are my backbone, my best friends, and my core. Thankfully I can FaceTime them anytime I want, just to see their face. It really takes the ease off the home-sickness. I just wish I could FaceTime with my nieces and nephews, too. Other than that, nothing can drag me back to VA…I am super happy here in Atlanta and see myself taking over the city, one plate at a time.
The main reason I came to Atlanta was to start a food business. I want to one day open up a food truck and be able to feed the people of Atlanta food from my website (and other recipes I haven't posted), and then once that's successful and flourishing, maybe get a bigger restaurant. The way I see it is, a food truck will allow you to start small and allow you take your food to the people instead of relying on them to come to you. It will also help me get the word out and hopefully become a culinary cornerstone of this great city. These are my short-term goals, so I pray I am able to make myself proud over the next 1 to 2 years. I just have to figure out a way to save up to get this truck, hopefully I can get a loan or a miracle…
…but let me not babble on…
You came here to learn how to make this super sexy sausage and vegetable pasta.
What makes this pasta sexy? Well it's simple, the flavors are everything. They awaken your senses, and rile up your desires. Hell, at least that's what happened to my boyfriend and I. This dish had us feeling some kinda way lol…we also prepared it together, so it's great for couples to do. My advice is to just get in the kitchen, take on tasks and just have fun cooking together. He's been my sous-chef before, but this time, I literally wanted to rip his clothes off after we ate this — errrr..I won't go into further detail, but yeah…this dish is bangin. It was literally thrown together on a whim, completely free-styled, and it turned out to be insanely good. It's one of those weeknight dishes you can make in about 30 to 35 minutes or less, but will remember for months and months to come. Everything in this dish compliments each other so perfectly, and the flavor explosion is out of this world. Bold spices, fresh vegetables, and it's very filling — I promise you'll love it.
Don't be tempted to add a cream-based sauce to this dish, it will mask all of the amazing flavors going on here and to be quite honest, it doesn't need it. Take my word for it, please. I am a creamy pasta lover to the core, but this is NOT one of those dishes. Truuuuust me…
If you have some sort of angst against one or more of the vegetable choices in this recipe, swap them out for your own favorites. Don't wanna use sausage? Use chicken, or don't use meat at all! It's totally up to you. Throw in some shrimp for an extra boost, hell, make this your own. That is one of the beautiful things about this recipe, you can fully customize it.
So are you ready? Grab your hunny, and get your butt in the kitchen!

Wash and prep your veggies.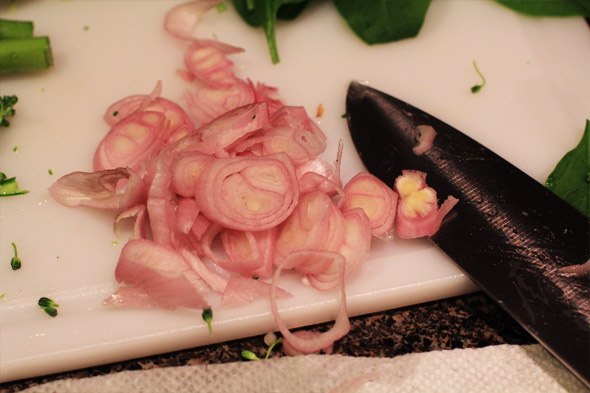 Roughly chop 2 large shallots.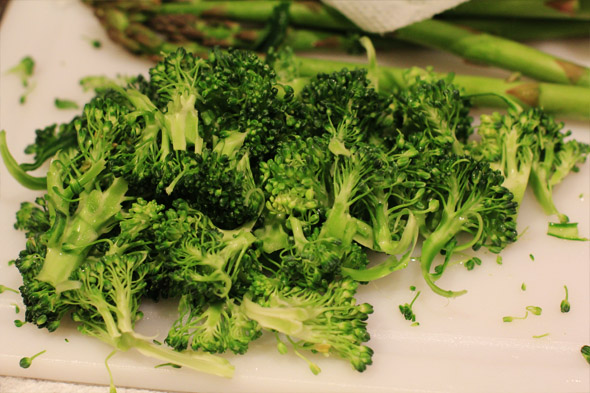 Rip the florets off a fresh head of broccoli.

Begin cooking your sausage over medium heat with a little oil.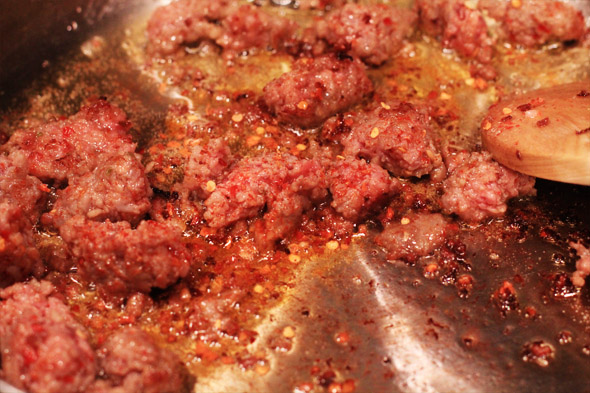 Toss in some crushed red pepper and fennel while it continues to brown and caramelize around the edges.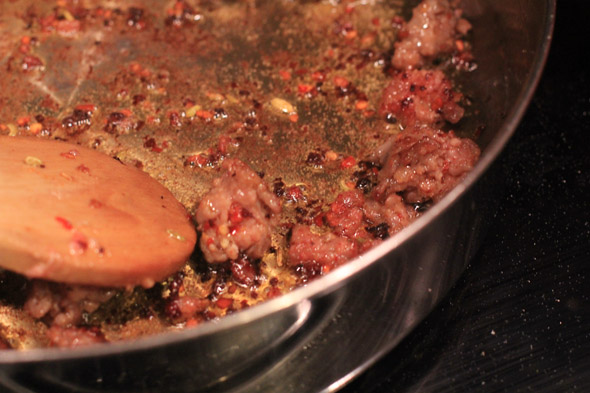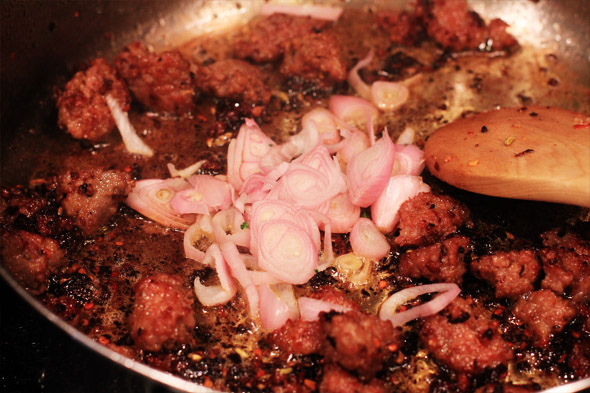 Nice and caramelized sausage, toss in your shallots.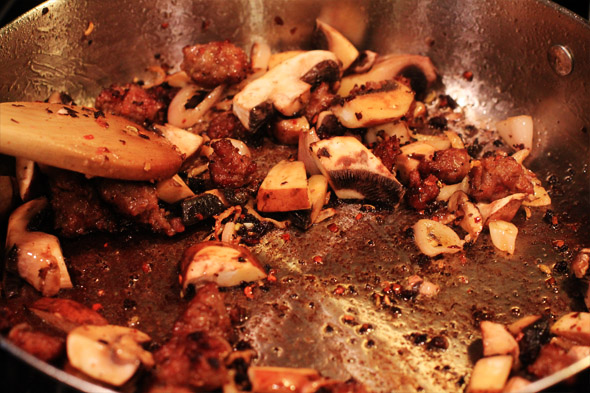 Toss in your mushrooms.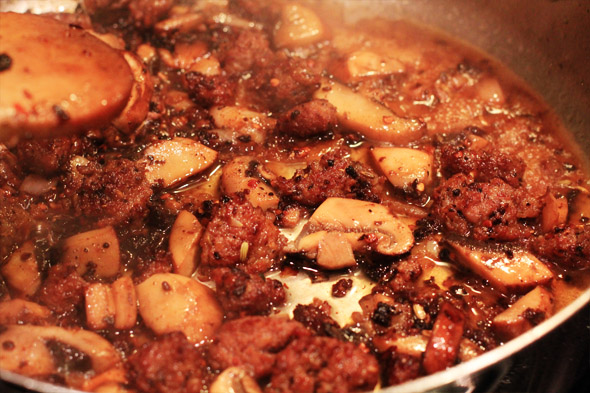 De-glaze your pan with white wine, and stir up the delicious brown bits — that's nothing but flavor.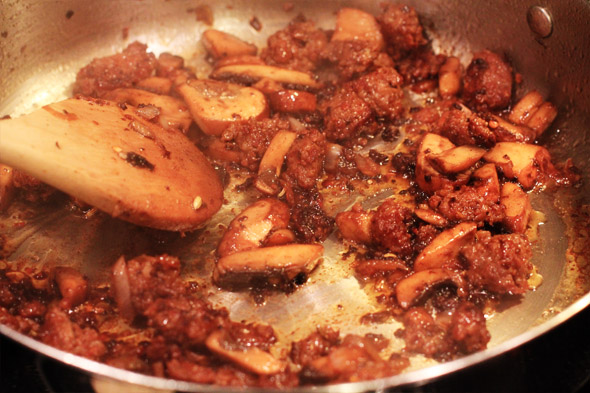 The wine will evaporate pretty quickly, and the mushrooms and sausage will soak up its wonderful flavor.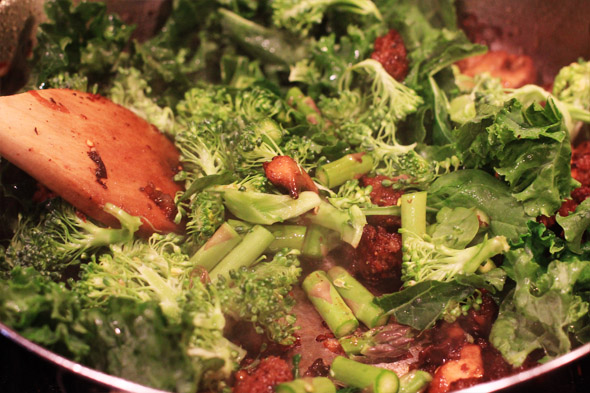 Now, toss in your veggies – except the spinach (we'll save that for last).

At this point the veggies are wilted and technically cooked thru, and you can stop at this point, but if you like them to be just a little more tender, continue cooking for just a few minutes.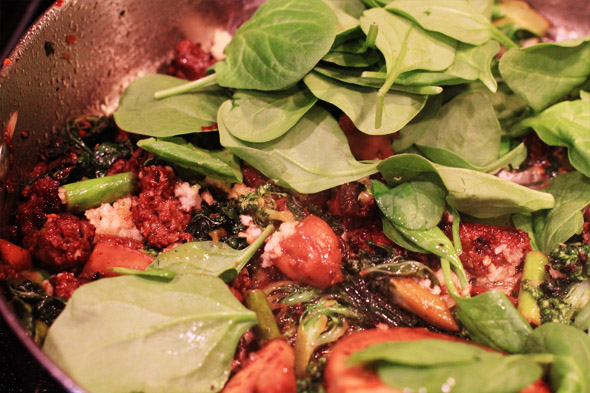 Add in your garlic, butter, and spinach and allow this to wilt over low heat.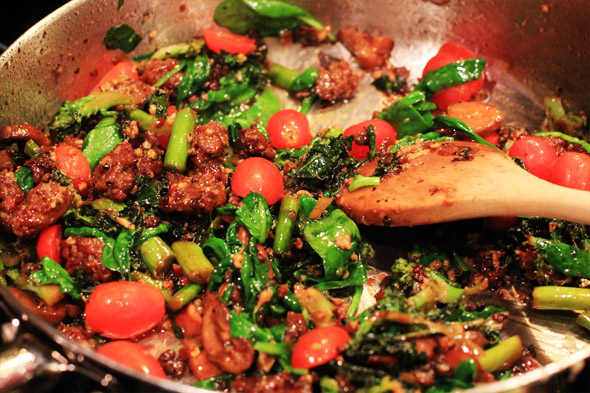 Toss in your cherry tomatoes, they don't need to cook long, just warm thru.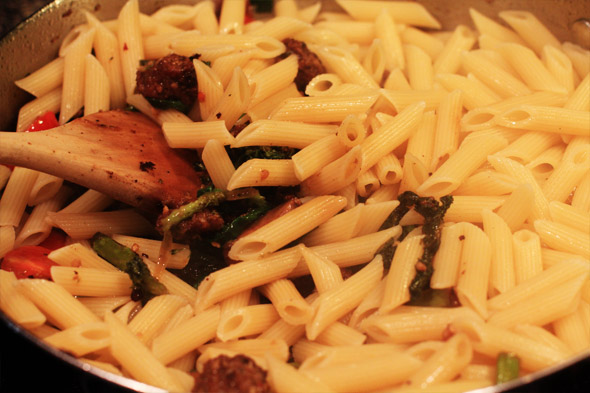 Toss in your pasta, don't be afraid to get a little of that pasta water in there, it will help moisten the entire dish.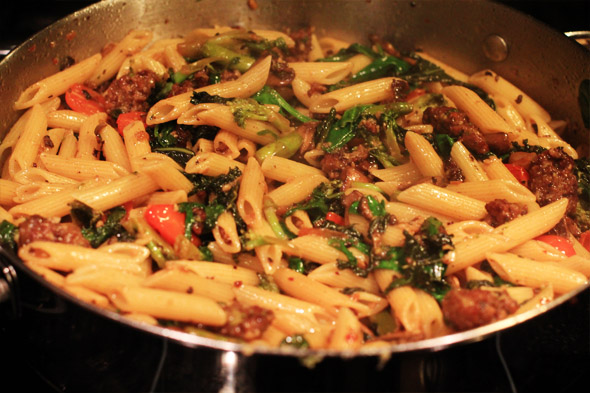 We're just about done…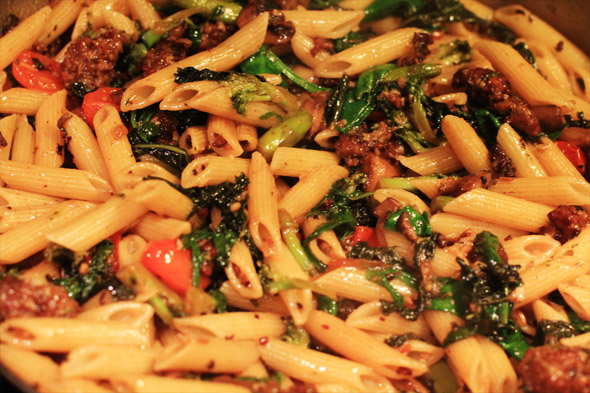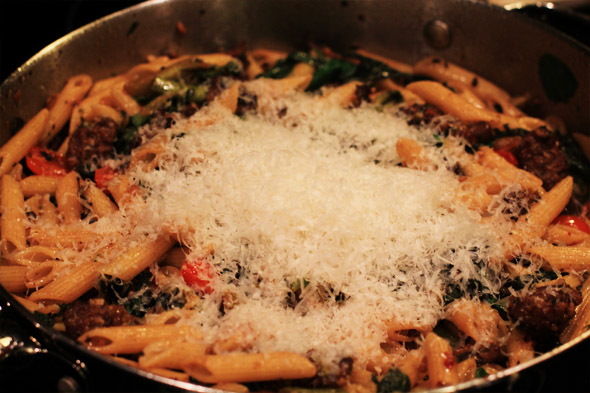 Off heat, toss in your parmesan cheese.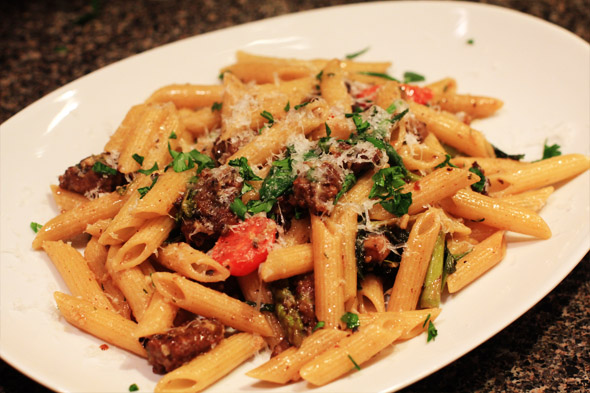 Serve it up and fall in love.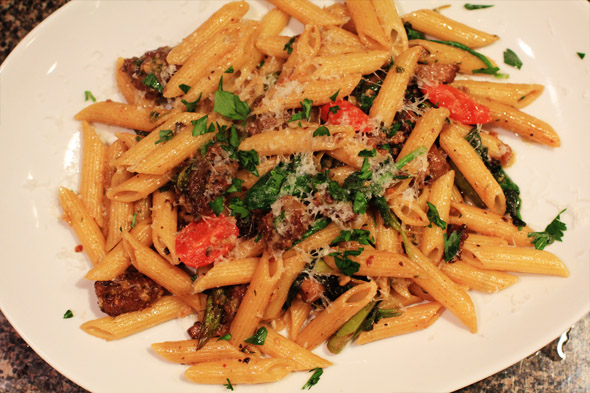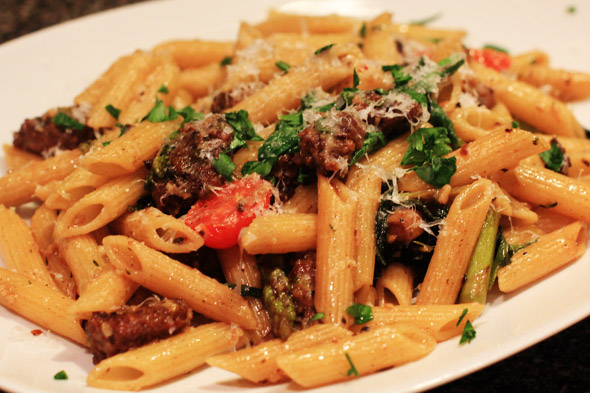 So. Damn. Good!!
Print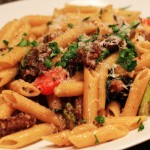 Sexy Sausage and Vegetable Pasta
---
---
8

oz

. hot Italian sausage

1 1/2

cups

baby portobello mushrooms, roughly chopped

2

large shallots, chopped (about

1

handful)

2 1/2

cups

kale, torn into large bite-sized pieces (from about 3 large stalks)

2

to

3

cups

baby spinach, loosely packed

1

cup

asparagus, chopped (about 5 to 6 spears, feel free to use more if desired)

1 1/2

cups

fresh broccoli florets

1

cup

cherry tomatoes, halved

1/4

cup

extra virgin olive oil, plus more if needed

6

cloves garlic, minced

1/3

cup

white wine (I used Chardonnay)
juice from

one

lemon (about

2

to

3

tablespoons)

2 tbsp

butter
pinch of fennel seed (optional)
pinch of cayenne pepper, plus more if needed

1/4

to

1/2

tsp crushed red pepper
kosher salt, to taste
freshly ground black pepper, to taste

1

box dried pasta (bowtie, penne, rigatoni, ziti, or corkscrew shapes work fine), cooked al dente in salted water

1/3

cup

reserved pasta water, just in case you need it to moisten the dish

2/3

cup

Parmegiana-Reggiano cheese, plus more to garnish
flat leaf parsley to garnish
---
Instructions
Prepare all of your vegetables by washing them as needed.
For the kale:
clean the kale by soaking it in a bowl of cold water for just a few minutes to loosen all of the dirt. Rinse thoroughly and roll each stalk of kale into a paper towel to dry.
For the asparagus:
rinse the asparagus with cold water and blot dry with a paper towel. line 5 to 6 spears together and chop off and discard the last 2 inches of each stalk, they're usually the dead and bitter. Chop the asparagus into 1-inch pieces and set aside.
For the broccoli:
rinse the broccoli thoroughly under cold water to remove any loose dirt. Chop off the large stalk from the head of the broccoli, then strip the florets by hand.
For the baby spinach:
rinse thoroughly with water if needed, then pat dry with paper towels.
For the pasta:
Try your best to time this just right so the pasta is done the moment the meat/vegetable mixture is done. I started boiling my water around the time I added the mushrooms, and it turned out perfectly. You could always boil and drain your pasta in advance, and coat with a little oil to keep it moist and from sticking together and set aside while you cook the main part of the dish. Don't boil the pasta and let it sit in the hot water after it's done, because it will continue to cook and get mushy. You want it to be al-dente.
————-
In a large 11 or 12-inch skillet, head 3 tablespoons of extra virgin olive oil over medium heat until shimmering and you start to see whisps of smoke. Add the Italian sausage and break into bite sized pieces with a wooden spoon. Brown the sausage for about 3 minutes, then add the crushed red pepper and fennel seed, if using. Continue to brown until the sausage starts to caramelize around the edges, but make sure it doesn't burn. Add the shallots and allow those to cook down just until softened, about 1 minute, continuously stirring with the wooden spoon to avoid anything burning. Add the mushrooms and sprinkle with a little salt and pepper to bring out their flavors. Cook the mushrooms with the sausage, crushed red pepper, fennel, and shallots for about 4 minutes. At this point, you should have a nice brown layer of flavor stuck to the bottom of your skillet.
Quickly lift the skillet off the heat and de-glaze the pan with the white wine. Set the skillet back on the heat and quickly stir up the delicious brown bits from the bottom of the pan. The wine will evaporate quickly and the sausage and mushrooms will soak up its wonderful flavor, about 2 minutes. Add the kale, broccoli, and asparagus and toss with the sausage, mushrooms and shallots until desired tenderness, about 3 to 6 minutes. Taste it, adjust seasoning if need be. When the vegetables are firm but tender, reduce the heat to low and add the butter and garlic. Cook the garlic for about 30 seconds, stirring constantly to avoid burning. Add the spinach and cherry tomatoes and allow the spinach to wilt and the cherry tomatoes to heat thru, about 3 minutes.
Add the juice of one lemon, and stir. Taste and season with salt and pepper as needed. Add the cooked pasta to the skillet and gently toss everything together so that it's coated evenly. Your entire dish shouldn't be dry, but just in case it is, add one more tablespoon of olive oil and a little of the reserved pasta water if needed. The dish should be moist, but not runny or too "saucey". Remove from heat and add as much or as little cheese as you'd like. I used about 2/3 cup of cheese. Taste everything together and season as needed. Toss gently and serve immediately. Garnish with more cheese and fresh parsley if desired.
Enjoy.
Prep Time:

15 mins

Cook Time:

25 mins
Recipe Card powered by
Disclosure: This site uses various affiliate links. If a purchase is made using one of our affiliate links, we receive a small commission which helps support our efforts. Please read our
Privacy Policy
for more information.