Rise and shine! If you put these on the plates of your loved ones, or yourself, you are going to want to hug yourself like Ray Charles. This recipe will give you fluffy yet rich pancake perfection, and with the addition of the fresh cranberries, dried cranberries, and orange zest…it takes an already super delicious pancake to astronomical levels. You've gotta make these.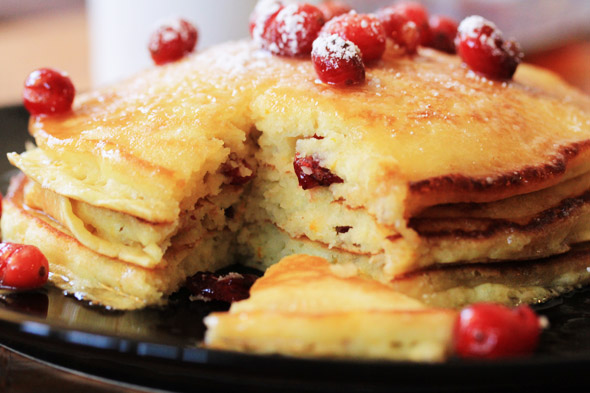 I first had the delicious "cranberry orange" combination in a muffin…from Starbucks. I absolutely hate their coffee — it tastes like The Plague, but they have yummy treats. I've been a fan of cranberries and orange flavored things ever since. These pancakes are heavenly and super easy to make — if you have kids, get them involved too!
My number one tip for you is to resist the urge to overmix the batter. Only mix until things are combined. Do NOT try to get out every lump and be OK with leaving a few streaks of unmixed flour in the batter. If you overmix, you'll end up with tough, rubbery pancakes and that isn't very bueno. If you see streaks of unmixed flour, it's ok! There's enough moisture in the batter so that those little streaks will absorb said moisture. Also, let the batter sit for about 5 minutes before you start making delicious little pancakes — that'll give a lil extra time for everything to really come together and give you optimal texture.
I didn't have any buttermilk on hand, so I did the milk/lemon juice version — which is basically the same thing as modern day buttermilk and will give you amazing results as well.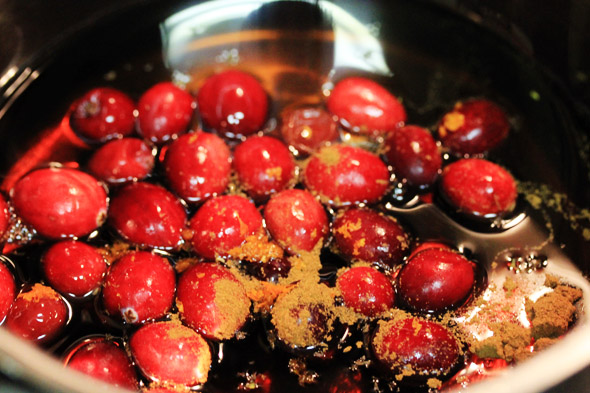 maple syrup (grade A), fresh cranberries, liquor, orange zest and cinnamon…over medium heat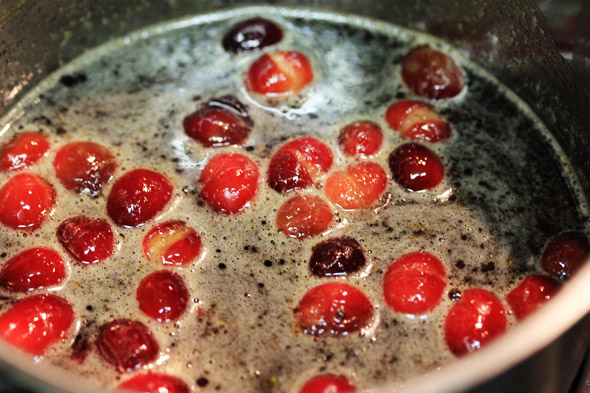 bring it to a simmer until the berries pop open and release a bit of their flavor, mix around til everything is combined. this should only take about 5 minutes or so. then turn the heat off and cover while you make your pancakes…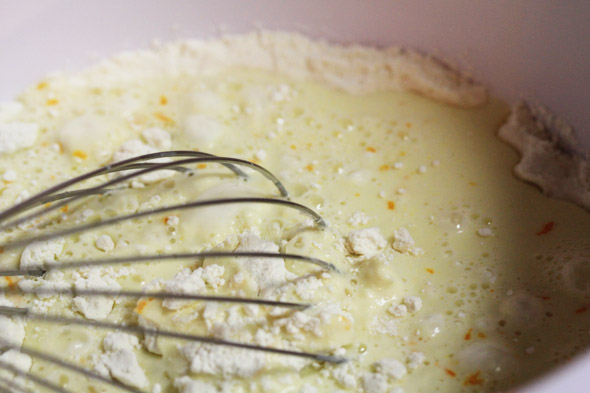 pour the milk mixture into the dry ingredients, and gently whisk just to combine…
this only took about 5 or 6 strokes with my whisk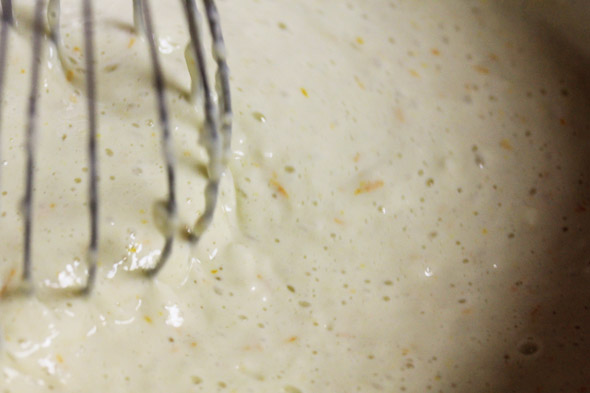 see? well, you can't really see the lumps but its pretty darn lumpy and thats what you want.
let it sit for 5 minutes and heat up your griddle or skillet.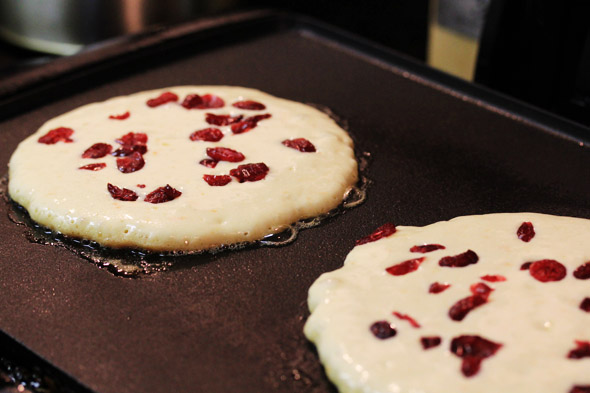 sprinkle a few dried cranberries on top of each pancake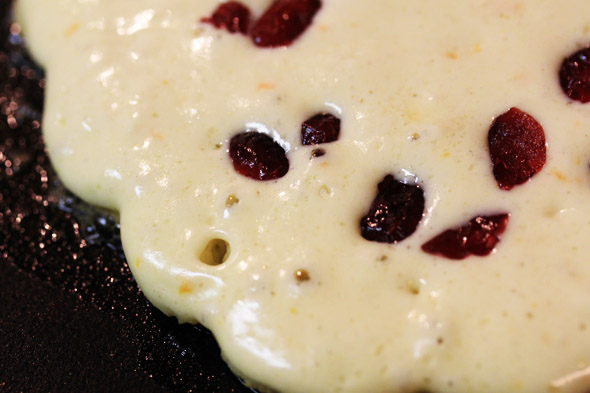 you will know when to flip them when you start seeing bubbles around the edges like this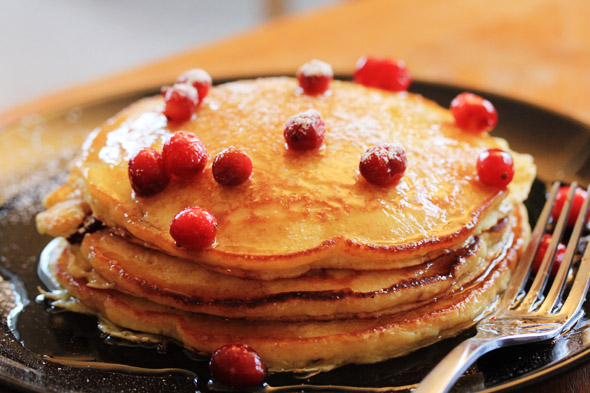 stack'em up and pour that cranberry'licious syrup all over those butter pancakes 😉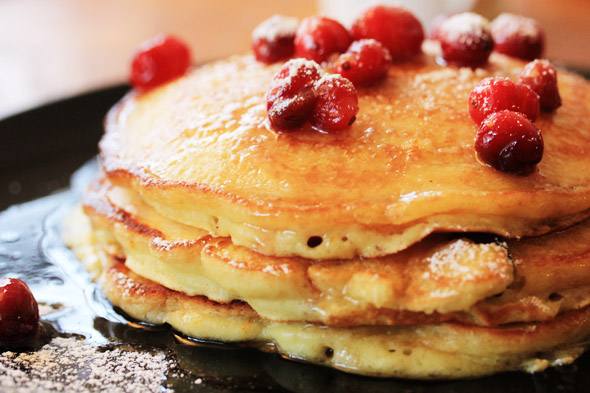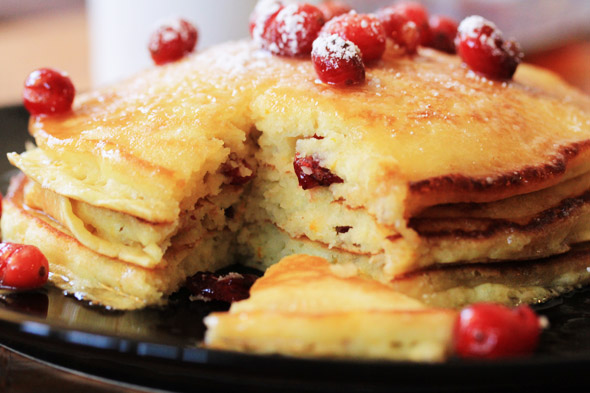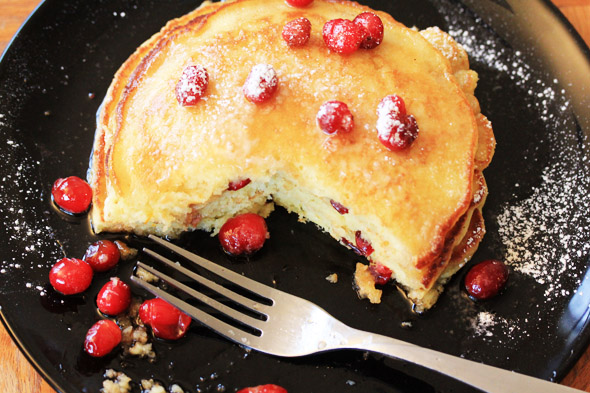 Sooooo goooooooood nomnomnomnom…these are going to be the pancakes I make on Christmas morning. They're so special and so delicious 😀
Enjoy!
Print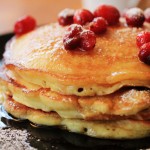 Cranberry-Orange Pancakes
---
2

cups

buttermilk

2

cups

unbleached all-purpose flour

2 tbsp

granulated sugar

2 tsp

baking powder

1/2 tsp

baking soda

1/2 tsp

table salt

1

large egg

1 tsp

vanilla extract
the zest from one orange (save 1/2 tsp of it for the syrup)

1

5oz. bag of dried cranberries (also known as "Craisins" — you won't use the whole bag, but the amount you want to use is totally up to you)

3 tbsp

unsalted butter, melted and cooled slightly
For the syrup:
1/2

cup

real maple syrup

1/4

to

1/3

cup

fresh or frozen cranberries (I used fresh)

2 tsp

Grand Marnier or Cointreau (optional)

1/4 tsp

cinnamon

1/2 tsp

orange zest
---
Instructions
For the syrup:
Pour 1/2 cup maple syrup into a small saucepan over medium heat. Add in the cranberries, orange zest, liquor (if using), and cinnamon. Bring to a simmer and mix until all of the cinnamon is smoothly combined and the berries begin to pop (if you're using fresh cranberries), about 5 minutes.
Turn off the heat and cover while you make the pancakes.
For the pancakes:
Whisk flour, sugar, baking powder, baking soda, and salt in medium bowl to combine.
Whisk egg, vanilla, orange zest and melted butter into the milk mixture (or buttermilk) until combined. Make well in center of dry ingredients in bowl; pour in milk mixture and whisk very gently until just combined (a few lumps should remain). Do not over mix.
Heat 12-inch nonstick skillet over medium heat for 3 to 5 minutes; add 1 teaspoon oil or butter and brush to coat skillet bottom evenly. If using an electric griddle, you can set the heat to the second highest setting. Pour 1/4 cup batter onto 3 spots on skillet; sprinkle 1 tablespoon dried cranberries over each pancake. Cook pancakes until large bubbles begin to appear, 1 1/2 to 2 minutes. Using thin, wide spatula, flip pancakes and cook until golden brown on second side, 1 to 1 1/2 minutes longer. Serve immediately with butter and syrup, and repeat with remaining batter.
Prep Time:

20 mins

Cook Time:

5 mins
Recipe Card powered by
Disclosure: This site uses various affiliate links. If a purchase is made using one of our affiliate links, we receive a small commission which helps support our efforts. Please read our
Privacy Policy
for more information.