These….are good.
Very good.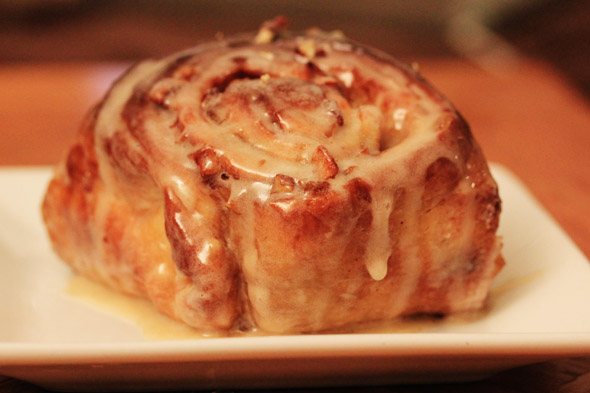 So good. Sinfully good.
A few things I've heard about these after sharing them with my coworkers…
"Amazing. Simply amazing"
"Deeeeeelicious"
"Unreal"
"Utterly delicious, it's not fair!"
Ha! They are that good, though. Rich, moist, and delicious and very huge. This recipe is just an altered version of the Ultimate Sinful Cinnamon Rolls. I literally just added chopped granny smith apples and toasted pecans on top of the cinnamon/sugar mixture before rolling them up. I did cook the apples down for just a few minutes to help release some of their juice, but you don't have to. There also isn't a lot of glaze with this recipe and that is on purpose. Before feeling the urge to douse these in a lot of glaze, I'd taste them first, because they're pretty sweet — even without glaze.
I took a few pics of the apple and pecan process, but the technique is the exact same as the previous cinnamon roll recipe. Share these with a lot of people, because again, this recipe makes 8 super large cinnamon rolls, and most people will only be able to eat half of one.
If you haven't seen the preparation steps for the previous cinnamon rolls, check them out here. Same method, different ingredients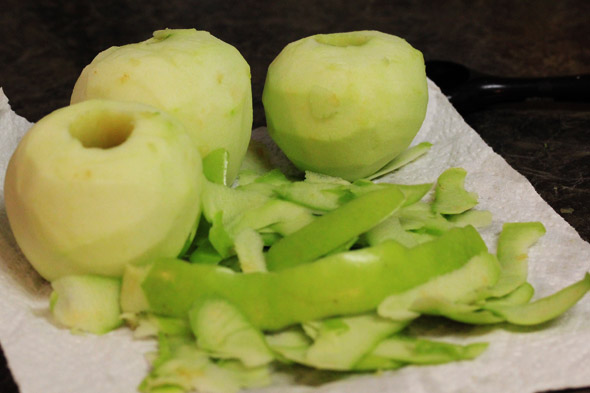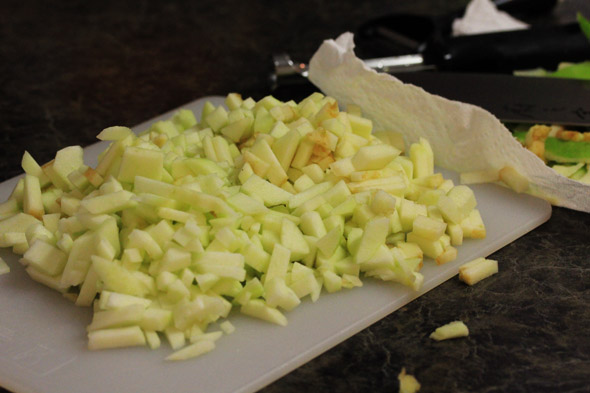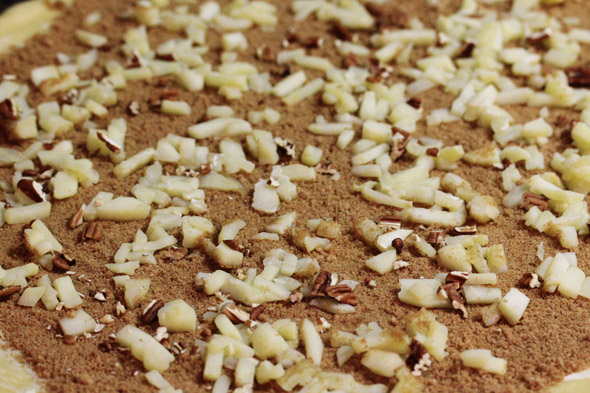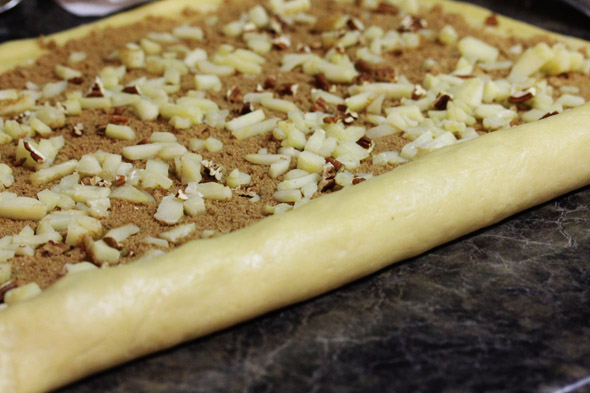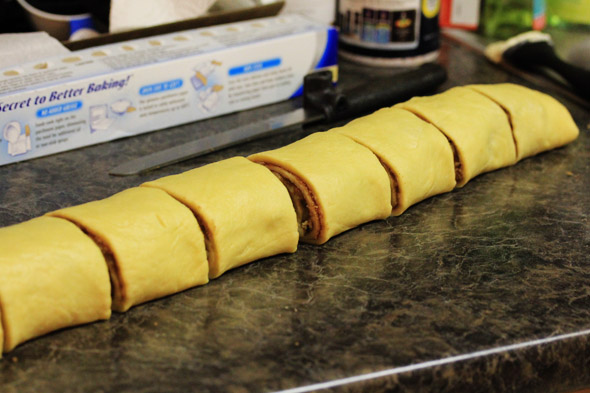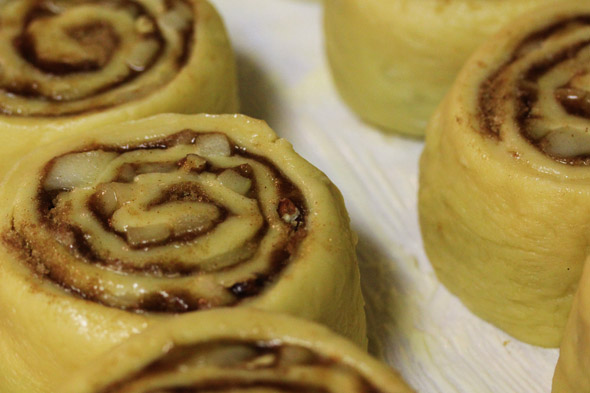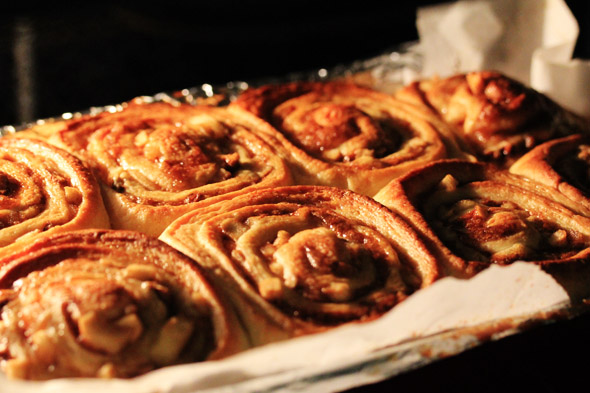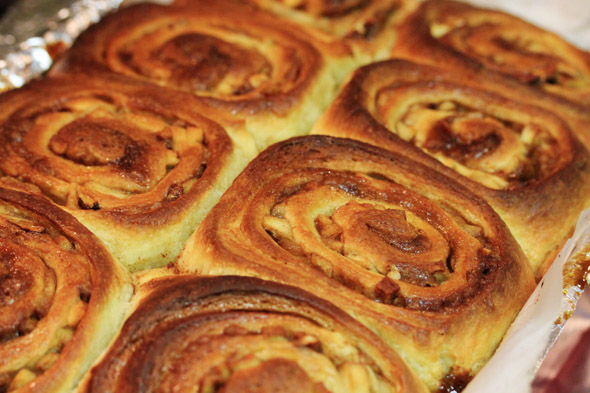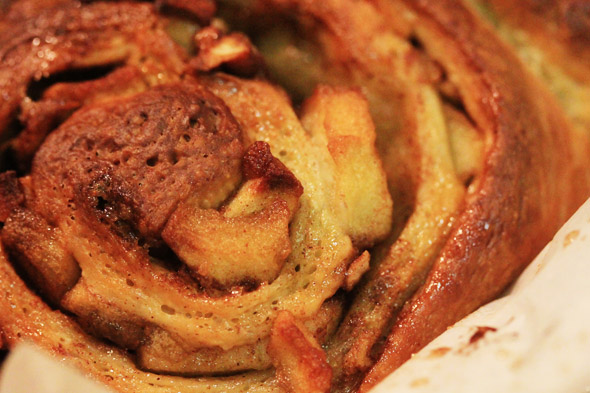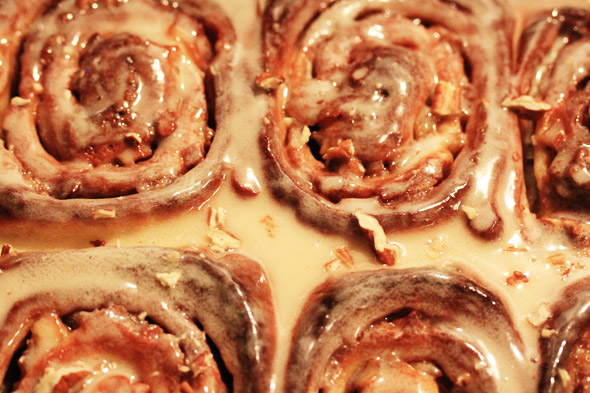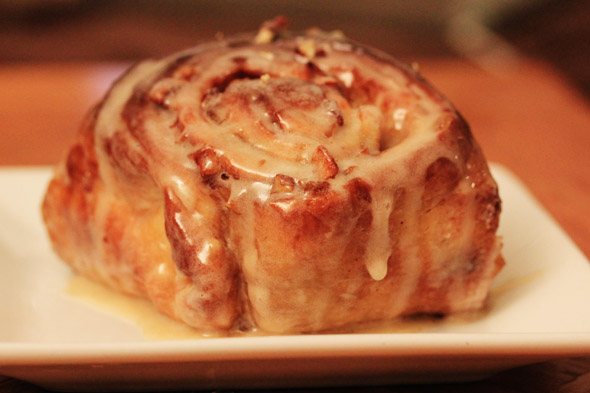 You don't really have a choice, you've gotta make these. Do it now.
Print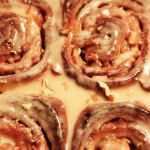 Maple Glazed Apple Pecan Cinnamon Rolls
---
For the dough:
3/4

cup

whole milk, heated to 110 degrees

1

envelope (2 1/4 teaspoons) instant or rapid-rise yeast

3

large eggs, room temperature

1 teaspoon

vanilla extract (optional)

4 1/4

cups

all-purpose flour

1/2

cup

cornstarch

1/2

cup

granulated sugar

1 1/2 teaspoons

salt

12 tablespoons

(

1 1/2

sticks) unsalted butter, cut into 12 pieces and softened
For the filling:
1 1/2

cups

packed light brown sugar (don't use dark, it will be too heavy a molasses flavor)

1 1/2 tablespoons

ground cinnamon

1/2 teaspoon

ground nutmeg (optional)

1/4 teaspoon

salt

2

cups

granny smith apples, chopped, cores removed (about 3 large apples)

3/4

to

1

cup

pecans, chopped and lightly toasted

5 tablespoons

unsalted butter, softened
For the glaze:
3 tbsp

unsalted butter, softened

1/4

cup

pure maple syrup

1/4

to

1/2

cup

whole milk or half and half (to thin it out, use more or less, it's up to you)

1 teaspoon

vanilla extract

1

cup

confectioners' sugar
pinch of salt
---
Instructions
To prep:
Adjust oven rack to middle position and heat oven to 200 degrees. When oven reaches 200 degrees, shut off. Line the bottom of a 13- by 9-inch baking pan with foil or parchment paper. Grease foil or parchment paper and sides of the pan. Also, grease a medium bowl to hold the dough when it's completed.
For the dough:
Whisk heated 110 degree milk and yeast in liquid measuring cup until yeast dissolves, then whisk in eggs and vanilla extract. In bowl of stand mixer fitted with dough hook, mix flour, cornstarch, sugar, and salt until combined. With mixer on low, add warm milk mixture in steady stream and mix until dough comes together, about 1 minute. Increase speed to medium and add butter, one piece at a time, until incorporated. I added my butter in 4 second intervals. Continue to mix until dough is smooth and comes away from sides of bowl, about 10 minutes. if after mixing for 10 minutes the dough is still wet and sticky, add up to ¼ cup flour (one tablespoon at a time) until the dough releases from the bowl. Turn dough out onto clean surface and knead to form a smooth, round ball. Transfer dough to prepared bowl, cover with plastic wrap, and place in warm turned off oven. Let rise until doubled in size, about 2 hours. Sometimes, it takes mine almost 2 and a half hours to rise, so be patient with it.
For the filling:
Combine brown sugar, cinnamon, and salt in small bowl using a fork or your fingers to break up any large lumps. Turn dough out onto lightly floured surface. Roll dough into 18-inch square, spread with 5 tbsp of softened butter, and sprinkle evenly with filling. Lightly press the filling into the dough. Evenly sprinkle the apples and pecans over the filling. Starting with the edge nearest you, roll dough into tight cylinder, pinch lightly to seal seam, and cut into 8 pieces using either a serrated knife or bench scraper. It's easier to cut the dough in half, then cut each side in half until you have 8 large rolls. For smaller cinnamon buns, cut the dough into 12 pieces. Transfer pieces, cut-side up, to prepared pan. Cover with plastic wrap and let rise in warm spot until doubled in size, about 1 hour.
For the glaze and to bake:
Heat oven to 350 degrees. Whisk maple syrup, butter, ¼ milk, vanilla, salt and confectioners' sugar in medium bowl until smooth. If mixture is too thick, add a little more milk, up to ½ half cup. The mixture should be thin but not watery, and you should be able to create "ribbons" when you drag the mixture back and forth with a spoon or fork. You can completely adjust this until you achieve the right consistency and flavor. Discard plastic wrap and bake buns until deep golden brown and filling is melted, 35 to 40 minutes. Cool for about 5 minutes then pour over the glaze. Serve immediately.
Prep Time:

3 hours

Cook Time:

35 mins
Recipe Card powered by
Disclosure: This site uses various affiliate links. If a purchase is made using one of our affiliate links, we receive a small commission which helps support our efforts. Please read our
Privacy Policy
for more information.