I really like cute food. I eat with my eyes first, so if it's cute, I'll provide it with a barrage of awww's while devouring it. This is one of those recipes you could totally make your own — that's the whole idea, right? Due to the fact it's been a deliciously fatty holiday (as it should be), I had some frozen puff pastry leftover and decided to throw some delicious eggy goodness in there and bake it pretty. If you don't like mushrooms, you're a weirdo — kidding! You can totally leave them out. You could swap out the expensive chanterelle's for a more affordable button, shiitake, or portobello variety. You could use bacon instead of sausage, ANY kind of cheese you want — the possibilities are endless.
These are little buttery pockets of breakfast perfection. Eggs go with everything, but they pair especially well with a smokey sausage, wild mushrooms, sweet leeks and tangy, creamy cheese. When these start to bake, the egg mixture puffs up and lets you know it's just about done. You can control how "done" you want these. I have found that my oven on 400 degrees makes the perfect mini-frittata in exactly 15 minutes. The eggs were creamy and cooked to perfection, they weren't rubbery or dry at all. Moist goodness, almost quiche-like. My friend just sat there cussing and shaking his head, "Damn, these are so good! I gotta have another one". Meanwhile, I could only scarf down one lol — his stomach is a lot more forgiving than mine. They were the perfect portion size and filled me up quite nicely.
Puff pastry is a great staple to keep in your freezer. They thaw in about a half hour at room temperature, and can be worked into damn near any shape, and you can put anything in them. A few notes when working with the buttery sheet of dough:
Work as fast as you can, because puff pastry is filled with butter and your hot little fingers might melt the dough if you over-handle it.
Keep your work surface, hands, and rolling pin (if using) lightly floured to prevent the dough from sticking.
If you experience any tears, dab your fingers in water and "glue" the dough back together. Quickly put it back in the fridge for a few minutes to secure your patch-job.
If your dough gets too warm and sticky, immediately throw it back in the fridge or freezer to get cold again — just for a few minutes.
Don't let the dough get too warm — I cannot stress this enough. Keep the dough as cold as you can, or it won't rise very well once it's baked.
Yes, you can re-roll scraps.
Let's get to it…
Make these with your significant other, best friends, or kids, it's a fun project to work on together. Serve this with a simple salad with a citrus vinaigrette, and thick tomato slices sprinkled with sea salt and black pepper. Yummm…
Print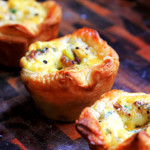 Leek, Sausage & Chanterelle Puff Pastry Frittatas
---
Description
Serve this with a simple salad with a citrus vinaigrette, and thick tomato slices sprinkled with sea salt and black pepper.
---
1

sheet puff pastry, thawed

7

large eggs

1/4

–

1/3

cup

heavy cream, half & half, or milk

2 tbsp

frozen unsalted butter, diced (keep frozen until ready to use)

1/2

cup

white cheddar cheese, grated (see note below)

2 tablespoons

pecorino cheese, finely grated

2

sweet or hot Italian sausage links, casings removed (see note below)

1

–

2

tbsp olive oil

1

–

2

tbsp balsamic vinegar

1

clove garlic, minced (optional)

1

leek, sliced (white and light green parts only, save dark green for stock)

1

cup

chanterelle mushrooms, chopped (see note below)

2

sage leaves, finely chopped

3

sprigs thyme, finely chopped

1 tbsp

flat leaf parsley, finely chopped
pinch of red pepper flake
Sea salt & freshly ground black pepper to taste
---
Instructions
For the puff pastry:
Pre-heat your oven to 400 degrees, middle rack in place. Thaw puff pastry according to manufacturer's directions. Flour surface and roll into larger rectangle. Depending on if you're using a jumbo-muffin tin or regular muffin tin, cut dough into 6 or 12 squares. Roll each square out large enough to fit inside each tin, with enough dough to hang along the sides. Work quickly, as puffy pastry can melt if your hands or environment is too warm. Pop it back in the fridge to keep it cold if you need to. Spray each muffin tin with non-stick cooking spray, then wipe most of it out with a paper towel. There is enough butter in puffy pastry to keep it from sticking, BUT we'd rather be safe than sorry. So wipe most of the non-stick spray off, keeping a very thin film of it in each tin. GENTLY press each square into a tin, making sure it's sitting at the bottom and along the sides. Be careful not to tear it. if you tear it, "glue" it back together with a wet finger and immediately pop it back in the fridge to harden. Continue until each square is in the tin, then place in the freezer while you cook everything else.
For the leek, sausage, and mushroom filling:
Heat one tablespoon of olive oil in a medium skillet over medium-high heat. Add the sausage, and break into bite-sized chunks with a wooden spoon. Add the red pepper flake, balsamic vinegar, and cook until meat is no longer pink and balsamic vinegar is soaked into the sausage, about 4-6 minutes. Add the garlic, if using, and cook for just 30 seconds. Remove the sausage and garlic with a slotted spoon into a separate bowl, leaving behind the oil and rendered fat.
Reduce heat to medium, add the leeks in an even layer and cook for 1 minute without stirring. Using the wooden spoon, stir the leeks around to pick up any browned bits stuck on the bottom of the pan from the sausage. Add salt and pepper and cook the leeks down until they're soft and translucent, about 4 to 5 minutes. Remove leeks with a slotted spoon into the bowl with the sausage.
If needed, add 1 more tablespoon of olive oil to the hot pan, and add the mushrooms without stirring for 1 minute. Stir the mushrooms around to help them cook down just a bit and develop some great color, about 3-5 minutes. Add the fresh herbs and cook for just 30 seconds to let their flavors bloom. Remove the mushrooms and herbs with a slotted spoon into the same bowl with the sausage and leeks. Gently mix mixture together so it's evenly combined, then let cool in the fridge for about 10-15 minutes.
For the egg mixture:
To assemble and bake:
Once the leek, sausage and mushroom mixture is cool, take the prepared puff pastry out of the freezer. Evenly fill each cup with the mushroom mixture, then evenly pour in the egg & cheese mixture. Using a pastry brush, paint the edges of each pastry with a little of the egg mixture inside of each pastry.
Immediately place inside of your hot oven and bake for 10-15 minutes, depending on the size of your muffin tin. Keep in mind, I used a jumbo-muffin tin and mine were done in exactly 15 minutes. If you're using smaller muffin tins, your baking time will probably be reduced by a few minutes. Keep an eye on it. Edges should be golden brown and eggs should be set with a very slight jiggle. Use your best judgement. When done, remove from oven and let cool inside the tins for 10 minutes before removing. Use a paring knife to help loosen the sides if necessary, gently use your fingers to turn each pastry to ensure it's not sticking, then pop them out and eat them. Enjoy!
Notes
Use ANY cheese, mushroom, or sausage you want/have on hand. The whole idea of a frittata is to use what you have available, don't feel obligated to use every ingredient here. Make this yours.
Prep Time:

15 mins

Cook Time:

30 mins
Recipe Card powered by
Disclosure: This site uses various affiliate links. If a purchase is made using one of our affiliate links, we receive a small commission which helps support our efforts. Please read our
Privacy Policy
for more information.