"Duck fat" just sounds sexy. Say it aloud, in your lowest bedroom voice — I'll wait…see?? Doesn't it sound naughty 🙂 It's a wonderful fat. Bacon fat and duck fat are the yin to the potatoes yang. You can't go wrong with either of them. I have to buy my duck fat because I don't cook down enough ducks on the regular to make my own. This deliciously sinful tub of bird fat cost me about $6 from Wegmans and a little goes a long way. You only need about 2 tablespoons of it for all of these potatoes. They soak up the duck fat and get amazingly crisp and super golden brown.
Salting the potatoes during the boiling process ensures that they're seasoned all the way thru. It doesn't make them too salty (they're not staying in the water long enough for that to happen), but it helps to enhance their natural flavor a bit. Boiling the potatoes also causes the starch to race to the surface once you cut it, making the cut-side kinda sticky to the touch — this is good! We want this, because THIS is what's going to help give us an amazing texture and color. The potatoes are already cooked thru at this point, we're just upping the ante and giving them a little sass.
I kept the premise of this side-dish very simple. You can literally dress these up any way you choose — they're amazing with freshly grated pecorino-romano cheese and a light squeeze of lemon, seriously, they're potatoes — go all in. Add different fresh herbs, such as basil, or rosemary and thyme, or marjoram. Make this recipe yours, I'm just giving you a decent starting point. I lightly cook half a diced shallot and a three grated cloves of garlic at the very end just to rid them of their raw flavor. You can cook them earlier in the process if you want, but I really recommend you add the garlic at the end. If you add it too early, it will burn and become bitter — ruining the dish. There will be enough heat leftover in the pan to cook the garlic well enough. Once you toss everything together…I promise you won't want to stop snacking on them. They are so damn good.
If you absolutely cannot find duck fat — I feel bad for you, son 🙁
You'd be a fool not to. The texture is incredible, nice crispy exteriors and creamy centers. Whew!
Print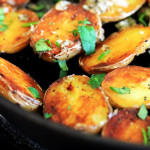 Duck Fat Baby Potatoes
---
25

ounces

baby yukon gold potatoes (about 1 1/2lbs), scrubbed clean

2

to

3

tbsp rendered duck fat

2

to

3

cloves garlic, minced or grated (about

1tbsp

)

1

small shallot, diced (about

1/4 cup

)

3 tbsp

flat leaf Italian parsley, chopped
Salt for the water (see note below)
coarse sea salt, to taste
cracked black pepper, to taste
crushed red pepper flake, to taste
---
Instructions
Place the clean potatoes in a medium-sized pot (or one large enough for your potatoes). Add cold water, enough to cover the potatoes about 2 inches. Add salt to the water (see note below). Cover the pot and bring to a boil over medium-high heat. As soon as it starts boiling, reduce heat to medium or medium-low for a lower simmer — keep uncovered. Test the doneness of the potatoes after 10 minutes with a wooden skewer. The skewer should slide thru with no resistance. If necessary, continue cooking the potatoes, checking every 2 minutes until the wooden skewer easily slides thru. Once they're done, turn off the heat and drain the potatoes in a strainer and let cool for about 10 minutes, or until you can safely handle them.
Once the potatoes are cool enough to handle, slice them in half lengthwise. Add 2 to 3 tablespoons of duck fat to a large cast-iron skillet over medium heat. When the fat is nice and hot, carefully arrange each potato half into a single layer, cut-side down. Let the potatoes fry for about 3 minutes, then add salt, pepper, and crushed red pepper flake — do not stir the potatoes around! You can check the color, but leave them alone and let them do their thing for another 5-7 minutes, or until duck fat has absorbed into the potatoes and their surface is deliciously golden brown.
Turn off the heat, make a well in the center of the skillet and add the shallots, cooking thoroughly for 3-5 minutes in the residual heat from the pan. Add the garlic and cook for 1-2 minutes, to get rid of the raw garlic flavor. Toss the potatoes with the shallots and garlic until evenly distributed. Add the parsley, taste and adjust seasoning if necessary.
Serve immediately and enjoy!
Notes
Please use your best judgement with how much salt to use for the water. It depends on how fine or coarse your salt is, and how much water/how many potatoes you're boiling. Because I use a coarse sea salt, I use a decent amount of it (about 3 tablespoons). The finer your salt is, the less you'd use.
Prep Time:

20 mins

Cook Time:

20 mins
Recipe Card powered by
Disclosure: This site uses various affiliate links. If a purchase is made using one of our affiliate links, we receive a small commission which helps support our efforts. Please read our
Privacy Policy
for more information.