Good morning, even though it's 2:29pm! But hopefully, this greeting will find you in good spirits early one morning when you decide to recreate this amazing and decadent dish. I don't know anyone who doesn't love french toast. In order to be my friend, it is required that you love french toast, otherwise…we can't kick it. You're waiting for me to say "just kidding", but you'll be waiting a long damn time lol.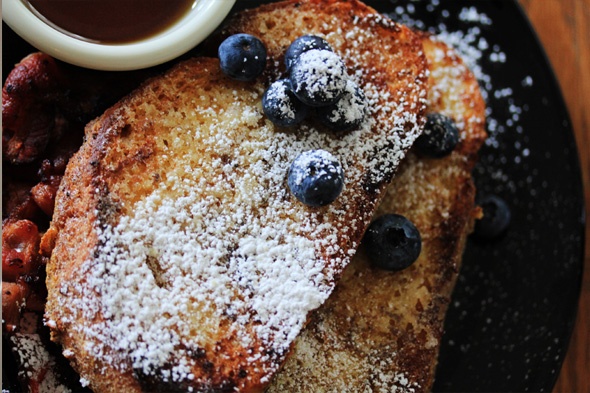 There are many delicious textures going on here, folks. The sugar is slightly caramelized and provides a subtle crunch, then your teeth are met with a moist and insanely flavorful, almost custard'y bread. Then there's the earthy sweetness of the maple syrup, which is broken up with the slight tartness of the berries that keep this from being diabetic lol. It's not too sweet, despite the title of this blog post. It's perfection. You'll notice that I'm not using whole eggs here — don't freak out. Trust me, it's delicious without the egg whites…dare I say, better? Yea. It's better lol.
You can use any kind of bread you'd like, but I highly suggest not using fresh sandwich bread. You know, the kind you buy to make sandwiches with lol. It's too thin, and too soft — you'll end up with a wet soggy mess. Make sure whatever kind of bread you use, you dry it out in a low oven first. Drying it out in the oven is the best method for ensuring the custardy mixture absorbs nicely and evenly. Try a temp of 325 for about 15 to 20 minutes, and your bread should be nice and dry but not "toasted" and brown. Try different types of bread with this recipe, such as cinnamon-swirl, brioche, challah, croissants, artisan loaves, or even your favorite whole wheat variety. Just…don't expect to be blown away if you're using regular thing sandwich bread lol.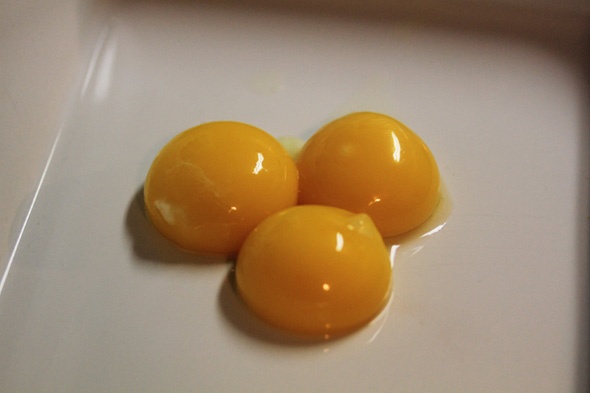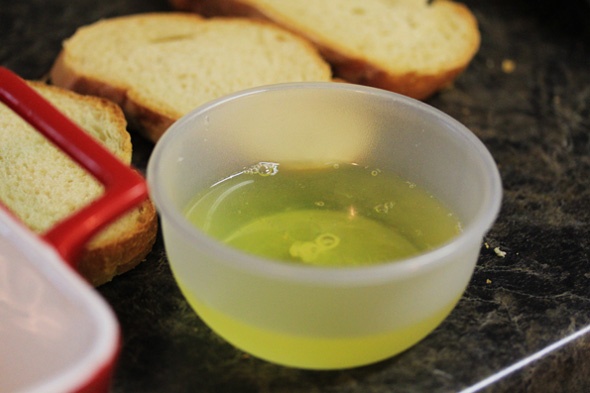 (store your egg whites in an airtight container or ziploc bag and freeze until ready to use)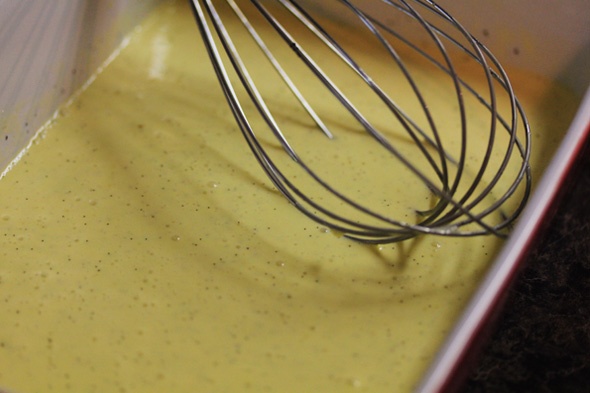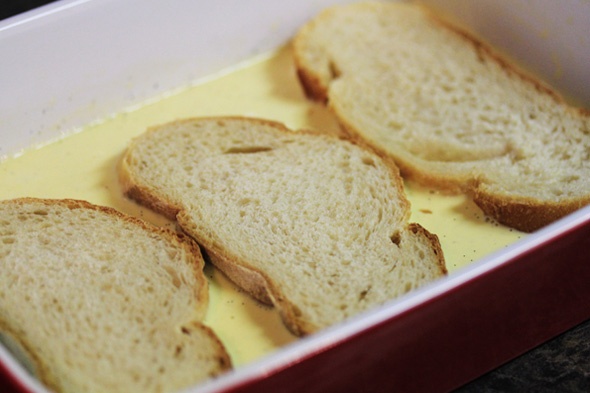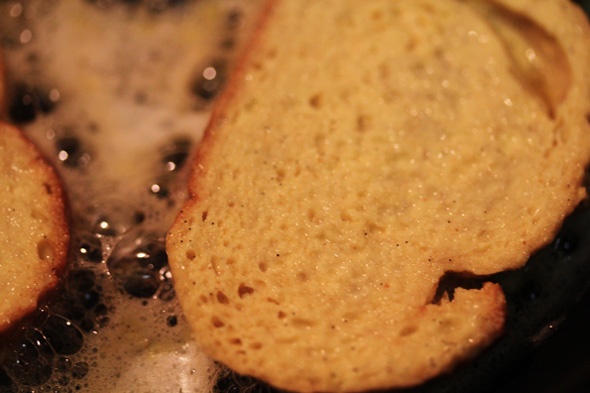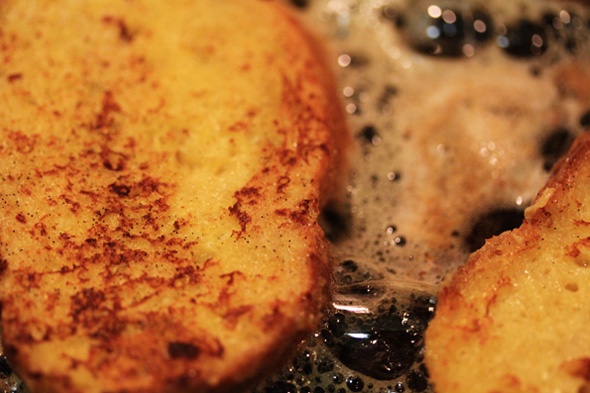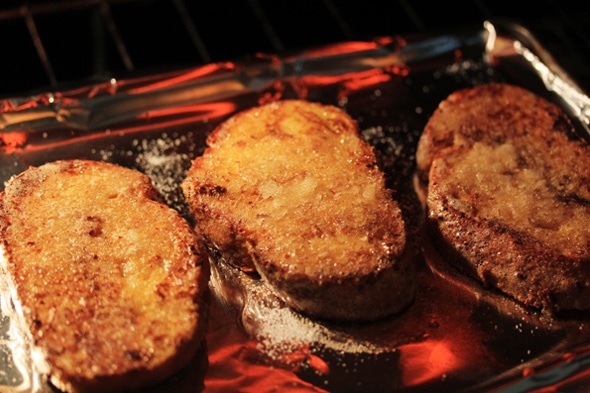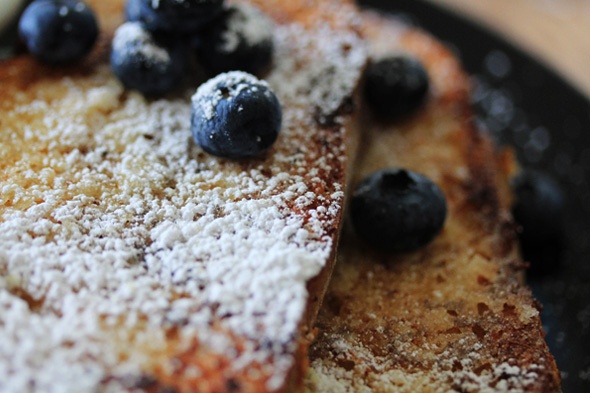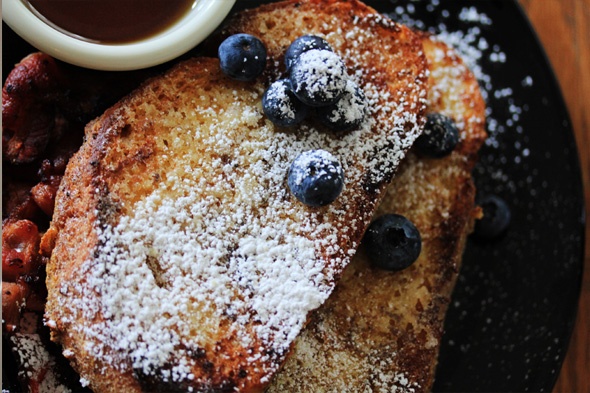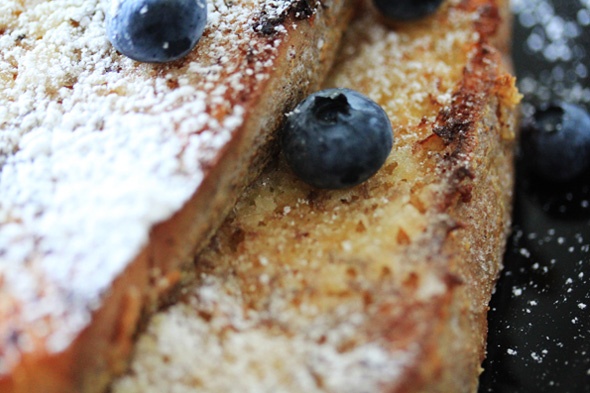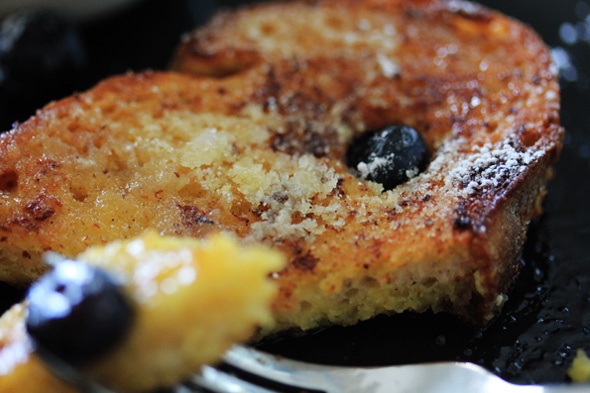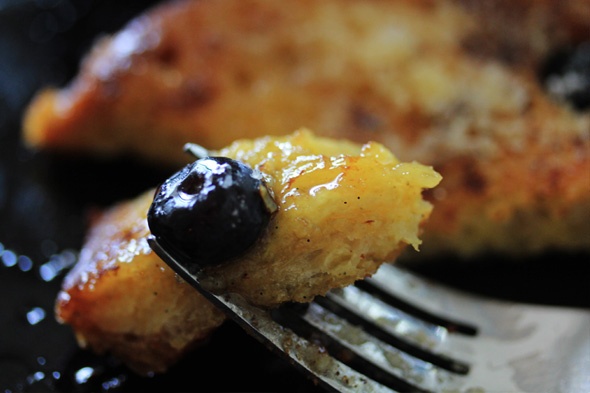 Nom nom nomington!
Print
Sugar-crusted Vanilla Bean & Cinnamon French Toast
---
4

thick slices of bread

3

large egg yolks

1

cup

heavy cream (you can use milk or half & half)

1 tsp

vanilla extract

1/2 tsp

cinnamon

1/2 tsp

granulated sugar

1

vanilla bean

3 tbsp

butter
extra granulated sugar for sprinkling on top later
---
Instructions
1. Preheat your oven to 400 degrees.
2. In a shallow dish, whisk together egg yolks, heavy cream, vanilla extract, cinnamon, sugar, and vanilla bean until smooth. Mixture should be creamy and luscious.
3. Dry your bread out in a 300 degree oven for 15 to 20 minutes; it shouldn't be "toasted" or have any significant amount of color, but it should feel dehydrated. Place dried out bread into the mixture and allow to soak for about 20 seconds per side. You just want it saturated but not falling apart. Use your best judgement here.
4. Meanwhile, place 2 tablespoons of butter into a cold skillet and turn the heat up to medium or medium-low. Don't put the butter into a hot pan, or it will burn immediately. Once the butter starts to sizzle and get happy, gently place your french toast slices into the pan, about two to three slices at a time, and let cook for for about 3 minutes per side, or until golden brown.
5. With the remaining tablespoon of butter, lightly grease a baking dish or cookie sheet large enough to fit your french toast slices in one layer and bake for an additional 10 to 15 minutes in the oven, on the middle rack. This just ensures the egg mixture in the toast is fully cooked thru.
6. Remove the french toast and turn on the broiler to your oven.
7. Sprinkle a very thin layer of sugar over the entire surface of each slice..don't get all diabetic with this.
8. Place under your broiler on the second to highest oven-rack, until sugar starts to get happy and crystallize somewhat. Do not take your eyes off this, because depending on your oven, this could take several seconds or several minutes.
9. Remove from oven and arrange on a plate served with fresh berries (optional) and warm maple syrup.
10. Serve immediately and enjoy!
Recipe Card powered by
Notes:
You can freeze your leftover egg-whites in a ziplog bag for later use
You can skip the "sugaring" step totally, if you'd like.
Disclosure: This site uses various affiliate links. If a purchase is made using one of our affiliate links, we receive a small commission which helps support our efforts. Please read our
Privacy Policy
for more information.