It's rainy, wet, and cold outside. The trees are losing leaves, and the sky is dull and thick with marbled grey clouds. A gloomy day, perfect for a delicious bowl of roasted garlic cauliflower soup. This is the kind of soup you eat in front of a fireplace, or intertwined with knitted blankets, wearing thick socks and watching your favorite television show. I really can't get over how delicious this soup is. You and your loved one will swoon and slurp, and close your eyes in bliss.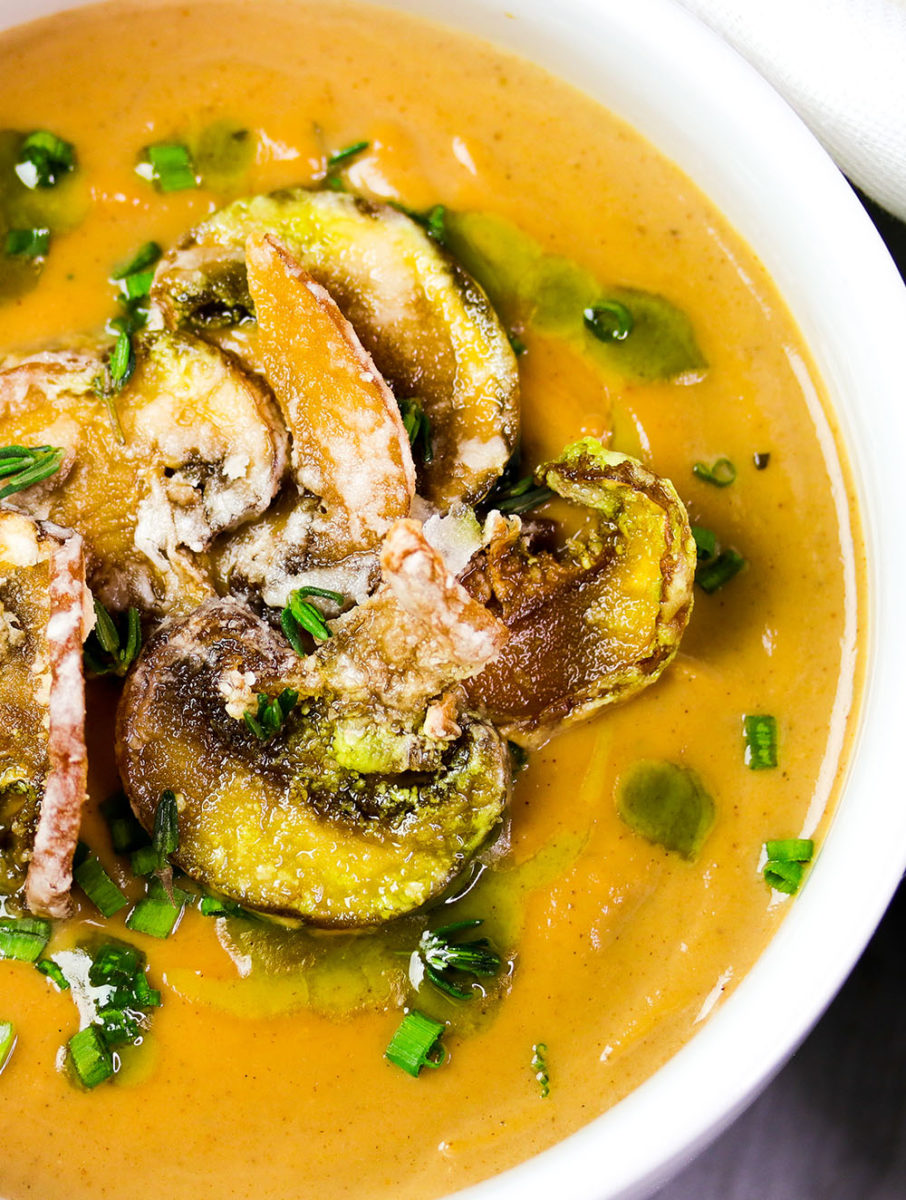 Roasting the cauliflower and garlic is so important! It's why this soup is so damn good.
Cauliflower (like any vegetable) needs salt. Period. You must season your vegetables, guys. They deserve better than bland. The crazy thing about this soup, is that I only had to season the cauliflower and garlic prior to roasting. I didn't need any additional salt at all. That's when you know your veggies are perfectly seasoned.
If you're vegan, there are ways you can make some slight alterations to this recipe and still enjoy it.
I wanted this roasted garlic cauliflower soup to have some extra depth and meatiness, so frying some slices of crimini mushrooms were the perfect topping. You could also roast the mushrooms if you don't want to fry them. Of course, you could skip the mushrooms altogether or use regular bread croutons — the sky's the limit.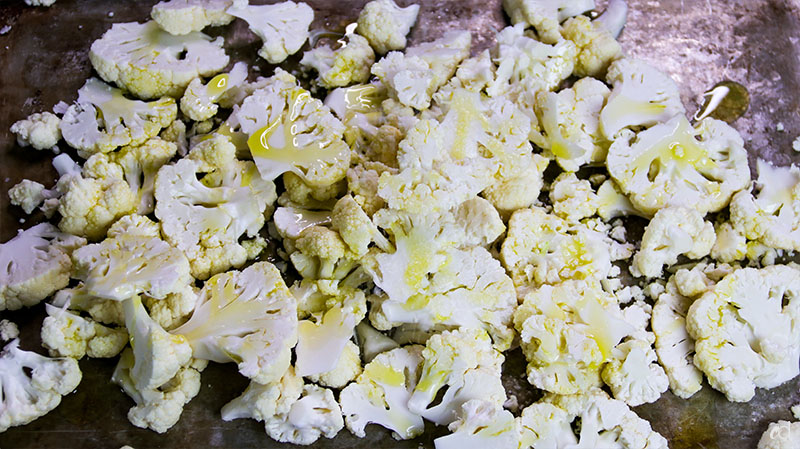 What a sexy bowl. This roasted garlic cauliflower soup is great on it's own, or as an appetizer to my amazing Herbs de Provence Roasted Chicken, or Honey-Dijon Glazed Holiday Ham.
Rose Gold spoon from SLVRWR. Check them out! Gorgeous stuff.
Print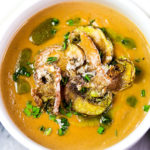 Roasted Garlic Cauliflower Soup
---
Author:

Chef Resha

Total Time:

55 minutes

Yield:

2 servings
Description
We roast the garlic and cauliflower together to deepen their flavors, then puree into a silky and rich soup. Topped with crispy fried crimini mushrooms, chives, and fresh thyme. Drizzle with basil oil if you want.
---
For the soup
1

head of cauliflower, broken apart and sliced

7

large cloves of garlic, peeled

2

cups

low-sodium chicken broth

1/4

cup

half and half

1 teaspoon

fresh thyme, chopped

1/2 teaspoon

fresh rosemary, chopped

2 tablespoons

fresh chives, finely chopped
Olive oil for drizzling
Kosher salt and black pepper, to taste
Basil oil, to garnish (optional)
For the fried mushrooms
1

cup

crimini mushrooms, thinly sliced

2 tablespoons

cornstarch
Vegetable oil for frying
Fine sea salt, to taste
---
Instructions
Preheat oven to 425 degrees F.
Break off the stems from the cauliflower head. With a very sharp knife, gently cut large floret chunks from the core. Slice the floret chunks thinly. You will have some pieces that break off into smaller tiny floret heads and that's totally fine. Lay the cauliflower and whole garlic cloves onto a large sheet pan and drizzle with enough olive oil to thinly coat each piece. It shouldn't be swimming in oil, but no pieces should be dry. Sprinkle a generous pinch of flaky kosher salt and black pepper all over the cauliflower. It's important you season it really well at this stage. Make sure the cauliflower and garlic is in an even layer and that each piece is touching the bottom of the sheet pan. They shouldn't be laying on top of each other.
Roast the cauliflower and garlic for 30 minutes. You'll know its ready when it's tender and golden brown around the edges, and the smaller bits are dark and caramelized. Remove from oven and let cool for 10 minutes.
Scoop all of the roasted garlic and cauliflower into your blender (SEE NOTE), along with 1/2 cup of the 2 cups of chicken stock. Blend to break it down on the lowest setting, then add the remaining chicken stock in stages while increasing the speed/power of the blender. Keep doing this until you reach a creamy, but not too thick/gloopy consistency. You don't want this soup to be water-thin, but it shouldn't be mashed-potato-thick either. It should be velvety and coat your spoon.
When the soup is perfect in consistency, transfer it to a medium saucepan over medium heat and bring to a simmer. Reduce heat to medium-low and add the fresh thyme and rosemary, and a pinch of black pepper. Continue to heat the soup through for about 10 minutes over medium-low heat. Add the half and half, is using, and stir to combine. Continue simmering for another 3 to 5 minutes. Taste and adjust seasoning if necessary.
Meanwhile, place the sliced mushrooms in a bowl, and toss with the cornstarch. Make sure it's evenly coated.
In a small pot, pour in about 1-inch of vegetable oil. Bring the oil to a temperature of 375-385 degrees F. When the oil reaches temperature, gently fry some of the mushrooms (not all) for about 3 minutes, or until the sizzle of the oil settles down. This happens when the water in the mushrooms evaporates. Drain on paper towels and season with a pinch of fine sea salt as soon as they're out of the oil. Continue frying the mushrooms in batches until done.
Pour your soup into bowls, and top with the fried mushrooms, and fresh chives. Add a small drizzle of basil oil or plain extra virgin olive oil, and serve immediately. Enjoy.
Notes
If you don't have a high powered blender, you can use a hand-held blender or food processor instead.
This recipe can be doubled to serve four people.
Prep Time:

10

Cook Time:

45

Category:

soups and stews
Keywords: soup, cauliflower soup, roasted cauliflower soup, meals for 2
Recipe Card powered by
Disclosure: This site uses various affiliate links. If a purchase is made using one of our affiliate links, we receive a small commission which helps support our efforts. Please read our
Privacy Policy
for more information.