Keto spaghetti. Yes. You can have a classic bowl of meaty spaghetti sauce over keto-friendly noodles. This keto spaghetti with mushroom and basil pesto meat sauce is fire and completely low carb. I've made this sauce so many times since we started this diet, and it wouldn't be right if I didn't share it with you. Yall know I'm a huge mushroom lover and will chuck them into just about anything, but if you're a hater — don't add them. This sauce is killer on regular pasta, zoodles, spaghetti squash, all the things.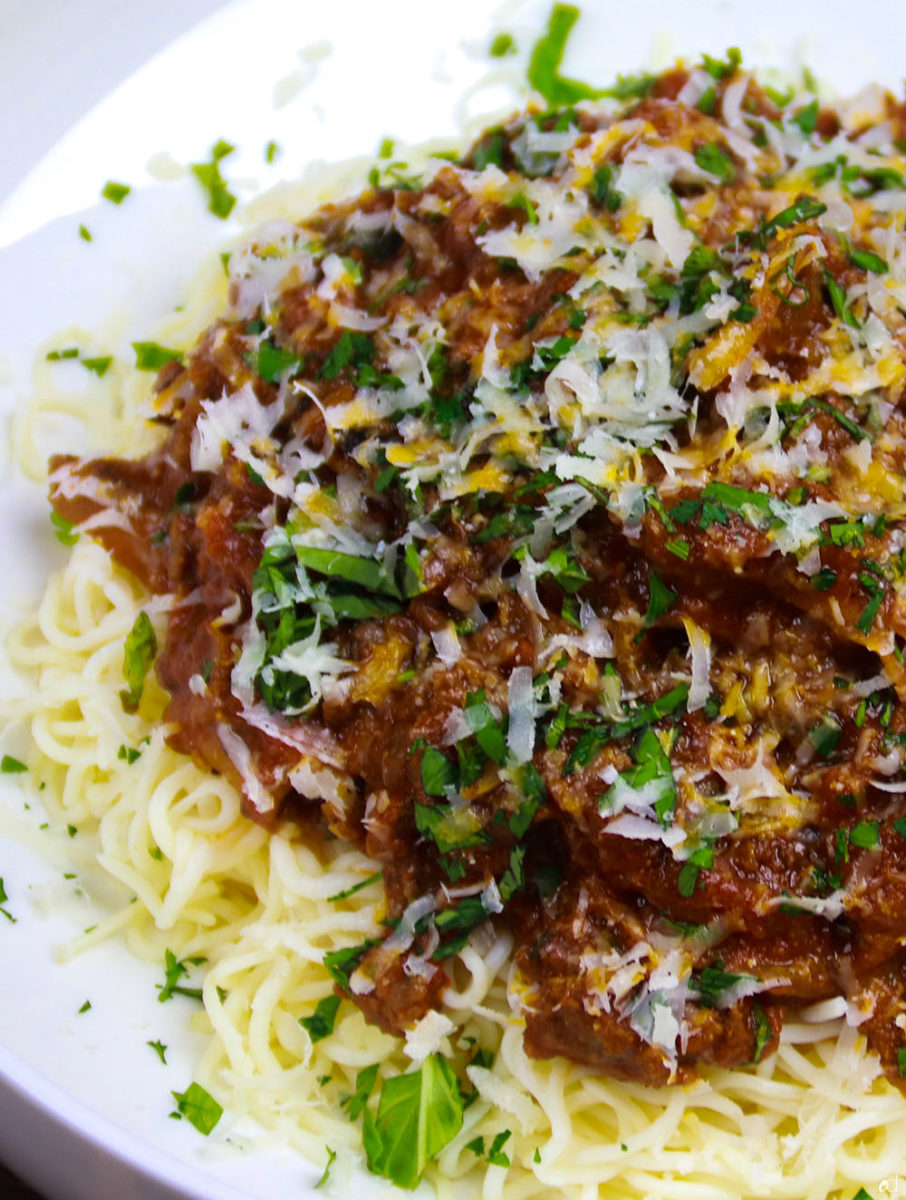 Let's talk substituions
You and I probably like different things. Or maybe you can't find a specific ingredient. I love hen of the woods mushrooms, they are incredibly tasty. But guess what, so are criminis. So are shiitakes. Use any kind of mushrooms you like, even a blend. If you don't like them, leave them out.
On keto, fat is adored. So I prefer an 80/20 blend of ground beef for this recipe. You can use whatever you want, though. Ground turkey (don't use anything too lean, please!), ground pork, ground lamb, ground chicken (dark meat, please!) are all acceptable.
My favorite prepared basil pesto is the Kirkland brand from Costco (refrigerated section). It's SO GOOD!! My goodness, it's ridiculously fresh and tastes homemade. However, I know that many people don't have access to Costco, so either make your own or just buy the best kind you can get your hands on. You could leave it out, but…IDK, that's your call.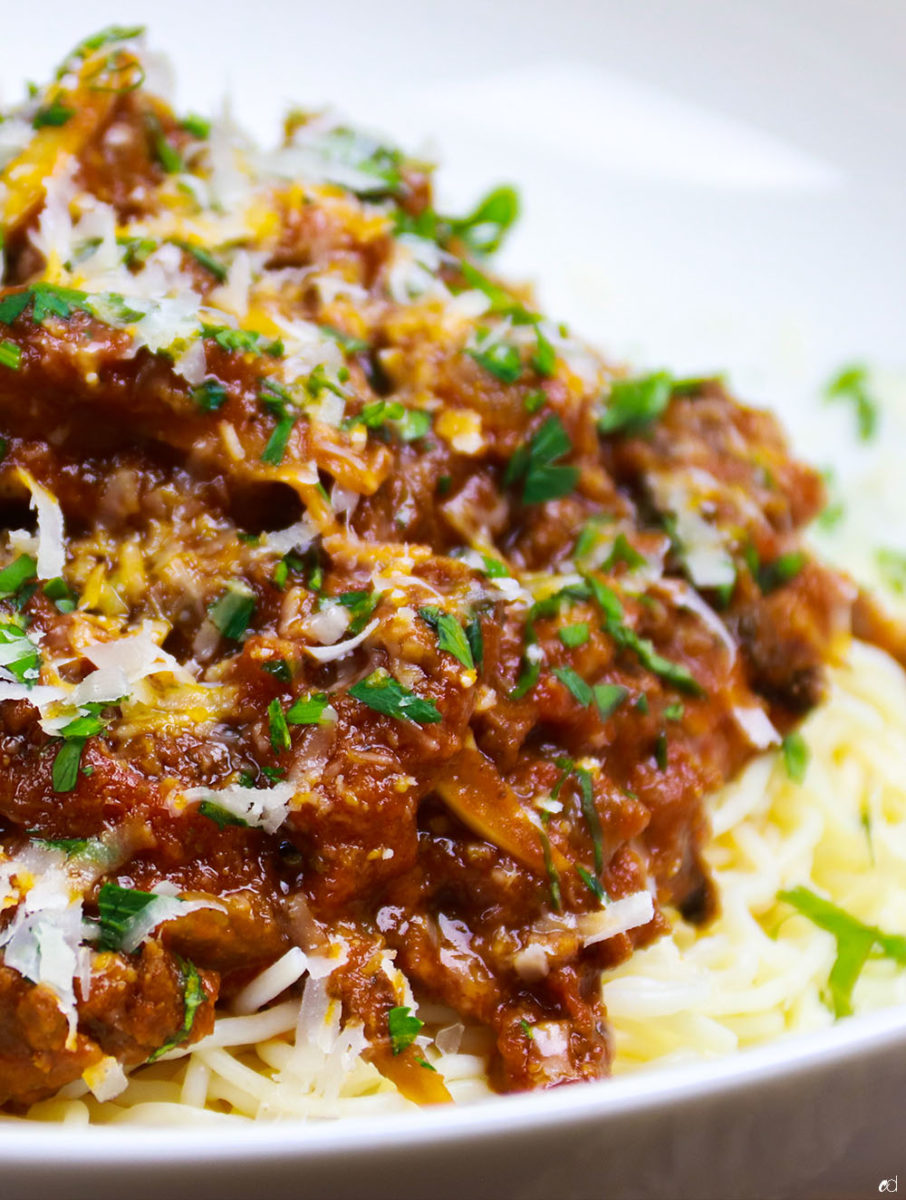 Organic tomatoes are best!
They're sweeter, and don't have any weird ingredients. Trust me, use organic canned tomatoes for this recipe. That way when the sauce cooks down and concentrates, you won't need to offset any acidity with added sugars or sweeteners. If anything, you may find you'll need to add a little more acidity — which is why I added 2 tablespoons of balsamic vinegar. It was perfection.
Noodle Options
I prefer shirataki noodles for this recipe, but it ALSO works perfectly with spaghetti squash, zoodles, and regular spaghetti if you aren't on a low-carb diet. I have tried just about every brand of shirataki noodle on the market — and while I didn't find them to be terrible, I just found the Tofu Shirataki Noodles to taste FAR better. They even look like real spaghetti. They're snappy in texture, but not as snappy as the other brands. Any shirataki noodle you get, you're going to have to thoroughly rinse! They have a distint "smell" to them, that is easily washed away and totally gone once they're dried in a hot non-stick skillet.
One bag of Tofu Shirataki Noodles are enough for one large serving. And we love large servings, so we basically eat a whole bag for ourselves. If you're new to shirataki noodles, please be warned that they are PACKED with fiber…so keep that Charmin close.
Anyway. Back to this keto spaghetti with shirataki noodles.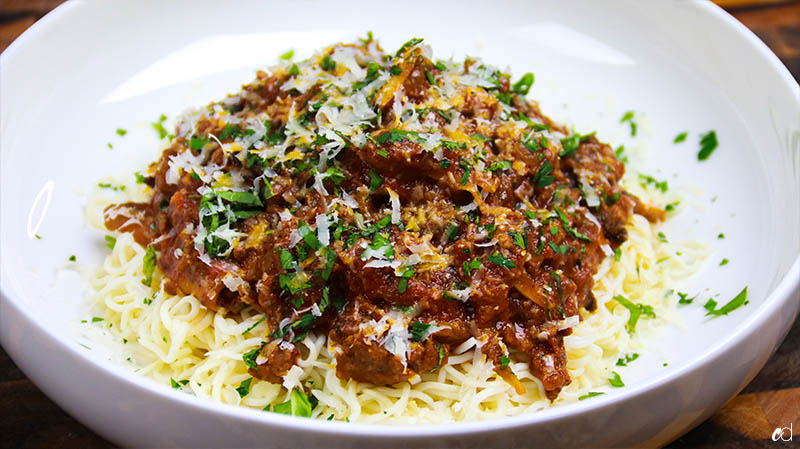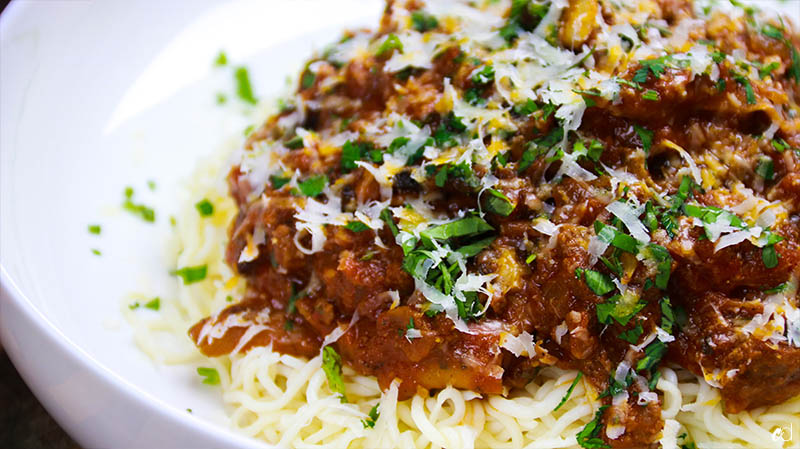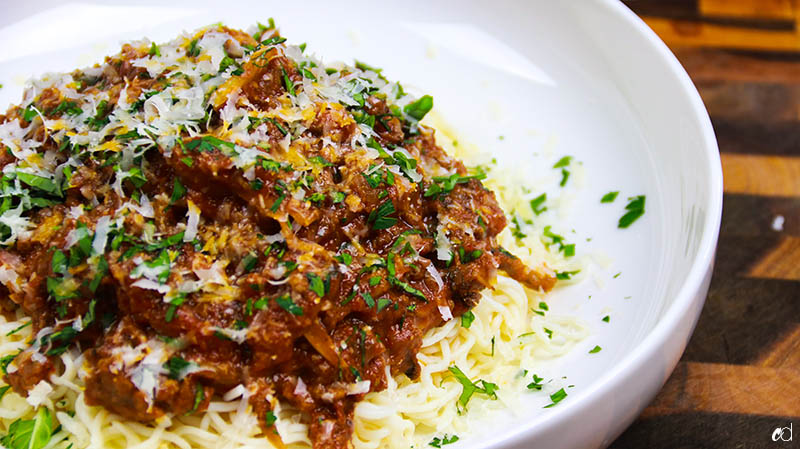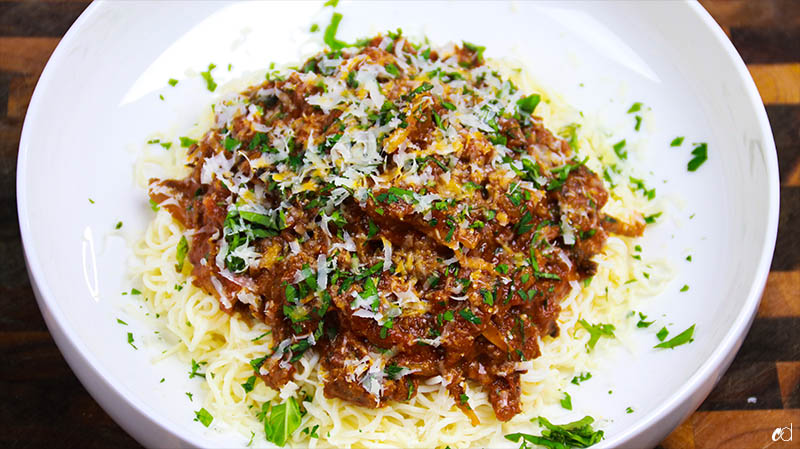 How to make the best keto spaghetti
Check out the video on Youtube (or just click play below)
Check out this other low-carb recipe:
Print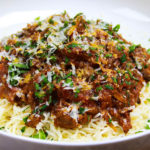 Keto Spaghetti with Mushroom and Basil Meat Sauce
---
Author:

Chef Resha

Total Time:

1 hour 5 minutes

Yield:

8 servings
Description
The very best, most flavorful keto spaghetti with mushroom and basil meat sauce. It's perfect and completely low-carb.
---
4 tablespoons

olive oil, divided

4 tablespoons

grass-fed butter, divided
Flaky kosher salt, to taste
Ground black pepper, to taste

6

ounces

hen of the woods mushrooms (or your favorite variety)

1

large yellow onion, diced

1

pound

ground 80/20 beef

1/2 teaspoon

granulated garlic

1/2 teaspoon

granulated onion

1/2 teaspoon

crushed red pepper flakes

1 teaspoon

dried oregano

1/2 teaspoon

herbs de provence (optional)

10

cloves fresh garlic, sliced or minced

1 teaspoon

fresh thyme, roughly chopped
1

6

–

ounce

can of organic tomato paste

1 tablespoon

anchovy paste (optional)

2/3

cup

rosé wine (SEE NOTE)
1

28

–

ounce

can of organic crushed tomatoes
1

14.5

–

ounce

can of organic diced tomatoes, drained

2 tablespoons

balsamic vinegar

1/4

cup

prepared basil pesto (SEE NOTE)

1/4

cup

grated pecorino romano cheese, plus more for garnish

1 teaspoon

fresh parsley, finely chopped, plus more for garnish

1 tablespoon

fresh basil, finely chopped, plus more for garnish

2

to

4

packs Shirataki Tofu Noodles, rinsed well and drained (SEE NOTE)
---
Instructions
For the sauce
Drizzle and melt 2 tablespoons of olive oil and 2 tablespoons of butter in a large skillet over medium-high heat until the butter starts to sizzle and foam. Immediately add the mushrooms and toss to coat in the fat. Season with flaky kosher salt and black pepper. Arrange the mushrooms in an even layer and let them caramelize for about 5 or 6 minutes. Flip them over and let them caramelize on the other side, an additional 5 minutes or so. Remove them from the skillet when you're happy with their color.
Return the skillet back to medium-heat. Add in the remaining olive oil and butter. Place the diced onions in the skillet, season with flaky kosher salt and black pepper and cook until softened — about 5 minutes. When the onions are softened, add the ground beef and break it up into small pieces with your spatula. While the meat is still pink, season with the dried oregano, herbs de provence (if using), crushed red pepper flakes, granulated garlic, granulated onion, black pepper, and flaky kosher salt. Continue to cook and break up the the ground beef until all of the liquid has evaporated and there's some color in the bottom of the skillet. This will take about 8 minutes or so. When the liquid has evaporated and all thats left is a bit of natural beef fat, add the sliced garlic. Saute and soften the garlic for about 3 minutes. Add the fresh thyme and cook for 30 seconds.

Add in the tomato paste and anchovy paste and mix thoroughly. Let the tomato paste cook for about 5 minutes or until you see a good amount of color on the bottom of the skillet. Deglaze the browned bits with the wine and scrape up all that flavor vigorously. Pour in the drained diced tomatoes and crushed tomatoes. Thoroughly mix everything together, reduce the heat to low and cover. Let the sauce simmer for 15 minutes. Check on it, making sure nothing is sticking — if it is, just scrape it all up. Cover and let simmer an additional 15 minutes over low heat. Now, check it out again and this time season it with more granulated garlic, granulated onion, and flaky kosher salt if needed. Do not add any sweeteners. The more the tomatoes cook down, the more concentrated in sweetness they will become. Pour in the balsamic vinegar and mix in. Add the basil pesto and stir to incorporate. Cover and let everything simmer for an additional 10 minutes over low heat. Give it a taste and adjust as needed. When it's perfect, turn the heat off and add the pecorino cheese, fresh basil and fresh parsley.
Cover and keep warm while you prepare the shirataki noodles.
For the Shirataki Noodles
In a large non-stick skillet over high heat, add the rinsed shirataki noodles to the hot dry skillet. Toss them around until they are no longer wet and are beginning to cling to the bottom of the skillet, about 5-10 minutes. Season them with a little salt if you want. When the noodles are completely dry, serve them with the sauce. Garnish with more pecorino cheese, basil, and parsley.
Enjoy!
Notes
You can use any drinkable red wine, or a stock in place of the rosé. You can also use plain water.
My favorite brand of prepared pesto is by Kirkland from Costco. Please use the best kind you can find or make some homemade. Pestos almost always have some kind of nut, so avoid if you have a nut allergy.
We find that one entire pack of shirataki noodles is enough for one person, so please buy as many packs as you need for as many people you're feeding. This is a lot of sauce, so you can freeze any leftover or just meal-prep.
Prep Time:

20 minutes

Cook Time:

45 minutes

Category:

low carb, keto
Keywords: keto spaghetti, keto, low carb, italian, spaghetti with meat sauce
Recipe Card powered by
Disclosure: This site uses various affiliate links. If a purchase is made using one of our affiliate links, we receive a small commission which helps support our efforts. Please read our
Privacy Policy
for more information.