Guys…this deliciously herbaceous, creamy keto potato salad will give you that feeling you've been missing at your cookouts and BBQ's this summer. Turnips are a complete and utter blessing. I swear, they have become as much a staple in our keto diets as cauliflower (another wonder veggie). They're great roasted, stewed, so many ways to prepare them. This creamy keto potato salad is my favorite, though. You can always use your favorite low-carb substitute if you're not a fan of turnips!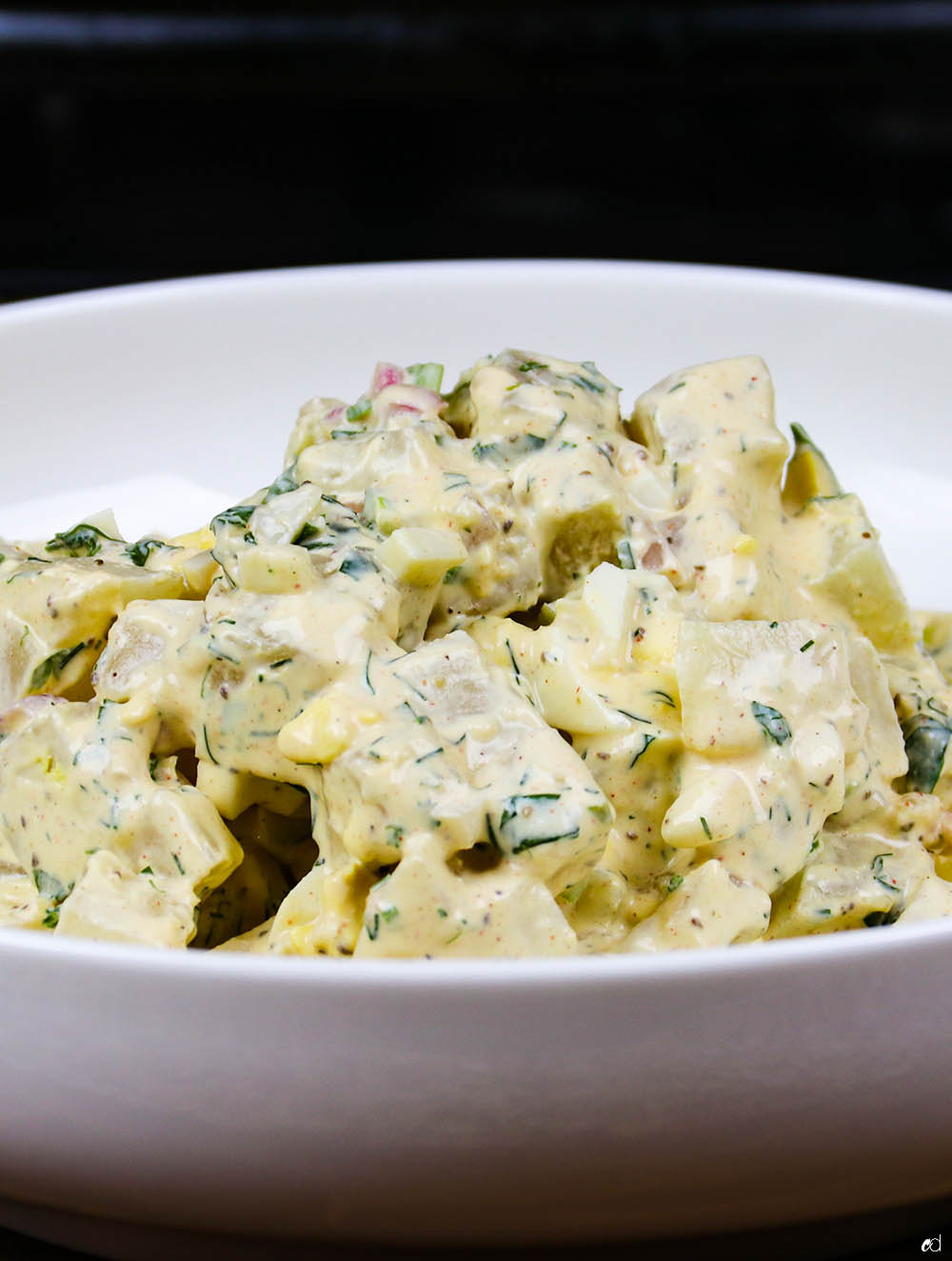 I want to give you some truth here, as always — being on a keto diet can go fabulously well for you as long as you keep your expectations realistic. Nothing really "tastes exactly like" a potato except for a potato. However, turnips prepared this way are pretty darn close. They keep and hold their shape, don't turn to mush, and there's none of that carb-heavy starch to make them gummy and pasty. They remind me a lot of a firmer and waxier red potato than your typical russet.
If you aren't on a keto diet, just use regular potatoes for this recipe. A tip on buying turnips: if you're able to squeeze them at all, don't buy them. They should be completely rock hard and smell kinda peppery. They vary in size, too. Some are as small as lemons, and some are as big as grapefruits! Turnips are super easy to peel, but they're just like sweet potatoes in that they're extremely tough to cut. You'll need your sharpest knife possible, and some muscle. Please be careful when cutting these.
Don't like turnips? Use cauliflower or parsnips. Jicama might also work for you. Turnips can be bitter, depending. So I've found the best way to minimize that is to boil them. Then they kinda just taste like a blank canvas. Perfect for adding a bunch of yummy ingredients to hide the bitter bite.
To me, nothing completes my plate of BBQ'd food like some cold creamy potato salad. So give this recipe a try and bring it to your next keto or low-carb cookout. Low carb potato salad can be fantastic!
How to make the best keto potato salad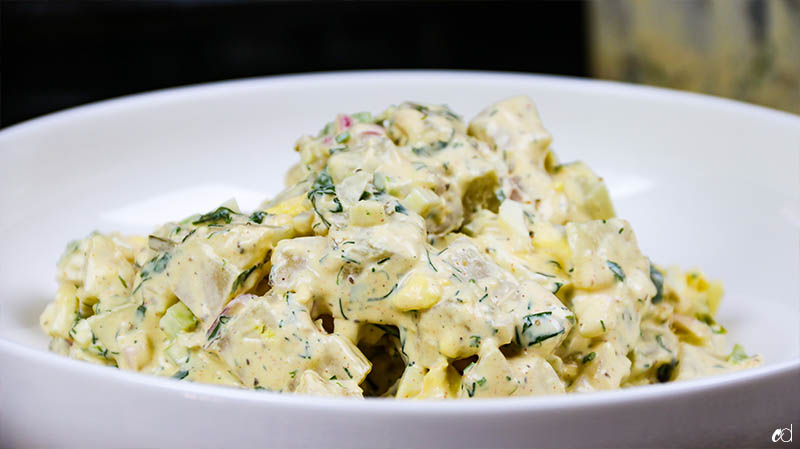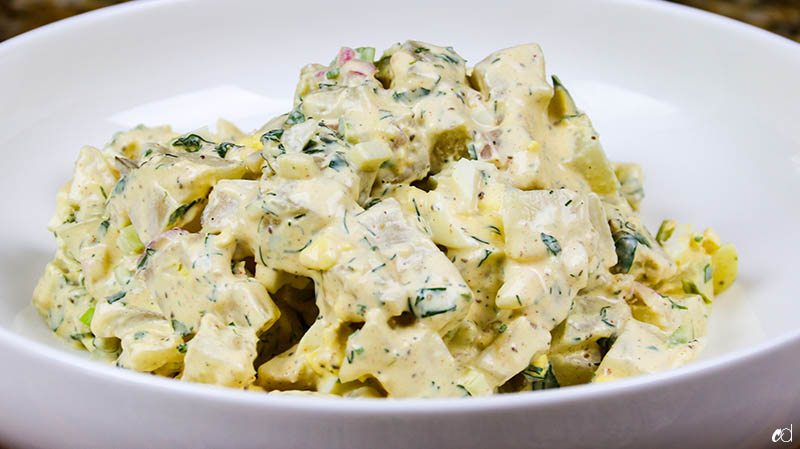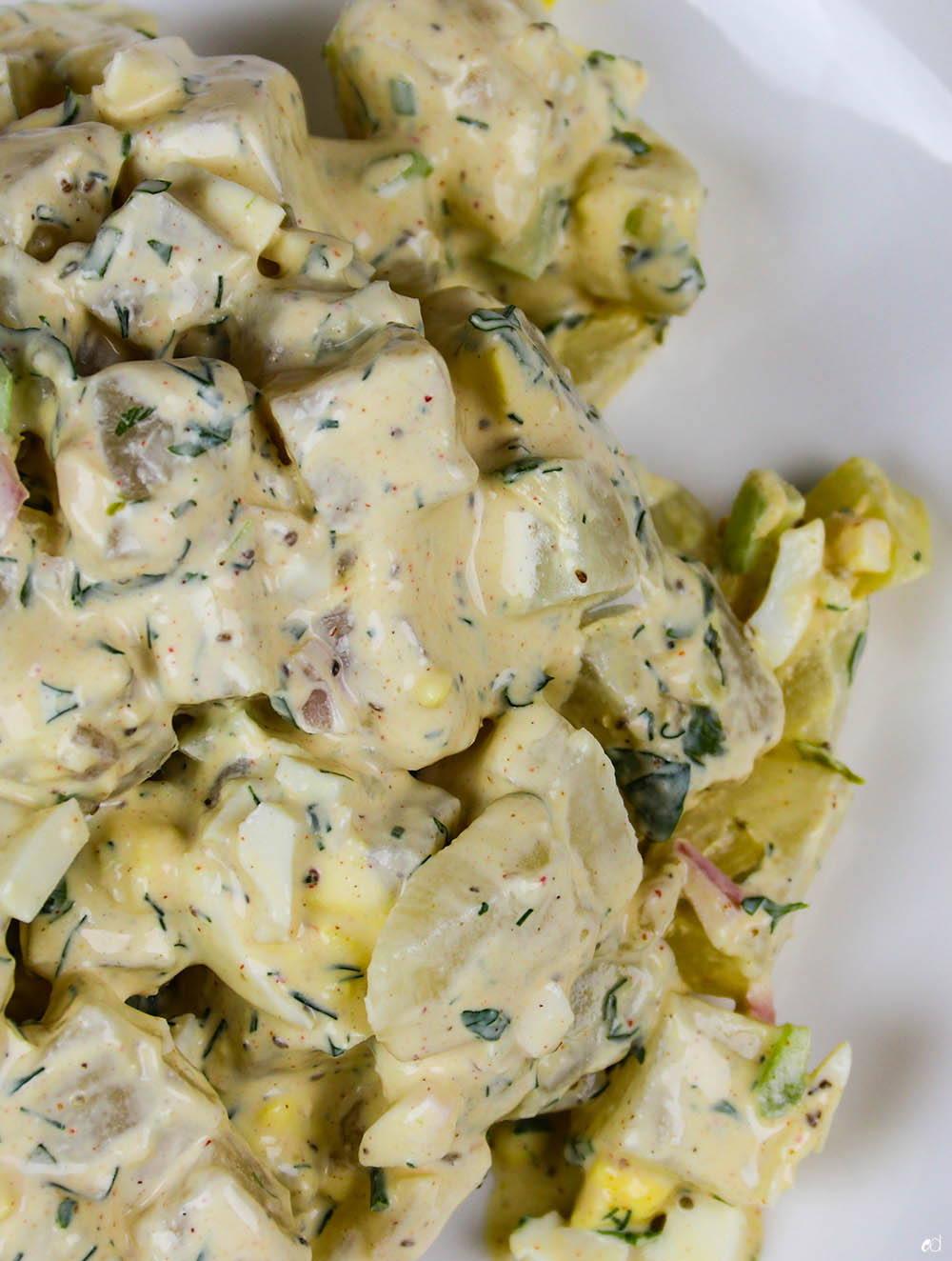 Check out these other keto recipes while you're here:
Print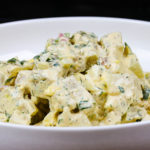 Creamy Keto Potato Salad
---
Author:

Chef Resha

Total Time:

45 minutes

Yield:

12-14 servings
Description
Enjoy this low carb mock potato salad featuring turnips! They will give you that placebo affect of real potato salad without all the pasty carbs. Bring this to the keto cookout!
---
These are starting point measurements, please adjust to your liking!
3 1/2

pounds

turnips, peeled and diced

1 1/2

cups

mayo (I used this sugar-free brand)

3 tablespoons

unseasoned rice vinegar (SEE NOTE)

1 tablespoon

spicy brown mustard

1 tablespoon

yellow mustard

1/2

cup

celery, finely chopped

1/2

cup

red onion, finely chopped

2

cloves garlic, minced (use fresh, not jarred)

2 tablespoons

fresh dill, finely chopped

2 tablespoons

fresh cilantro, finely chopped

2 tablespoons

fresh parsley, finely chopped

2 tablespoons

fresh chives, finely chopped

2 tablespoons

scallions, finely chopped

1 tablespoon

poblano peppers, finely minced

2 teaspoons

worcestershire sauce

2

sprigs thyme

4

hard boiled eggs, chopped

1/2 teaspoon

celery seed

1/2 teaspoon

smoked paprika

1/2 teaspoon

onion powder

1/2 teaspoon

garlic powder

1/4 teaspoon

ground cumin

1/4 teaspoon

cayenne pepper
Kosher salt, to taste
Black pepper, to taste
Keto-friendly sweetener, to taste (SEE NOTE)
---
Instructions
In a large bowl, mix the mayo, vinegar, mustards, celery, red onion, garlic, dill, cilantro, parsley, chives, scallions, poblano peppers, worcestershire, thyme, celery seed, smoked paprika, onion powder, garlic powder, cumin, and cayenne pepper together until evenly combined. Taste it! Adjust seasoning as needed, adding salt and pepper as you go. Add your favorite keto sweetener to balance out the flavors (SEE NOTE BELOW).
Potato salad is very personal to everyone, so you just have to keep tasting and adjusting until it's perfect for you! When it tastes great, add the chopped eggs and you guessed it — taste it again! When it's perfect, pop it in the fridge so it can chill.
Meanwhile, bring a large pot of water to boil. When it starts to boil, add in some sea salt, followed by the diced turnips. Boil the turnips until you can easily pierce them with a knife, this will take about 7-10 minutes or so. If you'd like them a little softer, just keep boiling until you're satisfied with their texture. Remember, they're not potatoes so don't expect them to "feel" like potatoes, but they're a damn good substitute for this type of recipe.
Drain the turnips and lay them out on a foil-lined baking sheet so they can cool evenly and quickly. This will take about 15-20 minutes. After they've cooled, place them into a large bowl and pour in a small amount of the "sauce" mixture you made earlier. Toss to combine, and add a little more of the sauce until it's the consistency you want. When the consistency and creaminess is just right, give it another taste and adjust as needed (you'll probably have to add a bit more salt at this point, depending). You will more than likely have leftover sauce, so keep it in an airtight container to use for another batch. It will keep for a few days.
Cover the keto potato salad with plastic wrap and let the flavors marry for at least an hour, or overnight.
Enjoy!
Notes
I used rice vinegar for my recipe, but you can use any vinegar you prefer such as apple cider, red wine, etc. But if you want to keep this keto, make sure there is no additional sugar in the vinegar you choose tot use.
Real potato salad usually has a bit of sweetness, so use your favorite keto sweetener for this recipe. I actually used 2 packets of Truvia, but Erythritol, Monk Fruit, or Xylitol will work just fine. Start with a little and add more until it's just right for you.
Prep Time:

30 minutes

Cook Time:

15 minutes

Category:

keto, low carb
Nutrition
Serving Size:

1/2 cup

Calories:

259

Sugar:

4.8 g

Sodium:

621 mg

Fat:

22.2 g

Carbohydrates:

8.8 g

Fiber:

2.3 g

Protein:

6.5 g

Cholesterol:

154.8 mg
Keywords: keto potato salad
Recipe Card powered by
Disclosure: This site uses various affiliate links. If a purchase is made using one of our affiliate links, we receive a small commission which helps support our efforts. Please read our
Privacy Policy
for more information.