You're going to love these lemony buttermilk fried shrimp! My heart breaks for folks who have seafood allergies. No, seriously. I am saddened for you guys. If you could measure seafood allergies by percentage, I myself am 5% allergic. I can eat fish, shellfish, mollusks, etc. The only thing that irritates me is the shell from shellfish itself. Like, if I were to eat a crab cake that wasn't properly discarded of shells, my throat will start to itch a little. Soft-shell crab? Forget it! I didn't even know I was allergic until I ate one single piece of sushi with soft-shell crab, and about 10 minutes later, my throat started to close up. I was devastated, went to the hospital…it was a mess. I didn't look like Hitch, and I was able to breathe (thank god), but it was still tighter than usual and I didn't want to wait until I was completely unable to breathe to go see a doctor. So, again, I truly feel bad for folks who cannot enjoy the wonderful flavors of seafood at all.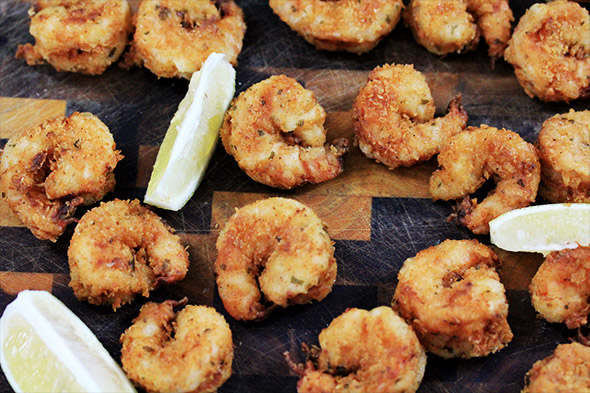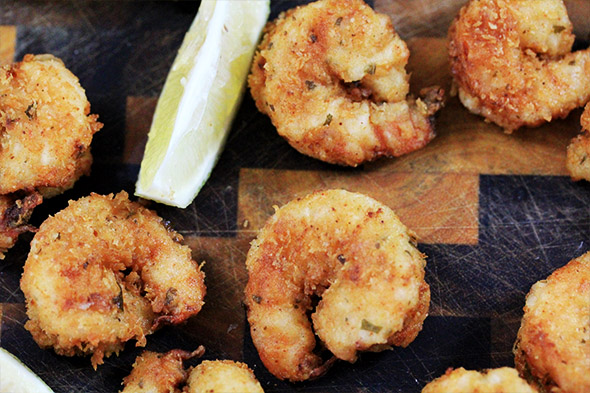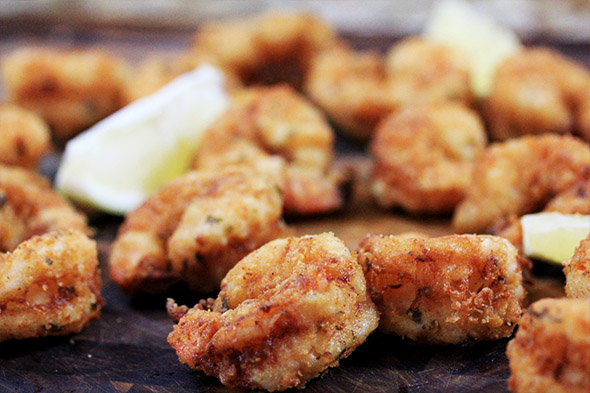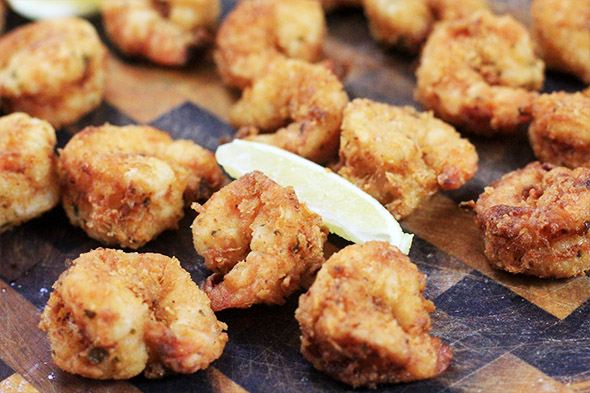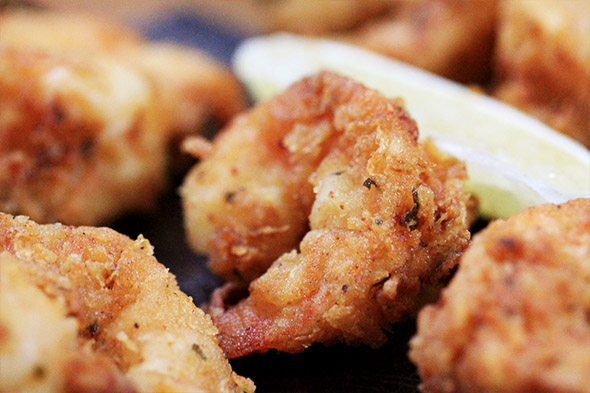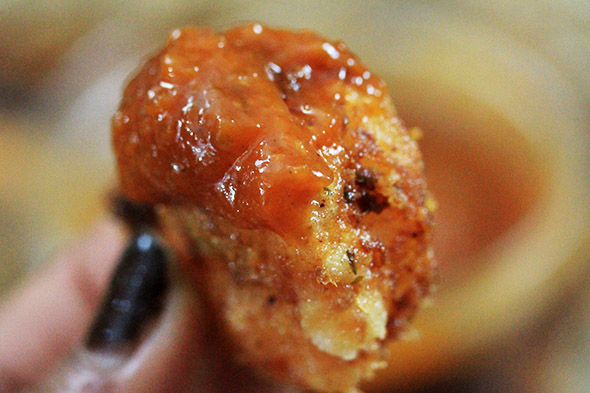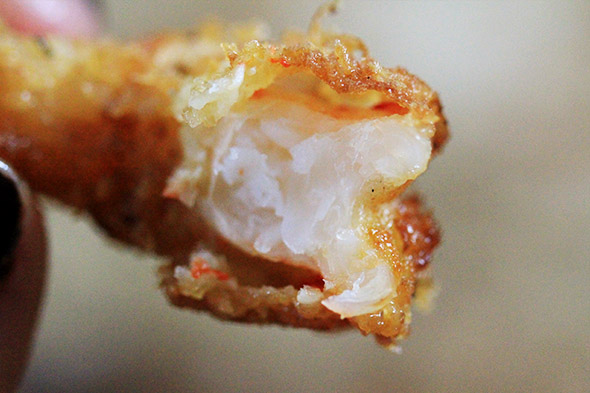 But for those of you who can? YAAAAS! I have a great recipe for you that is perfect for snacking, game day, parties — whatever. I love shrimp all kinds of ways, but a classic fry is always a go-to. Instead of just battering up some shrimp and dunking it into the fryer, I wanted to inject the tiger shrimp with as much flavor as I possibly could. I'm working with large tiger shrimp here, but you can use any kind of shrimp, any size.
How to make lemony buttermilk fried shrimp
The buttermilk helps soften the shrimp a little, imparting flavor and tang. The lemon (so much lemon) is obviously going to make it, well, lemony. I love lemon, it's one of my staples in cooking, goes so well with everything. I wanted this fried shrimp recipe to have good lemon flavor without being too lemony, if that makes sense. It's lemony but it's not LEMONY. When you're marinating seafood, you've gotta be careful. It's such a delicate protein, and unlike chicken, beef, or pork, it really doesn't need to marinate for hours. Large shrimp? 1 hour. Medium or Small shrimp? Half hour.
For this recipe, I encourage you to season your shrimp however you'd like. Just use lots of lemon zest, the juice of one lemon, and some buttermilk. We get an amazing crust by battering it with a mix of all-purpose flour and crunchy panko breadcrumbs. The shards of panko really offer these crispy valley's and crevices once fried, that sound amazing as you bite down and hear nothing but CHHHRKRKRK (that was a sad attempt at a phonetic spelling of a crunchy sound, don't judge me). As usual, I didn't measure anything here except for the flour/panko mixture, so I will try my best to give you measurements as a starting off point.
TOOLS USED:
Candy thermometer
http://amzn.to/2dg8HSW
Dutch Oven
http://amzn.to/2cthPF4
Spider (strainer)
http://amzn.to/2daclBT
Glass bowls
http://amzn.to/2cTKEI8
Stainless steel bowls
http://amzn.to/2cCiFx5
Silicone tongs
http://amzn.to/2cPGvs6
Baking sheet
http://amzn.to/2cGK1Uy
Check out the video tutorial to see how it's all done!
Print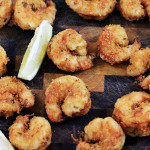 Lemony Buttermilk Fried Tiger Shrimp
---
Author:

Chef Resha

Total Time:

1 hour 3 mins

Yield:

6
1 1/2

lb

large wild tiger shrimp, peeled and de-veined (any wild shrimp will work)
Lemon-Buttermilk Brine
1 tbsp

kosher salt (if using table salt, use

1/2 tbsp

)

1 tbsp

sugar

2

cloves garlic, minced

1 tsp

cayenne pepper

1/2 tsp

black pepper, freshly ground

1 tsp

smoked paprika

1

–

2

tbsp olive oil

3/4

cup

buttermilk
zest & juice of 1 lemon
Panko-Flour Mixture
8

oz

. all-purpose flour

2

oz

. panko breadcrumbs

1/2 tsp

cayenne pepper

1

–

2

tbsp seasoned salt

1 tsp

white pepper

1 tsp

granulated garlic

1 tsp

granulated onion

2 tsp

dried cilantro (parsley or basil will also work)
*1/4 cup buttermilk for dredging
oil for frying (I used peanut, but canola or vegetable will work fine)
---
Instructions
Combine shrimp, all seasonings, zest, lemon juice, olive oil, and buttermilk in a bowl until combined. Cover with plastic wrap and chill for 30 minutes to 1 hour, NO LONGER!
Meanwhile, flour, panko, seasonings, lemon zest in a separate bowl. Pour 1/4 cup of buttermilk into a tiny bowl.
After at least 30 minutes, take your shrimp out of the refrigerator. Pour and drain off all of the marinade. Leftover bits of the zest will remain, and that's fine. You just want to remove the brine liquid. Rinse if necessary. Dip each shrimp into the plain buttermilk, then into the flour/panko mixture, packing it on well. Place each shrimp on a baking sheet or plate, then place in the refrigerator or freezer for 20 minutes to allow the coating to set up so that it doesn't fall apart in the fryer later.
Heat about 2 inches of oil in a pot to 375 degrees. Remove shrimp from fridge/freezer. Fry a few shrimp at a time for 2-3 minutes or until golden brown. Drain on a wired rack of paper towels.
Serve immediately.
Notes
If using smaller shrimp than large, only marinate for 30 minutes. Cook time will be faster than noted above.
Prep Time:

1 hour

Cook Time:

3 mins
Recipe Card powered by
Disclosure: This site uses various affiliate links. If a purchase is made using one of our affiliate links, we receive a small commission which helps support our efforts. Please read our
Privacy Policy
for more information.