Cod has always been one of my favorite proteins from the sea since I was a kid. I remember taking family trips to a now-extinct restaurant called Chesapeake Bay Seafood House, and they served this INSANELY good fried lemon-pepper cod. I got it every single dang time we went. I can literally still taste it and it's been well over 15 years since the last time I took a bite there. I'm sad thinking about it now. They even had amazing hush puppies. Man, this is restaurant heartbreak I'm going thru at this present moment. I could cry. I have never been more sad about a restaurant closing, ever. Somebody hold me.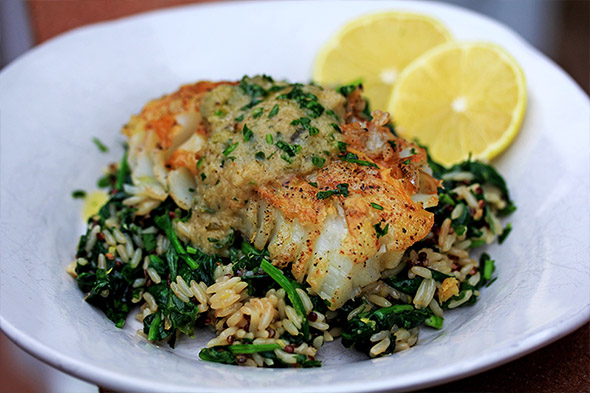 Anyway, I still love cod prepared just about any way. Beer-battered, seared, baked, roasted, broiled, oven-fried, it doesn't even matter. Cod is flaky, light, firm, and tender all at the same time. It's a great versatile fish that everyone should embrace into their homes and tummies. For this recipe, I took a whole skinless filet and cut it into four pieces, but if you can get your fishmonger to give you skin-on, and/or have him cut it for you, that would be even better. I'm resourceful though, so I worked with what I had on hand. This is a good thing though, because I can show you how to sear cod that doesn't have it's delicious skin attached. Because it's a moderately lean fish (not as fatty as salmon), we have to give it plenty of good healthy fat to sear in, and let the natural sugars caramelize the surface so we get a nice color.
If you use a non-stick pan, that would be great! I used my All-Clad skillet for this, which was what I grabbed first. If you use a stainless steel skillet, PLEASE use a fish spatula to flip this — otherwise you can seriously tear up your fish. It will still be edible, but it won't be as pretty. As with any sear, make sure you allow the protein to actually develop color before trying to flip it over.
Rule of thumb: if you try to flip it, and it's completely stuck, that means it's not ready to be flipped! Flipping should be a moderately easy process. Even with a skinless filet of cod, you'll meet a slight resistance, but it shouldn't be TOTALLY stuck, okay? So be careful flipping it, I cannot stress this enough. I will leave a note at the bottom of the recipe to help you better fool-proof this whole searing process. Basically, if you're nervous or don't have proper cookware/tools, lightly dust both sides with a tiny bit of either flour, rice flour, or corn starch. That'll help you out if you're super nervous about doing a naked sear. Also, if you don't have an immersion blender (make sure you get one btw), just puree the beer & sweet onion butter sauce in a blender or food processor.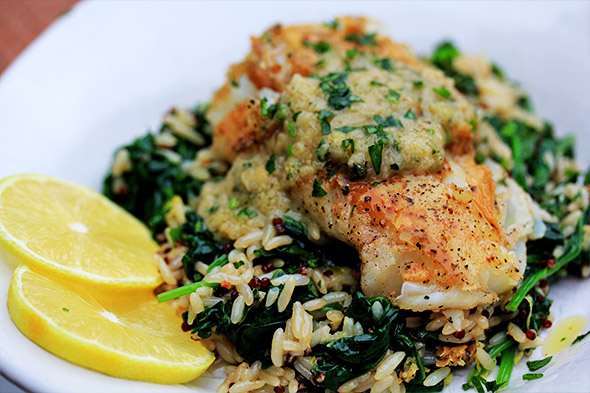 This recipe will work for skinless cod in a non-stick skillet even better. There is a smaller chance of it sticking and tearing up on you, but if all you have is stainless steel, then you should follow my instructions as best as you can. Please read the note below the recipe if you choose to use a non-stick skillet, or are terrified of your fish potentially sticking due to lack of experience — which is all good, we have to start from somewhere.
Print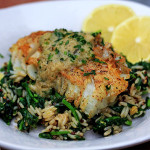 Seared Skinless Cod with Beer & Sweet Onion Butter Sauce
---
Author:

Chef Resha

Total Time:

50 mins

Yield:

4 or more servings
Description
Pan-seared cod with sweet onion beer sauce.
---
For the Beer & Sweet Onion Sauce
3 tbsp

unsalted butter

1

cup

sweet onion, diced

3

–

5

cloves garlic, finely chopped

1 tablespoon

olive oil
crushed red pepper flakes, to taste
lemon-pepper, or black pepper, to taste
herbes de provence, to taste
pinch of sugar
pinch of sea salt

1

bottle Corona beer (or any light colored beer)

3

small anchovy filets, finely chopped into a paste

1 tbsp

capers, drained and chopped

1 tbsp

parsley, chopped (dill and/or tarragon will also work)
zest of

half a

lemon, plus 1-2 tbsp of lemon juice, to taste
*2 tbsp unsalted butter, to finish
For the fish (see note below)
Cod filets (skinless or skin-on)
sea salt, to taste
black pepper, to taste
oil for searing
For the Spinach, Rice and Quinoa
1

large container organic baby spinach
salt, pepper, granulated garlic, and red pepper flakes to taste

1

package of 90-sec rice & quinoa (use any brand or version of this you'd like)
oil and butter as needed
zest of

half a

lemon

1 tbsp

lemon juice, optional
---
Instructions
**Read the captions under each photo for detailed instructions**
Melt 3 tablespoons of butter in a medium sauce pan over medium heat. Add the onion, salt, pepper, herbes de provence, crushed red pepper and sugar. Stir to combine. If needed, add about 1 tablespoon of olive oil. Cook the onions until softened and translucent, about 5-8 minutes. Add the garlic and cook for 30 seconds. Add the beer, carefully! Stir to combine. Bring the beer to a simmer, and allow it to reduce for about 8-10 minutes. Once it's reduced by half, give it a taste and adjust if need be. Turn off the heat and puree the mixture until smooth, by way of immersion blender, food processor, or blender. Don't strain it. Add the capers, fresh herb, lemon zest, and lemon juice. Finally, stir in the cold butter until emulsified and melted thru. Set aside.
Heat a large skillet over medium-high heat until searing hot. Season the fish with salt and pepper. Test skillet's level of heat with a few drops of water. If water dances around the skillet, it's ready. Add some oil, just enough to cover the bottom very thinly, you can always add more as you're cooking. Oil should start to smoke (not terribly, just wisps), then immediately add the fish, making sure there's enough oil under each piece to prevent sticking. The should not be too much oil in the pan, we're not deep-frying it, just giving it plenty of fat since it lacks its own. Make sure you swirl the pan around so that the oil gets around each side of the fish. If the pan is too dry, the fish will stick terribly. If using a non-stick skillet, a lot of these potential problems won't be an issue. Leave the fish to sear until it releases somewhat easily from the pan. Depending on the size of your filets, the type of skillet, and the amount of oil used, this can take anywhere between 4 and 7 minutes. Once you're able to flip the fish over, sear until the fish is cooked through. You can tell when it starts to flake and is opaque all the way thru. Set fish aside on a plate and keep warm under foil until ready to eat.
With whatever is left in the pan from the fish, add a little more oil if necessary and begin to sauté the spinach over medium heat. Season it up to your liking. When the very bottom layer is wilted, you can turn the heat off. The residual heat will continue to cook and wilt the spinach down. If you have an excess amount of spinach juice, you can drain some of it off, or keep it — it's up to you. Add a little butter and toss through. Microwave your 90-sec pouch of rice & quinoa mix, then add it to the sautéed spinach. Gently mix until evenly combined, then add the zest of the lemon and some lemon juice if you'd like.
Plate everything and serve immediately.
Notes
If you are absolutely terrified of your skinless fish sticking, etc. You can very lightly dust your cod with either a teaspoon of all-purpose flour, rice flour, or corn starch. This will create a protective outer crust that will help it release better from your skillet. If using a non-stick skillet, do not use a metal spatula on it because you can ruin it.
Prep Time:

20 mins

Cook Time:

30 mins
Recipe Card powered by
Disclosure: This site uses various affiliate links. If a purchase is made using one of our affiliate links, we receive a small commission which helps support our efforts. Please read our
Privacy Policy
for more information.