Old fashioned sour cream donuts are one of my favorite things in the entire world. I grew up on these, and I liiiived for them. That cakey texture smothered in a thin coat of glaze really sends me. Maybe it's a familiarity thing, but they're truly a favorite. What I love about this particular recipe is how easy it is to throw together, and because the dough keeps in the fridge for up to a week, you can fry a couple fresh donuts every day during that time. Uhh, yes please.
The sour cream keeps them moist and perfect, and you can glaze these any kind of way. I kept it simple with a vanilla bean situation. But in the past, I've made chocolate glazed and maple glazed — all bomb. I got this recipe from ChefSteps, and you need to know this now, I trust them completely with my culinary life. Cooking smarter is all I'm trying to do, so I always run to them for stuff like this because they know their sh*t.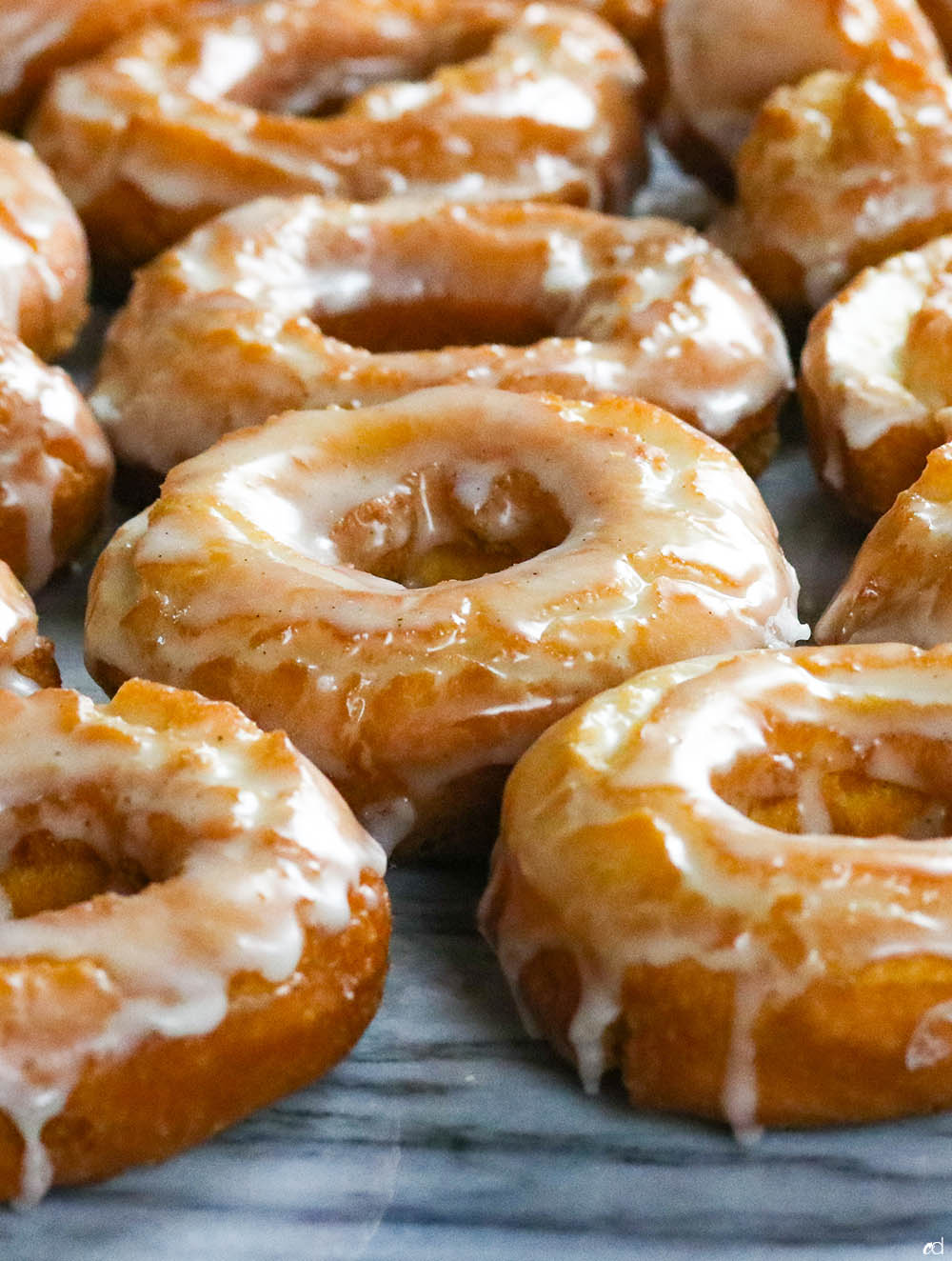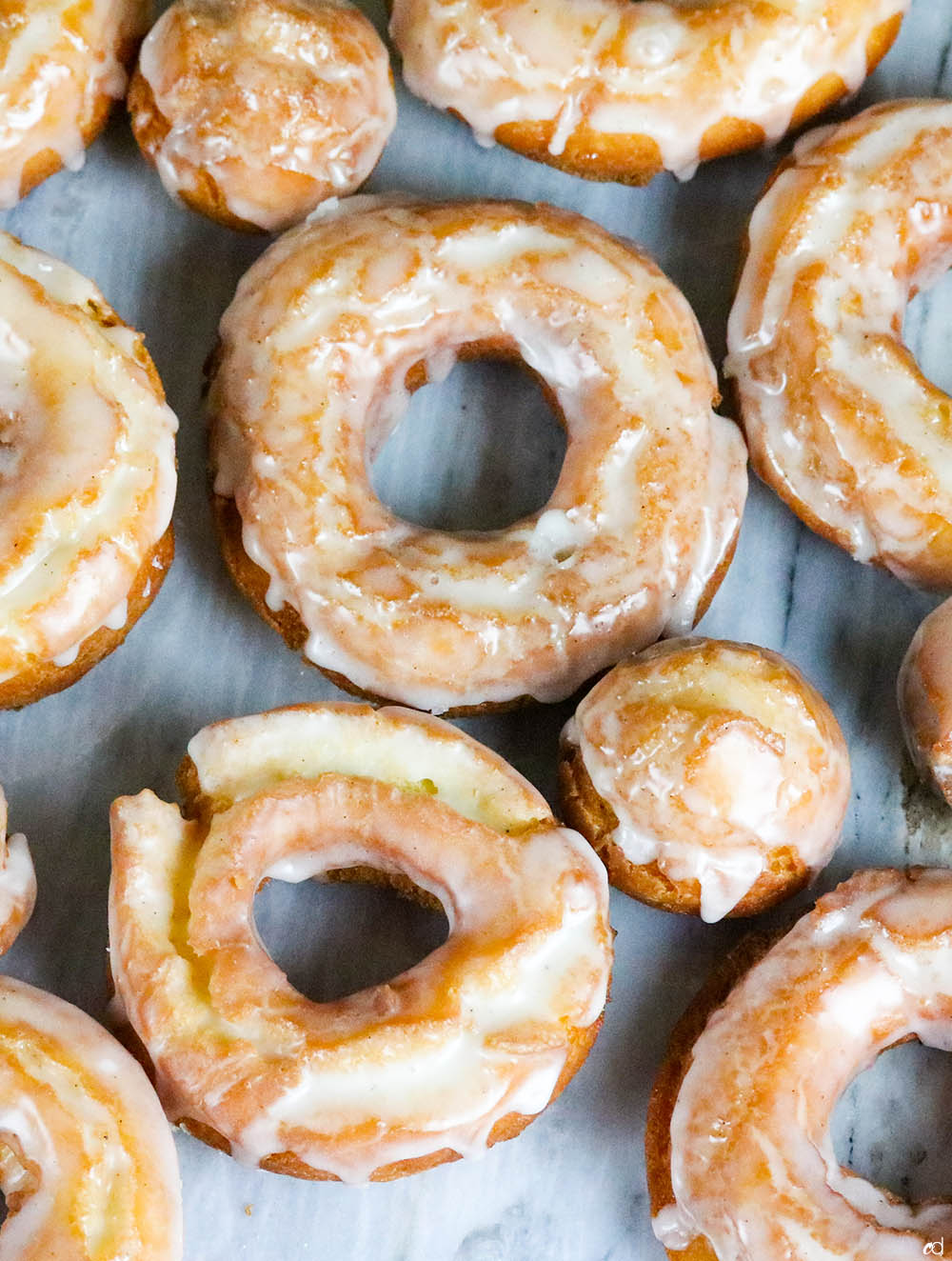 If you don't have a kitchen scale by now, what are you even doing with your life? Seriously. Please purchase one ASAPTUALLY! Recipes like this one require precision, and you don't want to risk ruining it because you "guessed" the ingredients.
How to make Old-Fashioned Sour Cream Donuts
A few tips…make sure you figure out a way to keep your fry oil at 340 degrees. This is why having a candy thermometer is great, and an electric deep fryer is even better because you don't even have to worry about it. The only downside to a deep fryer is that it will probably require way more oil than you need for this recipe. So choose your battle.
Make sure you use a stopwatch (there's a feature on your iPhone for this) so that you accurately time each side the donuts should fry. Reason being, you don't want too much oil to absorb into the dough. So follow the recipe exactly. Pastry flour is best for this recipe, but if you can't find it, use all-purpose flour. If you have all-purpose flour and cake flour, you can google how to make homemade pastry flour.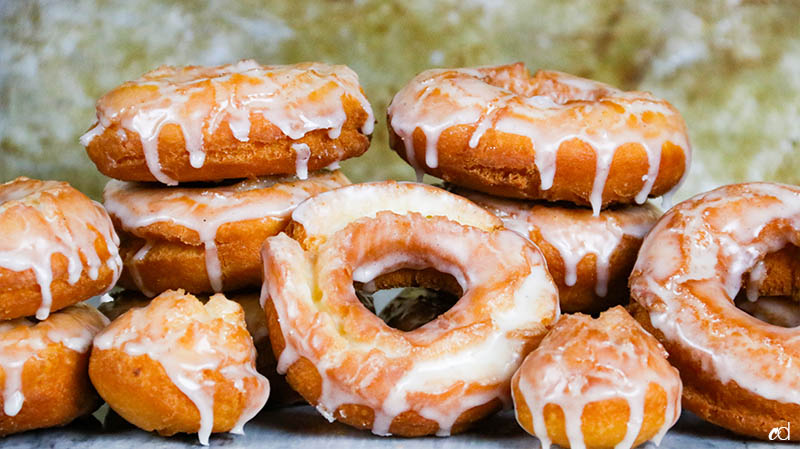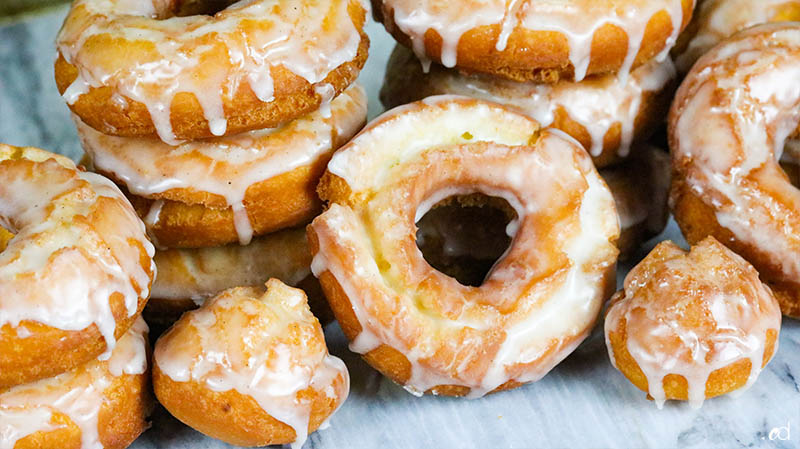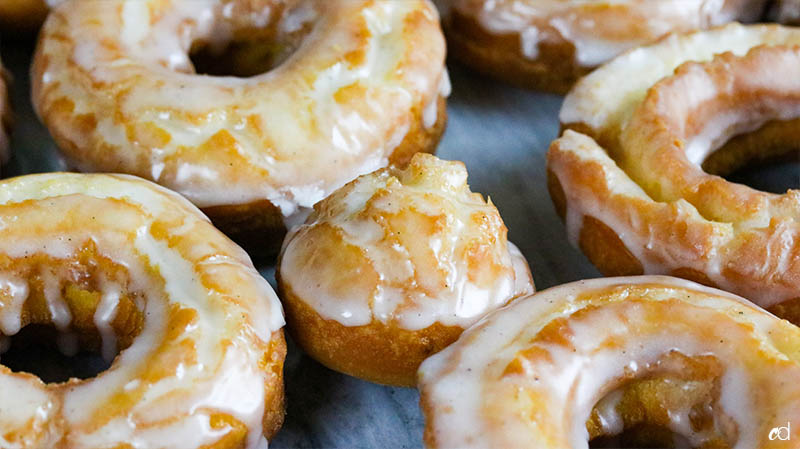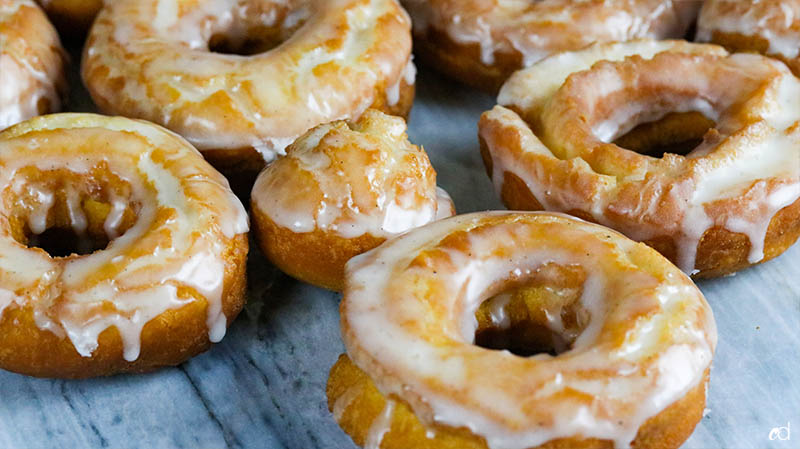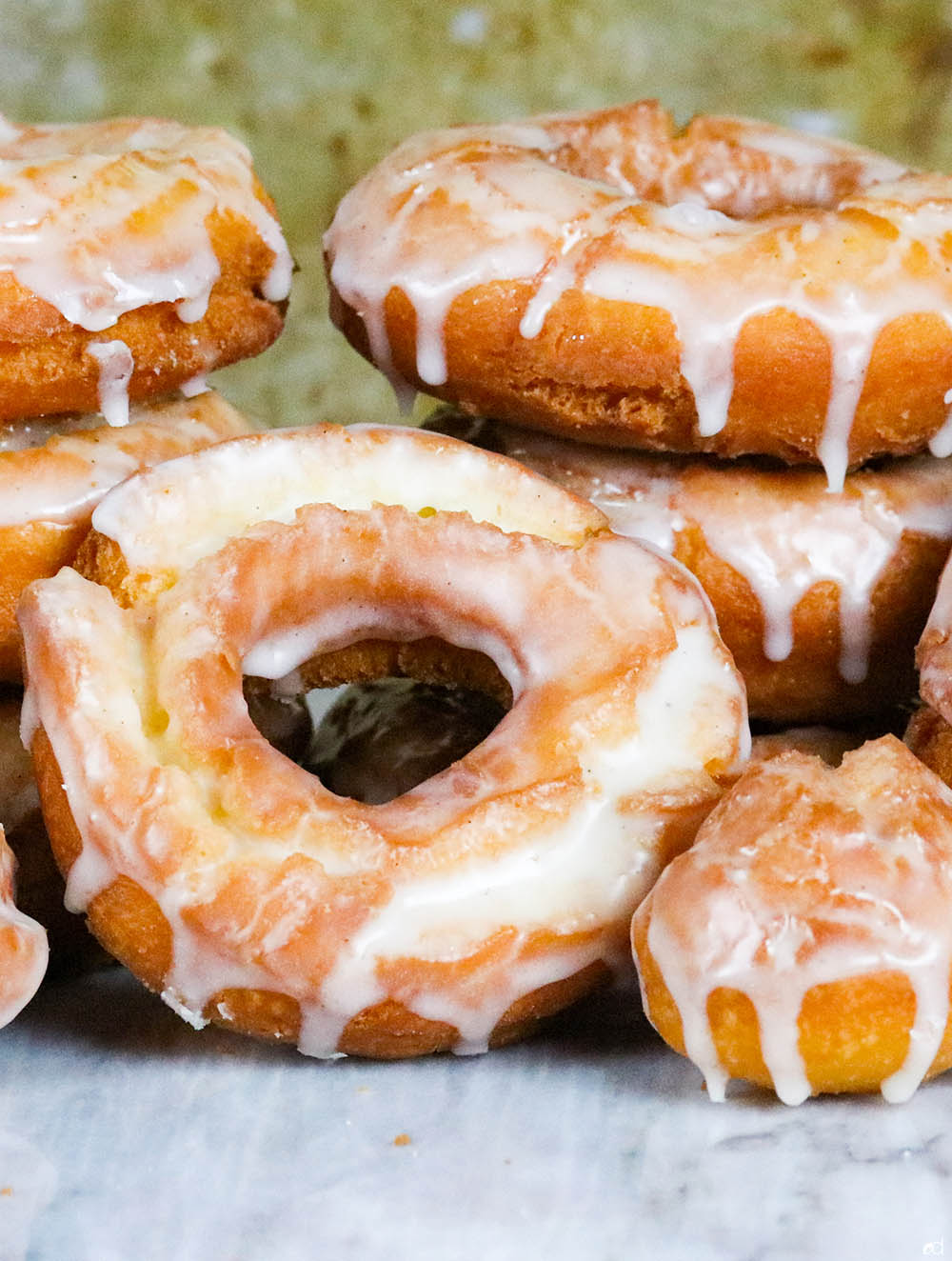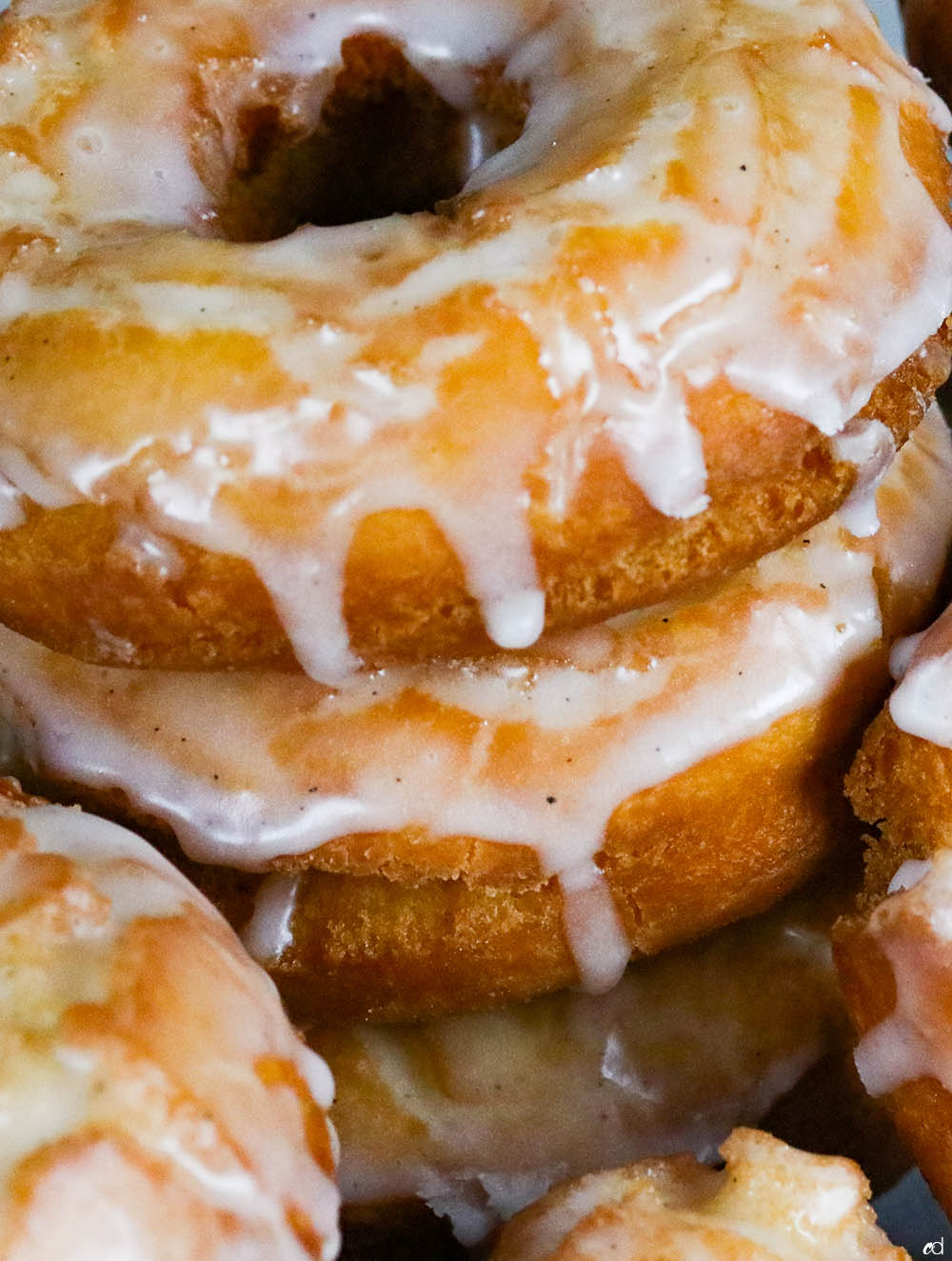 You're gonna love these. Make them with your kids, but keep them away from the hot oil (of course). They'll feel so great helping you make something so delicious. You can make this dough the day before Christmas, and fry Santa some fresh donuts the very next morning. Happy holidays!
More sweets:
Print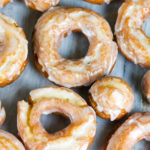 Old Fashioned Sour Cream Donuts
---
Author:

Chef Resha

Total Time:

2 hours 20 minutes

Yield:

14-16 donuts/holes
Description
Old fashioned sour cream donuts, way better than what you remembered as a kid. Adapted from ChefSteps. Check them out for other glaze variations.
---
For the donuts
600

g

pastry flour (or all purpose)

15

grams

baking powder

12

grams

kosher salt

1

grams

freshly ground nutmeg, optional

240

grams

granulated sugar

36

grams

softened unsalted butter

90

grams

egg yolks, beaten (from about 5-6 large eggs)

380

grams

sour cream
Nonstick spray
Canola or vegetable oil for frying
For the glaze
400

grams

confectioners' sugar

100

grams

whole milk
Vanilla beans from 1 pod, optional

2

grams

pure vanilla extract

4

grams

fine sea salt
---
Instructions
Line a medium mixing bowl with plastic wrap sprayed with nonstick spray. Set aside.
In the bowl of a stand mixer, combine the sugar, yolks and butter with the paddle attachment. Set the mixture to high and mix until the color of the mixture lightens and the volume increases, this will take about 2 minutes. Stop the mixer, add the sour cream, then mix on medium until smooth — about 2 more minutes.
Sift the dry ingredients into a separate bowl and stir them together. With the stand mixer set to low, add the dry ingredients into the wet ingredients, one large spoonful at a time. Be careful with this step, you don't want the dry mixture fo fly all over you, so stop the mixer in between spoonfuls if you have to.

Transfer the dough to the bowl lined with plastic wrap. Spray nonstick spray on the top of the dough and cover it, placing the ends of the plastic wrap directly on the dough. Refrigerate it for 60 minutes. At this point, you can keep the dough in the fridge for up to a week!
When ready to fry, prep a baking sheet with parchment, and coat it with nonstick spray. Set aside.
Lightly dust your work surface with flour. Transfer the dough on top of the dusted surface. Work quickly to keep it cool, lightly dust the top of the dough mound with flour and roll it out to about a half-inch thick. You can add a little more flour as needed.
Brush any excess flour from the surface of the dough. Trace circles into the dough by gently marking it with a 3-inch round cutter, this helps maximize your space. Cut out the donuts, dipping the bottoms of the cutter in flour before every cut to prevent sticking. After all of the donuts are cut out, grab a 1 1/4-inch cutter and cut holes out of each donut, again dipping the cutter into flour before every cut.

Place the cut out donuts and hols to the parchment lined baking sheet, making sure to brush off any excess flour. Cover the donuts with plastic wrap, making sure the plastic doesn't come in contact with them. Pop it in the fridge for 30 minutes.
Make the glaze while you wait. Mix the confectioners' sugar, milk, salt, vanilla extract, and vanilla beans (if using) until smooth. Set aside.
In a large pot over medium heat, bring at least 3 inches of fry oil to 340 degrees F (170 degrees C). Use a thermometer to monitor and maintain the temperature. You can also use a deep fryer if you want an accurate and steady temperature.
Grab a stopwatch! When the oil is heated, fry one to 2 donuts at a time. They will sink at first, but as soon as they rise to the surface, cook it for 40 seconds. Flip the donuts over using a spider strainer or slotted spoon, and cook for 80 seconds. Flip one last time and cook for another 80 seconds. Transfer the donuts to a baking sheet lined with a baking rack or a paper towel lined plate. Continue to fry the donuts, and when you get to the holes, just fry them until golden brown all over. No need to time that part, you'll know when they're done visually. Cool the donuts and holes for 15 minutes before glazing. Serve and enjoy!
Prep Time:

2 hours

Cook Time:

20 minutes

Category:

desserts

Cuisine:

American
Keywords: sour cream donuts, donuts, old fashioned donuts, sweets, desserts
Recipe Card powered by
Disclosure: This site uses various affiliate links. If a purchase is made using one of our affiliate links, we receive a small commission which helps support our efforts. Please read our
Privacy Policy
for more information.