If you want turkey for Christmas, but don't wanna be bothered with a large bird, then you've gotta make these fall-off-the-bone roasted turkey wings with creamy marsala gravy. The word succulence comes to mind. I personally prefer my turkey wings to have spots of exposure in the oven while roasting, because those exposed spots caramelize and brown up beautifully. This recipe is a cross between my favorite roasted turkey wings, and smothered turkey wings. One day I'll give you an actual southern style smothered turkey wing recipe, but this one is a bit different yet unbelievably delicious.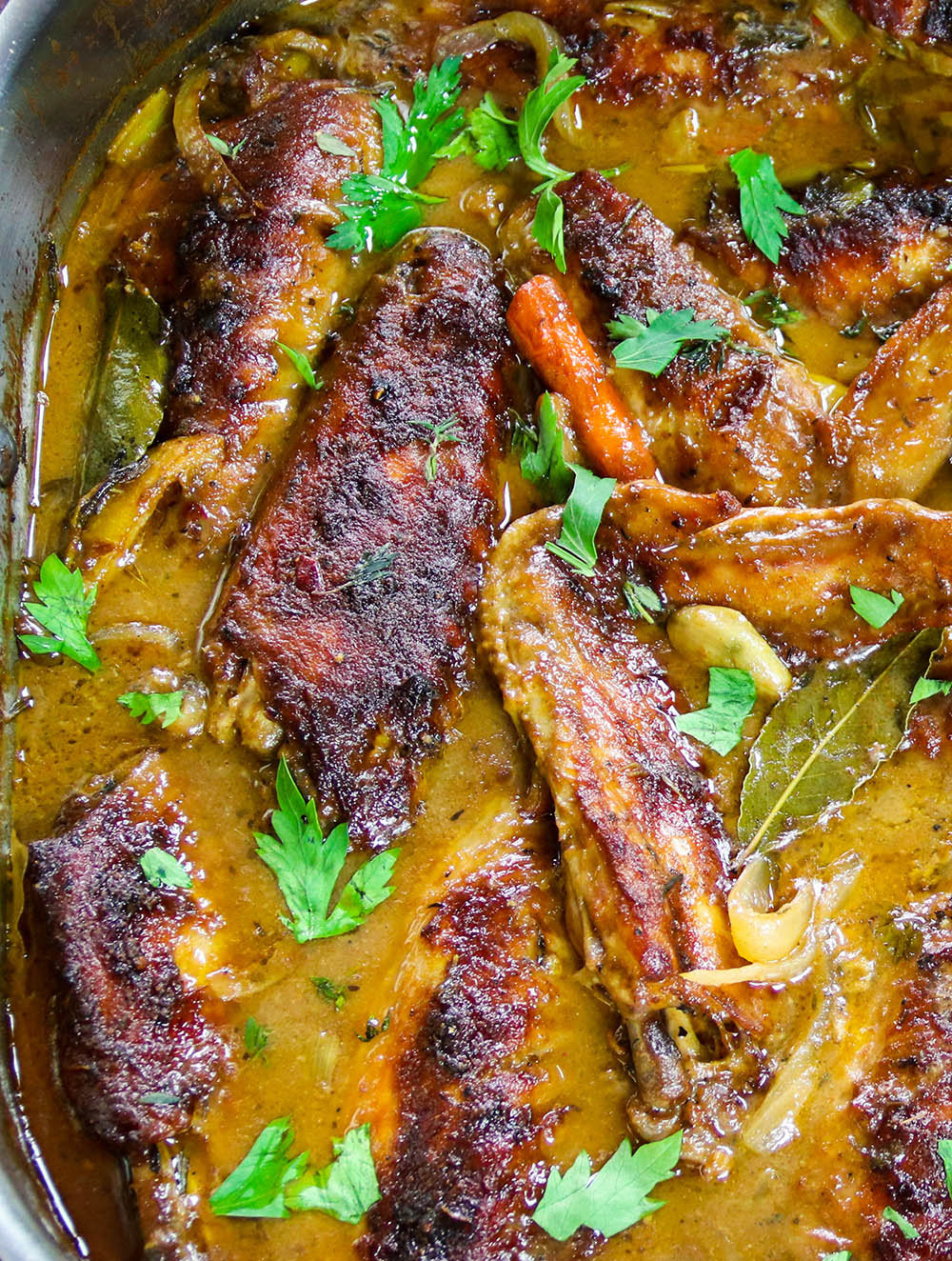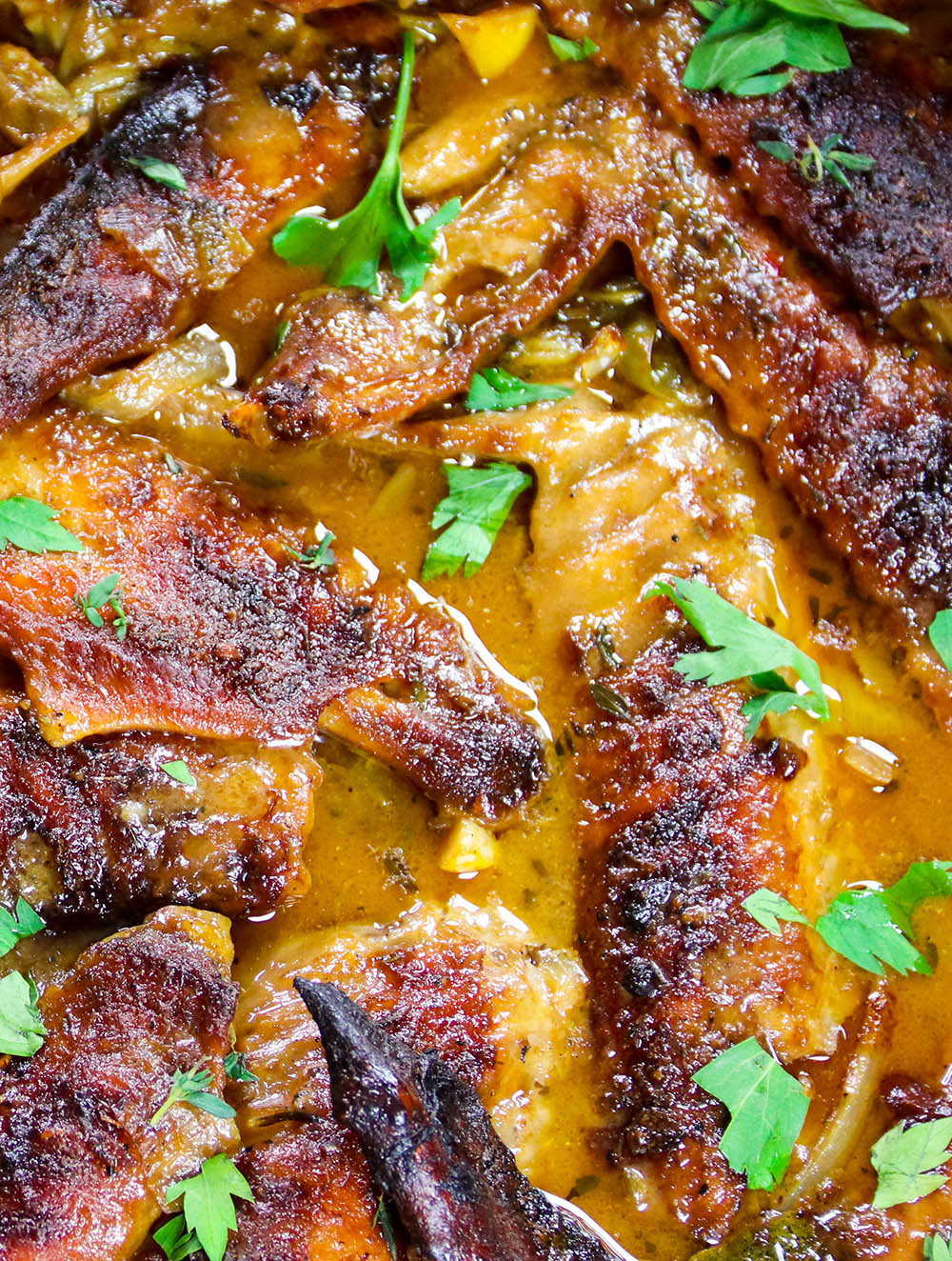 Growing up, my mom kept roasted turkey wings in her cooking rotation. I never got tired of eating them. She would roast them to pure perfection — lots of gorgeous color, seasoned beautifully, and tender as hell. Then she'd randomly throw in the smothered turkey wing recipe, and those were also damn good. How does a girl pick? Oh, I know. Just roast some flavorful turkey wings, then pour over a delicious creamy marsala gravy. Finally, roast everything until it's falling off the bone and — here's that word again: succulent. I really love the marsala wine here because it offers a small bit of earthy sweetness against all of the richness, and the acidic back-note from the lemon. Everything balances out so well.
Resha, that's a lot of wings
I'm using about 16 wings. Reason being, we tear these up. We tear them up with no shame. Literally slurping down 3 or 4 wings at a time, then we eat them the next morning for breakfast. There aren't a lot of proteins I enjoy eating even two days after it's made, but turkey is an exception. These wings are the standard. I once made the mistake of making just 8 wings once, and got the dirtiest "How could you?!" look from the fiancé. He looooves these, and always insists I make extras.
This recipe will feed your family, and it's designed to. If you need to reduce this recipe down to feed just 2-4 people, you can totally halve it down the line. But for a crowd, you're going to need just one imperative piece of equipment: a large roasting pan. Your roasting pan can be any kind of roasting pan, just make sure it's large enough to hold all of these wings in a single layer. But hey, if you have to pile a few on top of each other, that's fine. Rustic food is the best food.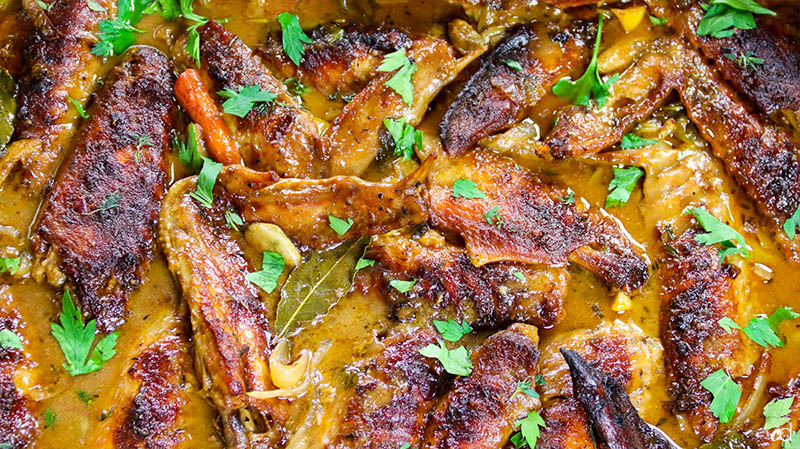 Manners will be thrown out of the window. Slurping, finger sucking, moaning, and foot tapping shall commence. These wings are incredibly delicious, and very easy to prepare. The only annoying part? Time. They take several hours, but the wait is worth it. This is definitely something you could prepare the day before you plan to eat (which is what I did), and simply reheat them in a low oven the next day.
Want more poultry recipes? Here you go: Citrus and Herb Dry-Brined Roasted Turkey, Million Dollar Chicken, Herbs de Provence Roasted Chicken
Print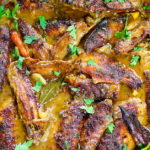 Roasted Turkey Wings with Creamy Marsala Gravy
---
Author:

Chef Resha

Total Time:

3 hours 50 minutes

Yield:

15-18 turkey wings
Description
Fall-off-the-bone slow roasted turkey wings, bathed in a creamy gravy spiked with marsala wine.
---
For the turkey wings
7

–

8

pounds

turkey wings (about 18 wings)

3 tablespoons

olive oil, plus more if needed

2 tablespoons

flaky kosher salt

2 teaspoons

black pepper

1 teaspoon

white pepper (optional)

2 teaspoons

smoked paprika

2 teaspoons

dried thyme

1 tablespoon

herbs de provence

1/2 tablespoon

onion powder

2 1/2 teaspoons

granulated garlic

1

–

2

teaspoons crushed red pepper flakes

1/2 teaspoon

cayenne pepper

3 tablespoons

balsamic vinegar

2 tablespoons

worcestershire sauce
Bed of aromatics
3

ribs celery, chopped into

1

-inch pieces

2

large carrots (about 10-inches long), chopped into 1-inch pieces

1

large leek, sliced into thick half-moons

1/2

large yellow onion, sliced

10

cloves garlic, whole

1/2

cup

green bell pepper, sliced (optional)

1

lemon, sliced into

6

wedges

10

fresh sage leaves

5

sprigs fresh thyme

3

sprigs fresh rosemary
Kosher salt and black pepper, to taste

2 tablespoons

olive oil
Creamy marsala gravy
8 tablespoons

salted butter

1/4

cup

olive oil

1

heaping cup all-purpose flour (about 1 1/4

cups

)

6

cups

chicken stock (not broth), plus more to adjust consistency if needed

2/3

cup

half and half

1/3

cup

marsala wine

1 tablespoon

worcestershire sauce
Kosher salt and black pepper, to taste
Pinch cayenne pepper
Onion powder and granulated garlic, to taste

3

bay leaves
---
Instructions
Equipment needed: A large bowl, and a large roasting pan. Use one of those disposable aluminum foil pans if you don't have an actual roasting pan. If you use an aluminum roasting pan, make sure you place the wings on the middle rack instead of the lower-middle rack.
Preheat oven to 325 degrees F.
Place wings in a very large bowl, and pour in about 2 to 3 tablespoons of olive oil. Just enough to coat each wing thinly. Add the kosher salt, black pepper, white pepper (if using), smoked paprika, dried thyme, herbs de provence, onion powder, granulated garlic, crushed red pepper flakes, cayenne pepper, balsamic vinegar, and worcestershire sauce. Toss to coat, making sure each wing is seasoned evenly.
Meanwhile, lay all the aromatics in the bottom of a large roasting pan. Drizzle with about 2 tablespoons of olive oil, and season with a little kosher salt and black pepper. Toss everything together, and arrange in an even layer.

Place the seasoned wings on top of the bed of aromatics, making sure the wings are in an even layer. It's ok if a few overlap one another. Cover the roasting pan tightly with foil and place in the preheated oven on the lower-middle oven rack. Roast for 90 minutes at 325 degrees F.
After 90 minutes, remove the wings from the oven and remove the foil. Increase the oven temperature to 375 degrees. Place the wings, uncovered, back into the oven. Roast for 60 minutes.

Meanwhile, make the gravy. In a large pot, heat the butter and olive oil over medium heat until the butter is sizzling. Add the flour and whisk vigorously until you've formed a smooth silky paste. If your roux is too thick, add up to 4 more tablespoons of olive oil. Lower the heat to low (depending on how hot your stove is), and continue whisking until the roux has turned peanut butter brown. This will take anywhere from 5 to 10 minutes. No matter what, don't stop whisking. You don't have to be so vigorous at this point that you're out of breath, but keep the roux moving so it doesn't scorch — otherwise you'll have to start all over again. Adjust your heat if you need to, as the roux should not be burning or smoking. Keep whisking until you've reached that proper color, then vigorously whisk in the chicken stock until completely smooth. When it's all smooth, you can reduce the whisking speed. Increase the heat to medium, and continue whisking slowly. Whisk in the marsala wine, and worcestershire sauce. Add the cayenne pepper, and season to taste with salt, pepper, onion powder, and granulated garlic. Whisk in the half and half, and add in the bay leaves. Keep whisking, making sure to get in all the little crevices at the bottom of the pot because tiny flour pockets love to accumulate there and we don't want them to burn. Whisk often until the gravy has thickened, this can take up to 10 minutes, and I promise this is the most laborious part of the recipe. Make sure you taste the gravy as you go, adjusting seasoning as needed. Once the gravy has thickened and is flavored nicely, remove the pot from the heat, cover with a lid, and set aside until the wings are done with their second roast.
Remove the wings after their second roast. Tilt the roasting pan to see if any pools of fat have accumulated. If so, use a turkey baster or large spoon to remove most of the fat. You won't get all of it, and that's fine. Just try to get most of it if you can.
Pour the gravy over the wings. You may not need all of it, but it's better to have too much than too little. Freeze any leftover. Toss the wings and aromatics in the gravy, making sure they've all been doused. Arrange the wings back into a layer that allows some surfaces of the wings to be exposed. Those exposed spots will caramelize and brown up nicely. Place the wings back in the 375 degree oven, uncovered, for one hour.
Remove from oven, and serve, making sure you spoon that delicious gravy (along with some of the aromatics) all over your wings. Enjoy!
Notes
You are more than welcome to leave the marsala wine out, or swap it with something else (sherry wine, white wine, etc.)
Prep Time:

20

Cook Time:

3 hours 30 minutes

Category:

poultry, christmas, thanksgiving

Cuisine:

American
Keywords: roasted turkey wings, smothered turkey wings
Recipe Card powered by
Disclosure: This site uses various affiliate links. If a purchase is made using one of our affiliate links, we receive a small commission which helps support our efforts. Please read our
Privacy Policy
for more information.