I've gotta just let you know now, there's an obscene amount of butter going on here. These brown butter cinnamon rolls are not for the faint of heart. I came up with this recipe in hopes you'd make it part of a special event. Don't eat these every day. Christmas brunch would be fabulous. Birthday's, parties, etc. Do that, but don't do every day. Sinful doesn't even begin to conceptualize this level of decadence. I'm conflicted, because I want you to make these…but I know you'll become addicted. And therefore end up eating them more than you should. What a tangled weave…
Ok, so boom. Gather your crew of ingredients prior to making these. Make sure there's plenty of butter in your fridge, or go buy some. I'm talking real butter, not that tub of "unbelievable", or "crock of butter-like product" stuff. Any old packets of dried up yeast older than Methuselah have got to go. Get some fresh yeast. I only buy whole milk for baking purposes, personally — so if you don't drink it, get a small container for this recipe.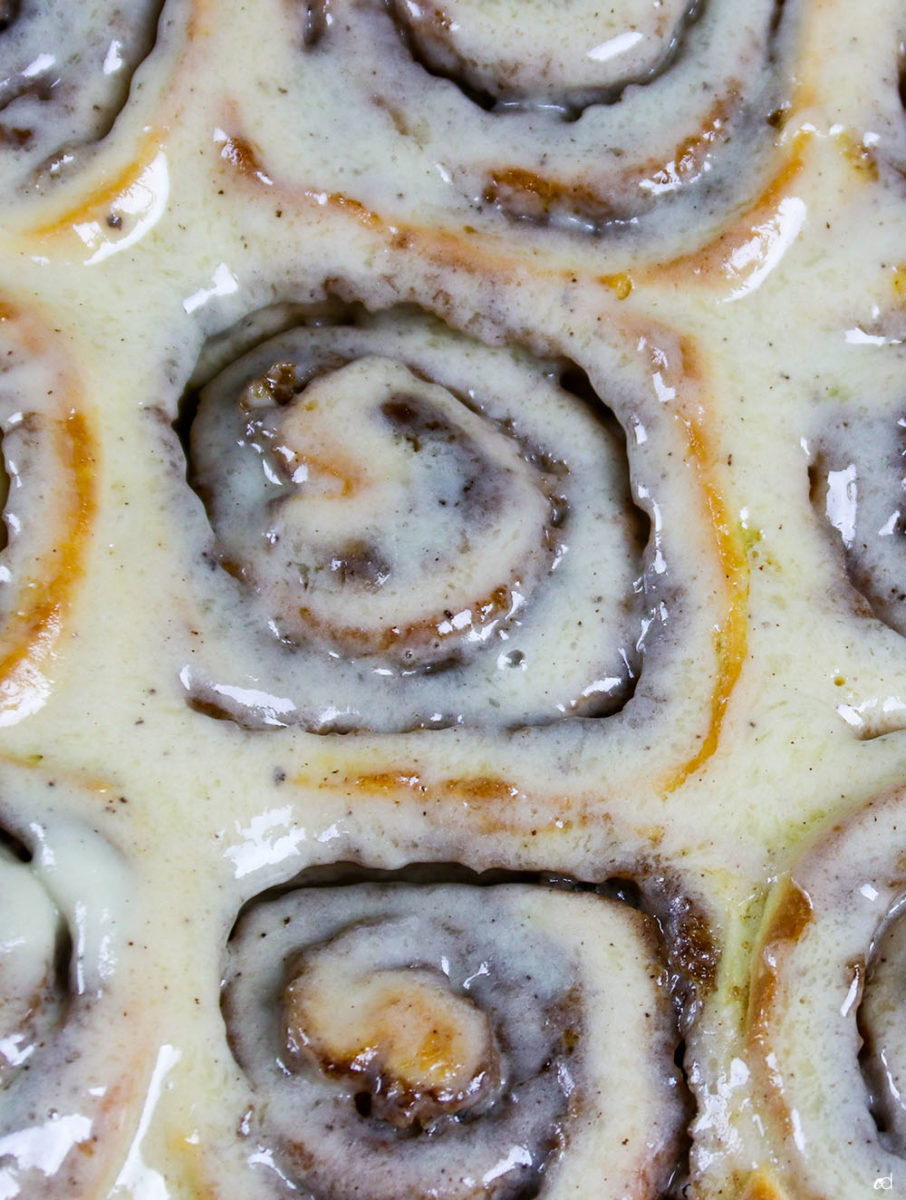 How to make cinnamon roll dough
Ok, I've posted quite a few cinnamon roll recipes. The process is still the same, so I'm not going to go into great detail. You can check out previous posts, or this video from three years ago to see exactly how the process goes.
With that said, let's get into it. I highly recommend a stand mixer for this recipe. You could do this by hand, but it would be a messy mess and one hell of an upper body workout.
Again. Gratuitous amounts of butter. Hella butter. All the butter. But still, these slap. Make them and enjoy them. After all, it's spandex season.
Print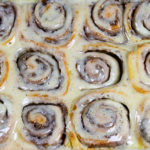 Brown Butter Cinnamon Rolls
---
Author:

Chef Resha

Total Time:

3 hours 30 minutes

Yield:

12 rolls
Description
Nutty brown butter lends a gorgeous caramel-toffee flavor to the filling and glaze for these super luscious, gooey, brioche cinnamon rolls.
---
For the dough
3/4

cup

whole milk, heated to 110 degrees

1

envelope (2 1/4 teaspoons) instant or rapid-rise yeast

3

large eggs, room temperature

1 teaspoon

vanilla extract

4 1/4

cups

all-purpose flour, plus 1/4 cup more if needed

1/2

cup

cornstarch

1/2

cup

granulated sugar

1 1/2 teaspoons

salt

12 tablespoons

(

1 1/2

sticks) unsalted butter, cut into 12 pieces — room temperature
For the filling
8 tablespoons

unsalted butter, divided

1

cup

packed light brown sugar

1 tablespoon

ground cinnamon

1/4 teaspoon

fine sea salt
For the brown butter glaze
2 1/2

cups

confectioners sugar

4 tablespoons

unsalted butter

1/2

cup

heavy cream, plus more if needed

1/2 teaspoon

vanilla extract

1 tablespoon

corn syrup (optional)
Pinch of sea salt
---
Instructions
To prep
Line the bottom of a 13- by 9-inch baking pan with foil or parchment paper. Grease foil or parchment paper and sides of the pan with baking spray. Also, grease a medium bowl to hold the dough when it's completed.
For the dough
Whisk warm 110 degree milk and yeast in liquid measuring cup until yeast dissolves. Then whisk in eggs, and vanilla extract. In bowl of stand mixer fitted with dough hook, mix flour, cornstarch, sugar, and salt until combined. With mixer on low, add warm milk mixture in steady stream and mix until dough comes together, about 1 minute. Increase speed to medium and add butter, one piece at a time in 10-second intervals until incorporated.

Continue to mix until dough is smooth and comes away from sides of bowl, about 10 minutes. If after mixing for 10 minutes the dough is still wet and sticky, add up to 1/4 cup flour (one tablespoon at a time) until the dough releases from the bowl. Turn dough out onto clean surface and knead to form a smooth, round ball.
Transfer dough to prepared bowl, cover with plastic wrap, and place in turned off oven with oven light on (it allows enough gentle warmth). Let rise until doubled in size, about 2 hours.
For the filling
In a medium stainless steel saucepan, melt 6 tablespoons of unsalted butter over medium-low heat until it starts to brown, about 4-6 minutes. Don't walk away from this. As soon as it browns nicely, turn off the heat and add in 2 tablespoons of cold unsalted butter. Mix it around until the mixture cools down. Set aside and cool while the dough rises.
Combine brown sugar, cinnamon, and salt in small bowl using a fork or your fingers to break up any large lumps. Turn dough out onto lightly floured surface. Roll dough into 18-inch square. Leaving a 1-inch border, drizzle the brown butter all over the surface (you may not need all of it), and sprinkle evenly with filling. Lightly press the filling into the brown butter.

Starting with the widest edge nearest you, roll dough into tight cylinder, pinch lightly to seal seam, and cut into 12 pieces using either a serrated knife or bench scraper. It's easier to cut the dough in half, then cut each side in half until you have 12 rolls. You could also make 8 super large rolls, if you prefer.

Transfer pieces, cut-side up, to prepared pan. Cover with plastic wrap and let rise in a turned off oven or warm spot until doubled in size, about 1 hour.
For the glaze and to bake
Heat oven to 350 degrees.

In a medium stainless steel saucepan, melt 4 tablespoons of unsalted butter over medium-low heat until it starts to brown, about 4-6 minutes.

Pour the hot brown butter over the powdered sugar, including as many brown bits as possible. Whisk brown butter and sugar together, then pour in the heavy cream in 1/4 cup increments until you reach a desired consistency. Add the vanilla, pinch of salt, and corn syrup (if using). Give it a final whisk and set aside.

Discard plastic wrap and bake buns until deep golden brown and filling is melted, 30-35 minutes. Cool for about 10 minutes then pour over some of the glaze. You may not have to use all of the glaze, I didn't. I stored the rest of the glaze in the freezer for later use.

Serve.
Notes
You may notice some slight butter separation once the glaze sets, and that's normal and fine. Just eat it.
Prep Time:

3 hours

Cook Time:

30 minutes

Category:

brunch, sweets, desserts

Cuisine:

American
Keywords: cinnamon rolls, brown butter cinnamon rolls, brown butter, sweets, brunch, desserts
Recipe Card powered by
Disclosure: This site uses various affiliate links. If a purchase is made using one of our affiliate links, we receive a small commission which helps support our efforts. Please read our
Privacy Policy
for more information.