My goodness. Just look at this. Makes absolutely no sense. I'm sure you're ready to kick your standard shrimp and grits recipe up a few notches, right? This isn't a bad way to start. This was really good, and if I recall, we immediately snuggled up afterward and took an epic nap. It was raining outside, so this was the perfect bowl of warmth and love, but with flair.
Shrimp and grits are one of my favorite pairings, ever. I will put just about anything over some creamy grits — they're that versatile and I'm that committed. One morning I decided to try different flavors for my shrimp and grits, and I'm happy to report that I pulled it off. I used what I had in the house, but you know what would really make this dish extra bomb? If you used spicy pork sausage instead of bacon. Holy balls, I will absolutely do this next time.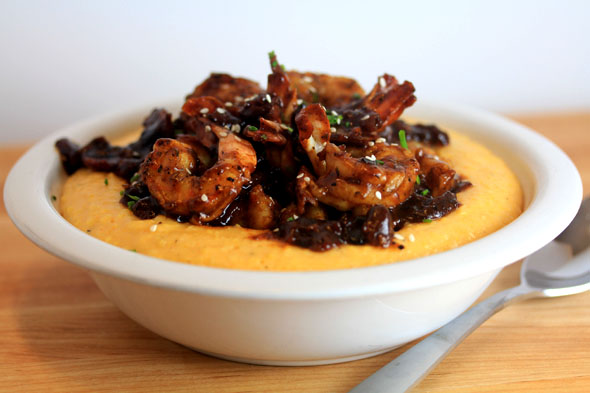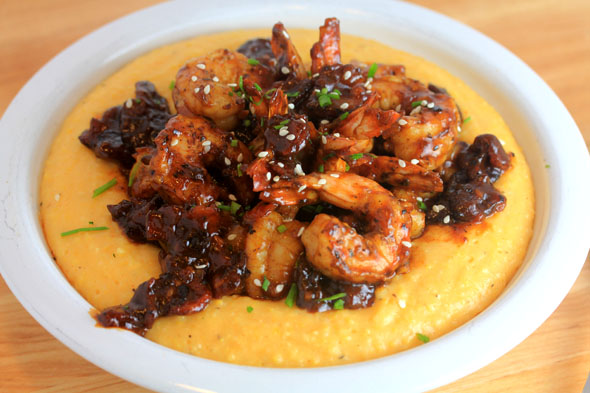 I used jarred Chinese BBQ sauce (yes, I use shortcuts from time to time). What brand did I use? I honestly couldn't tell you. It literally just said "Chinese BBQ Sauce" on it, and it was on a yellow sticker with some pretty cool Asian art. I really don't think it matters what brand you use. Just pick something up that sounds like it would taste good over your bowl of creamy grits and juicy, sweet shrimp. You could always make your own sauce, which I'm sure would be even more amazing. The sauce I used had flavors of 5-spice, hoisin, and some other yummy going's-on's. The creamy grits held the juicy shrimp up just right. I used a tiny bit of cream cheese just for added creaminess and a very mild tang. You can totally leave it out.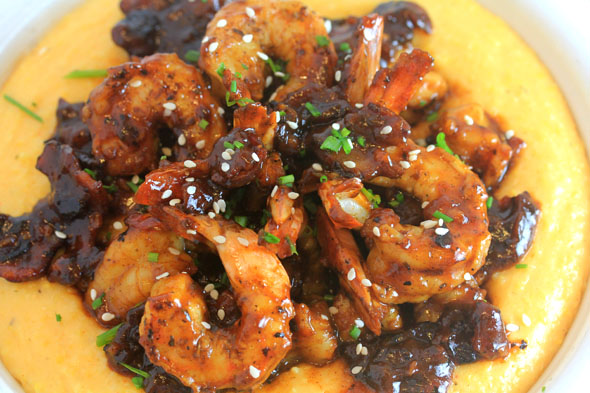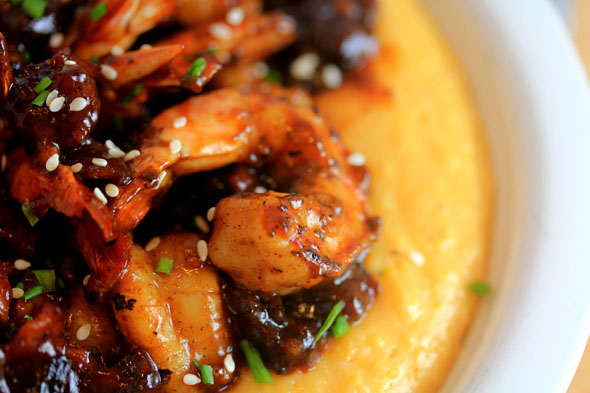 Yeah, I did that. I left the tails on just for photo purposes, so you'd know they're shrimp lol. I would normally just take them off because I love to stuff a spoonful of grits and shrimp in my mouth at once without having to hold the end of the shrimp to prevent myself from eating the tail. That was a really, really long sentence. Anyway, you've gotta try this. If you're into ethnic flavors with a touch of southern soul, treat yourself to this recipe — on me 😉
Print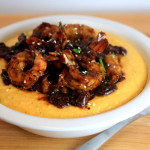 Chinese BBQ Shrimp and Grits
---
Chinese BBQ shrimp:
14

–

18

extra large shrimp, peeled and de-veined

4

–

6

slices of thick-cut bacon, chopped (you could use spicy pork sausage instead)
pinch of red pepper flakes

2

small cloves garlic, minced

1

shallot, minced
sea salt and white pepper, to taste

1 tbsp

rice flour, for very light dredging
splash of rice vinegar, for deglazing
*low-sodium chicken broth or water, plus more if needed (see note)
*brown sugar, to taste (see note)
jar of Chinese BBQ sauce (any brand)
toasted white sesame seeds, for garnish

2

chopped scallions, for garnish
canola oil
Creamy Grits:
1

cup

water

1

cup

low-sodium chicken stock

2 tbsp

heavy cream
super tiny pinch of baking powder (less than 1/8 tsp)
Pinch of cayenne pepper
Pinch of onion powder
Pinch of paprika
pinch of granulated garlic

1/2

cup

stone-ground grits

1

–

2

tbsp softened cream cheese (optional)

2

to

3

tbsp butter
sea salt and freshly ground black pepper, to taste
squirt of freshly-squeezed lemon juice (optional)
---
Instructions
For the Chinese BBQ shrimp:
In a medium-sized bowl, season the peeled and and de-veined shrimp with sea salt and white pepper. Sprinkle the rice flour over the shrimp and toss with a spoon until each shrimp is evenly yet lightly coated. Set aside.
In a large skillet over medium-high heat, cook the chopped bacon until crisp on one side (about 5-7 minutes). Add about 1-2 tablespoons of canola oil to the pan. Add the shallot and red pepper flake, and cook in the canola oil and bacon fat drippings until the shallots are softened and bacon is fully crisp. At the very last minute, add the minced garlic and cook for just 30-seconds. Remove the bacon, shallot and garlic from the pan so that there's just left-over bacon fat and canola oil left in the pan. Pour the hot bacon fat into a safe glass container, reserving 2 tablespoons. Bring the 2 tablespoons of bacon fat back to the hot pan. Place the lightly dredged shrimp into the pan and lightly-fry in the bacon fat for exactly 1-minute on each side. Remove the shrimp from the pan, place on a plate or in a bowl and set aside.
Bring the skillet back to the stove and de-glaze with the rice vinegar, scraping up any bits with a wooden spoon. Reduce the heat to medium-low. Add a desired amount of Chinese BBQ sauce to the skilllet (I used about 2/3 cup, just eyeball how much you want). If your sauce is really thick, thin it out a little with low-sodium chicken stock or water (add a little at a time until you've reached desired consistency). Add the bacon, shallot and garlic to the sauce and let it simmer for about 5 minutes. Taste and season if needed. Add 1-teaspoon of brown sugar for a little sweetness if you find the sauce to taste harsh. When it tastes just right to you, add the shrimp and continue to cook for just 2-3 minutes longer. Don't cook it longer than this or you'll have rubbery shrimp and that's not a good look.
Remove from heat and serve immediately over the creamy grits.
For the creamy grits:
In a small saucepan, bring the water, chicken stock, and seasonings (except salt) to a boil. Add the baking powder.
Add the grits and immediately bring the heat down to low, while stirring frequently to avoid the mixture from clumping together. Keep stirring until the simmer settles a bit (about 1 minute), then cover. Allow the polenta to cook over low heat for about 8 to 10 minutes, stirring often. Stir in the heavy cream and allow to cook for another 3 to 5 minutes. Taste the grits to see where they are. If they need a few more minutes to cook, check every 3 minutes until desired tenderness is reached. Season with salt and pepper as necessary. Once they're finally to your liking, turn off the heat and add the cream cheese, if using. Add butter and taste. Adjust seasoning if need be. The consistency should be thick but creamy and smooth — not too runny or wet, and not too clumpy.
Serve the grits in a bowl and top with the shrimp. Garnish with chopped scallion, toasted sesame seeds, and a squirt of freshly squeezed juice for acidity if you'd like. Enjoy!
Notes
**You may find that your jar of Chinese BBQ sauce is on the thick side, depending on the brand. Use the chicken stock or water to thin it out to your desired consistency.
**If you find your Chinese BBQ sauce to need a tiny bit of sweetness, add about a teaspoon of brown sugar to the sauce. Adjust it to suit your needs.
Prep Time:

15 mins

Cook Time:

35 mins
Recipe Card powered by
Disclosure: This site uses various affiliate links. If a purchase is made using one of our affiliate links, we receive a small commission which helps support our efforts. Please read our
Privacy Policy
for more information.