Not too many people breathing free oxygen dislike shrimp and grits. If there's anyone out there who doesn't love this southern classic (for reasons other than allergies, and even then, I'm still skeptical), I want nothing to do with them. Shrimp and grits just go so well together. I'm not a fan of bland grits, or bland anything — so both components need to be good AF. If you've made anything of mine in the past, you know I'm big on flavor. The control is yours, though. I encourage everyone to TASTE AS YOU GO! You should never just follow a recipe and wait to taste it at the very end. No, that's not how you cook. Hook it up to your liking.
I cook a lot. Almost every day…on Instagram. I had no intention of sharing this recipe, just with those who may happen to catch it on Instagram. But after talking to my boyfriend, we decided it's time I start transferring those recipes to my blog. Today I whipped up some shrimp and grits. To be more specific: creamy, garlicky, tomato-based sauce with poached jumbo shrimp and poured that sexy stuff all over some insanely well-seasoned, super creamy fontina grits. Whew!! The only thing you'll need after you eat this, is a nap.
My IG stories are like a little mini-vault of culinary joys and free knowledge. I've decided to start posting some of those videos here. Especially the meals that make it to my IG page. I'll still utilize my IG Highlights for meals that don't make it here. Now, I must warn you, I film my IG stories very candidly — there may or may not be some mild adult language. Anyway, let's get into this recipe. I made this on a whim and did not write anything down, just whipped it up. I cook from the heart, as you will see in future videos. For this recipe, I'm gonna provide you guys with "starting-point-measurements", because I think it's important to learn your own palate by seasoning and tasting as you go. That's one of the main ways I've learned how to cook, so that's your homework. Trust me when I say, you're going to love this super easy, super quick and hella flavorful shrimp and grits recipe.
Get the recipe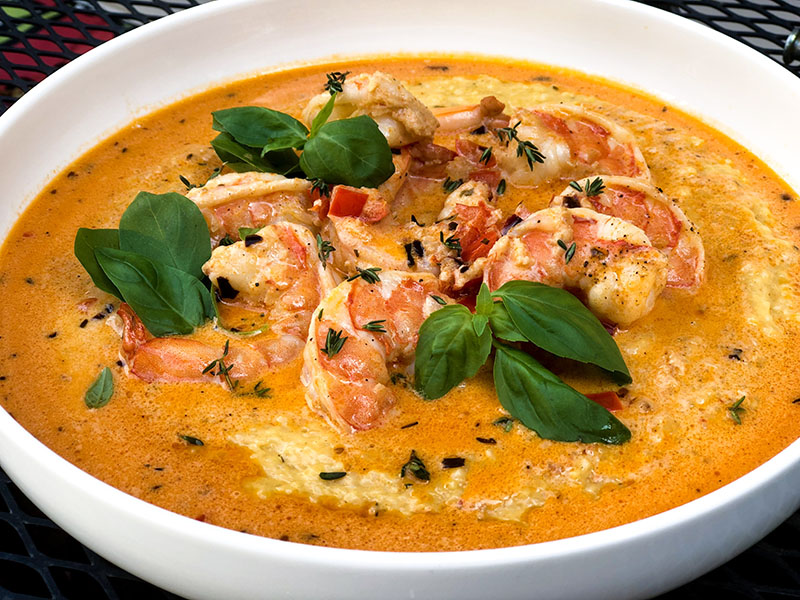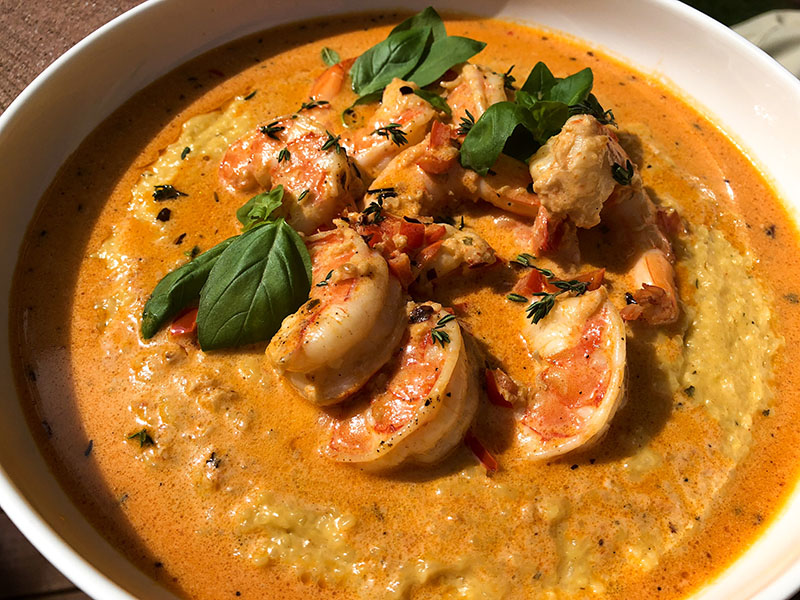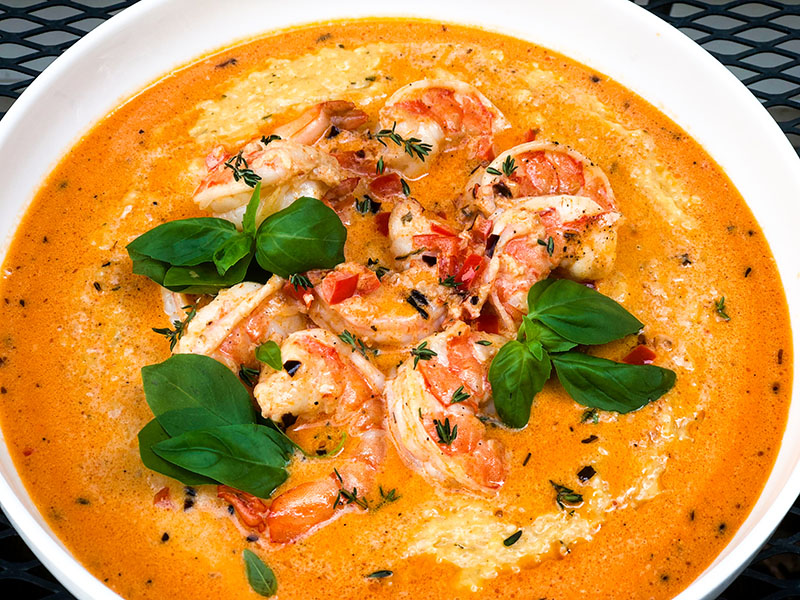 Watch the IG Story Clip
This recipe is super flavorful, and you won't believe how fast it comes together. It tastes as if you'd been simmering it all day long, but I whipped it up in 10 minutes. You'd be a fool not to try this one.
Also, I kinda do this shrimp and grits thing quite well. Be sure to check out my other variations of it! Also, make sure you follow me on IG. I mostly share photos and videos of my food, my baby boy, products I love, and myself.
Print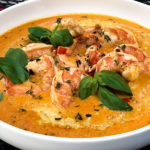 Creamy Garlic and Tomato Shrimp and Fontina Grits
---
For the shrimp
3 tablespoons

unsalted butter

2 tablespoons

olive oil

1 teaspoon

crushed red pepper flakes

1/2 teaspoon

herbes de provence

5

cloves garlic, minced

1/2

cup

sweet red pepper, diced

2

to

3

tablespoons tomato paste

2/3

cup

low-sodium chicken broth

1/2

cup

heavy cream
cayenne pepper, to taste
Salt and pepper, to taste

1

pound

jumbo shrimp, peeled and de-veined SEE NOTE BELOW

3

sprigs fresh thyme
fresh basil, for garnish (optional)
squeeze of fresh lemon juice
For the grits
2

cups

low-sodium chicken broth, or water

1/4

cup

heavy cream

1 tablespoon

olive oil

1/2

cup

coarse grits, or quick-grits (SEE NOTE BELOW)
pinch of baking powder (SEE NOTE BELOW)

2 tablespoons

unsalted butter

1/2 teaspoon

onion powder

1/2 teaspoon

garlic powder

1/4 teaspoon

herbes de provence

1/4 teaspoon

smoked paprika
cayenne pepper, to taste
black pepper, to taste
salt, to taste

1/3

cup

shredded fontina cheese (can use cheddar)
---
Instructions
For the grits
In a medium-sized pot, bring the broth (or water, if using), heavy cream, butter, onion powder, garlic powder, herbes de provence, smoked paprika, cayenne, black pepper, pinch of salt (you'll add more later), and olive oil to a boil over high heat. If using coarse grits, add a super tiny pinch of baking powder. If using quick-grits, don't add the baking powder. Whisk until combined, and immediately add the grits. Reduce heat to low, and whisk for 1 full minute. Cover and allow them to cook, stirring occasionally, until creamy and tender — about 10-15 minutes. If your grits need another tiny splash of cream, add it. Taste them and adjust the salt levels to your liking. Add a little more seasoning if needed. Once they're perfect, turn the heat off and stir in the cheese. Cover and set aside.
For the shrimp:
Meanwhile, in a medium-skillet, melt the butter over medium-heat. Add the crushed red pepper flakes, and herbes de provence. When the butter is hot and foamy, but not browning at all, add the diced sweet red pepper and garlic. Cook for about 2-3 minutes, and add the olive oil. Add the tomato paste, and cook until it deepens in color just slightly, about 3 to 4 minutes. Pour in the chicken broth and scrape any bits that might have accumulated on the bottom of the pan. Allow the broth to reduce for about 30 seconds, then pour in the heavy cream. Reduce the heat to medium-low, and allow the mixture to simmer for about 5 minutes. If the mixture is getting too thick (and it shouldn't be thick at all), add more broth to thin it out. Taste and adjust seasoning as you see fit. Once it's perfect, reduce the heat to low and add the raw shrimp. Allow the shrimp to poach until it's pink and fully cooked, which will depend on the size shrimp you use. Once the shrimp turns pink on all sides, turn off the heat. Freshen it up with lemon juice. Plate your creamy grits and pour the shrimp mixture on top. Garnish with fresh thyme, fresh basil, and maybe another squeeze of lemon juice.
Serve immediately, and enjoy!
Notes
If using smaller shrimp, adjust poaching time accordingly.
Baking powder helps soften the outer husk of the coarse grits/polenta (which are usually yellow), which helps it cook a LOT faster. If using quick-grits (they're usually white), you won't need to add the baking powder.
Prep Time:

15 mins

Cook Time:

20 mins
Recipe Card powered by
Disclosure: This site uses various affiliate links. If a purchase is made using one of our affiliate links, we receive a small commission which helps support our efforts. Please read our
Privacy Policy
for more information.