Since January 1, 2014, I've been focusing on my health and losing weight. I've lived off an 80% clean diet with plenty of exercise, and had to part delicious ways with my beloved heavy cream pastas, super cheesy yeast breads, and sugar-laden bowls of dairy. I mean, we still hook up from time to time — but those days of eating them frequently WHILE sitting on my ass in front of a computer for 40 hours a week are long gone. I had to really focus on this. The hard work is continuing to pay off, as I'm down 40lbs and a crazy number of inches and still going strong. Don't get things twisted, I am still about the comfort foods — I've just learned how to keep it cute.
I have a boatload of healthier recipes in the pipeline — that are absolutely tasty, and I wanted to start off with the most basic one — the one I got the most use from. Skillet sweet potatoes 🙂 I hope you find it beneficial to your clean-eating routine. My plan is to post as many of them as I can so you can start your New Years Resolution the right way.
I love sweet potatoes ANY kinda way you give them to me, but often don't have time to either boil them, roast or bake them. When I come home from the gym, I need them done in 10-min. There are literally a ba'jillion ways you can flavor your sweet lil taters. Use your own combo or do this quick one that's sure to satisfy your mouth. This recipe is quick, easy and clean. In order to get these potatoes done quickly, we're going to have to cheat a bit. Hey, that's just how things have to be sometimes. Par-cooking the potatoes in the microwave allows us to finish them off in a skillet with wonderfully fragrant coconut oil, slightly enhancing their natural sweetness. Don't be tempted to add additional sugars or sweeteners, it's not needed. We don't want to hike up the glycemic-index anymore than we have to.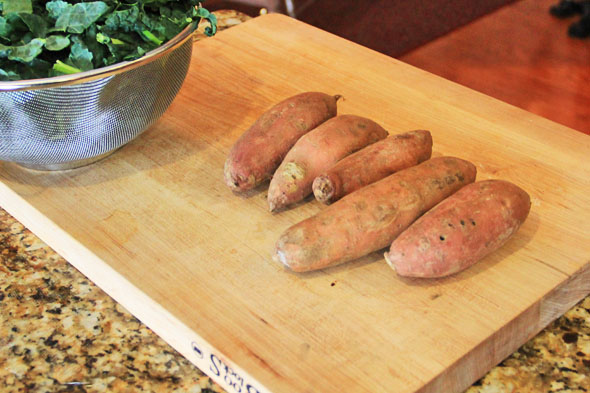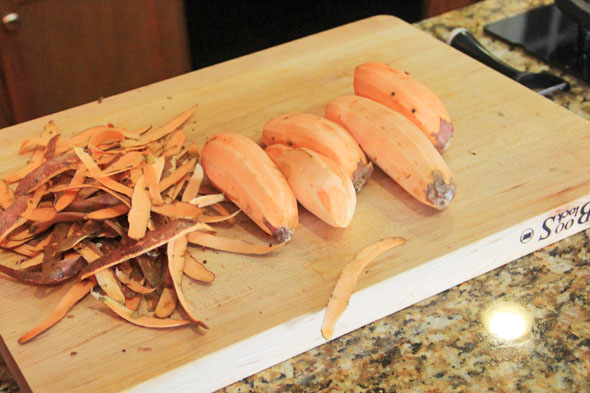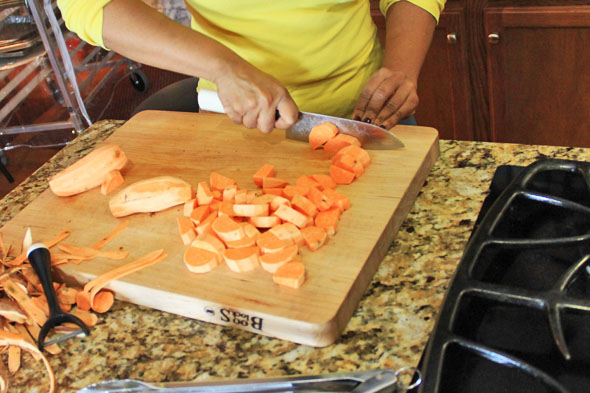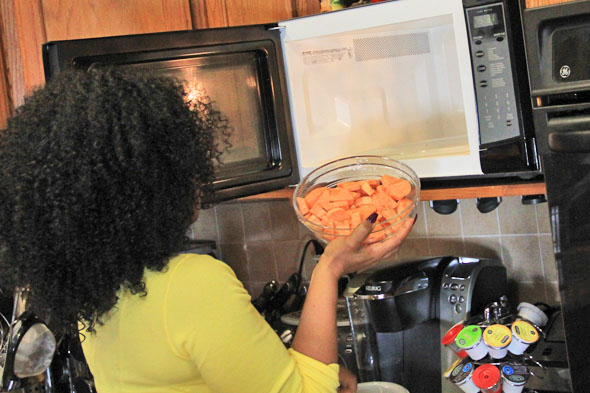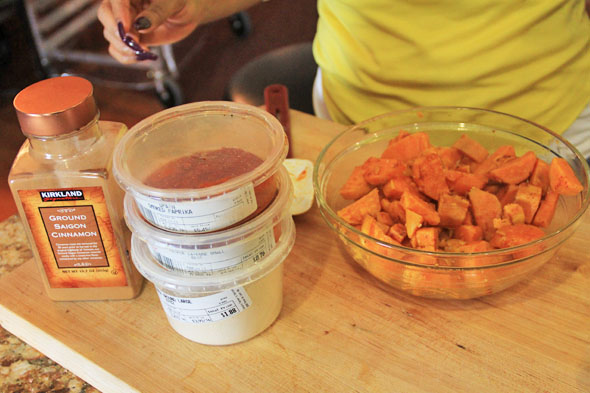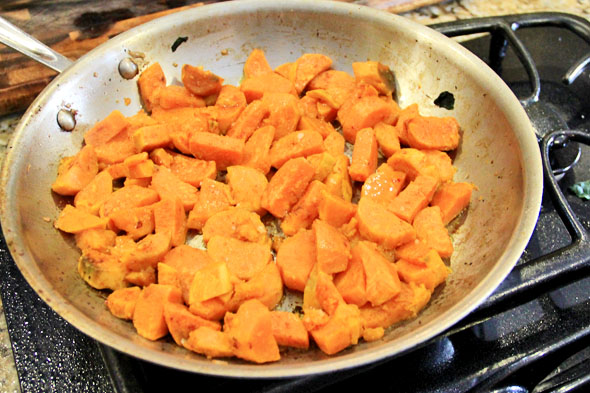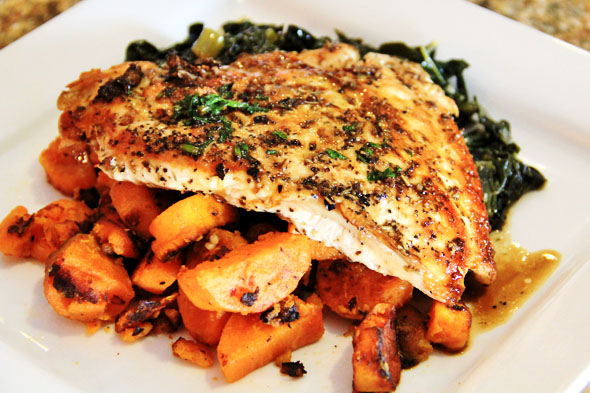 Print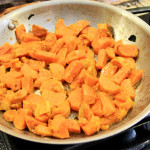 Quick & Easy Skillet Sweet Potatoes
---
2 tbsp

extra virgin coconut oil

4

small sweet potatoes (or

2

large), peeled or unpeeled (your call), cut into 2″ pieces
pinch of cinnamon
pinch of ground ginger
pinch of cayenne
pinch of smoked paprika
pinch of coarse sea salt

1 tsp

lemon or orange zest (optional)
---
Instructions
Peel skin from sweet potatoes (or don't, but please scrub clean if leaving skin on). Slice each sweet potato in half lengthwise, then cut each half into even sized 1″ or 2″ chunks.
Place sweet potato chunks in a microwave-safe bowl and cover tightly with plastic wrap. Poke 2-3 holes thru the plastic, and microwave on high for 5-7 minutes, checking after 5 minutes. Using a kitchen towel or oven mitts, remove the bowl from the microwave. Test a few potatoes with a toothpick (thru the poked holes). The toothpick should meet little resistance. Continue to microwave an additional minute if needed.
Carefully remove plastic wrap, letting steam escape away from you. Season the potatoes and gently toss with rubber spatula, careful not to tear the potatoes apart.
Heat 2 tablespoons of coconut oil in a non-stick skillet over medium heat (I used an All-Clad skillet and they stuck a little but I didn't care — I was hungry, they come out a lot better in a non-stick). Gently spread par-cooked sweet potato chunks in skillet, in a single layer. Allow potatoes to brown/caramelize on both sides, 2-4min per side. Be careful not to burn them, if you notice them browning too quickly, reduce heat.
Remove potatoes from skillet and transfer to serving dish. Toss with lemon or orange zest, if using. Serve immediately.
Prep Time:

5 mins

Cook Time:

15 mins
Recipe Card powered by
Disclosure: This site uses various affiliate links. If a purchase is made using one of our affiliate links, we receive a small commission which helps support our efforts. Please read our
Privacy Policy
for more information.