Pasta is getting a lot of people through this crazy quarantine. My Spicy Surf and Turf Pasta is no exception. If I had to sum it up in one word, I wouldn't be able to. It's just too damn good! Delightful, filling, flavorful, and perfect. It's laced with juicy bits of claw crabmeat that cling to each spaghetti noodle for dear life, and simmered in a super delicious creamy broth flavored with white wine, fresno chilies, and lots of other great spices.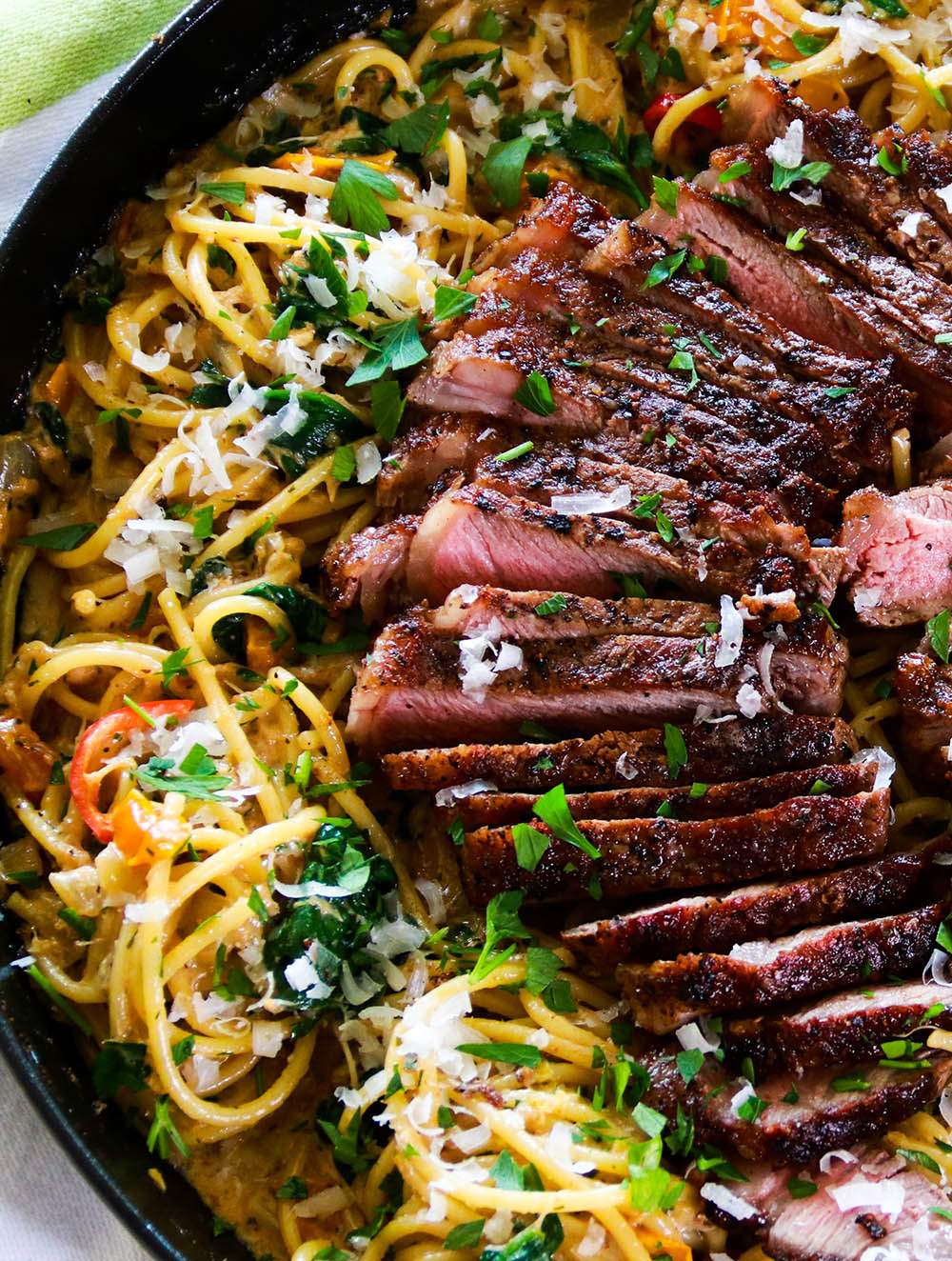 Like, look at it. This stuff is heavenly. So enjoyably spicy (you control that, btw), creamy, smooth, and everything just blends together so well. I'm super proud and happy with how it turned out. I left the membrane and seeds in my fresno chili because I wanted that extra boost of heat. Adding the chili in stages helps to keep it spicy and not lose too much of its heat during cooking. This goes without saying: if you are sensitive to heat, simply leave it out! This pasta will still be amazing without the hot stuff. Just use black pepper, at least.
Although you can use any cut of steak you want, I highly recommend you get your hands on some dry-aged steaks. They're incredible. However, this recipe will work with any steak, even if it's "wet-aged" lol.
I didn't want too much cheese in here. Yes, I absolutely LOVE cheese, but not everything creamy needs to be super cheesy. Too much cheese may turn the pasta gloopy and give it a weird texture. Just the right amount compliments it and keeps it smooth. But hey, it's your dish — do what you want!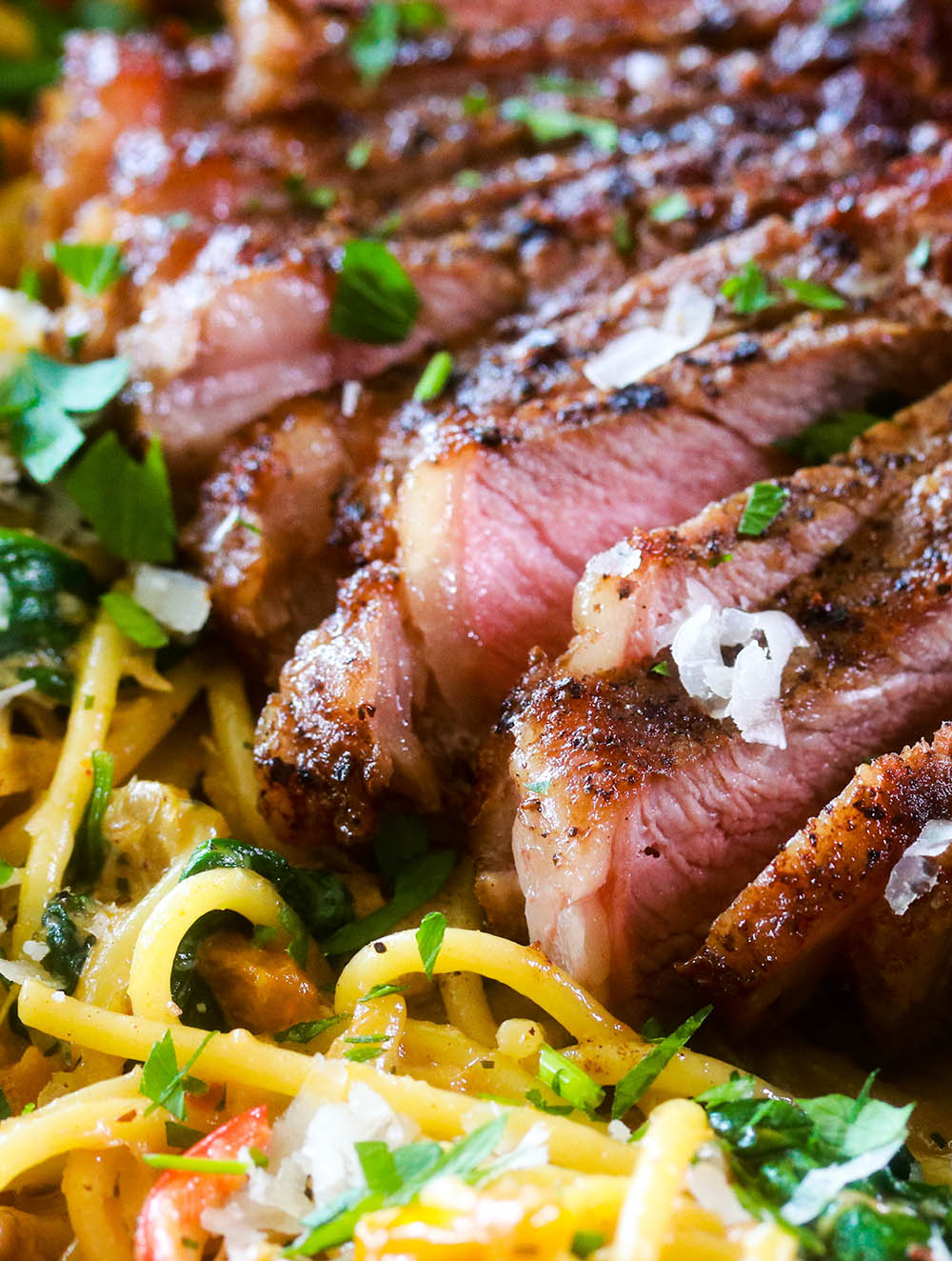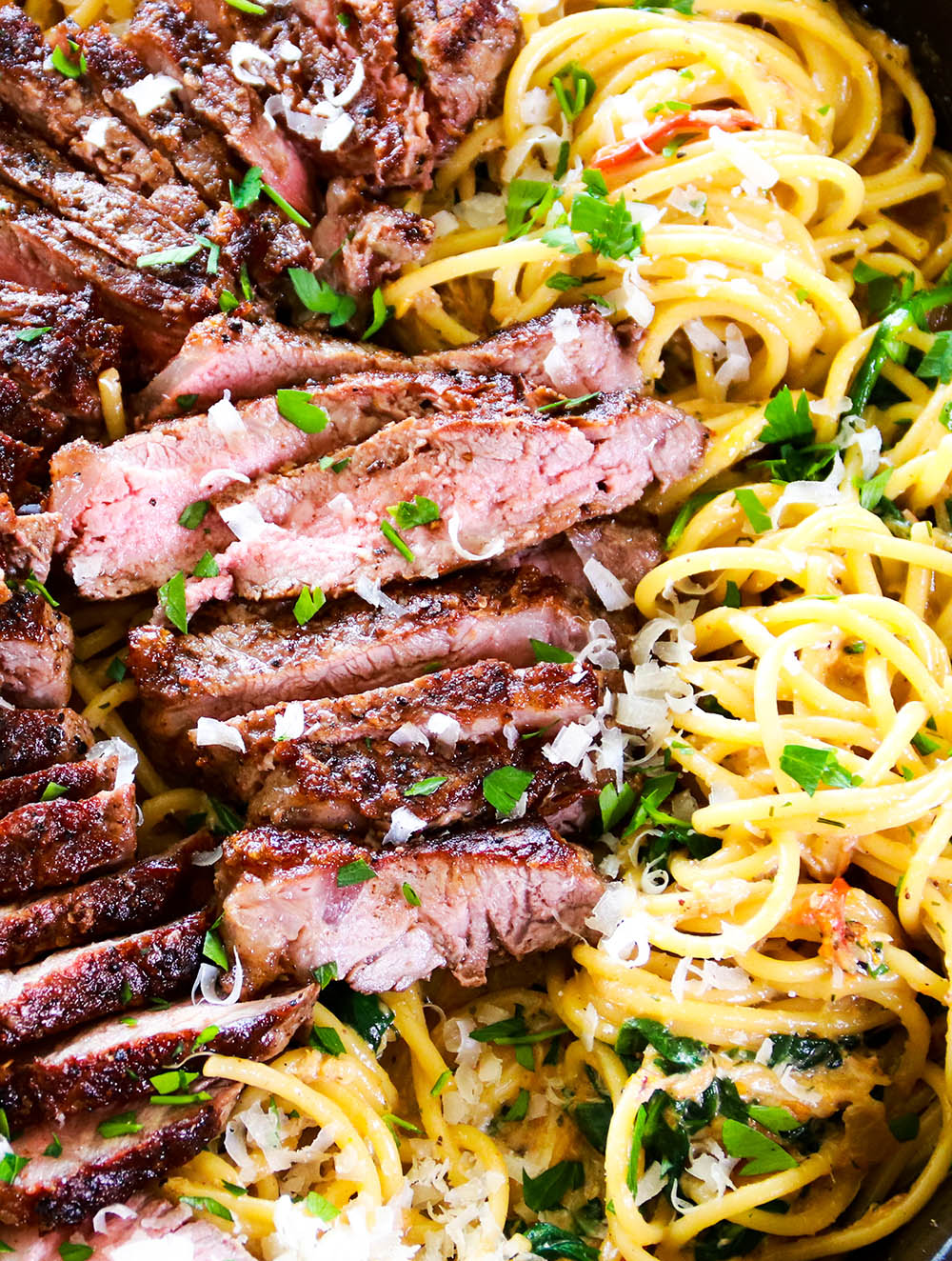 I usually prefer my steaks to be medium-rare to medium, but for this recipe, I knew I didn't want blood running through the dish, so I opted for a medium cook. You are FREE to cook your steak to whatever-degree you prefer. I'm giving you a side-eye if you overcook it and turn it into leather, though. For shame.
Don't break the bank buying expensive crab for this. There are so many ingredients going on here. And when you buy lump or jumbo lump crab, you should want either two to shine on their own (ie dips, crab cakes, etc.). So, grab an inexpensive (by comparison) container of the fresh claw crabmeat, and keep it simple. Do yourselves a favor, always always always inspect your crab for tiny pieces of shell. There is always at least one in there, and it's not very pleasant to bite into. Some people are allergic to the actual shell — not the meat inside — but the shell. It only takes a few minutes, but it's an important step.
If there's a seasoning or two you don't have, don't trip. Use what you have and make it yours. Enjoy!
Be sure to check out my recipe for Garlic and Herb Butter Steak!
Print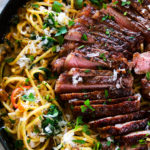 Spicy Surf and Turf Pasta
---
Author:

Chef Resha

Total Time:

50 minutes

Yield:

4 large servings
Description
This super delicious pasta dish features perfectly seared NY Strip Steaks and delicate crab.
---
For the steaks
Avocado oil (or another high smoke-point oil)

2

NY Strip Steaks

2

sprigs fresh thyme

1

sprig fresh rosemary

2

garlic cloves, smashed

4 tablespoons

butter
Black pepper
For the pasta
8

ounces

dried spaghetti (half a box)
Olive oil, as needed

1

medium onion, diced

1

sweet pepper (red, yellow, or orange), diced

1

whole fresno chile, sliced lengthwise and julienned (membrane and seeds left in tact!)

1/2 teaspoon

crushed red chili flakes

1/2 teaspoon

dried dill

3

cloves garlic, minced

8

ounces

fresh claw crabmeat, picked over for shells/cartilage

1/3

cup

drinkable white wine (I used Chardonnay)

1/2 teaspoon

granulated onion

1/2 teaspoon

granulated garlic

1/2 teaspoon

lemon pepper seasoning

1/4 teaspoon

cayenne pepper (I used more, but start with that)

1

cup

heavy cream
Pasta water, as needed

2 tablespoons

fresh parsley, chopped

1/2 teaspoon

Old Bay seasoning

4

cups

fresh baby spinach
Juice and zest from 1 lemon
Pecorino romano cheese, grated, to taste (I used about a half cup)
Flaky kosher salt, to taste
Black pepper, to taste
---
Instructions
Season the steaks generously with kosher salt and black pepper, making sure to get the sides of each steak as well. Let rest at room temperature for at least 30 minutes, and up to 2 hours.

In a large pot, bring 4 quarts of water to a boil. When it starts to boil, add about 1 tablespoon of flaky kosher salt. If using a finer salt, only add 2 teaspoons. Reason being, we're going to add some of this starchy pasta water to our dish later, so we don't want it to be super salty. Add the pasta, careful not to break it. Gently coax it into the water as it softens to ensure it's covered completely. Toss the pasta so it doesn't stick together and boil for just 6 minutes. After 6 minutes, drain the pasta in a colander and rinse it well with COLD water to stop it from cooking any further. Set aside.
In a large nonstick or cast-iron skillet, set over medium-high heat (closer to high-heat). Add about 1 to 2 tablespoons of oil and carefully coat the bottom of the skillet. When you start to see wisps of smoke, add the seasoned steaks, spacing them at least 2 inches apart. Make sure each steak has proper contact with the bottom of the skillet. Leave them alone and let them sear for about 3 to 4 minutes on the first side, depending on the thickness. You'll know it's ready to flip when you see a gorgeous crust on the seared side. Cook the steaks on the other side for about a minute, then add the butter, thyme, garlic, and rosemary. As the butter melts, carefully tilt the skillet towards you allowing it to pool at the bottom. Use a large spoon to scoop and pour the browned butter over the steaks, repeatedly for about a minute or two. Turn the heat off, place the cooked steaks on a plate, and pour the hot browned butter on top. Tent with foil and set aside.
Leave the browned bits from the steak in the skillet, and set it over medium heat. Add the onion, sweet bell pepper, and half of the fresno chile. Add a good drizzle of olive oil, season with flaky kosher salt, black pepper, crushed red pepper flakes, and dried dill. Stir, scraping up the browned bits of steak, and cook the veggies until they're softened — about 5 minutes. If they're browning too quickly, reduce the heat. Once all of the delicious steak bits are scraped up and the veggies have softened, stir in the minced garlic. Add the picked over claw crabmeat, and stir until it's evenly incorporated. Continue cooking until the crab has absorbed a good bit of the fat and juices, stirring as needed. Then, deglaze the skillet with the white wine. Scrape up any bits from the bottom of the pan, add the granulated garlic, granulated onion, lemon pepper, and cayenne. Cook until most of the wine has evaporated — about 2 to 3 minutes. Pour in the heavy cream and stir. Add the par-cooked pasta to the skillet, and gently toss everything together. This is when you'll need to add pasta water to give the spaghetti more moisture to finish cooking. Add the pasta water in half cup increments. Reduce the heat to medium-low. Add the remainder of the fresno chilies, and half of the fresh parsley. Stir and cover, letting the pasta simmer for about 5 minutes. Add the Old Bay seasoning and give the pasta a taste. It should be perfectly al dente at this point, but if it isn't, add a bit more pasta water if necessary and continue simmering for another 2 to 3 minutes. When the pasta is perfectly al dente, turn off the heat. Fold in the fresh spinach, and squeeze in the lemon juice. Add the lemon zest, remainder of the parsley, and finally toss in a handful of grated cheese. It shouldn't be gloopy, so try not to go too heavy with the cheese. Toss, give it a taste and see what it needs. Adjust seasoning as necessary.
Thinly slice the seared steaks and place them on top of the hot pasta. Serve and enjoy.
Notes
Feel free to swap out ingredients for what you have. Season as you go, and adjust the heat levels to your own personal tastes. I used claw crabmeat for this recipe, it's far less expensive than lump or jumbo lump. But if you want to use lump or jumbo lump, please feel free! Just make sure you pick the crabmeat over for shells and cartilage. You can also use any cut of steak you like.
Prep Time:

20 minutes

Cook Time:

30 minutes

Category:

Pasta, Seafood
Keywords: surf and turf pasta, pasta, seafood, steaks, beef
Recipe Card powered by
Disclosure: This site uses various affiliate links. If a purchase is made using one of our affiliate links, we receive a small commission which helps support our efforts. Please read our
Privacy Policy
for more information.