Fall is my favorite food season, hands down. It's the one time of year you get to splurge on creamy, braised, roasted, baked, and slow-cooked things. Let's celebrate Fall with this delicious creamy Tuscan Chicken Pasta. This dish is sexy as hell, and that's that on that! There's much room for customization, too. I used skin-on boneless chicken thighs, because you already know we're thigh people around here. But if you'd like to use boneless/skinless chicken breasts or tenderloins, or leg quarters, you are more than welcome. This is technically a one-pot meal, and it comes together in under an hour.
Why did I use chicken thighs? Because they offer more room for over-cooking. You would be hard-pressed to overcook these babies. They stay so succulent and juicy, whereas white meat (while tasty) dries out like a raisin in the sun. You are free to use whatever you want or have on hand. You can even use boneless AND skinless thighs, but hell…you're already making this decadent dish, why skimp? The texture of that crispy skin against all this rich creaminess is otherworldly.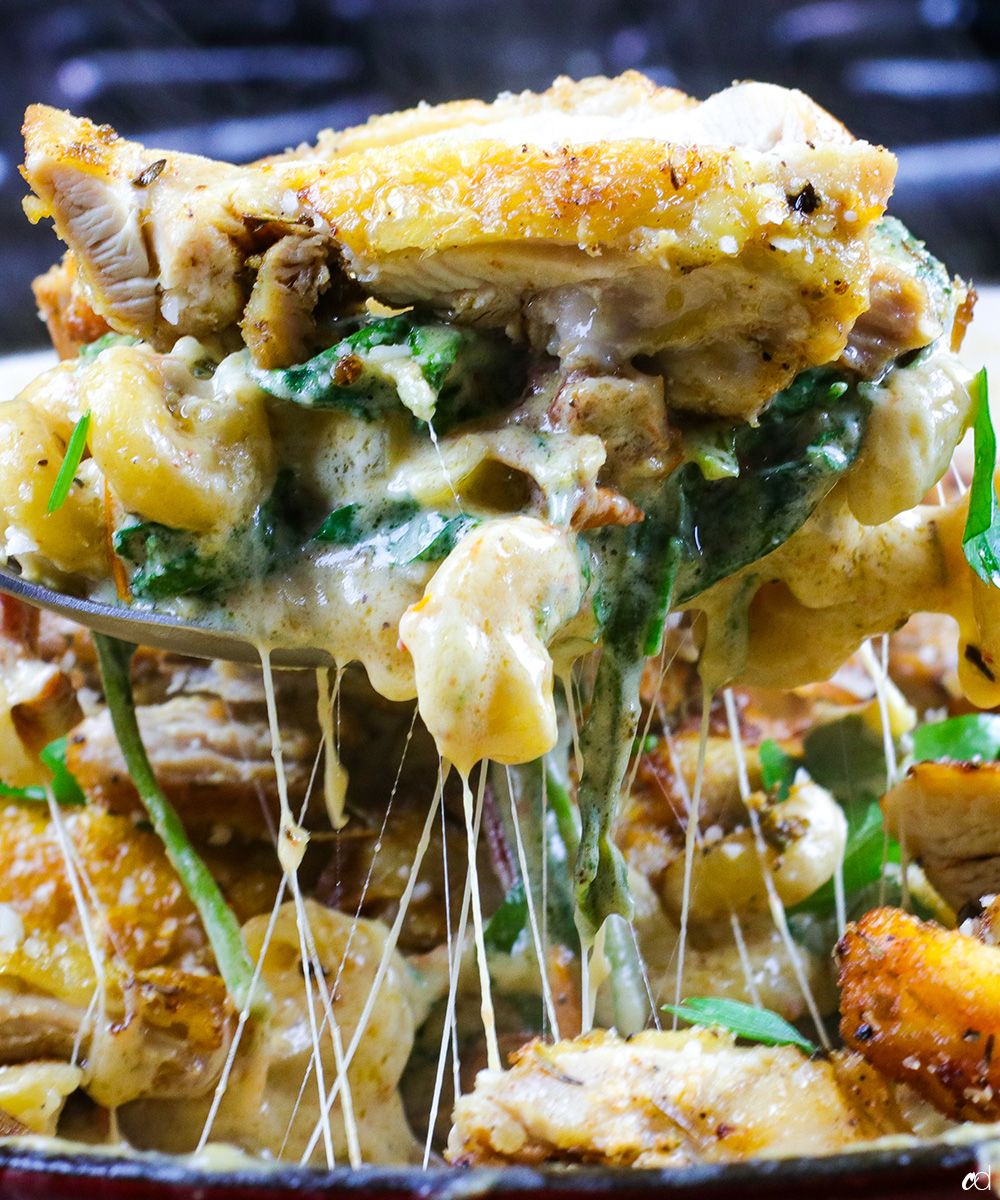 Tuscan Chicken Pasta Tips
There are lots of variations of this recipe online, and I'm sure almost all of them (mine included) have similar ingredients. It's no coincidence, either. For the sauce alone, you kinda have to have sun-dried tomatoes (jarred, packed in oil) or red bell peppers, leafy green spinach, cream, and lots of fresh garlic. Many people add chicken, but you can also use seafood or another protein instead. You could also use mushrooms as the main ingredient to keep it somewhat vegetarian.
Save yourself some kitchen-stress, and prep as many things as you can. Measure everything out, chop and mince everything you need, and shred/grate every cheese. You'll find this dish to be very rustic, and fixing errors will be easy. If you realize your liquid is evaporating faster than the pasta is cooking, just add more liquid! It's easy. I didn't use a full pound of pasta, just 10-ounces (yes, I weighed it). But if you don't have a kitchen scale, here's a visual I can give you. You know those 16- fluid ounce plastic food containers? I filled two of those with cavatappi right to the top, completely leveled.
While the ingredient list is long, don't be intimidated. There are some things you could easily leave out, or swap in case you don't have it. You just need the basics. You can even leave out the mozzarella, and you don't need both pecorino and parmigiano, but definitely have at least one of those. Here's a tip: Always keep your freezer stocked with chicken, your fridge stocked with dairy and fresh cheeses (if you eat them often), and your pantry stocked with various pasta shapes and jarred fruits and veggies, like sun-dried and canned tomatoes. Make sure you keep aromatics on hand as well, such as garlic, onions, and shallots. If you have a warehouse membership, buy your wines for cooking there. They're far more inexpensive, and you get double the amount.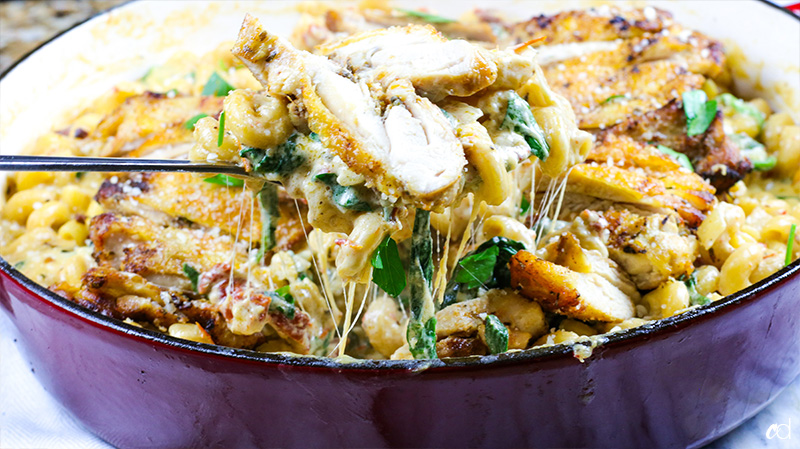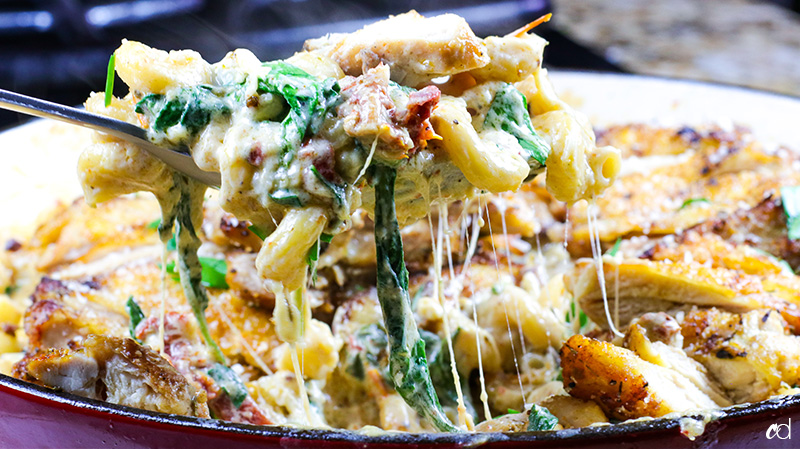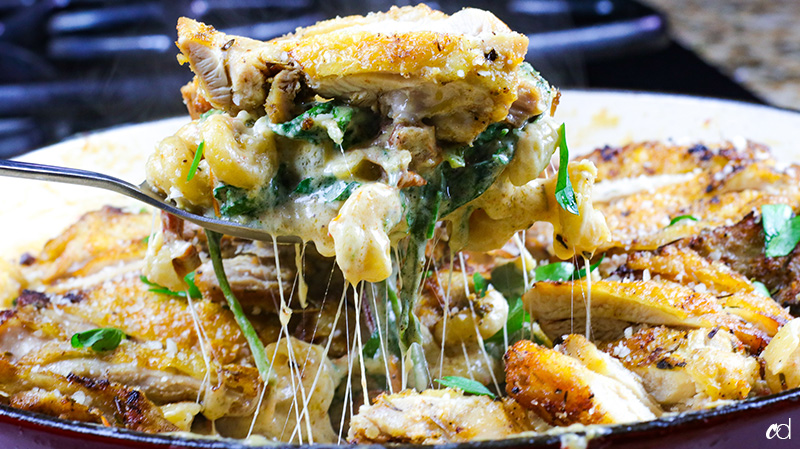 Also, make sure you check out some other yummy recipes:
Print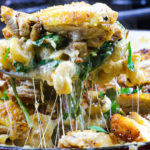 Tuscan Chicken Pasta
---
Author:

Chef Resha

Total Time:

1 hour 5 minutes

Yield:

8 servings
Description
Creamy, garlicky pasta with sun-dried tomatoes, lots of fresh garlic, fresh spinach and topped with crispy-skinned chicken thighs. You're not ready.
---
For the chicken
For the pasta
3 tablespoons

unsalted butter

1

to

2

tablespoons olive oil

1 teaspoon

crushed red pepper flakes

2

cups

yellow onion, diced
Kosher salt and black pepper, to taste

2 teaspoons

dried oregano

2 tablespoons

dried thyme

1/2

cup

julienned sun-dried tomatoes (packed in oil)

8

cloves garlic, minced (or

1/4 cup

)

1 tablespoon

fresh thyme leaves, chopped

1/2 teaspoon

fresh rosemary, chopped

1/2

cup

white wine (I used chardonnay)

2 1/2

cups

low-sodium chicken stock

3

cups

half-and-half, plus more if needed

10

ounces

cavatappi pasta (see note below)

1/2 teaspoon

granulated garlic

1/2 teaspoon

granulated onion

1/2

cup

parmigiano-reggiano, grated

1/2

cup

pecorino-romano, grated

3/4

cup

part-skim mozzarella, shredded

1

small bag fresh baby spinach (about

4

loose cups)

1/4

cup

torn basil leaves

1/4

cup

flat leaf parsley, chopped
---
Instructions
For the chicken
Season the flesh side of the chicken with kosher salt, black pepper, smoked paprika, granulated garlic and onion, dried thyme and oregano. If you need more spices, please add it. You wan't good coverage. Drizzle a little oil on top of the herbs and spices, and massage it into the chicken. Make sure you get in all the nooks and crannies. Flip the chicken over, and sprinkle kosher salt all over the skin of the chicken. We don't want to add any other seasonings to the skin side, because we don't want them to burn.
Place a large deep-sided skillet or braising dish (at least 4 quarts) over medium-high heat. When it's nice and hot, add the chicken to the dry skillet skin-side down. Thighs have enough fat on their own, you won't need to add any additional oil at this point. If using a leaner protein, like white meat, please drizzle with oil first so the meat doesn't stick. Let the skin sear and get crisp, this will take about 7 to 8 minutes. You'll know it's ready to flip when it's easy to flip the chicken over. There will be a SLIGHT resistance, but if it's resisting too much, it's not ready. Cook chicken flesh-side down until cooked through, about 5 to 8 more minutes. Use an instant-read thermometer if you're unsure. When chicken is done cooking, place it on a large plate and cover with foil to keep warm.
For the pasta
In that same pan, reduce the heat to medium. Pour off all but 1 tablespoon of residual chicken fat. Add the butter, and one tablespoon of olive oil. When the butter starts to sizzle, start scraping up any brown bits on the bottom of the pan leftover from the chicken. Add the crushed red pepper flakes and cook for 20 seconds to infuse the fat. Add the onions to the pan, and cook until slightly softened, about 3 minutes. Sprinkle the onions with a generous pinch of kosher salt and black pepper, then the dried thyme and oregano. Allow the dried herbs to bloom, about 2 minutes, stirring constantly. Add the sun-dried tomatoes and saute for about 2 to 3 minutes. Next, toss in the garlic and cook for just about 30 seconds. When the garlic is fragrant, add the fresh thyme and fresh rosemary. Stir it in and cook for just 10 seconds.
Pour in the white wine while scraping the bottom of the pan to loosen any bits. Allow the wine to reduce for about 3 minutes, or until you can leave a quick dry trail with the edge of your spatula/wooden spoon. Pour in the chicken stock and half-and-half (I had both in a large measuring cup to make it easier), stirring to combine all ingredients.
Next, add the cavatappi pasta, making sure it's submerged. Add in the granulated garlic and onion, stir it in and bring the pasta up to a boil. As soon as it starts boiling, reduce the heat to medium-low (closer to low). The pasta will cook gently in the liquid, while simultaneously thickening it. This will take about 10 minutes or so, but be sure to test the doneness of your pasta often to see where it stands. If your liquid is evaporating faster than the pasta is cooking, simply add a little more half-and-half in stages. Make sure you stir this mixture often, to make sure nothing is sticking to the bottom of the pan. You may need to adjust the heat during this step, so please do so.
When the pasta is tender and toothsome, but not mushy (al-dente), turn the heat off. The sauce will continue to thicken as it stands. Stir in the parmigiano-reggiano and pecorino-romano cheeses until well combined. Now's the time to taste it. If you need to add salt and/or pepper, do it. Fold in the spinach until it's wilted from the residual heat. Next, add the fresh basil and parsley and gently stir to combine. Stir in the mozzarella cheese (I forgot to take a picture of this step). Taste it again to make sure it's seasoned right. Your finished pasta should be creamy, smooth, and cheesy. It shouldn't be dry. If it's not smooth or creamy, add a touch more half&half or chicken stock to loosen it a bit.
Chop your chicken into desired pieces or strips, and place on top of the finished pasta.
Serve immediately with your favorite side salad, or crusty garlic bread.
Notes
If you're unable to find boneless skin-on chicken thighs, you can debone it yourself. Or, if you'd rather skip the deboning drama, just roast the thighs separately in the oven (uncovered) at 425 F for about 35 minutes, or until meat registers 175 F internally. You can any kind of chicken (or protein) here, but adjust cooking times as needed for white meat vs. dark.
We're not using a full box, so please weigh your pasta if you can. I like cavatappi because it expands nicely, has lots of grooves for sauce-cling'age, etc. If you are unable to weigh your pasta, you could use the whole box of cavatappi. Just add more liquid (stock and/or half&half) as it cooks.
Always grate and/or shred your cheese fresh. Don't use pre-packaged shredded cheese, because it doesn't melt well and isn't nearly as delicious. For the love of God, please don't use that "1,000 year shelf-life woodchipper parmesan cheese" in the green canister. That would be disrespectful AF!
Prep Time:

20

Cook Time:

45
Keywords: garlic tuscan pasta, tuscan chicken pasta, creamy tuscan chicken pasta
Recipe Card powered by
Disclosure: This site uses various affiliate links. If a purchase is made using one of our affiliate links, we receive a small commission which helps support our efforts. Please read our
Privacy Policy
for more information.