Mini turkey pot pies made with leftover Thanksgiving turkey? Hell yes. For those of you who have leftover turkey, this is one of my favorite ways to use it up, as well as any other leftover aromatics and veggies. I didn't have to buy a single thing for this incredibly comforting soul in a bowl, and for that I'm grateful. However, this stuff is so damn good that even if I had to make a store run, I would. These individual turkey pot pies are encased with a flavorful, flaky yet also kinda biscuit'y savory dough studded with herbs de provence, black pepper, and tenderized with tangy buttermilk. Yum!
Trust me, I get it if you don't feel like making your down dough. I usually slap on some puffy pastry and call it a delicious day, but if you want to make this a bit more homemade, you've gotta make this crust. When I started to make this, I was gonna just throw some puffy pastry right on there, but decided not to — and I'm so glad I listened to myself.
This crust is everything, y'all. It's like biscuit meets pie crust. Flaky and buttery, yes — but also crumbly in some small areas like a good southern biscuit. And baby, it's flavored so well! Great on it's own, but when you bite into a piece that includes a crunchy flake of sea salt? Whew!!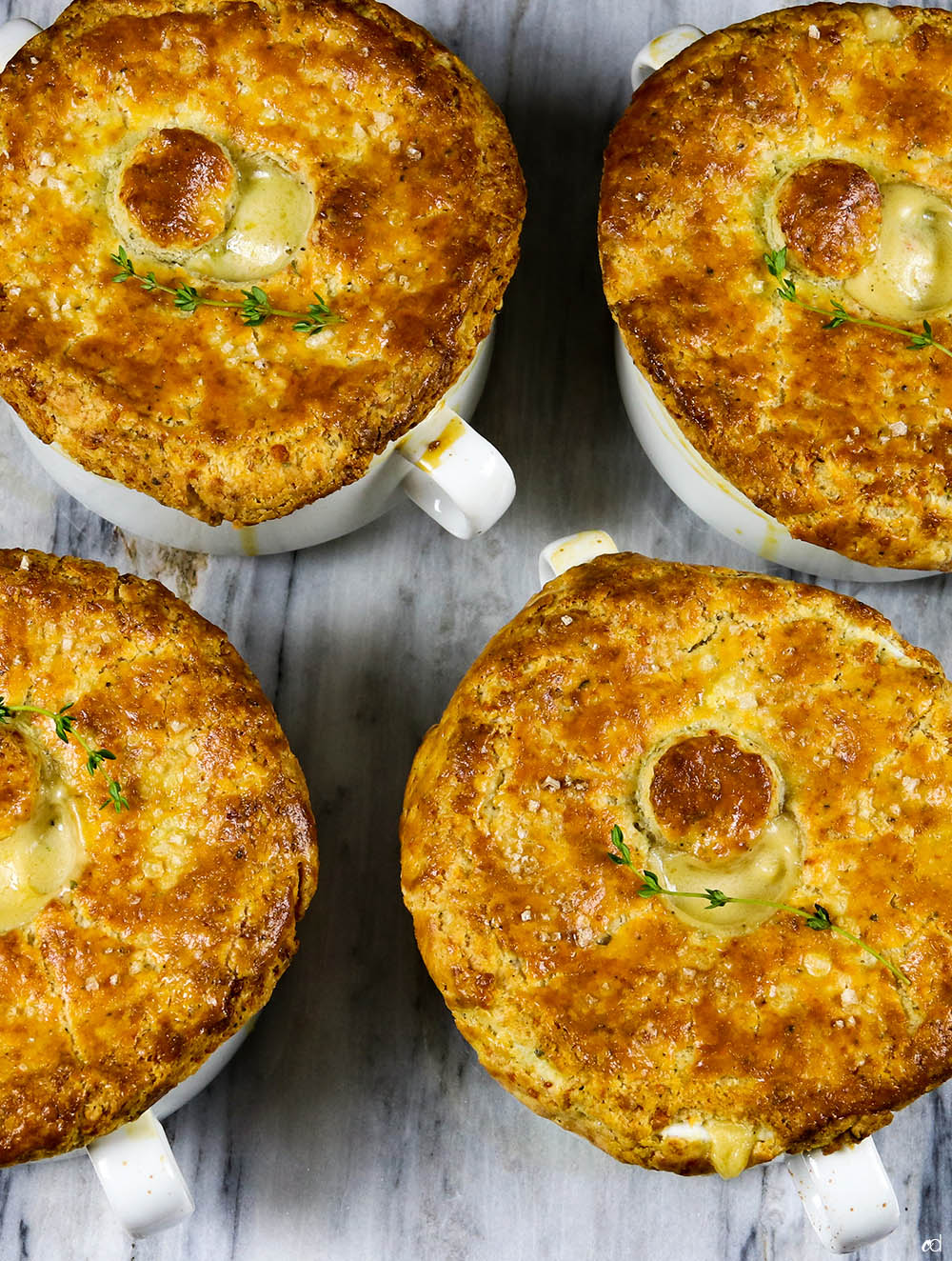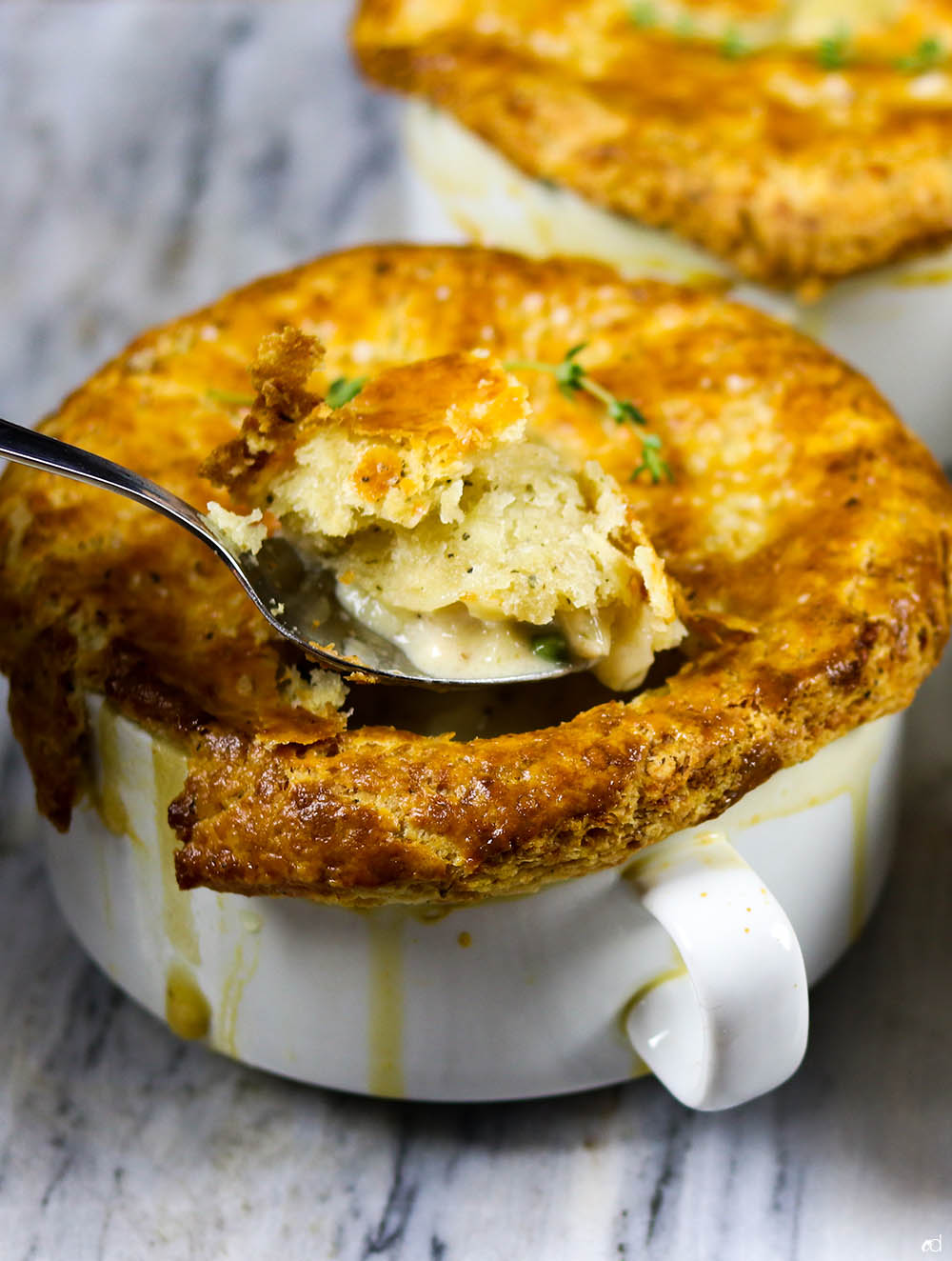 Mini Turkey Pot Pie Substitutions
You are more than welcome to use whatever you either have, or like. There are very few rules to actual recipes, it's technique that you should focus on. Most recipes are adaptable to your specific tastes, so don't worry too much if you don't like or have something.
If you don't like turkey, use chicken. Or make this vegetarian by using veggie stock instead of chicken, leaving out the liquid dairy, and using a variety of meaty mushrooms. I almost added mushrooms to this, but decided to use them for another dish later this week.
I had a bunch of red potatoes lying around that were about to grow feet if I didn't use them soon, so that's what I chose for this. I love red potatoes because they hold their shape in soups and stews like this, without falling apart. Use any kind of potato you want or have. Russet's can work, but keep in mind that they'll start to crumble eventually and thicken your soup even further. Still delicious! Another great potato would be Yukon golds. You could also use those tiny little baby potatoes, the sky's the limit.
The only base ingredients I recommend you use, is carrot, celery, onion (any variety), and garlic. I used a leek because I always have those on hand, and I absolutely adore their flavor. Don't have a leek? Use an onion. Out of fresh herbs? Use dried with discretion. Dried herbs are more potent than fresh believe it or not, but they're not always suitable for recipes that call for fresh herbs. But for this, it's totally fine.
Don't have sherry wine? Use any kind of white you have. Or, leave it all out entirely. Lastly, if you don't have oven-safe soup bowls — get some! But seriously, just make one big pie using a pie or baking dish of some kind that's large enough to hold everything. I portioned these out because I wanted to quickly pop one in the 'wave whenever I got hungry. Any leftover filling can go in the freezer.
How to make mini turkey pot pies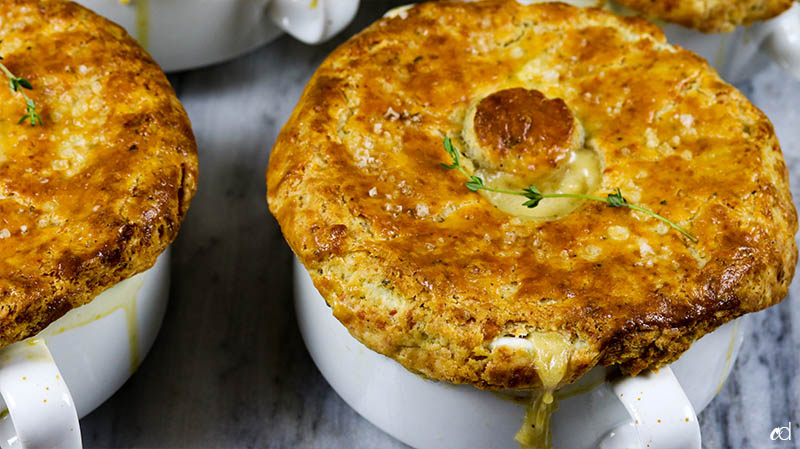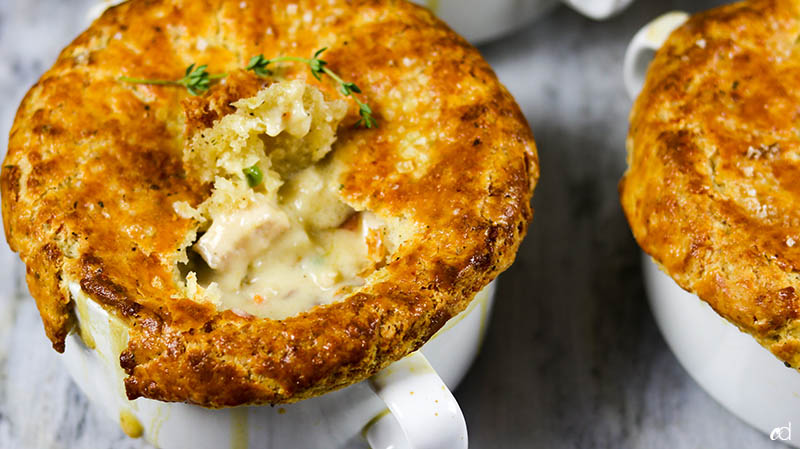 Things I know you're going to ask before you ask:
Yes, you can make this with puff pastry. I did something similar a few years ago. However, the same principle applies with letting the filling cool a bit before adding the dough. You don't want the heat from the hot soup to melt the dough before it's baked.
Yes, you can use any cheese you like or may have leftover. And yes, you can just leave it out (but it won't be as delicious).
Yes, you can use any kind of veggies and protein you want. You can use mushrooms instead of turkey or chicken. For a more gentle protein like seafood, you'll want to add it to the hot filling after you've turn off the heat and give everything a final stir and taste. Because we're baking this in the oven, you don't want to overcook the seafood.
Yes, you can turn this into one big pie instead of minis.
Yes, you can make this ahead. Store the soup in heavy duty plastic zip bags or quart containers, same with the cut-out pie dough. When ready to bake, pop it into the a slightly lowered oven and bake until bubbly and golden brown.
These mini turkey pot pie are achingly delicious. My fiancé and I just exchanged visual hugs as we burned our greedy mouths eating it. Phenomenal.
Print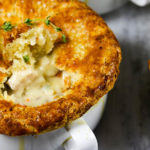 Mini Leftover Turkey Pot Pies
---
Author:

Chef Resha

Total Time:

1 hour 10 minutes

Yield:

6 servings
Description
Leftover Thanksgiving turkey gets bathed in a thick creamy broth, flavored beautifully and baked with a savory
---
For the filling
3

cups

red potatoes, cut into 1-inch chunks (SEE NOTE)

4

cups

leftover turkey, chopped into 1-inch chunks

1 1/2

cups

carrots, sliced into 1/2-inch pieces

1

cup

celery, sliced into 1/2-inch pieces

1

heaping

cup

leeks, sliced thin

3

–

5

cloves garlic, finely chopped

3

sprigs fresh thyme

1/2 tablespoon

fresh rosemary, finely chopped

1/3

cup

fresh parsley
Zest of

one

lemon

1 teaspoon

herbs de provence

1/2 teaspoon

crushed red pepper flakes

1

stick butter

1/2

cup

sherry wine (SEE NOTE)

3/4

cup

all-purpose flour

2

cups

chicken stock or broth

2

cups

half and half

1

bay leaf

1/2 teaspoon

onion powder

1/2 teaspoon

granulated garlic
Pinch of cayenne pepper

1 tablespoon

worcestershire

1

cup

frozen peas

1

cup

gruyere cheese, shredded (divided)
For the savory pie dough
2 1/2

cups

all-purpose flour

1 teaspoon

baking powder

1 teaspoon

fine sea salt

1/2 teaspoon

black pepper

1 1/2 teaspoons

herbs de provence

16 tablespoons

(

2

sticks) cold unsalted butter, cubed

1/2

cup

cold whole buttermilk, plus more if needed

1

egg, beaten
Coarse or flaky salt for garnish
---
Instructions
For the filling
Melt the butter in a large pot or dutch oven over medium heat. Add in the herbs de provence and crushed red pepper flakes. When the butter starts to sizzle, add the leeks, carrots, and celery. Season with kosher salt and black pepper. Sauté the veggies for about 6 minutes, or until slightly softened.

Add the potatoes and season once more with kosher salt and black pepper. Cook this mixture until the potatoes are slightly softened, and a toothpick inserted can only go halfway through — about 8-12 minutes.
Toss in the rosemary and thyme and continue to cook for 30 seconds. Next, stir in the garlic and cook for 30 seconds. By now, you should have a little color at the bottom of your pot. Pour in the sherry wine to deglaze, scraping up the bits with a wooden spoon. Let the sherry wine reduce for about a minute, then dump in the flour. Stir the flour around to make sure all of the veggies are coated. Cook for 1-2 minutes.

Pour in the chicken stock and continue stirring to prevent lumps. Stir in the half and half. Throw in the bay leaf, and season with onion powder, granulated garlic, cayenne pepper, and worcestershire. Stir and bring this mixture to a hard simmer over medium-high heat.

Once large bubbles start to break at the surface, and the mixture is noticeably thickening up, reduce the heat to medium again. When the mixture has thickened up, add in the turkey and frozen peas. Give it a taste and adjust seasoning as needed. When it tastes good to you, turn off the heat, add in the lemon zest and 1/4 cup of the gruyere cheese. Give it another taste and adjust once more if you need to. Make sure the potatoes are fork tender. Lastly, fold in the fresh parsley. Remove the bay leaf.

Pour the filling into oven-proof soup bowls, making sure the mixture is 1/2-inch below the rim — this gives the filling room to bubble and boil in the oven without making too much of a mess.

Let the filling cool in the soup bowls for at least a half hour while you make the pie dough.
For the savory pie dough
Make sure your butter and buttermilk is super cold. Process the flour, baking powder, black pepper, herbs de provence, and salt in the food processor until combined.
Add 1/4 cup of gruyere cheese to the flour mixture and pulse 5 times.
Add the cold butter, coat butter with flour mixture and spread out into an even layer. This helps the butter process more evenly. Pulse until butter breaks down into pea-sized pieces, about 7 pulses. Some pieces will be smaller or larger, that's fine. Don't over-pulse it.
Add 1/2 cup of cold buttermilk, and pulse for about 5 seconds or until dough is visibly moistened. It will be crumbly! Test it out — dough is ready when you're able to clump it together and it stays together. If it's not quite there yet, add an additional 1-2 tablespoons of buttermilk until it holds together when you clump it in your fist.
Turn out onto lightly floured surface and gently knead/press into 1 large dough ball. Refrigerate for at least 30 minutes. Dough can be made 48 hours in advance and frozen until ready to use.

When ready to roll, remove from fridge or freezer and let come to room temperature for 10 minutes just so it's easier to roll. Lightly flour surface and rolling pin and roll out into desired thickness. I suggest a quarter of an inch thick, but it's totally up to you.

Cut out circles large enough to fit the top of your soup bowls with a 1-inch overhang. Create a smaller circle or slit in the middle of each pie dough top.
Assemble
Brush the outer top edge of your soup bowls with the beaten egg — this will act as the glue to hold the dough overhang in place. Sprinkle the tops of each bowl evenly with the remaining 1/2 cup of gruyere cheese. Place a piece of the cut out dough directly over the soup, gently pressing the edges down where the eggwash is. Be careful not to tear it.

Repeat with all the soup bowls. Brush the tops and edges of the dough with the remaining eggwash, and sprinkle with coarse sea salt.
Bake in a hot 400 degree oven until the filling is bubbly, and the dough is golden brown, about 25-30 minutes. Remove from oven and cool for at least 10 minutes before serving — this filling is lava hot!
Enjoy.
Notes
You can use any neutral colored wine or potato for this recipe.
Prep Time:

20

Cook Time:

50

Category:

soups and stews, thanksgiving

Cuisine:

American
Keywords: turkey pot pie, soups, stews, thanksgiving
Recipe Card powered by
Disclosure: This site uses various affiliate links. If a purchase is made using one of our affiliate links, we receive a small commission which helps support our efforts. Please read our
Privacy Policy
for more information.