You've had chicken marsala, but you've never had creamy beef short rib marsala. At least like this, not the CarnalDish way. Our mouths have five basic tastes, and the umami taste (also known as savory) is one of my absolute favorite tastes to harp on. To me, it's what makes comfort food comforting. That "I've been cooking all day" flavor, that reminds you of your grandma…that's what this is, but elevated.
If you decide to make this dish, I highly recommend you pair it with either creamy grits/polenta, mashed cauliflower, or mashed potatoes. That incredibly succulent marsala sauce clings to everything it lands on, and what better way to let it slide down your throat than on a bed of something starchy.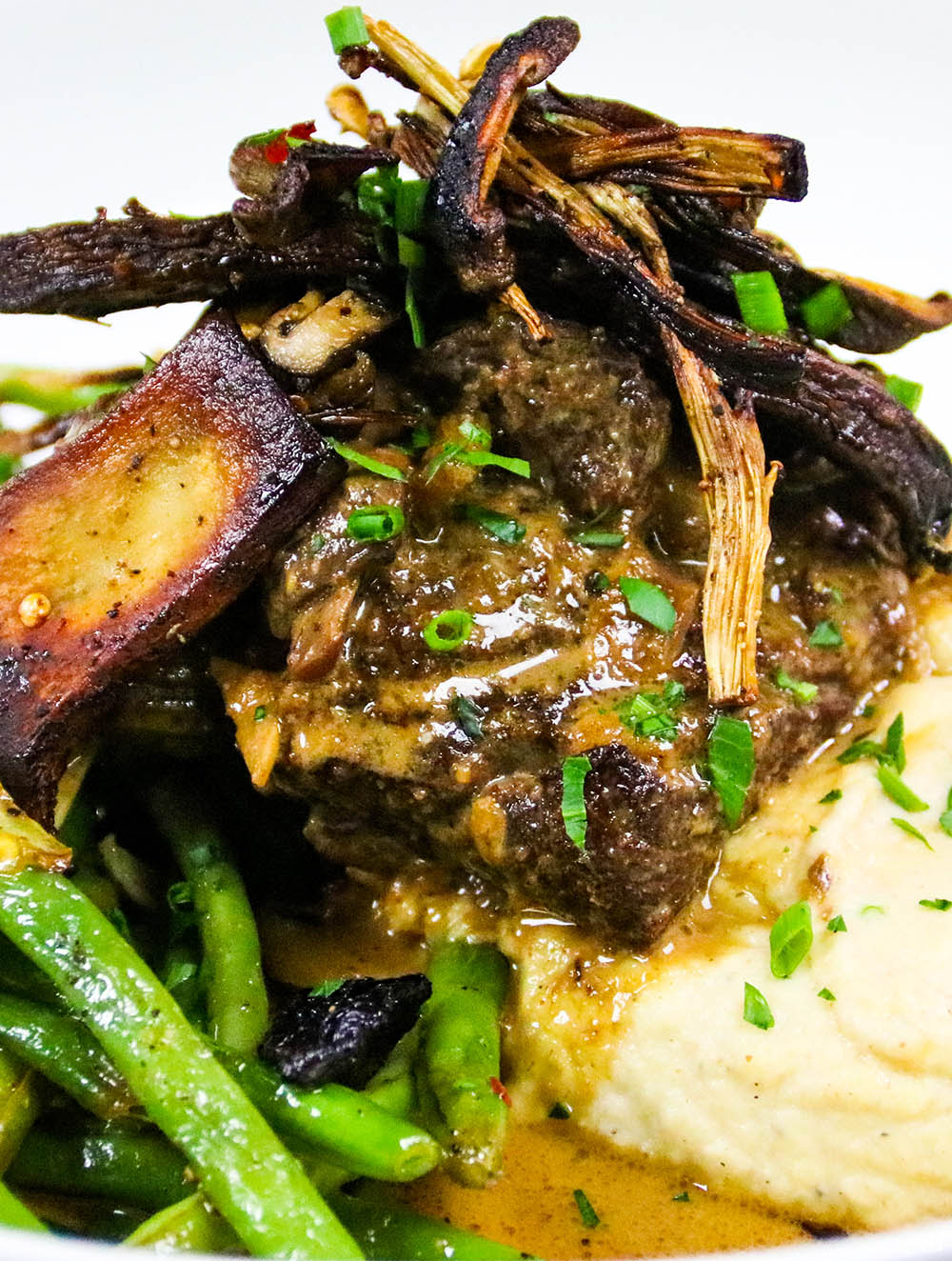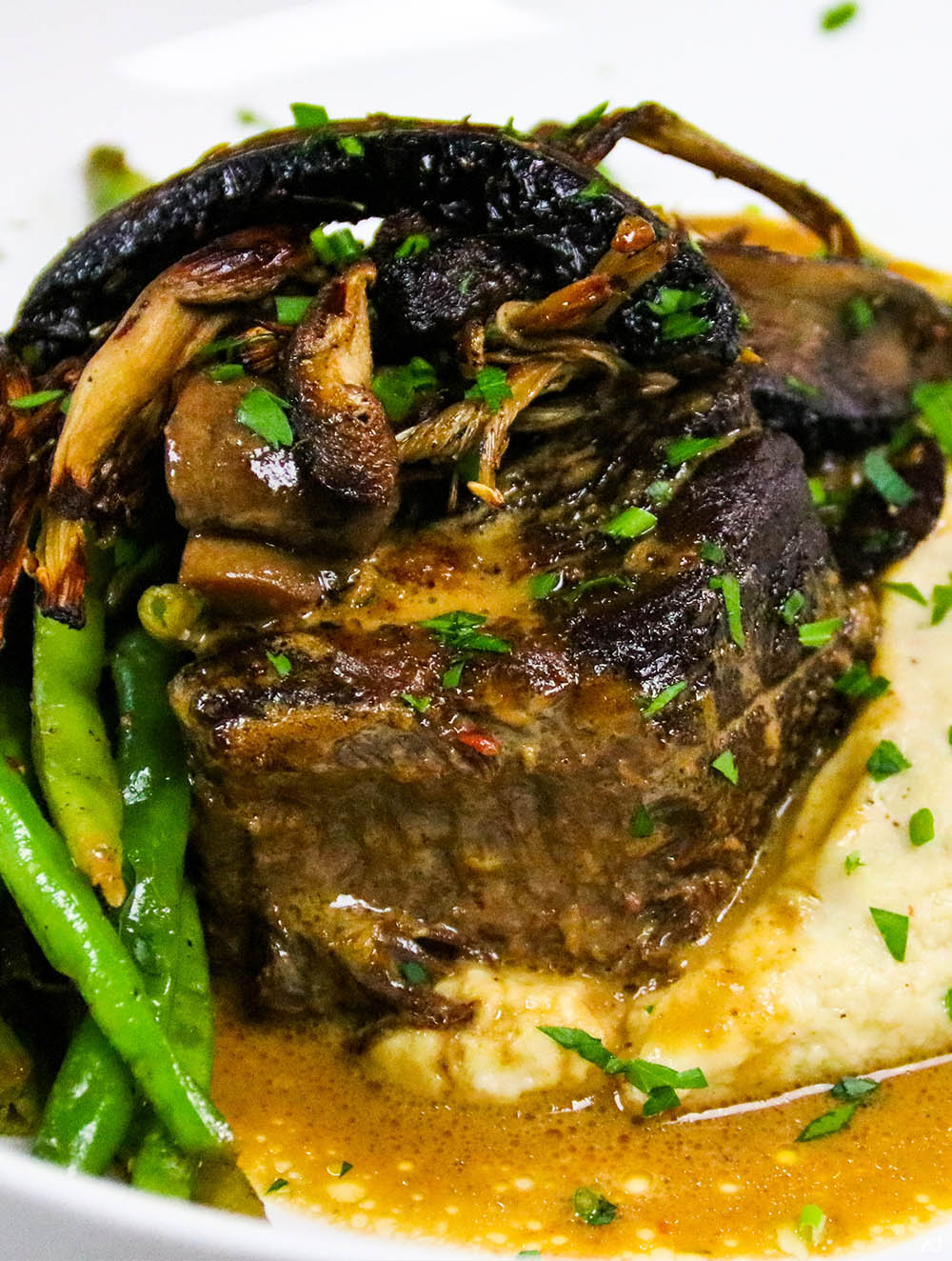 Because we're on a low-carb keto diet, I whipped up a very quick roasted cauliflower mash to accompany this insanely divine marsala short ribs. I have made tons of short rib dishes (that I haven't blogged, unfortunately), and this is hands down my favorite. It's STUPID good. What's crazy is that it has the nerve to taste even better the next day. Girl, what?
When picking your short ribs, try to grab ones that are well-marbled and bone-in with a good amount of fat. I was grabbing packs from my local Wegmans when I realized that one pack lacked bones. Oh nah, we need that bone-in flavor. Fatty short ribs melt in your mouth like meat butter, so don't even attempt to trim any off. Leave them alone.
Mushrooms Add Hella Flavor
As for the mushrooms, we're using a lot here, and for good reason. Mushrooms are just delicious, first of all. Second, they also enhance the meatiness of this dish in a very complimentary way. I urge you to be creative here and pick a bunch of different mushrooms for the roasting portion of this recipe. I prefer using quartered Cremini mushrooms for the actual braising liquid because they don't disintegrate and turn into mush. They also give you a great bite after being braised for three hours. If you decide to slice them, make sure you slice them thick.
The method of browning the mushrooms before braising is simple and totally necessary. Mushrooms hold a lot of water, and we need to squeeze that water out via cooking. Once that liquid is released, they begin to brown beautifully and hold up as they braise. My point here is, don't skip this step.
Girl, Anchovies??
I know some of you are going to see anchovy filets on the ingredient list and freak out. However what you don't know is that they do not lend a fishy taste to the dish at all. Instead, they also enhance the savory components due to their own glutamates. Chef's use them all the time in tomato-based dishes to achieve that same savory effect. Will your dish suffer if you don't add them? No. But it won't be as good as what I'm promising you. You've trusted me this far, keep going, I won't steer you wrong.
How to make Marsala Short Ribs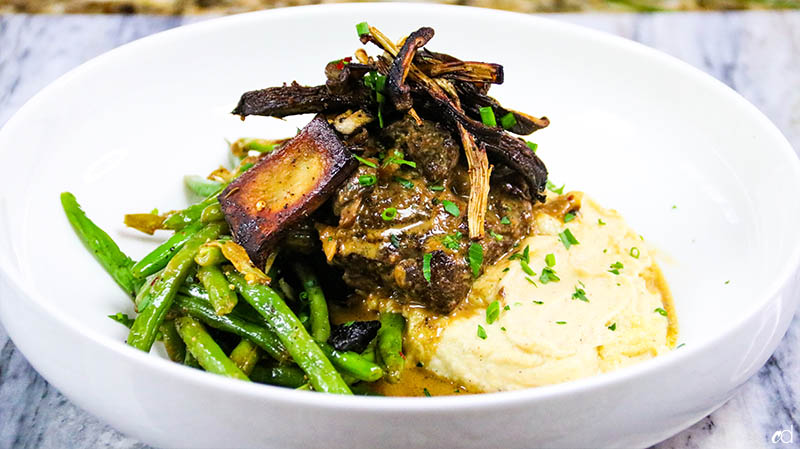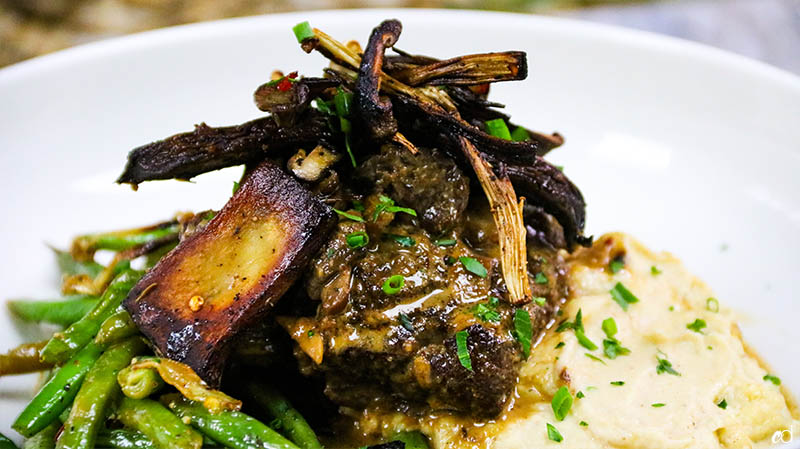 I cannot stress how insanely flavorful this is, because there are no words. These keto short ribs will make you sing all of the praise. You've gotta make this dish, immediately.
Check out some other recipes:
Print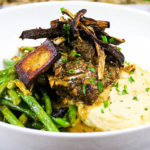 Creamy Beef Short Rib Marsala
---
Author:

Chef Resha

Total Time:

27 hours

Yield:

6-8 servings
Description
Succulent beef short ribs braised in a creamy marsala wine sauce with tons of meaty mushrooms for added flavor and depth.
---
Black pepper

2 tablespoons

vegetable oil

4

lbs

well marbled bone-in beef short ribs

2 tablespoons

olive oil

2 tablespoons

butter

1

lb

crimini mushrooms, quartered

1 teaspoon

crushed red pepper flakes

1 teaspoon

herbs de provence

1

lb

crimini mushrooms, quartered

1

large yellow onion, diced (about

2 cups

)

2

stalks celery, chopped

9

cloves fresh garlic, thinly sliced

4

anchovy filets packed in olive oil, minced

1

cup

marsala wine (not sweet), divided

4

sprigs fresh thyme +

2

sprigs fresh rosemary, bundled

2

bay leaves

1

quart

plus 1

cup

beef broth (SEE NOTE)

1/4

cup

dried mushroom powder (SEE NOTE)

2 teaspoons

garlic powder

2 teaspoons

onion powder

1/2 teaspoon

cayenne pepper

1/4 teaspoon

freshly grated nutmeg (SEE NOTE)

2 tablespoons

Worcestershire sauce

1 tablespoon

dark soy sauce

1

cup

heavy cream
Roasted mushroom medley:
7

oz

mixed mushrooms (I used trumpet, beech, and king oyster)

6

oz

sliced portobellos

5

oz

sliced shiitakes

1

–

2

tablespoons Worcestershire sauce
Olive oil
Black pepper
Garnish:
Flat leaf parsley, minced
Fresh chives, chopped
---
Instructions
The day before:
Season your short ribs with an even coating of flaky kosher salt. Place them in a large ziploc bag and refrigerate them for 24 hours.
The day of:
Remove the short ribs from the refrigerator and allow them to come down to room temperature for at least an hour before cooking. Season them again with kosher salt and freshly ground black pepper.
Preheat oven to 300 degrees F.
Heat 2 tablespoons of vegetable oil in a large 6 quart dutch oven over medium-high heat. When the oil is heated (you'll see light whisps of smoke), sear the short ribs on each side until browned. You may have to do this in batches, so please don't overcrowd the dutch oven, otherwise they'll steam instead of brown. Browning can take up to 15 minutes, depending on how many short ribs you have. Transfer browned short ribs to a plate, and set to the side.

Carefully drain all of the fat left in the bottom of the dutch oven to a heat-proof glass. You should have a good amount of browned bits stuck to the bottom, do not scrape that off. Place the dutch oven back over the heat, but reduce it to medium. Add 2 tablespoons of olive oil plus 2 tablespoons of butter, and scrape up the browned bits using a wooden spoon or rubber spatula. When the butter is melted, add the quartered Cremini mushrooms. Season with a generous amount of flaky kosher salt and black pepper. Add the crushed red pepper flakes and herbs de provence. Toss to coat, making sure all mushrooms are coated in fat. Try to arrange them in an even layer if possible, and leave them alone so they can release their liquid and brown. This will take about 6 to 8 minutes or so. First, you'll see a lot of liquid come out, then it will evaporate and the browning process will begin. Once the liquid is evaporated, toss the mushrooms around so they can brown on all sides, about 5-8 minutes longer. When the mushrooms have developed a nice golden brown color on all sides, add the onion and celery. Season with more flaky kosher salt, and toss to combine. Sauté everything until the onions have softened slightly, about 3 to 5 minutes. Add in the minced anchovy filet, and sliced garlic. Cook for another 2 minutes, then pour in 3/4 cup of the marsala wine. Immediately scrape up any browned bits at the bottom of the pan and allow the marsala wine to cook down for about a minute or two.

Nestle in the rosemary and thyme bundle. Lay the short ribs on top of the mushrooms and aromatics.

Pour in the quart plus 1 cup of beef stock (or water). Add the dried mushroom powder, garlic powder, onion powder, cayenne pepper, freshly grated nutmeg, Worcestershire sauce, and dark soy sauce. Stir everything until smooth. Give it a taste and adjust seasoning as necessary. Bring the mixture to a boil. When it starts to boil, cover and place the dutch oven in the preheated oven for 3 hours.

After 3 hours, remove from the oven and place the covered dutch oven on your stove for about 10 minutes. You want to allow the steam to soften any browned bits that accumulated on the sides of the dutch oven so you can easily scrape all that flavor back into the dish.

Meanwhile, increase the oven temperature to 450 degrees F.

Pile the medley of mushrooms in an even layer on a large baking sheet. Drizzle generously with olive oil, flaky kosher salt, black pepper, and a light drizzle of Worcestershire sauce. Toss to combine and arrange in an even layer. Roast for 20-25 minutes or until mushrooms are golden brown.
While the mushrooms are roasting, remove the lid from the dutch oven and scrape all that flavor down from the sides of the pot into the dish. Transfer the short ribs to a plate. They should be extremely tender, and the bones should slide out without force. Skim the excess fat off the top of the braising liquid. Try to get as much of it as you can, but don't worry if some is left behind. Reduce the braising liquid by bringing to a simmer over medium-high heat. Let it reduce for about 8-10 minutes, then pour in the heavy cream and remaining 1/4 cup of marsala wine. Reduce heat to low. Add the short ribs and all accumulated juices back in and let them simmer in the creamy marsala braising liquid for an additional 10 minutes. Give it a taste and adjust seasoning as necessary.
Serve the short ribs in bowls, and garnish with the roasted mushroom medley, parsley, and chives.

Enjoy.
Notes
If you don't want to buy a second quart of beef stock to make up for the additional cup needed for this recipe, you can simply substitute water for it.
I make my own mushroom powder by pulverizing dried mushrooms into dust using my Vitamix, coffee grinder, or food processor. If you don't have access to dried mushrooms or any of these machines, simply leave it out of the recipe.
If you don't have fresh nutmeg, use an extremely tiny pinch of store-bought ground nutmeg. It's more finely ground than what you'd get with a microplane, so use a little less so that it doesn't overpower the dish.
Prep Time:

24 hours

Cook Time:

3 hours

Category:

beef, keto

Method:

Braising
Keywords: braised short ribs, marsala short ribs, short rib marsala, keto short ribs
Recipe Card powered by
Disclosure: This site uses various affiliate links. If a purchase is made using one of our affiliate links, we receive a small commission which helps support our efforts. Please read our
Privacy Policy
for more information.