It's only right I start off my slew of ketogenic recipes by giving you an ultimate cauliflower mac and cheese recipe. It's richly flavored, balanced, creamy, gooey and decadent. Fresh flavors, and cheese grated by hand. You're in for a treat. My fiancé and I started our Keto diet January 23, 2019. After doing tons of research on the diet, I decided to give it a try, but I'll be honest — I didn't think I'd enjoy it. Like, come on. Look at my recipes! Carbs galore. Sugar? Tons of it. One thing I super enjoyed in the morning, which was avocado toast, I would no longer be able to have. I literally did not think I'd survive this diet, but I also wanted to challenge myself.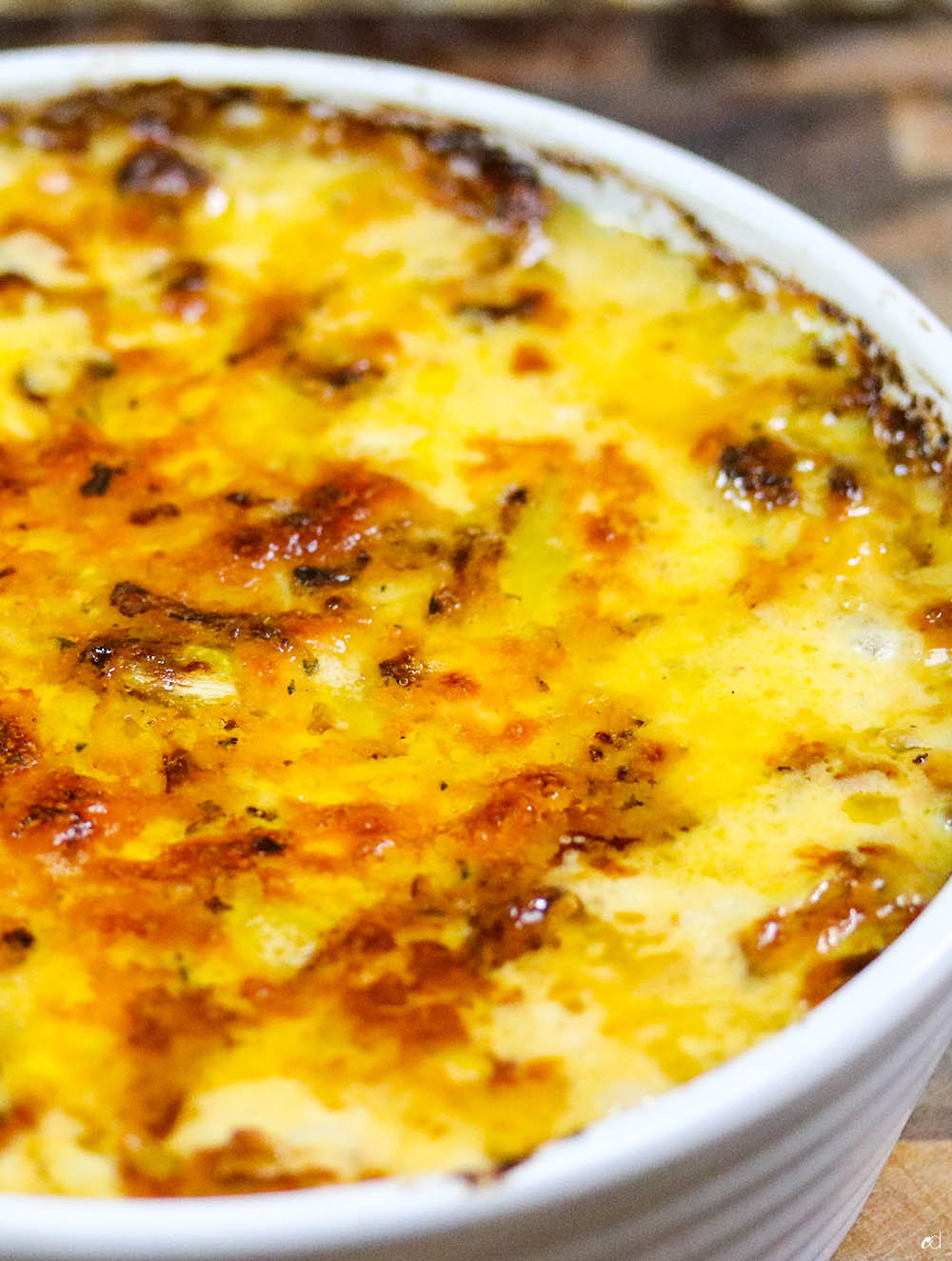 As of March 8, 2019, not only have I stuck with it completely, but I feel like an entirely new person. Sometimes you don't realize how bad you're feeling every day until you start to feel so much better. I had this nagging neck pain that sometimes got so debilitating, I would be reduced to tears. Being in pain that frequently is bound to put you in a shitty mood. It hurt to play with my toddler. Chasing him around tired me out. I had no idea sugar was the culprit of all my ailments.
Did this mean I'd have to give up sweets? Not necessarily. I still love treats. Thankfully, there are really great sugar substitutes that give you what you need. I'll get into all that in future recipes, for now let's talk about this keto mac and cheese.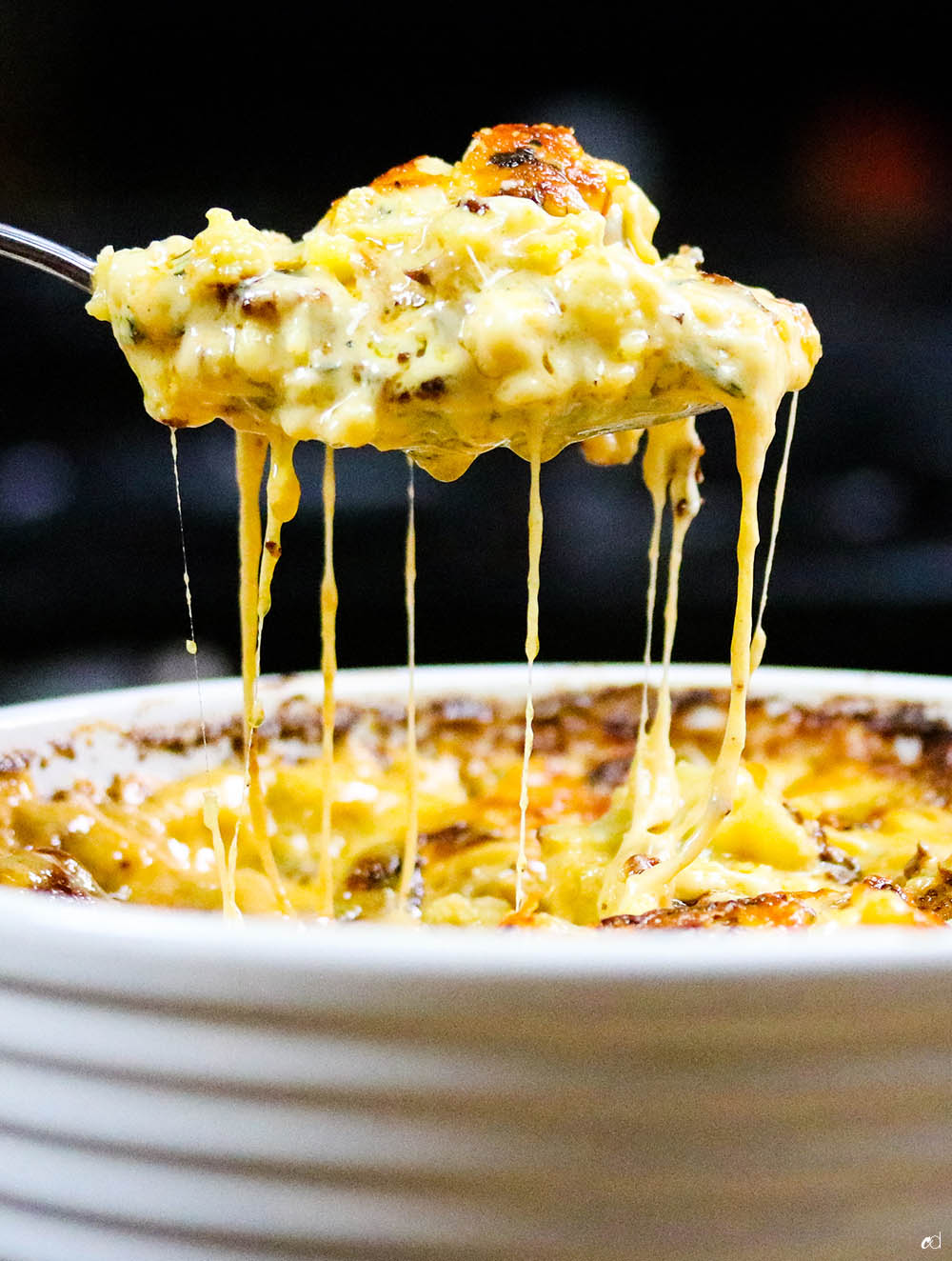 There is absolutely zero pasta in this recipe, just yummy caramelized cauliflower swimming in a gooey, creamy sauce loaded with cheese. I knew that if I were going to be successful on this diet, I'd have to make delicious keto versions of my favorite comfort foods. It's working, because I'm down over 20 pounds and hella inches, and continuing to melt. My energy is through the roof, clarity is my best friend, and I just get so much more done. I still suffer from "mom-brain" though, but that's just natural.
No roux??
Believe it or not, just a tiny amount of cream cheese will help stabilize this entire dish so that it's not too loose. You don't have to add it, but you may find it'll make this a little more foolproof. Because flour is a no-no, we're going to reduce seasoned heavy cream until it's thickened, then add some cream cheese to it to make a more stable cheese sauce. Toss that with the cooled cauliflower then bake until bubbly. You may or may not use all of the sauce, it will really depend on how large your head of cauliflower is. I recommend using being 1 cup to 1 1/4 cup of heavy cream to start.
Cheese options
You can use ANY variety of cheese you want, but my sole advice is to shred it yourself. Y'all know how I feel about pre-shredded cheese, so don't try me. Also, the more aged a cheese is, the more oil it will produce. If you don't care about that, proceed with extra sharp, or 3+ year aged cheese. I like to use a combination of a mild and sharp cheese, personally. I don't mind the exuded oil, but some people may not want that at all and that's fine.
My advice is to cut the cauliflower florets into cavatappi-sized chunks, because as you toss everything together before baking, some pieces may be so tender they fall apart anyway, and you want the dish to have a little heft.
At the end of the day, do whatever you feel is best. We all have our preferences.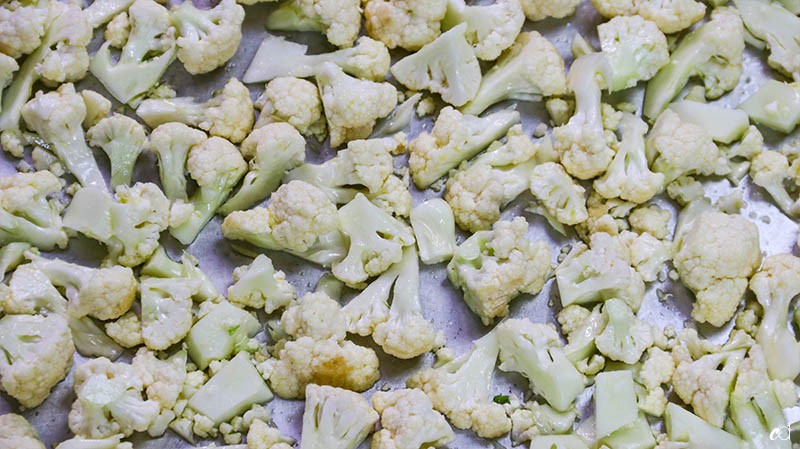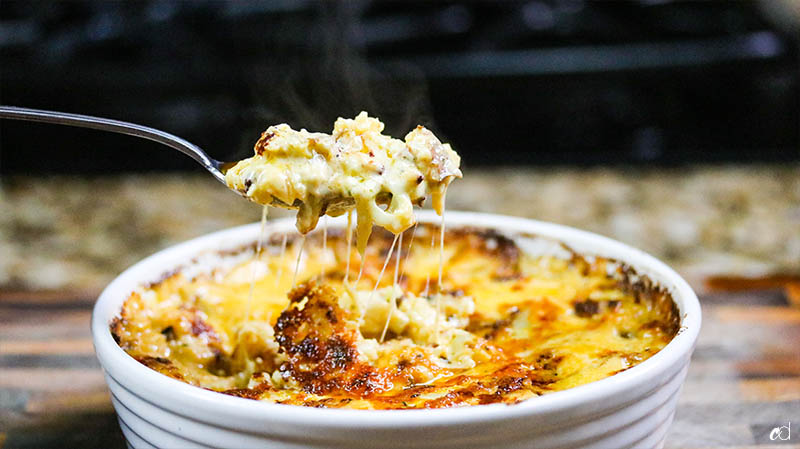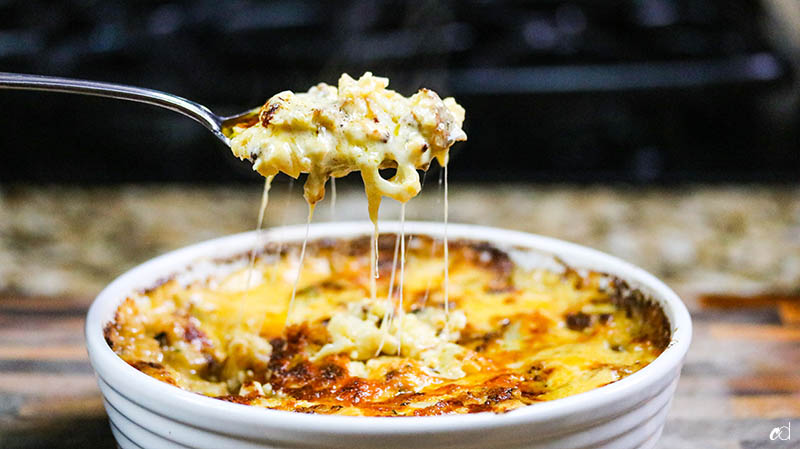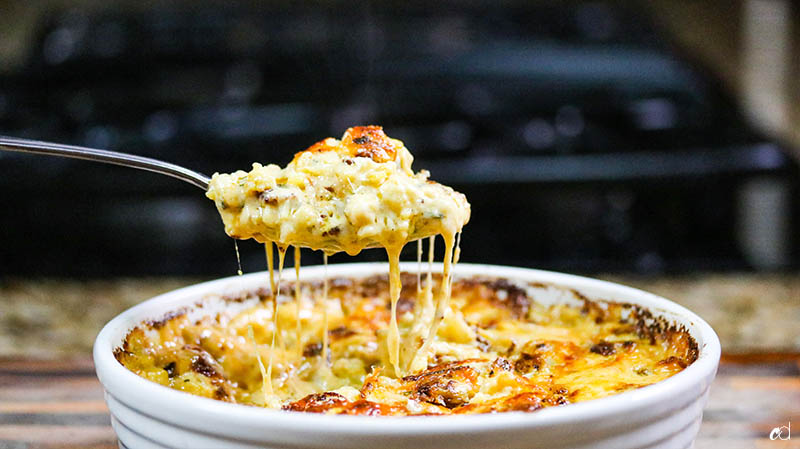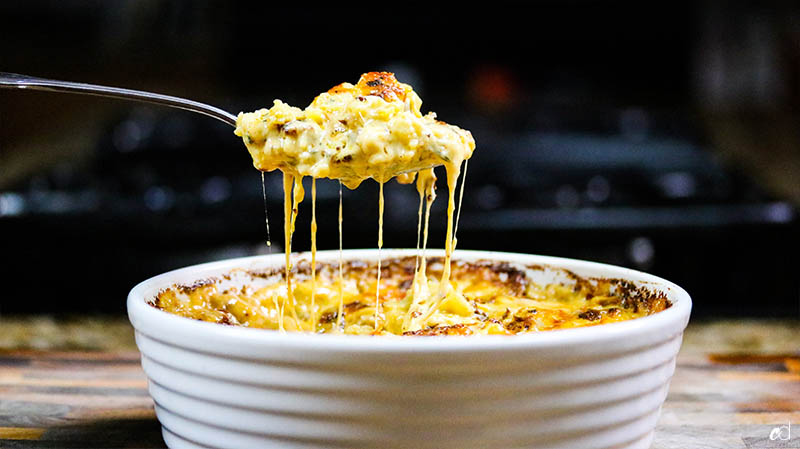 Hope you enjoy this! You can be your sweet ass I'll be posting more keto recipes from here on out. But if you're not on keto, try my super popular mac and cheese recipe that uses pasta. It's delicious AF!
Print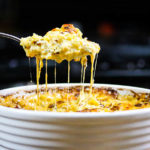 Cauliflower Mac and Cheese
---
Author:

Chef Resha

Total Time:

1 hour

Yield:

6-8 servings
Description
---
1

large head of cauliflower, chopped into chunky florets (SEE NOTE)
Olive oil

1 teaspoon

salted butter

2

cloves garlic, minced

1

cup

heavy cream

1/4 teaspoon

black pepper

1/2 teaspoon

garlic powder

1/2 teaspoon

onion powder

1/8 teaspoon

cayenne pepper

1/4 teaspoon

dried oregano

1/8 teaspoon

smoked paprika
Pinch of freshly grated nutmeg

1 teaspoon

fresh rosemary, finely minced

1 teaspoon

fresh thyme, finely minced

2 tablespoons

cream cheese (optional)

4

ounces

mild cheddar, divided, shredded by hand

2

ounces

colby jack or sharp cheddar cheese, shedded by hand

2

ounces

whole milk mozzarella, shredded by hand

1/4

cup

pecorino romano or parmigiano reggiano, grated by hand (SEE NOTE)
---
Instructions
Preheat your oven to 450 degrees F.
Place the cauliflower pieces on a large baking sheet, and toss with enough olive oil to thinly coat each piece. Start with about 2 tablespoons, and if some pieces are still dry after tossing, add a little more olive oil. Sprinkle a generous amount of flaky kosher salt on the cauliflower pieces then arrange them into a flat layer. Place the cauliflower in the oven on the lower middle rack and roast for 18-20 minutes or until the bottoms of the cauliflower are golden brown. Let the cauliflower cool completely.
Reduce the oven temperature to 435 degrees F.
Meanwhile, melt the butter in a medium saucepan over medium-low heat. When it starts to sizzle, add the minced garlic and cook for about 30 seconds. Pour in the heavy cream. Add a big pinch of flaky kosher salt, black pepper, garlic powder, onion powder, cayenne pepper, dried oregano, smoked paprika, grated nutmeg, rosemary, and thyme. Continue stirring over medium-low heat until the mixture starts to simmer and the cream has reduced and thickened. Keep an eye on it because it will and can bubble over if you're not careful. You may have to adjust the heat during this process. After 8 to 10 minutes when the cream mixture has reduced enough to become visibly thicker, larger bubbles breaking the surface, add the cream cheese if using. Stir to combine.
Turn off the heat and add the pecorino romano or parmigiano reggiano cheese. Stir to combine, then add half of the mild cheddar, and all of the colby jack or sharp cheddar cheese.
Place all of the roasted cauliflower into a medium-sized bowl, and toss in the remaining half of mild cheddar, and 2 ounces of whole milk mozzarella. When the mixture is evenly combined, pour in half of the cheese sauce and gently fold to saturate. If you feel the mixture is too dry, add a little more cheese sauce. You don't want to pour it all in because cauliflower heads vary in size and weight, and just in case you have too little cauliflower and far too much sauce (you can save whatever sauce is left in the fridge for another day), you don't want it swimming in sauce. The feel you're going for is moist and almost pasty, so add just enough cheese sauce until it's at that point. Remember, this sauce will loosen as it bakes, so if you add too much you'll have very runny cauliMac&cheese.
Pour the cheesy cauliflower mixture into a small baking dish, and bake on the middle rack of your oven until bubbly, which should take between 15-20 minutes. Remove and allow to cool for 10 minutes before eating.
Enjoy.
Notes
Your cauliflower head should be at least 2 1/5 pounds, give or take a few ounces.
Make sure the pecorino or parimigiano cheese you grate is loosely packed into the measuring cup. If you're using the grated kind that looks like tiny pebbles, use just 2 tablespoons.
Prep Time:

20 minutes

Cook Time:

40 minutes

Category:

keto, low carb

Cuisine:

American
Nutrition
Serving Size:

1/3 cup

Calories:

302

Sugar:

3.3 g

Sodium:

529.8 mg

Fat:

26.8 g

Carbohydrates:

8 g

Fiber:

2.4 g

Protein:

9.7 g

Cholesterol:

65.2 mg
Keywords: keto mac and cheese, cauliflower mac and cheese
Recipe Card powered by
Disclosure: This site uses various affiliate links. If a purchase is made using one of our affiliate links, we receive a small commission which helps support our efforts. Please read our
Privacy Policy
for more information.