I think every household should keep a tub of duck fat in their fridge or freezer. The stuff is just luxurious. It's like butter's bougie cousin who shows up to family functions in a fur coat and kitten heels while everyone else is in jeans and flip flops. I do understand that it's not as widely available as it should be, so if you absolutely cannot find duck fat, just keep it a butter thing. These crispy smashed garlic and herb duck fat potatoes are a great addition to your steaks, chicken, oceanic protein, etc. They're even fabulous on their own.
This isn't really a "recipe", it's more of a technique. Why isn't it a recipe? Because amounts will always vary. I don't even know how many potatoes I used here, I just adjusted the amounts of fat to potatoes as I saw fit. You'll do the same. You can do this with one potato, two potatoes, three potatoes, or 20 potatoes — it truly does not matter. Adding duck fat to your potatoes is the adult thing to do, trust me on this.
I would sit here and yap about my undying love for the potato, but we'd be here all damn day, so let's just get into it…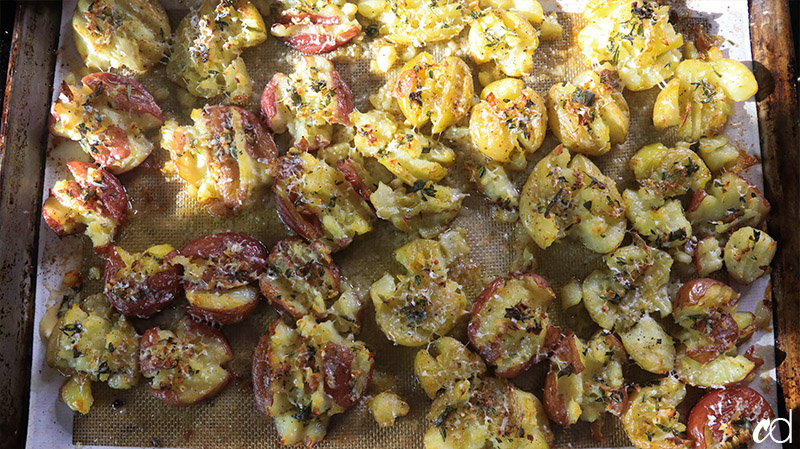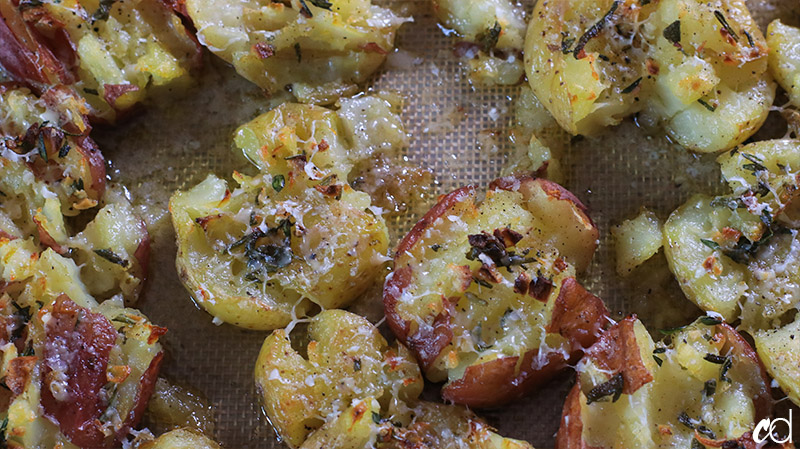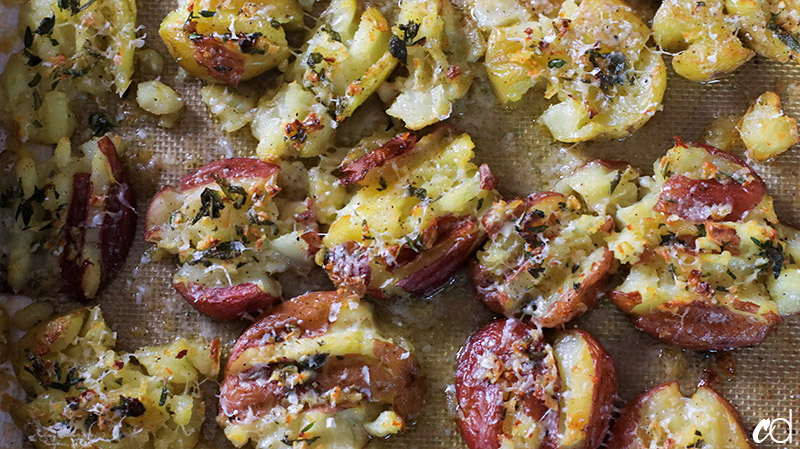 They're beautiful, and taste amazing. You will more than likely have leftover duck fat butter, so cover it up tightly and use it for another day. Although I used silpat to roast these, I recommend you don't. You want the bottoms to get nice and crispy as well, so avoid using anything that can deter that. You could use foil instead if you're adamant about easy clean up.
Print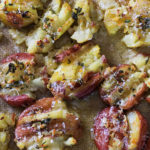 Crispy Smashed Garlic and Herb Potatoes
---
Description
This is NOT a "recipe", because the amount of potatoes you use will vary. But here's an eyeball measurement based on what I did if you'd like to follow.
---
2

pounds

baby potatoes (SEE NOTE BELOW)
Sea salt for the boiling water

5 tablespoons

butter (unsalted or salted)

3 tablespoons

duck fat (optional SEE NOTE BELOW)

5

garlic cloves, chopped or minced

1 tablespoon

fresh thyme, roughly chopped

1 teaspoon

fresh rosemary, chopped

1 teaspoon

fresh sage, chopped (optional)
Fresh parmigiano reggiano cheese for topping
Kosher salt and black pepper, to taste
Non-stick spray
---
Instructions
Preheat oven to 450 degrees. Line a baking sheet with foil, or leave un-lined. Spray the bottom with nonstick spray, set aside.
In a large pot, cover potatoes with cold water by 2-3 inches. Bring to a boil over high heat. When the water starts boiling, add a generous amount of sea salt (do NOT use table salt, it's too salty). Reduce heat to medium-high, keep pot uncovered, and allow potatoes to boil until fork tender – about 20-25 minutes.
Meanwhile, melt butter, and add duck fat. Stir to combine until duck fat is melted. Add garlic, thyme, rosemary, sage (if using), salt and pepper (if using unsalted butter). Stir until combined, and set aside.
When potatoes are fork tender, drain and let them cool about 5-10 minutes. Place potatoes on your lined/unlined baking sheet. GENTLY smash each potato using the bottom of a glass, a potato masher, or fork until potato bursts open and creates a craggy surface. Spoon a little of the duck fat butter mixture over each potato. Roast for 15 to 20 minutes or until each potato is golden brown with crispy edges and bottoms. Remove baking sheet from oven and shave fresh cheese over each potato. Turn on your broiler, and pop them back into the oven until the cheese melts and is lightly toasted.
Serve immediately.
Notes
If you're not using baby potatoes, I recommend Yukon Golds for this recipe because they keep their shape better. You could also use Russets if you prefer. Simply chop them into large chunks prior to boiling.
If using salted butter, watch how much additional salt you add to the finished potato (taste them first).
If you cannot find duck fat, you can use one whole stick of butter instead.
Recipe Card powered by
Disclosure: This site uses various affiliate links. If a purchase is made using one of our affiliate links, we receive a small commission which helps support our efforts. Please read our
Privacy Policy
for more information.