I roast a lot of chicken. It's my favorite way to eat a chicken. But this million dollar chicken? Oh my GAWD! It's glorious. Succulent, juicy, insanely flavorful, I could go on, and I will. If you make this, you will subject yourself to an extremely couthless eating experience. Finger sucking, moaning, probably cussing and shaking your knees in anticipation for the next bite. This is by far my favorite way to roast a super sexy chicken. The creme fraiche sauce is killer, and as the hens cook and release their flavorful juices, that crusty bread on the bottom soaks it all up. Whew, Jesus are you there? It's me, Resha.
A Million Dollars? Really?
No, not really. The guy who invented this recipe calls it "million dollar chicken" because it tastes like a million dollars. I'm pretty sure anything you slather with luxurious creme fraiche is going to taste like a million dollars. I remember last Thanksgiving when I chucked a whole 8-ounce container of it into some silky mashed potatoes and nearly cried.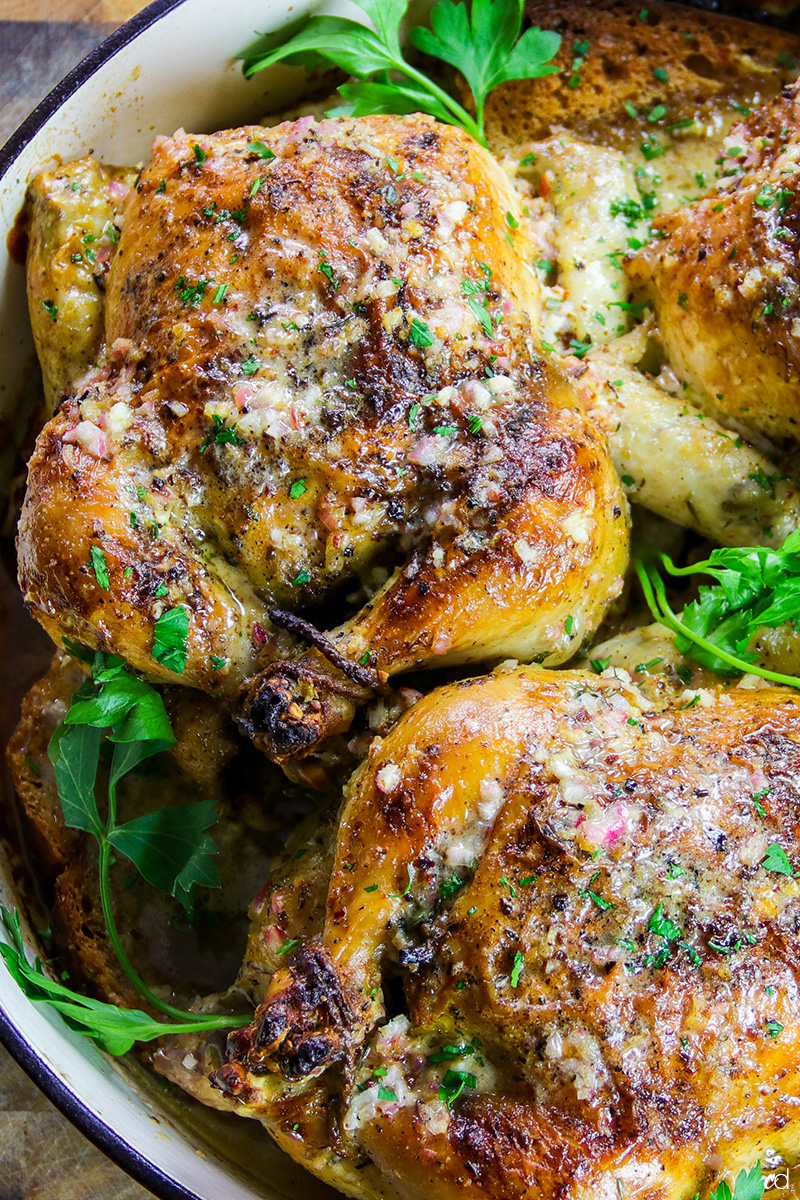 There's a harmonious melody of flavor going on here that will make you prepare this meal at least twice in one week. It's addicting. To the point where I'm ready to pour this creme fraiche sauce all over my favorite part of the bird — the thighs. Oh, I've got plans!
I used cornish hens for this recipe, but of course you can use any part of the bird, or a whole chicken if you prefer. Just know that cooking times will vary. Rule of thumb, always keep an instant-read thermometer on hand so you never have to over/undercook a chicken ever again.
How to Make Million Dollar Chicken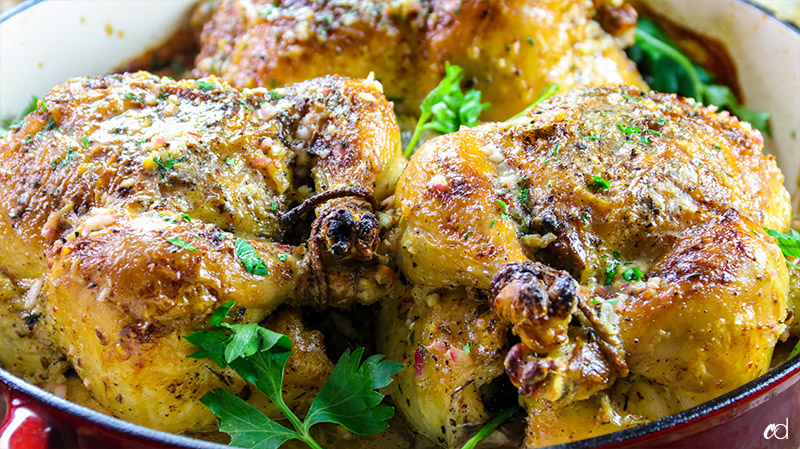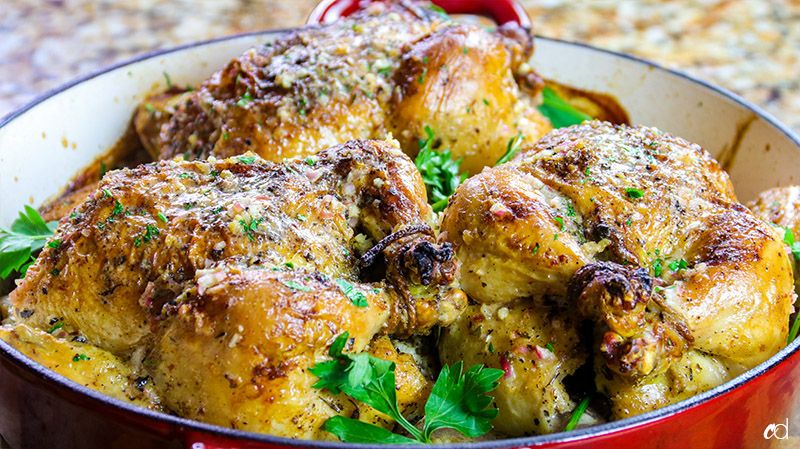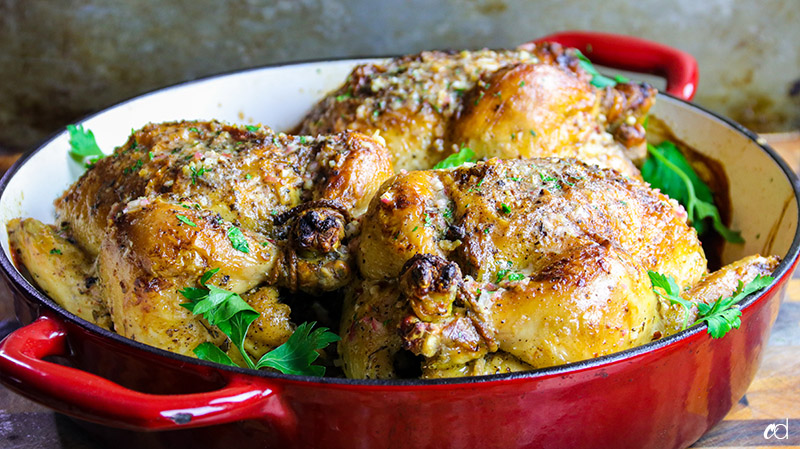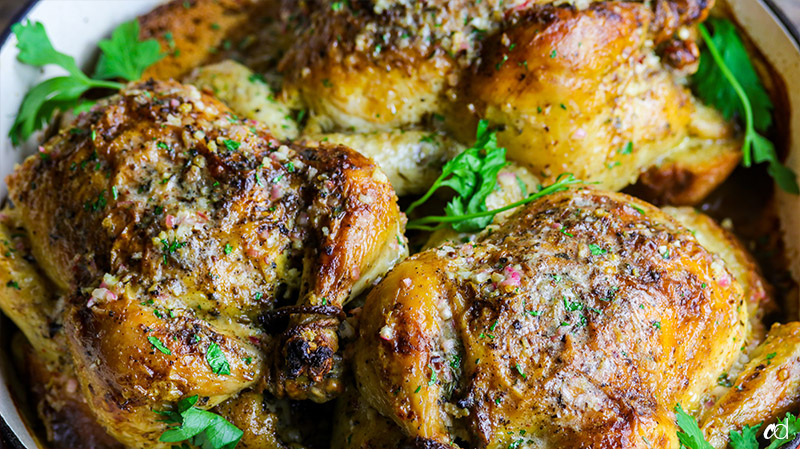 I cannot stress how amazing this recipe is. Make this NOW!
More Chicken Recipes
Print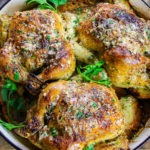 Million Dollar Chicken
---
Author:

Chef Resha

Total Time:

1 hour 10 minutes

Yield:

3 to 6 servings
Description
By far the best roast chicken recipe I've ever done. Luxurious, silky creme fraiche slathered all over a perfectly roasted, super juicy bird. Slightly adapted from The Standard Grill.
---
3

cornish hens, about 2 to 2.5 lbs. each (SEE NOTE)

9

sprigs fresh thyme

3

sprigs fresh rosemary

3

cloves garlic, crushed

3

bay leaves

3

slices of lemon

1 tablespoon

herbs de provence

3 tablespoons

flaky kosher salt

1 teaspoon

black pepper
Olive oil

1

-inch slices of artisan sourdough bread (SEE NOTE)
Million Dollar Sauce
8

ounces

(1 cup) plain creme fraiche

1

lemon, zested and juiced

2 teaspoons

aleppo pepper

1

shallot, finely minced

2

cloves garlic, minced

1/2 teaspoon

fresh rosemary, finely chopped
Pinch of kosher salt and black pepper
Garnish: 1 tablespoon flat leaf parsley, finely chopped
---
Instructions
Preheat oven to 450 degrees F. Use a baking vessel that's big enough to contain all of your chicken(s). In a small bowl or container, mix three tablespoons of kosher salt, one tablespoon of herbs de provence, and 1 teaspoon of black pepper together. This will be your seasoning blend.
Drizzle about 3 tablespoons of olive oil in a large baking dish, stainless steel, or cast iron skillet. Layer the sour dough bread on the bottom.
Pat the skin of the hens dry with paper towels. Sprinkle a generous amount of the seasoning blend into the cavity of each hen. Stuff 3 sprigs of thyme, 1 sprig of rosemary, 1 smashed garlic clove, 1 bay leaf, and one slice of lemon into each hen. Drizzle about a tablespoon or two of olive oil all over the skin of each hen, then sprinkle more of the seasoning blend all over the surface of the bird. Truss the legs together with kitchen twine, and place each hen on top of the sourdough bread slices. Place the hens and bread into your preheated oven on the middle rack, and roast uncovered for 50 minutes.
Meanwhile, mix all of the Million Dollar Sauce ingredients together in a medium bowl until well combined. Set aside in the fridge to chill.
After 50 minutes, remove the hens from the oven. Slather each hen with the Million Dollar Sauce very liberally. It will melt like butter almost instantly. Pop the hens back into the oven for just 10 minutes. After 10 minutes, remove from oven, turn off the heat. Slather them again and put them back into the hot but turned off oven for about 5 to 10 more minutes. Remove from oven and allow them to rest for at least 10 minutes.
Meanwhile, pour the remaining Million Dollar Sauce into a small saucepan or skillet and simmer over medium heat for about 2 to 3 minutes. Pour into a small serving dish, and serve alongside the hens.
Serve the hens with a slice of the caramelized bread (if you want), and more Million Dollar Sauce for drizzling. Enjoy!
Notes
You can make this recipe with one or 5 cornish hens – quantity doesn't matter here. You could also use a larger whole chicken instead. I'm giving you measurements based on what I used exactly, but as always, adjust the ingredient amounts according to however many or types of chicken you choose.
If using cornish hens, make sure you use enough bread on the bottom to cradle each one. If using a whole chicken, two to three large slices should suffice. Of course, you can totally skip the bread altogether. I swear, this chicken is so good on it's own it really doesn't matter.
Prep Time:

10

Cook Time:

1 hour

Category:

Poultry
Keywords: cornish hens, million dollar chicken, roasted chicken
Recipe Card powered by
Disclosure: This site uses various affiliate links. If a purchase is made using one of our affiliate links, we receive a small commission which helps support our efforts. Please read our
Privacy Policy
for more information.