At least one half of this entire roasted tomato basil soup with ricotta grilled cheese meal is vegetarian. The soup is totally vegetarian — the sandwich is not. That said, this soup is bomb. It's so richly flavored, with plenty of heat and the right amount of sweetness. When you tear apart that gooey ricotta grilled cheese and gratuitously bathe it in the soup, your world will stop for a few moments. Etiquette will be thrown out the window. The ricotta grilled cheese is crusted with parmigiano reggiano for extra crunch, giving you the perfect mouthfeel against the rich molten center. Talk about bliss.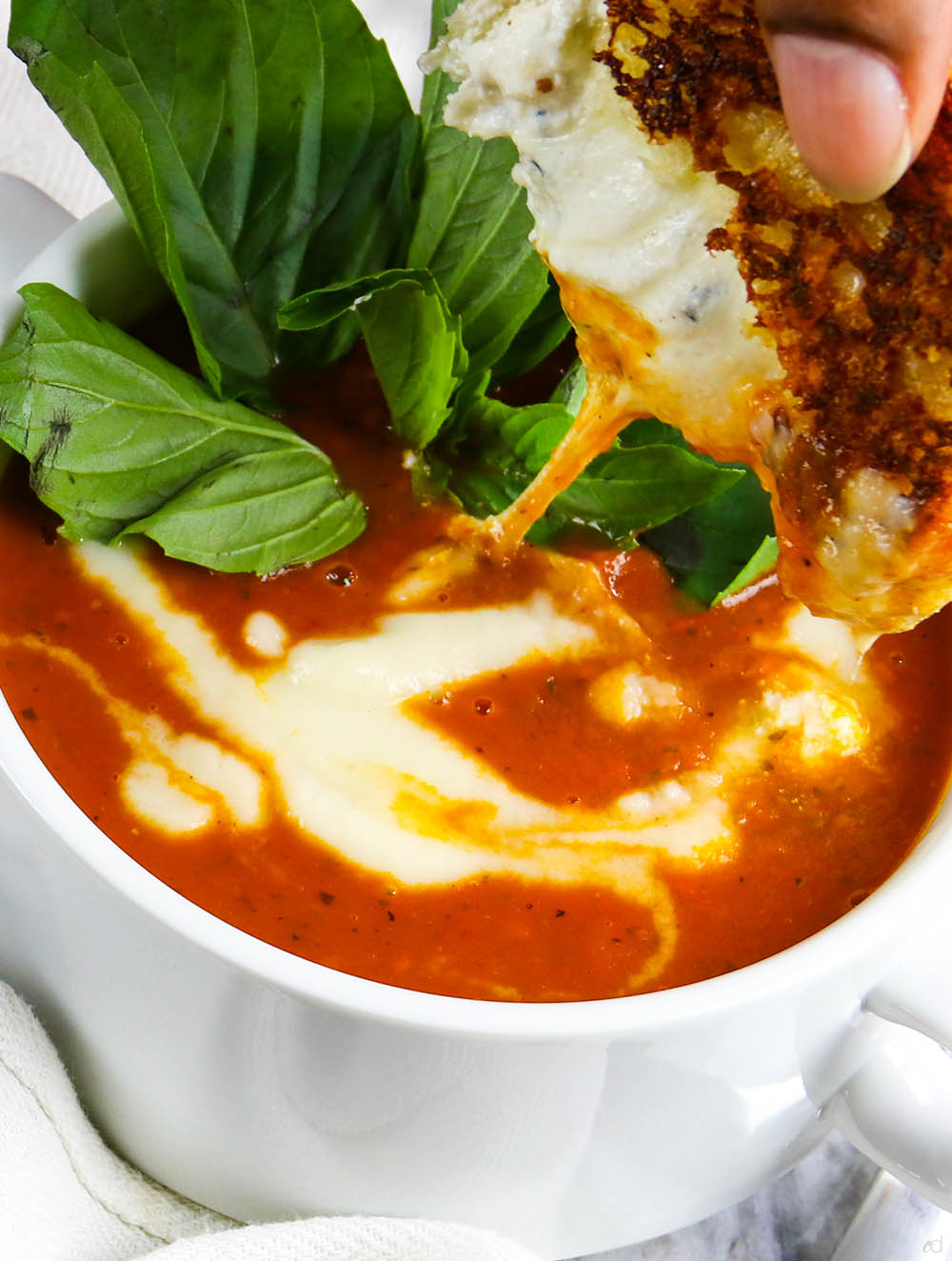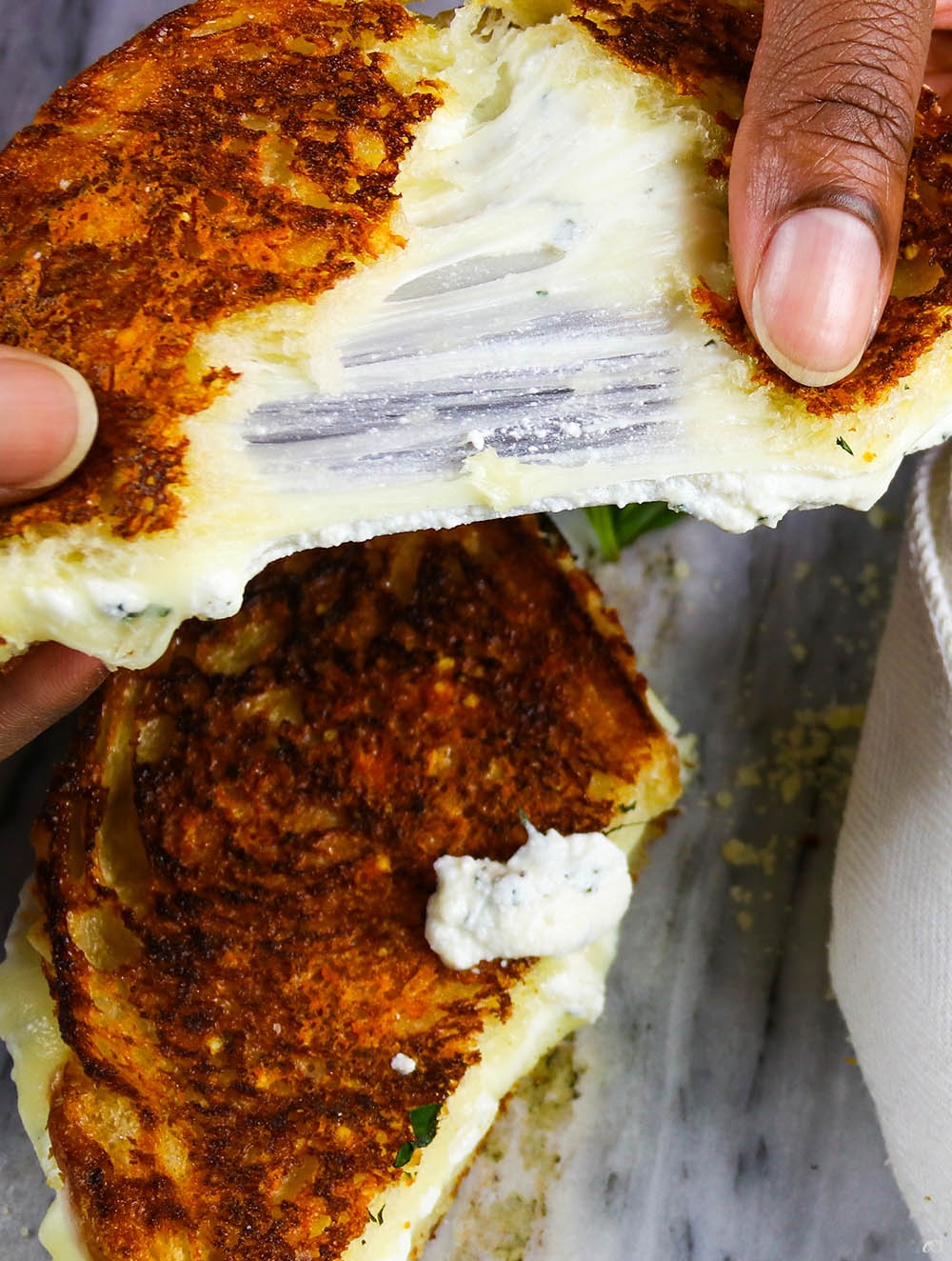 How to make Sweet Onion Cream
I didn't want to add any dairy cream to this soup, so instead it's drizzled with a sweet onion puree which boosts its brightness and freshness. Of course, you can use cream, but it tends to mute the flavors of the soup if too much is added. Plus, I think you'd just really enjoy the sweet onion puree, so trust me.
How to make Roasted Tomato Basil Soup
You could make the soup 100% vegan by not adding granulated sugar, and instead using a vegan friendly sweetener. When tomatoes are in season (right now they are not), they're so sweet and succulent that added sugar is more than likely not needed. Out of season tomatoes can still work for this recipe, they'll just need a little boost. Start with a tablespoon of sugar, brown or white — and continue tasting and adjusting from there. This soup should not be candy sweet (unless that's what you prefer), but the sweetness should marry well with the heat from the crushed red pepper flakes and black pepper. Balance, kids.
Now, this particular recipe was made with the intention of freezing half the batch so that I wouldn't have to make this again for a long time. If you're not into making a big batch, simply cut everything on the soup ingredient list in half. Cook everything the same way, season accordingly, etc.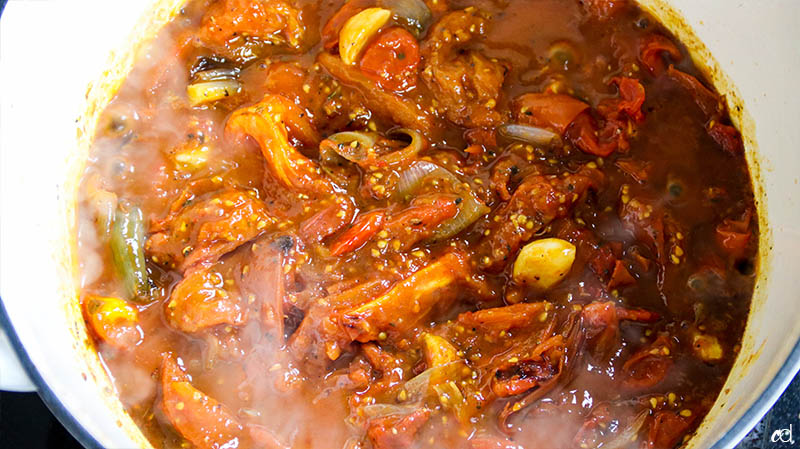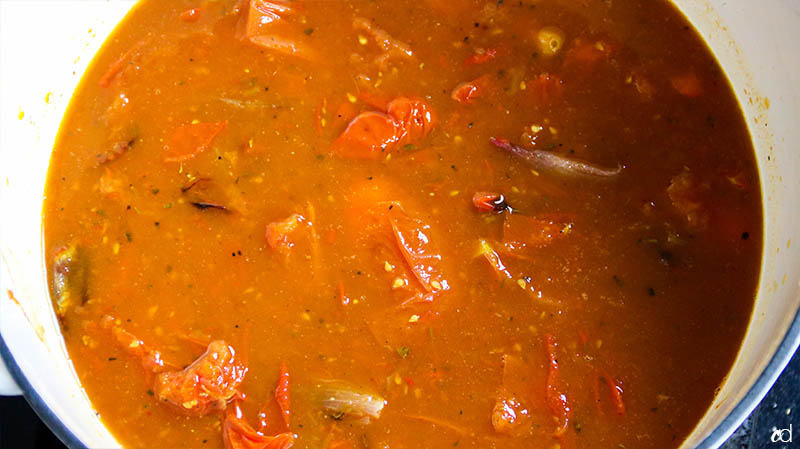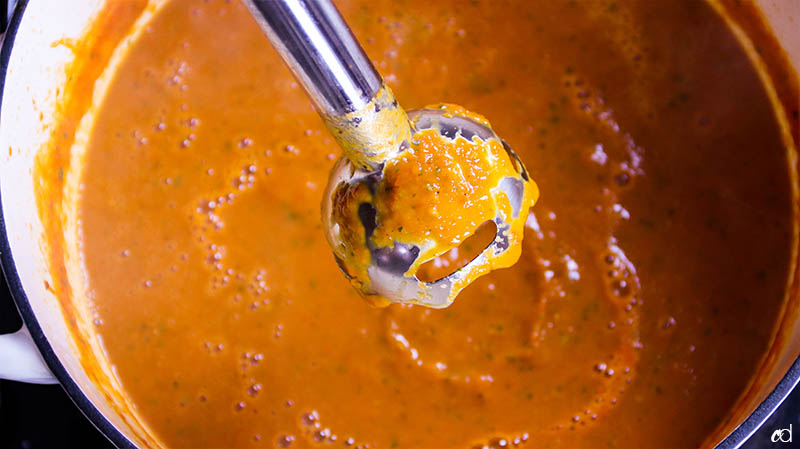 How to make Ricotta Grilled Cheese
Ever since I'd learned the restaurant trick of using a very thin layer of mayo on the outside of the bread to make a grilled cheese instead of butter, I was sold! It's world's better, I promise. Yes it seems weird, yes it's not what we learned growing up, but food evolves — so again, trust me. The eggs and oil in mayo give it a much more substantial and even crisp, and it browns much more evenly. Butter is yummy, but it contains water, which can lead to an eventually soggy grilled cheese. You can absolutely use butter if you prefer, but trust me on the mayo tip!
See that beautiful brown golden exterior? The power of mayo. You are free to use any kind of bread you want for this, it's your sandwich. Do you, babe.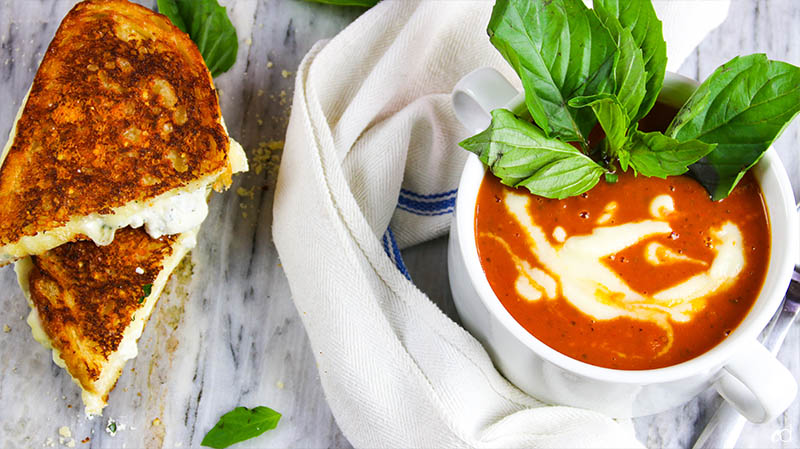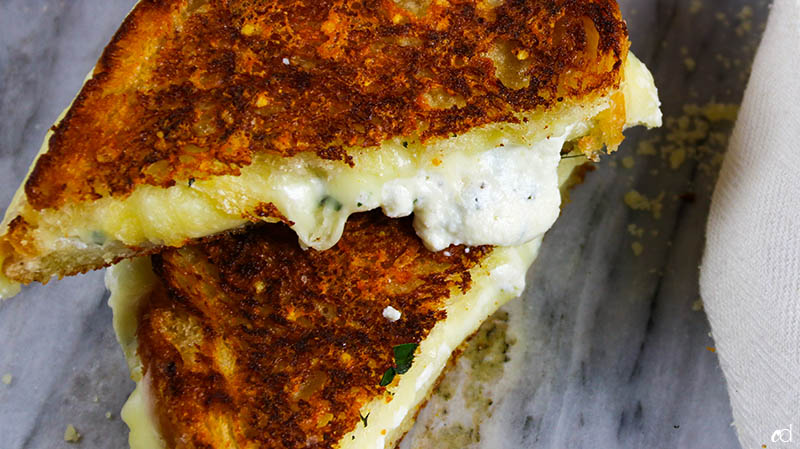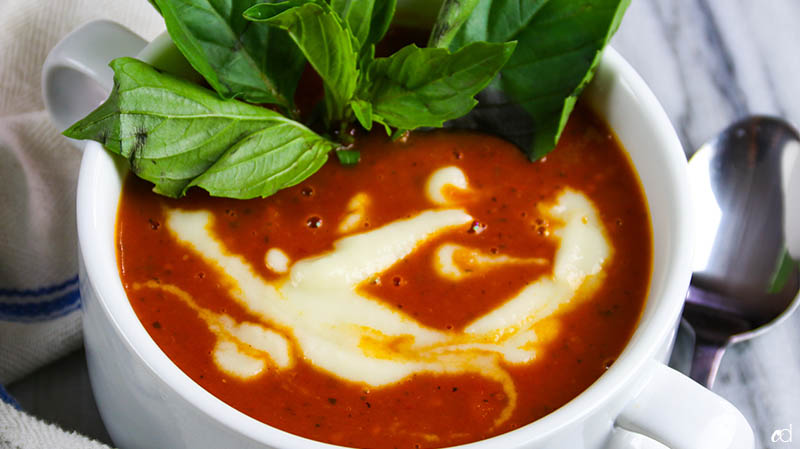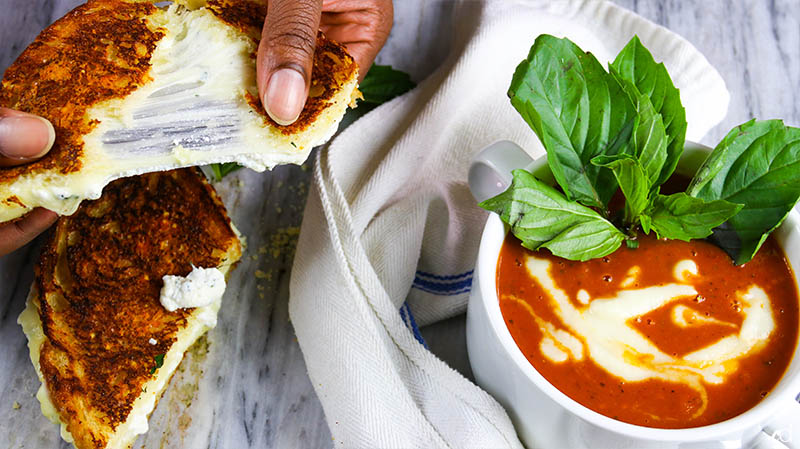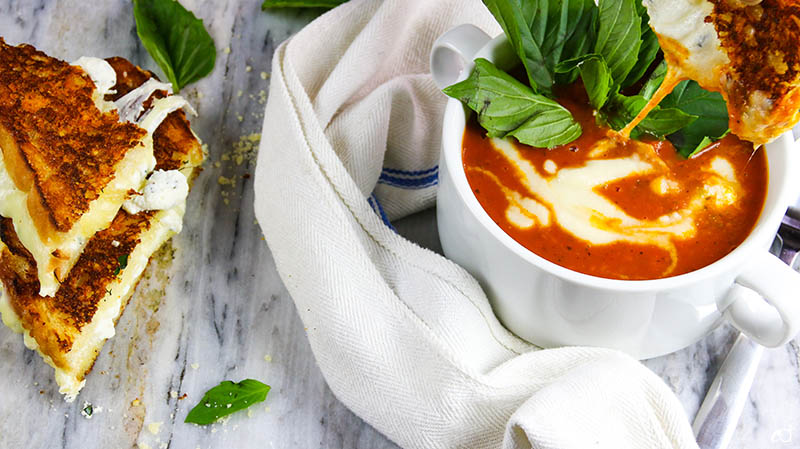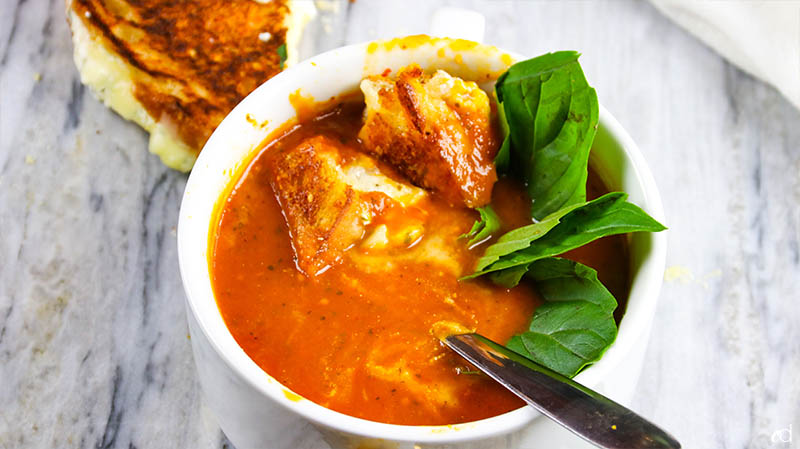 This soup is bomb. That sandwich is bomb. The sweet onion cream is bomb. You're gonna love this one, it's worth the big batch. Make it and freeze it, then reheat it when you're ready to eat it. Enjoy!
Check out these other soup recipes:
Print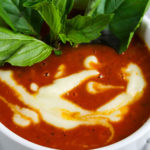 Roasted Garlic Tomato Basil Soup with Ricotta Grilled Cheese
---
Author:

Chef Resha

Total Time:

2 hours 20 minutes

Yield:

about 3 quarts of soup
Description
Delicious roasted tomatoes, garlic, and shallots cooked down to a wonderfully seasoned, bright tasting soup with lots of fresh basil and sweet onion cream. This soup is completely vegetarian.
---
For the roasted garlic tomato basil soup
4.5

pounds

tomatoes, halved and quartered (SEE NOTE)

15

cloves garlic (or

1

small head), skins removed and left whole

3

shallots, peeled and quartered

3 tablespoons

tomato paste
Olive oil
Kosher Salt and black pepper
Pinch of sugar
Crushed red pepper flakes

1

quart

vegetable broth

2 tablespoons

dry sherry wine, optional

1

large bunch fresh basil, about

1 cup

packed, plus more for garnish

1

–

2

additional tablespoons granulated or brown sugar, if needed
For the sweet onion cream
3

sweet yellow onions

2

–

3

tablespoons olive oil
Juice from a lemon, about 3 tablespoons
For the ricotta grilled cheese
15 ounce

container whole milk ricotta
Whole milk mozzarella slices (SEE NOTE)

1/4

cup

+

2

tablespoons

parmigiano reggiano, grated

2 tablespoons

fresh basil, chopped fine

1

sprig fresh thyme
Pinch of kosher salt

2 tablespoons

japanese or regular mayo
Sliced bread of choice (SEE NOTE)
Olive oil
---
Instructions
Time saving tip: Make the sweet onion puree and soup ahead! Both can be done the day before you're ready to eat, that way all you have to prepare the day of is the ricotta grilled cheese. Store the onion puree in a half-quart container, and the cooled soup in air-tight ziploc bags or quart containers.
The reason we're using two baking sheets is because we have a lot of tomatoes, and we want to make sure they all get some color and not just steam. If you are halving the soup measurements, you will only need one 16×12 aluminum baking sheet.
Equipment needed: An immersion blender, food processor, or high-powered blender to puree the soup. Two large baking sheets for the full recipe, one for a halved version.
For the sweet onion cream
Preheat oven to 400 degrees.
Place all three onions in a small baking dish or cake pan, and drizzle each with olive oil. Roast for about 45-55 minutes, then remove from oven to cool. When the onions are cool enough to handle, remove the paper skins, keeping just the softened onion flesh. Discard the root end.
Toss the onion flesh into a blender, along with 2 to 3 tablespoons of olive oil, and the juice from one lemon. Puree until completely smooth and emulsified. Just be aware that if you're using a food processor to do this, it will not be as smooth and creamy.
Set aside until ready to use.
For the roasted garlic tomato basil soup
Preheat oven to 450 degrees. Make sure it's nice and hot!
Spread half and quartered tomatoes, whole garlic cloves, and quartered shallots on two large 18×13 baking sheets. Drizzle liberally with olive oil, then season with kosher salt, a big pinch of black pepper, a big pinch of sugar, crushed red pepper flakes. Sprinkle 1-2 teaspoons of herbs de provence all over the tomatoes, garlic, and shallots. Toss everything together to make sure it's evenly coated and seasoned.

If using two baking sheets, arrange one oven rack in the upper-middle position, and one in the middle-lower position. Place one baking sheet of tomatoes on each oven rack, and roast for 40-50 minutes, rotating the baking sheets every 15-20 minutes until lightly charred and caramelized. If using one baking sheet, arrange the oven rack to the middle position, and roast the tomatoes for 30-45 minutes, or until lightly charred and caramelized. Remove the tomatoes from the oven.
Scrape up all of the caramelized bits and pour all contents and extracted juices into a large pot over medium heat. Add the tomato paste and cook the mixture down for about 5 to 6 minutes, or until the tomatoes and paste start to stick to the bottom of the pot very lightly.
Pour in the vegetable broth, while scraping up any bits on the bottom of the pot. Add the dry sherry wine (if using), and bring the soup to a hard simmer over medium-high heat. Toss in the fresh basil and stir to combine. Continue simmering for about 2 minutes.

Turn off the heat. Insert an immersion blender and puree, or puree the soup in batches using a food processor or high-powered blender. Bring the soup back to a simmer over medium heat, and cook gently for 10 minutes or until slightly reduced, stirring occasionally. Give the soup a taste! Adjust salt, and sugar levels as needed. Add more crushed red pepper flakes if you need to. Continue simmering for an additional 5 minutes, then remove from heat.
Cover the pot to keep the soup warm until ready to serve.
For the ricotta grilled cheese
In a small bowl, add the ricotta, basil, thyme, and 1/4 cup parmigiano reggiano cheese and mix to combine.
Spread a very thin layer of mayo on one side of each slice of bread. Sprinkle evenly with a little bit of parmigiano reggiano cheese, about a teaspoon per slice. Flip the bread over, and add a thin layer of mozzarella cheese to every other slice. Spread a generous layer, about 1/4 cup of ricotta mixture all over the mozzarella slices. Top the ricotta mixture with another thin layer of mozzarella, then a slice of bread — parmigiano reggiano side up.
Drizzle about a tablespoon of olive oil in a large cast iron or nonstick skillet. Place 1 to 2 sandwiches in the skillet. Turn the heat on medium-low and let them cook for about 3-4 minutes per side or until golden brown and crisp. You're starting them off in a cold pan to avoid scorching, and the heat elevating gently ensures the cheese in the middle melts properly. Don't do this over really high heat, you'll brown the outside before the cheese gets a chance to melt. Adjust the heat as needed once you flip the sandwich to prevent burning. Don't press the sandwiches, you don't want the cheese to ooze out of the sides.
When the sandwich is crisp and golden, and the cheese is oozy and melted completely, turn off the heat and serve the sandwiches with the hot soup, garnished with more fresh basil and a dollop of sweet onion cream.
Enjoy!
Notes
The soup recipe can be made ahead and halved. Store leftover soup in plastic quart containers in the fridge for up to 4 days, or freeze for up to 2 months.
Use a variety of tomatoes for this recipe. I used organic roma tomatoes, organic campari tomatoes, and organic sweet cherry tomatoes. Organic tomatoes are often a bit sweeter, but you can use non-organic too, and just adjust sweet levels during the simmering process.
Feel free to use any kind of bread you prefer for the grilled cheese. The ricotta mixture should be enough for 4-6 sandwiches. Any leftover ricotta mixture can be refrigerated for up to 5 days in an air-tight container. If using shredded mozzarella for the sandwiches, just add it into the ricotta mixture to make it a little easier on yourself.
Prep Time:

20 minutes

Cook Time:

2 hours

Category:

soups and stews
Keywords: vegetarian, tomato soup, roasted tomato soup
Recipe Card powered by
Disclosure: This site uses various affiliate links. If a purchase is made using one of our affiliate links, we receive a small commission which helps support our efforts. Please read our
Privacy Policy
for more information.