This roasted chicken and parmesan herb dumplings recipe will blow your mind. I'm not even kidding. If you've ever wanted to put a warm hug from grandma into a bowl, this is it. Creamy, intensely flavored, and ridiculously comforting. Everything is so balanced in this dish, you'd think it took all day to make. It's a bit more to it than your average chicken and dumplings recipe, but it wouldn't be a CarnalDish if I kept it basic.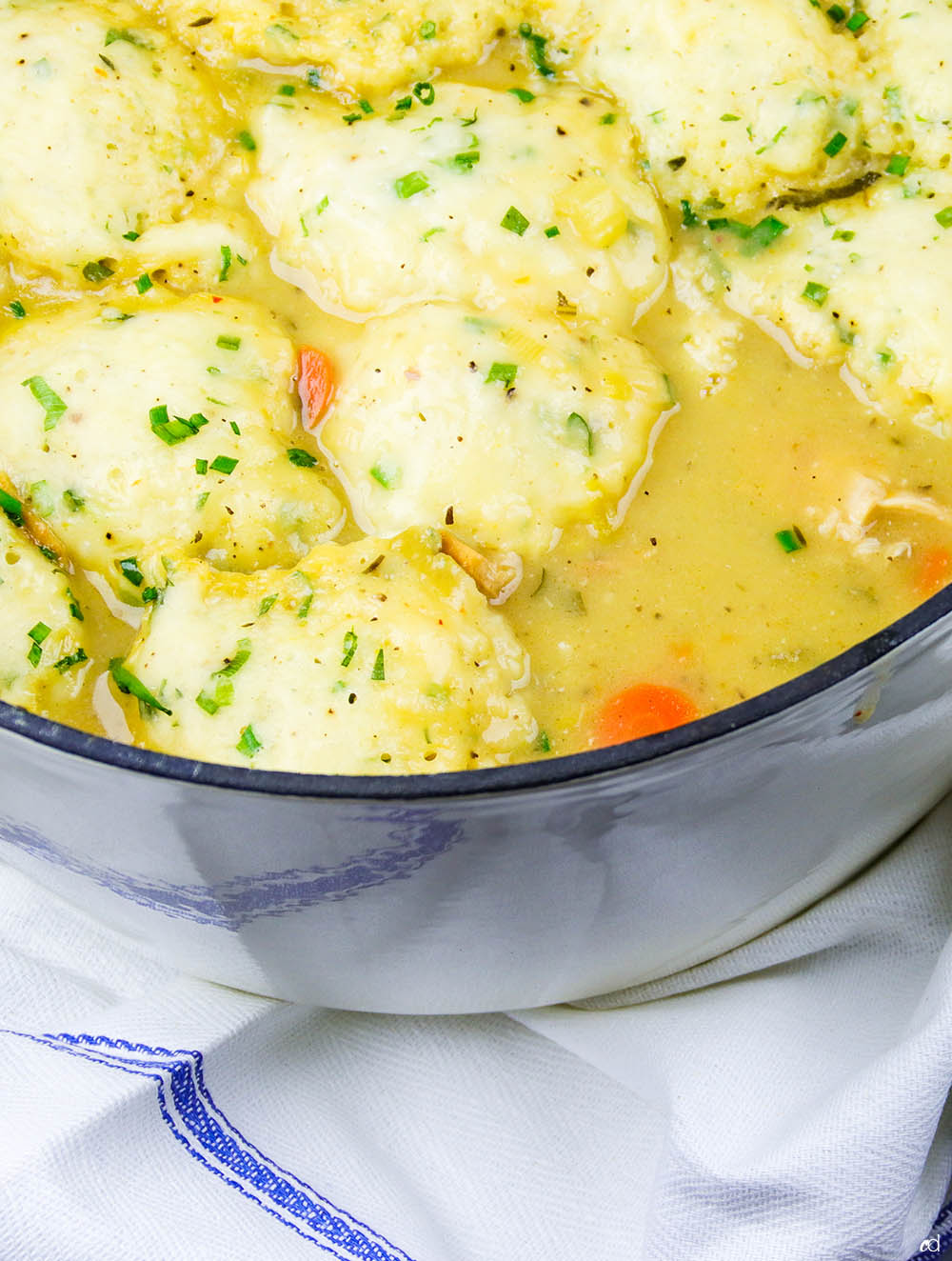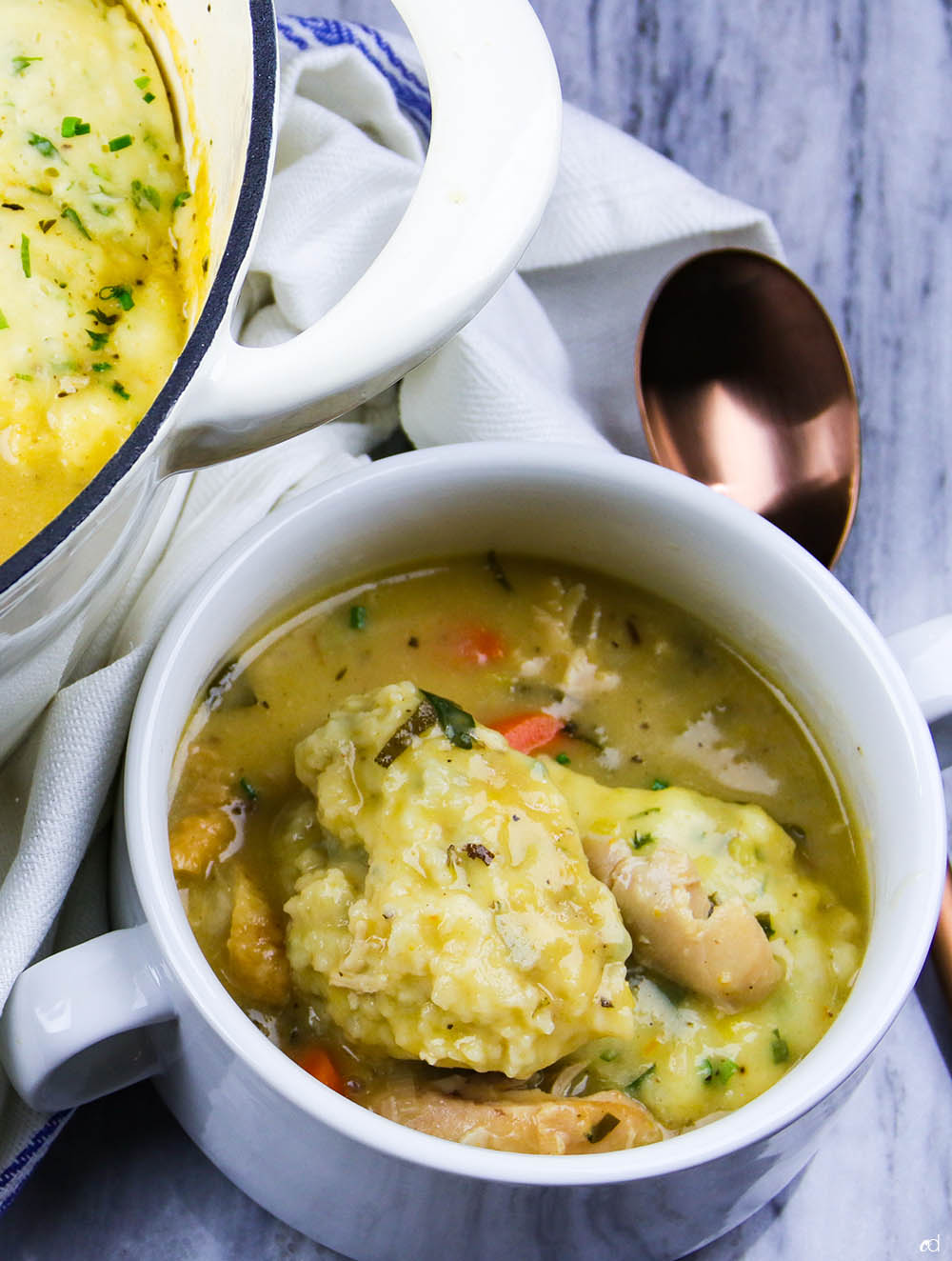 How Do You Dumpling?
People love their chicken and dumplings with either poofy biscuit'like dumplings (such as these), or the flatter doughy noodle'like kind. Both to me are really good, but I asked my followers which one they wanted a recipe for, and they overwhelmingly chose the biscuit dumplings. So that's what we're doing. Not into the poofy biscuit'like dumplings? Use the flatter ones. I'm sure you can find a recipe for those just about everywhere, they're super easy to make.
Dried Mushroom Powder
Of course, I had to throw in a couple culinary curveballs. The first one? Dried mushroom powder. I keep this stuff on hand for various dishes. It adds such an incredible depth of flavor to just about anything you cook it with. It's great sprinkled or folded into burger mixtures, added to soups and stews, etc. Trust me, guys. It doesn't make the soup taste like mushrooms, instead it adds BAWDY.
You can find dried mushrooms at just about any grocery store. But try an International or Asian market first! They always have them, and they're always inexpensive. I used dried shiitakes, but you can use almost any variety you'd like. Porcini would be great, but I would't add a full 1/4 cup because it may overpower the soup. Porcini's are delicious AF, but very strong, so use some discretion.
As for the chicken, I highly recommend you take the time to roast your own bird. However, I understand if you don't feel like it. Those convenient rotisserie chickens are there for a reason, it's just that I don't really like the texture of their meat, usually — but it's up to you. The best rotisserie chicken I've had has been from Costco. So juicy and perfectly cooked. Give that one a try.
Pass the peas? I love peas. They're not in this dish though, the man didn't want them. But they're traditional to many, so please feel free to chuck in a small bag of frozen peas. I'll leave that as an optional ingredient below.
How to make Roasted Chicken and Dumplings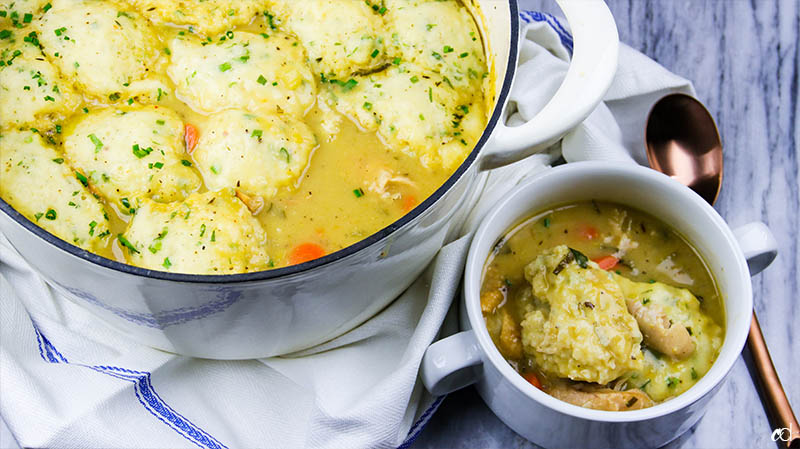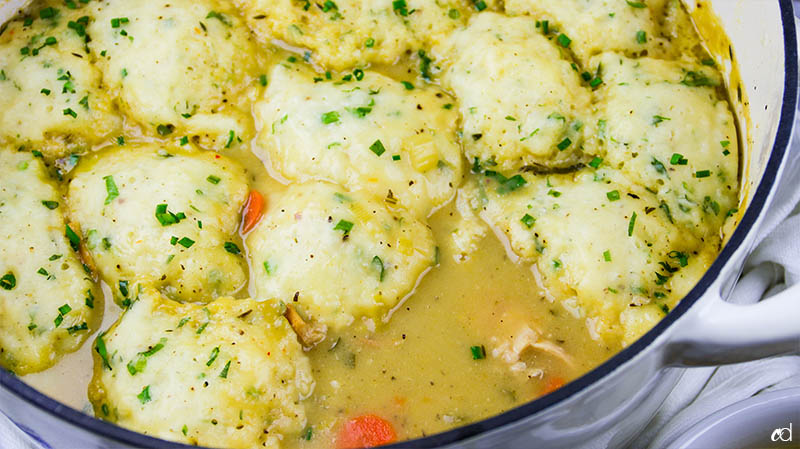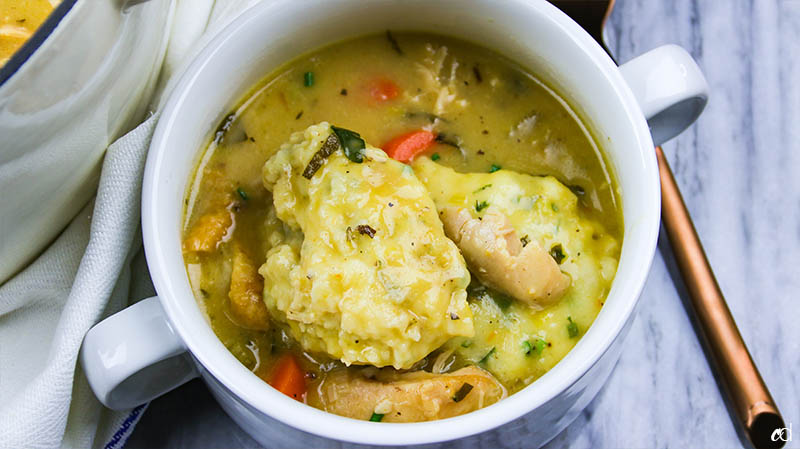 Listen, y'all. This roasted chicken and dumplings situation is really serious. Easy to execute, and wildly flavorful. Tis the season for soups, stews, and longer, lovingly hours in the kitchen. Make this for you next super bomb, super comforting Sunday dinner. You'll thank me.
Check out these other great comforting recipes:
Print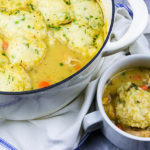 Roasted Chicken and Parmesan Herb Dumplings
---
Author:

Chef Resha

Total Time:

1 hour 55 minutes

Yield:

6 to 8 large bowls
Description
An intensely flavorful and hot hug in a bowl. You'll never want to make average chicken and dumplings ever again.
---
For the Roasted Chicken
1

4

–

pound

chicken

2 tablespoons

kosher salt

1 tablespoon

black pepper

1

rounded tablespoon herbs de provence
Olive oil

3

cloves garlic, crushed

1

whole lemon, sliced in half
For the Soup
4 tablespoons

butter

2 tablespoons

olive oil

1 teaspoon

crushed red pepper flakes

1 teaspoon

herbs de provence

2

cups

carrots, sliced into half-inch pieces

2

cups

celery, sliced into half-inch pieces

2

cups

leeks, washed thoroughly and thinly sliced

2 tablespoons

fresh garlic, finely chopped

1/2

cup

white wine (such as Chardonnay)

1/2

cup

all-purpose flour

6

cups

good quality chicken stock (SEE NOTE)

1/4

cup

dried mushroom powder (optional)

1 tablespoon

worcestershire sauce

1/2 tablespoon

fresh rosemary, finely chopped

2 tablespoons

fresh sage, finely chopped

1

large (or

2

small) bay leaves

2 tablespoons

fresh basil, finely chopped

1/4

cup

flat leaf parsley, finely chopped and divided

4

sprigs fresh thyme, tied and left whole
Zest of

one

lemon, plus 2 tablespoons fresh lemon juice

1/2

cup

heavy cream
1

10

–

ounce

bag frozen peas (optional)

1 teaspoon

onion powder

1/2 teaspoon

granulated garlic
Kosher salt and black pepper, to taste
For the Dumplings
2

cups

all-purpose flour

2 tablespoons

baking powder

1 teaspoon

fine sea salt

1/2 teaspoon

granulated garlic

1/2 teaspoon

black pepper

1 teaspoon

fresh thyme, finely chopped

2 tablespoons

fresh parsley, finely chopped

1/4

cup

chives, finely chopped

1/3

cup

parmigiana reggiano cheese, finely grated

1

cup

whole buttermilk

2

large eggs
---
Instructions
For the roasted chicken
The chicken can be made a day ahead, or you can skip this part completely and use a rotisserie chicken instead.
Preheat oven to 425 degrees F.
For the mushroom powder: Grind 2 cups of dried mushrooms into a powder using a high-powered blender or food processor. Reserve 1/4 cup and store the rest in an airtight container for later use.

Rinse chicken of any blood and pat dry thoroughly with paper towels. Drizzle and rub it down with olive oil. Mix the kosher salt, black pepper, and herbs de provence together until you have a nice seasoning mix. Sprinkle a generous amount inside the cavity and all over the chicken — you won't use it all, so save it for another use. Tuck the tips of the wings underneath themselves so they're not exposed. Stuff the crushed garlic cloves and squeeze and insert the lemons inside the cavity.
Roast the chicken for 40 minutes or until golden brown. Remove chicken from oven and let it cool until it's safe to handle. Shred the cooled meat from the entire bird, and either snack on the crispy chicken skin or save some to add to the soup later — your call. You may see some streaks of pink, and that's fine. The chicken is slightly undercooked because it will cook more in the soup later. Remove the lemon and garlic from the carcass. Set the meat and emptied carcass aside while you prepare the base of the soup.
For the Soup
In a large 6.5 quart dutch oven, melt the butter with crushed red pepper flakes and herbs de provence over medium heat. Add 2 tablespoons of olive oil to the mix. When the butter is foamy and hot, add the celery and carrots. Add a generous pinch of kosher salt and black pepper. Cook for about 3-4 minutes, or until they've softened just slightly. Add the leeks, stirring to combine. Sauté for another 3-4 minutes or until the leeks have softened a bit. Stir in the garlic and cook for just 30 seconds.
Pour in the white wine, scraping up any browned bits (if any) and let it reduce for about a minute or two. Dump in the flour, and stir to combine making sure all of the aromatics are coated. Cook this for about 30 seconds to a minute. Slowly pour in the chicken stock and stir until mixture is smooth. Increase the heat to high so that it starts to boil.
While you're waiting for that to happen, add the thyme bundle, rosemary, 2 tablespoons of the parsley, sage, and bay leaf. Stir gently and often while it comes to a boil to prevent lumps. As soon as bubbles start to form around the edges of the pot, add the mushroom powder and stir to combine. Now it should be at a full boil. Keep stirring for about 30 seconds, then reduce the heat back down to low, so that it simmers gently. Nestle the chicken carcass in the soup, cover, and let it simmer for 20 to 25 minutes while you make the dumplings.
For the dumplings: In a large bowl, combine the flour, baking powder, salt, granulated garlic, thyme, parsley, chives, and cheese. In a separate measuring cup, whisk together the buttermilk and eggs until well combined. Pour the buttermilk/egg mixture into the dry mixture, and fold gently with a rubber spatula. Do not use too much force or you'll potentially toughen the dumplings. The mixture should be like a wet biscuit dough, and there should be no dry pockets of flour. Let this dough sit for at least 10 minutes so the flour fully absorbs all the moisture.

Remove the chicken carcass from the soup, and pour in the heavy cream. Stir to combine. Add the shredded chicken, and remove the bay leaf and thyme bundle. Add the zest of a lemon, 2 tablespoons of lemon juice, worcestershire sauce, remaining parsley, and fresh basil. Add the onion powder and granulated garlic. Toss in the frozen peas now, if using.
Stir everything together and check for flavor. Add more salt or heat if needed. This is where you adjust the texture of the soup. Many people like theirs to be gravy-thick, some like theirs thinner like regular chicken soup. If yours is too thick for your tastes, simply add more stock. If yours isn't thick enough, add 1/4 cup cold water to 2 tablespoons of all purpose flour and mix until no lumps are visible. Temper this mixture with a 2 tablespoons of the hot soup base, mixing until smooth. Add two more tablespoons of the hot soup, and once it's smooth, gently whisk it back into your soup. It will thicken as it simmers, about 5 more minutes. Check for seasoning one more time and if everything is perfect, now's the time to add the dumplings.
Quickly scoop a rounded measurement of dough (equal to 2 tablespoons), and gently place it into the soup. Each dumpling should be spaced out enough so they're not touching (there should be a little space between each), but keep in mind that these will expand and poof up, so don't make them too big! Cover the pot immediately and let the dumplings steam for 15 minutes. DO NOT OPEN THE LID FOR THE ENTIRE 15 MINUTES! The dumplings need every bit of steam in order to properly cook. After 15 minutes, you can check them out. They should be thoroughly cooked. Turn off the heat, cover the soup back up and let it sit for about 5 to 10 more minutes.
Serve and enjoy your intensely flavored hug in a bowl.
Notes
Keep the remaining 2 cups (if using quart boxes) of chicken stock on hand in case you need to thin out or adjust the texture of your soup. I ended up using all 8 cups, but again, preference.
Prep Time:

25 minutes

Cook Time:

1 hour 30 minutes

Category:

soups & stews
Keywords: chicken and dumplings, roasted chicken and dumplings, parmesan herb dumplings, comfort food, dinner, southern classics
Recipe Card powered by
Disclosure: This site uses various affiliate links. If a purchase is made using one of our affiliate links, we receive a small commission which helps support our efforts. Please read our
Privacy Policy
for more information.