When you eat this shaved fennel and arugula salad, you're going to say "WOW! I wanna put this on everything", and you will. It's soooo good. Crisp, refreshing, well-balanced, and something you'll constantly crave. Every bite is crunchy and fresh, herbaceous and pleasing. Best part? It's completely low-carb and keto-friendly.
When you have something hot, rich, and buttery, you want a refreshing and contrasting bite to balance out the whole meal. The crispy-skin roast chicken with that sinful garlic and herb beurre blanc share the spotlight with that crisp, cold salad and if you're into piling all your foods onto one fork, you'll LOVE how they work together. Don't worry, I'm gonna give y'all the recipes for all three. Just know this is mainly about that fennel salad!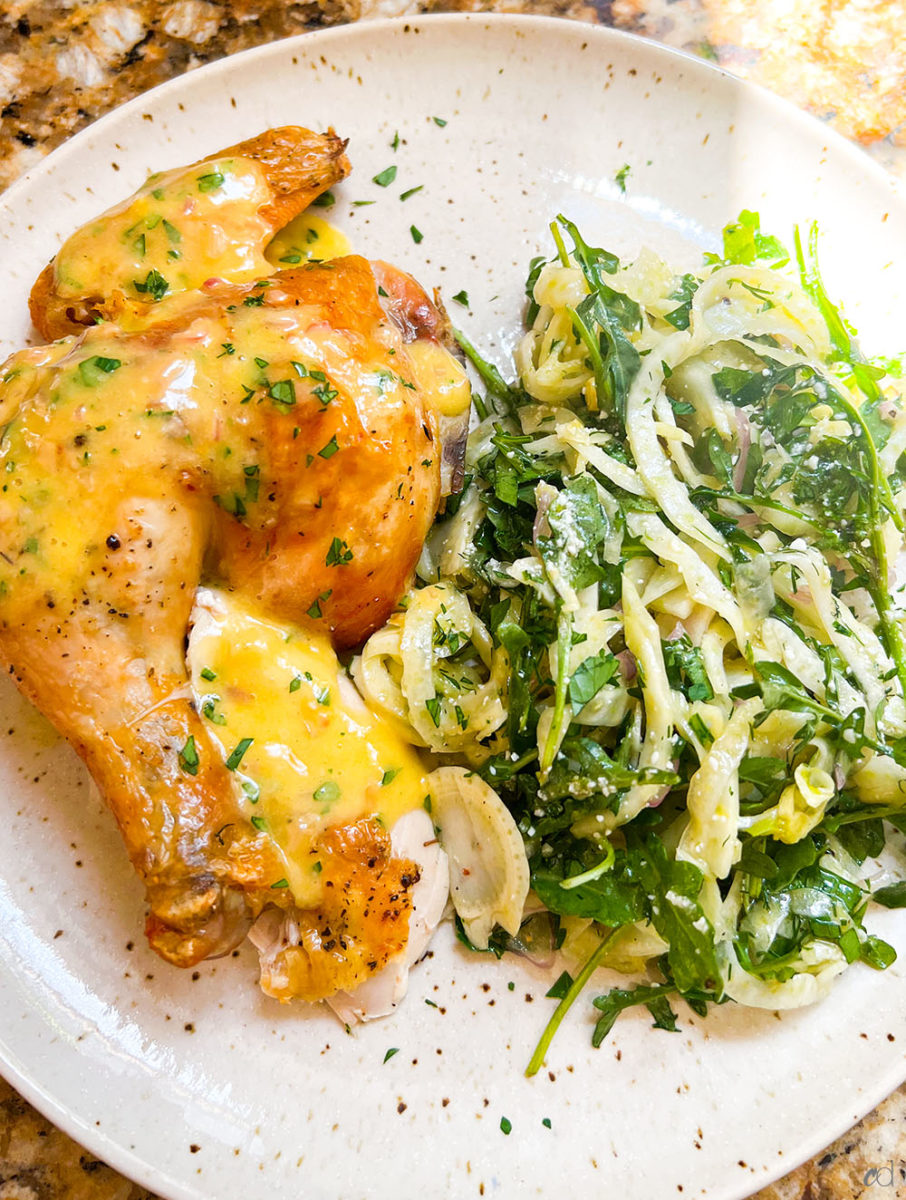 Why I Love Fennel
Fennel is delicious both cooked and raw and has a wonderfully-mild anise flavor that pairs very, very well with different proteins such as fish, shellfish, red meat, and of course poultry. The arugula is also the star here with its delicate peppery flavor, and a good dose of grated parmigiano-reggiano seals the deal. My love for arugula is deep, so don't get me started. On the flipside, roasted fennel is also one for the books. If you haven't tried it, let me know and I'll shoot you a recipe. It just takes on a whole new texture and flavor.
Make it your own!
I will say this upfront — these measurements will VARY depending on YOUR preferences. Some of you may want more arugula or less. You may want more or less fennel. You may want it to be more acidic, or a little sweeter. To combat that, I'm going to give you what I call "starting point measurements", and let you adjust from there. After all, it is your salad. Do you, boo.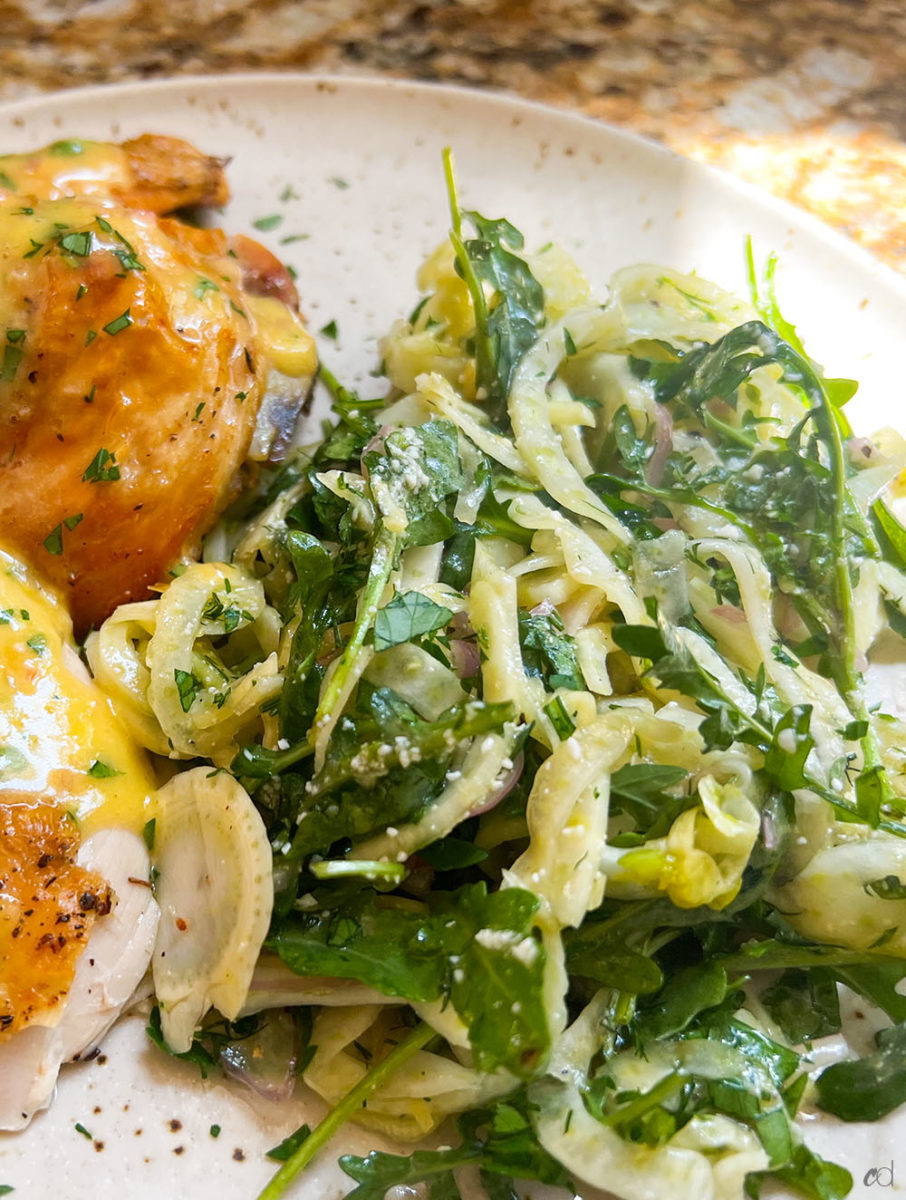 You should absolutely try this fennel and arugula salad on a sandwich — grinder style. It must be paired with hot, juicy meat as a contrast. When you bite into it, every single one of your senses will wake up with pure joy. It takes on the appearance of a slaw if there's any left the following day. I threw some between a low-carb tortilla with some hot and crispy reheated chicken, and babyyyy!! Fire.
Check out more chicken recipes, because one thing I will always do is slay some poultry.
How to make Fennel and Arugula Salad
Watch this video to learn how each step is made.
Print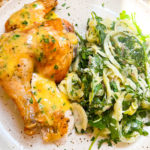 Shaved Fennel and Arugula Salad
---
Author:

Chef Resha

Total Time:

1 hour 35 minutes

Yield:

2-4 servings
Description
An incredibly delicious crisp shaved fennel and arugula salad that completely brightens your mouth. Served alongside a crispy roast chicken bathed in a luscious beurre blanc sauce. The entire meal is low-carb and keto-friendly. Here's a tip: put that salad on everything — make it a lot — eat it all.
---
Fennel and Arugula Salad
2

small fennel bulbs (about the size of a regular orange), plus the fennel fronds

1

small shallot, diced or sliced
Zest from

1

large lemon (or

2

small), juice reserved (SEE NOTE)

2 tablespoons

fresh dill, finely chopped

2 tablespoons

flat leaf parsley, finely chopped

1

to

2

tablespoons sherry vinegar (SEE NOTE)

1

to

2

tablespoons honey (I used this keto-friendly version)

2

cups

fresh baby arugula

1/4

cup

extra virgin olive oil, plus more if needed

2

to

3

tablespoons parmigiano-reggiano, finely grated (SEE NOTE)
Sea salt and black pepper, to taste
Crispy Roast Chicken
1

4 to 5 pound whole chicken, cleaned, butterflied and flattened
Black pepper
Olive oil
Beurre Blanc
1

small shallot, finely minced

2

sticks unsalted butter, cut into

1 tablespoons

pats

2 teaspoons

garlic paste, or

2

large cloves garlic, minced

1/4

cup

white wine of choice (I used pinot grigio)

1/4

cup

white wine vinegar

1 teaspoon

flat leaf parsley, finely chopped

1 teaspoon

fresh basil, finely chopped
Sea salt, to taste
---
Instructions
For the fennel and arugula salad
Chop off the root ends of your fennel. Trim off the stalks and fronds. Keep the fronds, we're gonna use them for this salad. Save the stalks for another use.
Remove the very outer layer of your fennel bulbs if they're bruised and look terrible. Slice the fennel down the center.
Using safety gloves, carefully shave the fennel on the thinnest setting of your mandolin. If you do not have a mandolin (get one), you can try to safely slice it as paper-thin as possible with a very sharp knife.
Place the shaved fennel into a large bowl. Add the shallots and lemon zest. Depending on your tastes and the quantity of fennel you have, you may or may not need the juice of all the lemon, so juice about 1/2 of the lemon, or 3/4 of it into the bowl and save the rest in case you need to add more later. Add the dill, parsley, fennel fronds, sherry vinegar, honey, arugula, and olive oil. Season with sea salt, start with a large pinch and go from there. Do the same with the pepper. Toss the mixture together, thoroughly.
Taste it! Is it too acidic? Add more honey for balance. Is it too sweet? Add more lemon juice. Does it need salt? Add more. Too dry? Add more olive oil. This is how you cook! Once you've found the perfect balance of flavor, sweetness, and acidity, add the parmigiano-reggiano cheese. Toss to combine.
Taste it again, and adjust if needed. You are more than welcome to add more of whatever you need to. If your mixture is too "juicy" and pooling up at the bottom, simply drain some of it. However, the cheese should help soak up any extra wetness just perfectly. The salad should be moist, but not dripping all over the place.
Cover with plastic wrap and let it hang out in the fridge for an hour or so while you prepare the remaining menu. The salad can be made up to a day ahead, but expect some wilting. It will not affect the taste, just the appearance.
For the crispy roast chicken
If you need a more in-depth video on how to butterfly/spatchcock your bird, and get perfectly crisp roasted chicken, click here.

Preheat your oven to 415 degrees F.
Lay your butterflied chicken flesh-side up on an aluminum foil-lined rimmed baking sheet.
Season the flesh with your desired amounts of each seasoning. Massage the seasonings into the meat, and underneath the skin (gently as not to tear it).
Flip the chicken over so it's skin-side up. Pat the skin dry with paper towels to remove any excess moisture. Moisture will prevent the skin from crisping. Drizzle about a tablespoon or so of olive oil all over the skin of the chicken. Sprinkle the skin with a little herbs de provence and rub it into the skin of the bird. This will help release some of the natural oils in the herbs for better flavor infusion. Then, sprinkle your desired amount of flaky kosher salt and black pepper on the skin. Don't be tempted to season the skin with anything else because it will burn and taste terrible. Although the dried herbs will suffer, they at least impart some flavor to the skin before their demise.
Roast on the center rack of your preheated oven until the breast meat registers 160 degrees internally, and the dark meat registers 170 degrees internally on an instant-read thermometer. Remove the chicken from the oven and allow it to rest uncovered for carry-over cook time.
Within 10 minutes of resting, the chicken will have reached it's optimal internal temperatures of 165 and 175 degrees. This process took about 55 minutes for my chicken, but yours will probably vary. It's always best to go with temperature over time, especially if you're new to this.
For the beurre blanc
Spoiler alert: this sauce is ridiculously easy to make, and will have you feeling like a rockstar in your kitchen.
Ok, so boom. In a medium saucepan over medium-low heat, add a tablespoon of butter and the finely minced shallots. Saute until softened, about 3 minutes.
Add the garlic and cook for an additional 30 seconds. Then add the wine and vinegar. Bring to a simmer over medium heat and allow it to reduce to about 2 tablespoons. This will take anywhere from 6 to 10 minutes, depending on the saucepan you're using.
Once the mixture has reduced to almost nothing (2 tablespoons or less), turn off the heat and immediately whisk in three pats of the butter. Whisk with the intent to emulsify, so don't beat it tf up but don't be a punk either. When those three tablespoons start to melt and almost disappear, add in 2 more pats. Continue this until you've used up all of the butter and the sauce is thickened enough to leave a trail in the bottom of the pan.
Add in the parsley, lemon zest, and basil. Whisk until incorporated.
The end result should be a luscious semi-thick butter sauce that clings to the food. Because of the wine and vinegar, it will continue to stay emulsified for a while. Just don't let it get too hot or too cold — the sauce will either break or solidify. But, if you happen to screw this up, who cares?? It's butter. It's delicious in any way shape or form.
Equipment
Notes
When it comes to the lemon juice, the amount used will always vary on the size of the lemons you have. So start with half the juice of a lemon, and go from there. If you've got two small lemons, you may need the juice from both. Taste and adjust.
The way you introduce the cheese to this salad kinda matters. Wait to add it until after you've added and mixed everything else around, to prevent the cheese from clumping. You can use any cheese you want, but an aged hard or crumbly cheese works best.
Prep Time:

25 minutes

Cook Time:

70 minutes

Category:

dinner
Keywords: roast chicken, arugula, fennel, fennel salad, fennel arugula salad, beurre blanc
Recipe Card powered by
Disclosure: This site uses various affiliate links. If a purchase is made using one of our affiliate links, we receive a small commission which helps support our efforts. Please read our
Privacy Policy
for more information.